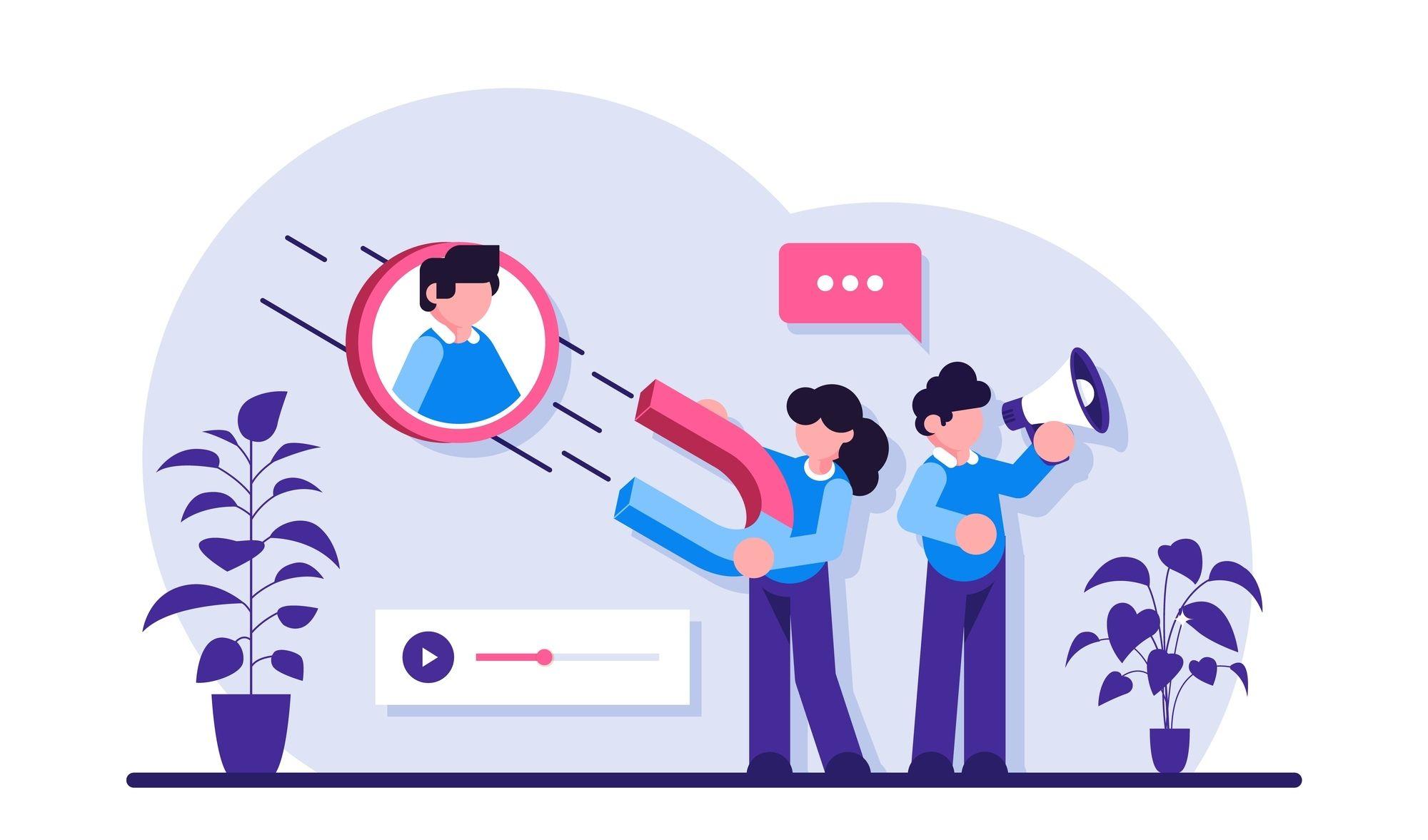 Five Types of Tools To Generate Leads Any Business Needs
This article covers five types of useful tools to generate leads that you have to know about. We also explain why it's important to have the right toolset and suggest specific platforms you may want to try.
Once upon a time, there was a group of cavemen who were struggling to survive. They spent their days hunting and fighting off predators with their bare hands, sometimes using a few rocks they found. Times were rough and food was really scarce. Everyone was on the verge of starving for most of the time.
Things were about to change when one day a young member of the group we'll call Ug threw a sharp rock at a piece of wood. A small lightbulb glimmered above his head as he began to smile (they obviously didn't have lightbulbs, it's a metaphor). Ug took the sharp rock and found a strong and fairly straight stick. He excitedly began to hit one end of the stick with the rock, chopping off small pieces of wood. Each chop with more precision.
After some time, voila! Ug was holding what might have been the first proper tool our species had ever created. He would later go on to craft similar devices for his companions and the whole group finally could fill their stomachs relatively regularly. Fast forward a few hundred thousand years (or however long ago the first cavemen appeared) and we have you. Looking to generate (more) leads.
Wouldn't it be somewhat irrational if you now decided you weren't going to use tools? Sure it would! Our story is fictional, but it shows just how much we humans need tools for everything. It's one of the things that made us the dominant species after all. So you should definitely use tools to generate leads if you want to have a chance in today's competitive market landscape.
In this article, we will talk about five types of lead gen tools you need to know and use. From ways to attract potential customers through methods of managing them and creating a meaningful connection all the way to converting them into paying customers.
General Rules & Tips for Lead Generation
To make sure we're all on the same page, let's recall the definition of lead generation before we dive into the core of this article. Leads are your potential customers (or clients), who have already somehow interacted with or expressed interest in your brand or company. The goal is to gather information about these leads and eventually convert them into paying customers.
Before discussing the specific types of tools, it's important to keep a few general rules and tips in mind when it comes to attracting leads:
Know your target audience. Understand your ideal customer and tailor your messaging and tactics to their needs and preferences.
Offer value. People are more likely to provide their contact information and engage with your business if they perceive that they will receive something of value in return, such as a helpful resource or an exclusive offer.
Be consistent. Generating leads is an ongoing process, not a one-time event. Consistently create and distribute content and engage with potential customers to keep your business top of mind.
Utilize multiple channels. Don't limit yourself to a single channel or lead generation tool. Leverage a diverse range of

lead generation channels

to reach a wider audience and increase your chances of capturing leads.

Implement tracking and analytics. To measure the effectiveness of your efforts and make data-driven decisions, it is crucial to implement tracking and analytics tools.

Now, let's move on to the five types of tools to generate leads you should consider using.
Tools For Creating & Publishing Content
One of the best ways to make leads for your business is to create valuable content for your target audience. This can include SEO-optimized blog posts like this one, informative articles, videos, podcasts, infographics, and whitepapers. These types of content establish your expertise, provide value to your audience, and attract potential leads.
When planning your content strategy, define your target audience and plan for each marketing funnel stage. Find experienced and trusted creators to write your articles or record videos. Make sure you have an effective channel to reach your target group. Finally, find a way to convert traffic and capture leads.
But besides a sound strategy, good content creators, and a plan to convert your website visitors into qualified leads, you need... Yes, the right tools! We'll talk about two categories: SEO marketing tools and software for the actual process of content creation.
Also, check out our other article, if you'd like to read more about lead generation through content marketing.
SEO tools
We've got two interesting statistics for you to think about. According to BrightEdge, more than 53% of website traffic comes from organic searches. But Ahrefs reports that 90.63% of webpages get no traffic from Google.
It seems as though most businesses still don't make good use of SEO. Is it because they don't pay enough attention to this obviously effective strategy? Or maybe they haven't adopted the right tools to generate SEO leads? Let's look at a few worth mentioning.
Semrush is a powerful platform for content lead generation. It offers accurate keyword research, SEO analysis, and social media planning features. While it may have higher pricing and a slightly less advanced SEO Writing Assistant compared to some alternatives, Semrush remains a formidable tool for powerful SEO and content marketing capabilities.
Ahrefs is a strong competitor to Semrush, known for its extensive keyword database. Users often choose Ahrefs for its popularity and larger keyword database, although this preference may be biased. It excels in backlink analysis and provides valuable insights into competitors' strategies. However, Semrush potentially has a better keyword difficulty calculator, considering factors beyond backlinks, according to some sources.
SurferSEO is a cost-effective tool that specializes in SEO content creation. It offers highly effective content writer features, which some argue are superior to Semrush. SurferSEO's content writer tool provides valuable optimization recommendations and is known for its effectiveness in SEO content creation. While it may offer fewer features compared to Semrush, SurferSEO remains a highly effective choice for businesses looking to enhance their content creation efforts.
Content creation tools
When it comes to the actual process of content creation, there are several tools that can help streamline and enhance your efforts.
First, we have Grammarly, a popular writing assistant that helps you improve your grammar, spelling, and writing style. It's a valuable tool for ensuring your content is error-free and well-crafted.
Next, we have Canva, a user-friendly graphic design platform. Canva offers a wide range of templates, images, and design elements that make it easy to create visually appealing graphics, infographics, social media posts, and more, even if you don't have design experience.
For video content creation, Adobe Premiere Pro is a powerful video editing software. It provides professional-level features and tools for editing, adding effects, and enhancing the quality of your videos. It's a versatile tool for creating engaging video content.
Lastly, for podcasting, consider using Audacity, a free and open-source audio editing software. Audacity allows you to record, edit, and mix audio files, making it an excellent choice for creating and refining your podcast episodes.
These are just a few examples of the many tools available for content creation. Depending on your specific needs and preferences, there are numerous other options to explore and discover the ones that best suit your requirements.
READ ALSO: The 11 Best B2B Marketing Tools & Software You Should Get To Know
Tools for Capturing Leads
Let's talk about lead capture software that can help you capture leads and turn your website traffic into potential customers. It's an important step in the process, and there are some fantastic tools available for this purpose. These tools go beyond just generating leads and focus on actually capturing them. Let us introduce you to a few of them.
First up, we have HubSpot. This tool is a game-changer when it comes to lead capture. It provides a range of features and functionalities that make it easier for you to convert your website visitors into leads. From customizable forms to engaging pop-ups, HubSpot has got you covered.
Another tool worth mentioning is OptinMonster. With its powerful lead capturing capabilities, OptinMonster helps you create attractive and compelling opt-in forms. You can customize them to match your brand's style and strategically display them at the right moment to maximize conversions.
Last but not least, let's talk about CallPage. This tool focuses on capturing leads through call requests. By placing a call widget on your website, CallPage allows your visitors to request a call back from your sales team, turning them into potential leads. It's a great way to engage with your audience and convert them into customers. Additionally, it has a very effective meeting scheduler module.
All of these aren't lead generation software per se. But because capturing leads is an essential part of the process, we had to mention them among the best lead generation tools nevertheless.
CRM & Management Platforms
Once you've captured leads, you need the right tools to manage and nurture them effectively. Customer Relationship Management (CRM) and management platforms are essential for organizing and optimizing your lead management process. Here are a couple of noteworthy options.
Salesforce is a popular CRM platform that offers a comprehensive suite of tools for managing leads, tracking customer interactions, and automating sales processes. It's highly customizable and integrates well with other systems.
HubSpot helps you track and organize leads, automate follow-ups, and analyze interactions. It integrates seamlessly with other HubSpot tools, providing a unified ecosystem.
Pipedrive is a CRM platform that simplifies the sales process with a visual pipeline view. It allows you to track leads and deals easily and automate repetitive tasks.
CallPage, the lead gen tool mentioned earlier, integrates with popular customer relationship systems and can even function as a simple CRM for small businesses.
Choosing the right CRM and management platform depends on factors like scalability, ease of use, and integrations. Investing in these tools can greatly enhance your lead management process and increase conversion rates.
Advertising Tools
Advertising tools like Google Ads, Facebook Ads, and LinkedIn Advertising empower businesses to create and manage online ad campaigns. They enable targeting specific audiences, increasing brand visibility, and driving website traffic. These tools are vital for attracting and converting potential customers into qualified leads.
Google Ads is ideal for capturing users actively searching for relevant keywords.
Facebook Ads excels at targeting diverse audiences across platforms like Facebook and Instagram.
LinkedIn Advertising is valuable for reaching professionals and decision-makers in B2B industries.
Consider the advantages and disadvantages of these tools. While Google Ads leverages search intent, Facebook Ads provide easier targeting options for specific audience segments. Both are great tools to generate leads, connect businesses with their target audience, and drive growth.
LinkedIn is a B2B lead generation tool and only really works well for that. But it arguably has the most precise audience targeting options. It's also quite expensive.
E-mail Marketing Solutions
According to various studies and industry reports, the average ROI for email marketing ranges from 380 to 420%. This means that businesses can expect to generate around $38 to $42 in revenue for every dollar invested in email marketing. It's important to note that these figures are averages, and individual results may vary.
One of the reasons email marketing tends to have a high ROI is its cost-effectiveness. Compared to traditional marketing channels like print, television, or direct mail, email marketing is generally more affordable and allows for better targeting and personalization. It also offers a direct and measurable way to track results and optimize campaigns based on user engagement.
The most popular e-mail tools to generate leads
MailChimp and GetResponse are arguably the best lead-generation software for email marketing. These platforms pack a punch when it comes to generating leads and engaging your audience. Let's dive into their features and see what sets them apart.
Both MailChimp and GetResponse offer user-friendly interfaces with handy drag-and-drop email builders. You don't need to be a tech whiz to create stunning emails! They provide a range of customizable templates, so you can make your messages visually appealing and on-brand. Plus, you can automate your email sequences, sending personalized messages to specific segments of your audience. And hey, comprehensive analytics are at your fingertips, helping you track the performance of your email campaigns like a pro.
Now, let's talk about differences. Mailchimp is free for audiences of 1000 contacts and less; the limit for GetResponse is 500. The pricing is somewhat complicated in both, but MailChimp is a bit cheaper if you're looking to send newsletters and simple marketing automation for an audience of 5000 contacts, for example.
GetResponse takes the cake when it comes to automation capabilities. Their automation workflows are like magic, allowing you to create personalized customer journeys based on user behavior. MailChimp offers automation too, but it might not be as robust in comparison.
But wait, there's more! GetResponse goes the extra mile and offers webinar hosting as part of its package. This means you can connect with your audience through engaging webinars, opening up new avenues for lead generation and interaction. If webinars are your thing, GetResponse has got you covered.
Other e-mail lead gen tools
While these tools are highly regarded, it's important to note that there are other email marketing solutions available in the market that may suit your specific needs. It's always recommended to evaluate different options based on features, pricing, ease of use, and customer reviews to choose the solution that aligns best with your business goals. Here are a few noteworthy alternatives.
MailerLite offers a free plan with features like a drag-and-drop email editor, automation, and landing pages. It allows you to send up to 12,000 emails per month to 1,000 subscribers.
Moosend provides a free plan with access to features like email automation, landing pages, and reporting. It allows you to send unlimited emails to up to 1,000 subscribers.
Sendinblue offers a free plan with features like email marketing, SMS marketing, and live chat. It allows you to send up to 300 emails per day to an unlimited number of subscribers.
HubSpot is a popular all-in-one platform for sales and marketing teams that includes email marketing among its suite of tools. It offers features like contact segmentation, personalized emails, automation, and detailed analytics.
Many email marketing tools provide free account options, typically with limitations on the number of contacts and newsletters. These free versions are a great way to get started and become acquainted with email marketing. However, as your business expands, it's important to consider upgrading to a paid plan to unlock advanced features and cater to a growing subscriber base.
Outbound Lead Generation Platforms
Outbound lead gen involves actively reaching out to potential customers or clients to generate interest and acquire new leads. It includes methods like cold calling, email marketing, direct mail, events, social media outreach, and paid advertising. These strategies allow businesses to proactively identify and connect with individuals or organizations that fit their target market.
Having the right tools to generate leads is a must-have in outbound lead gen too. Let us introduce you to some powerful platforms that will supercharge your efforts and help you reach your target audience effectively.
Outreach is a comprehensive sales engagement platform that automates and scales your outbound lead generation. With features like email outreach, call automation, and detailed sales analytics, it empowers you to enhance prospecting and improve conversion rates.
SalesLoft is another popular sales engagement platform designed specifically for outbound lead generation. It offers tools for email tracking, cadence management, and sales analytics, enabling personalized outreach and effective campaign tracking, resulting in better outcomes.
LinkedIn Sales Navigator is a fantastic tool for leveraging the power of LinkedIn. It provides advanced search filters, lead recommendations, and comprehensive profile insights to identify and engage with the most relevant prospects in your industry.
If you need to uncover email addresses associated with a specific domain or company, look no further than Hunter.io. It helps you discover contact information for potential leads and verifies the deliverability of email addresses, ensuring your outreach efforts are focused and fruitful.
These platforms offer invaluable data, automation capabilities, and audience insights that will take your outbound lead generation to the next level. Consider your specific needs, budget, and target market when choosing the tool that best aligns with your business objectives. Happy lead hunting!
READ ALSO: 6 Tools and Lead Generation Channels to Increase Sales
What Is The Best Lead Generation Software?
As with many things in business, the answer to the question of the best tools to generate leads is "It depends." Finding the best lead generation tool for your business will involve considering factors such as your specific needs, budget, target audience, and the nature of your industry.
Different businesses have different requirements and preferences when it comes to lead generation, so it's essential to assess your unique circumstances before determining the best fit. That being said, we recommend the lead gen tools mentioned in this article. Many of them offer a free trial period or a basic free version. So, the best thing you can do is simply go out there and test multiple solutions to find the perfect fit for your needs.
READ ALSO: 15 Best Sales Call Software Solutions for 2023
Why We Recommend Callpage as a Tool to Generate More Leads
To put it shortly CallPage offers two powerful features that can significantly enhance your lead generation efforts: the callback widget and the meeting scheduling tool.
Firstly, our flagship callback feature allows you to capture leads in real time by placing a widget on your website. When a visitor fills out the widget, our system automatically connects them with your sales team for an immediate callback. This instant response helps you seize opportunities when prospects are most interested, increasing the chances of converting them into customers. By providing prompt assistance, you'll create a positive customer experience that sets you apart from competitors.
Secondly, CallPage Meetings takes the hassle out of appointment booking. It enables your website visitors to schedule meetings with your sales team directly from your website. This eliminates the back-and-forth of email exchanges and phone calls to find a suitable time. With a simple and intuitive interface, visitors can effortlessly book appointments, leading to more qualified sales conversations and improved efficiency for your team.
With the combination of the callback meeting scheduling tools, CallPage empowers businesses to capture leads instantly and streamline the appointment booking process. Give CallPage a try and experience the benefits firsthand! A free trial period is available.
Start generating leads today!
Get a 14-day free trial now,
set up the widget on your site, and see how many more leads you can capture with CallPage
No credit card required

10 minutes set up

14 days fully-features free trial
Try for free
Get a Demo