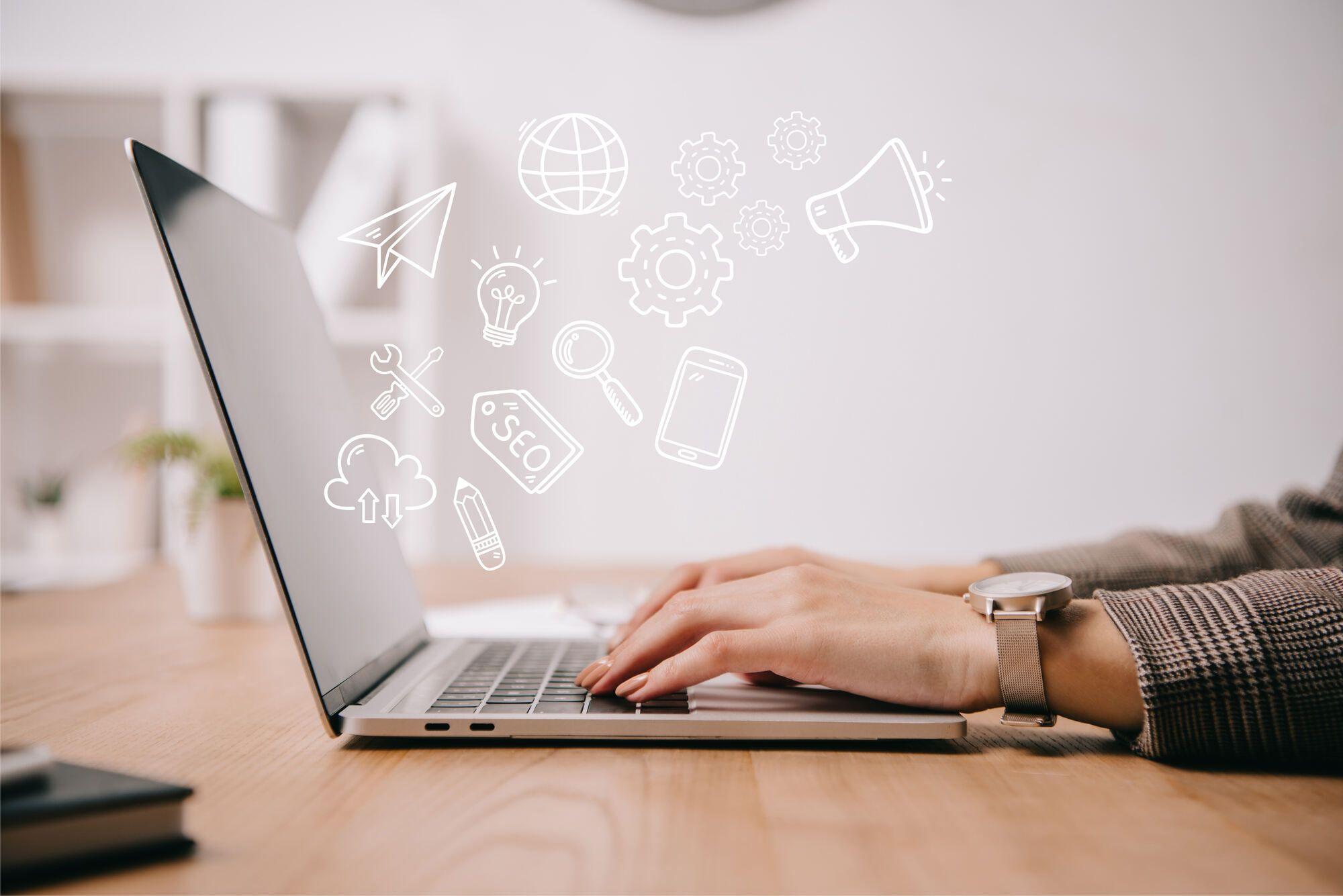 Build the Perfect Martech Stack: The Ultimate Guide to Marketing Technology Tools
Are you ready to take your marketing to the next level? With the right technology tools, you'll be able to work smarter, not harder. From automating repetitive tasks to expanding your marketing channels, find out how a well-designed martech stack can help you business.
The golden rule of marketing is to work smarter, not harder. Well, implementing the latest marketing technology is as smart as it gets. Today, there's an endless list of tools that enhance different parts of a company's workflow. When a handful of these tools are used together, it's called a marketing technology stack (or martech stack). But curating the right stack takes a bit of time and care.
In this article, we're going to break down the importance of implementing marketing tools and easy steps to building the perfect stack. The tools you use should be a reflection of your company's unique needs. However, there are a few key components every stack should include. So, let's dive into digital marketing stacks and discuss how they can help your business.
What Is Marketing Technology?
Marketing technology, or martech, refers to digital tools and platforms that are used to execute campaigns efficiently and effectively. These technologies can cover each aspect of the marketing process. There are tools for customer relationship management, email marketing, analytics tools, and more.
Some tools, such as Asana, are an all-in-one marketing technology platform for marketing teams. They allow the entire marketing team to share, collaborate, and monitor progress. Others, such as CallPage's click-to-call and meeting scheduling tools, perform more specific functions.
The more optimized your marketing team is, the better. That's why using multiple of these tools in a digital marketing stack is so effective. But what exactly are marketing stacks?
What Is a Marketing Technology Stack?
A martech stack refers to the combination of various marketing processes and tools used to accomplish outreach goals. Curating a unique stack of applications, services, and platforms allows companies to create a system that's tailored to their marketing strategy and needs.
The ultimate goal of a marketing technology stack is to make difficult processes easier. Here are a few areas where a tech stack can help your company:
Automate repetitive tasks
Collect website visitor analytics
Monitor marketing campaign progress
Create personalized ads/messages for clients.

Marketing technology is always changing. Companies that have a successful stack should always be open to making adjustments. Regular evaluations of your current system will prevent you from falling behind new trends and advancements.
The Importance of a Marketing Technology Stack
Staying competitive
Business is competitive–no way around it. What works well for your company today could hold it back tomorrow. Companies that fail to implement marketing technologies are going to be less efficient than ones that do. An updated marketing tech stack ensures your organization is providing the highest quality work with minimal effort. But, to remain competitive, the stack has to be continually evaluated and adjusted.
Reducing operational costs
Marketing technology stacks automate tedious tasks, such as collecting customer information, organizing analytics, and creating content. The automation of tasks is a great way to reduce operational costs. With fewer costs, you'll see a better return on marketing investments–who doesn't want that? Removing time-consuming tasks also allows marketers to allocate more attention to other duties.
Improving communication
Communication is everything in a marketing department. When the team of a project isn't on the same page, it results in delays, frustration, and lower-quality work. To avoid bad communication, there are marketing technology platforms that create an all-in-one workspace. For example, Asana is a platform that allows departments to assign tasks to team members, send files, track deadlines, and monitor performance.
Expanding marketing channels
The more marketing channels you tap into, the more likely your campaigns are to succeed. Marketing stacks make it simple to manage multiple campaigns on various platforms in one place. Not only will you expand your reach, but the marketing efforts and brand presence will be more coordinated and unified.
How to Build the Right Martech Stack for Your Company
There are countless marketing technology tools to choose from today. But it's important that your company chooses the right one for your specific needs. When you're creating a martech stack, research and testing are the key. So, let's look at seven steps to ensure your marketing technology stack is optimized for your goals.
1. Clarify your goals
The first step to building a martech stack is to clarify your goals. Are you trying to convert more website visitors to sales or organically grow your social media following? Whatever the case may be, identifying your goals will help you determine the right tools.
2. Identify marketing challenges
Talk with your marketing team to uncover the common challenges they face in their marketing efforts. Every hurdle that slows down the process hurts the business. If your specific goal is to convert more website visitors to customers, ask specifically about that process. Take notes of all challenges to help pinpoint the best tools for the marketing tech stack.
3. Research marketing technology tools
Next, it's time to see what types of tools are out there. There are endless martech stack examples and reviews online to get you started. Use your company's marketing goals and challenges to refine your search. If you need an email marketing app, try checking out Forbe's best email marketing software list. Write down the apps that might be a good fit, along with their prices and features.
4. Request trials and demos
Once you have a list of potential technologies for your martech stack, request demos. Some companies, like CallPage, offer free trials for organizations to test their services. Have an individual or small group try the apps and provide feedback. Use the data to identify the most effective options to overcome challenges and achieve goals.
Here are some important questions to ask during the trial period:
Does the tool integrate with existing systems?
Will there be a large learning curve?
Does the system eliminate hurdles in the marketing process?
What is the cost of the tool?
Does the tool have positive reviews?
5. Create a workflow for each system
When the best systems have been selected for your stack, a workflow needs to be created. How are your marketers going to implement the tools? Select an individual or small group from your marketing team to master each system. They should then create step-by-step instructions that other team members will be able to follow.
Introducing marketing tools before anyone knows how to utilize them will only create issues. Having a few experts will minimize the learning curve and ensure the company is getting the most out of the apps.
6. Provide training
Provide in-person (or virtual) demos and easy-to-follow instructions to the marketing department. Proper training is crucial to begin reaping the benefits of your martech stack as soon as possible. If your team is struggling to adjust to certain technologies, you may need to consider other options.
7. Monitor and adjust
The effectiveness of a martech stack needs to be constantly monitored. If certain tools aren't being utilized or have caused productivity to flatline or decrease, they should be canceled or switched. You should never get too comfortable with your own martech tool stack. Marketing technology tools are constantly evolving. So, keep an eye out for the latest software, and don't be afraid to try new strategies.
What Tools Does Every Martech Stack Need?
Your company's martech stack should be tailored to your specific objectives. However, there are a few essentials that will cover all your basic marketing needs. These tools will act as a foundation but ensure your general marketing tasks are streamlined. Once you have a strong base, you can start implementing more specific apps like CallPage's click-to-call widget. So, let's take a look at the tools every martech stack needs.
Customer relationship management (CRM)
CRMs should be the core of your martech stack. These systems allow you to collect customer data, build and maintain relationships, and track the success of marketing campaigns. Additional tools can be added to the platform to create the perfect stack for your company.
Website tracking tools
Website tracking tools make sure you never miss an opportunity to convert a website visitor into a client. These programs track the movements of your visitors, collect contact information, and notify your marketing and sales teams. As soon as a potential client clicks on your page, you can begin tailoring the perfect pitch.
Content management system (CMS)
Content is king. Having a content management system will help your team create, publish, and update posts across multiple channels. Trying to manage content on a blog, Instagram, LinkedIn, and other platforms gets complicated. But with the help of a CMS, everything can be done in one place.
Social media tools
Social media is a great place to interact with customers, provide informative content, and humanize your company. But if your posting isn't consistent, you won't have much success. Social media tools make it simple to schedule posts on multiple platforms and track performance metrics.
Email marketing tools
Despite the popularity of social media marketing now, email marketing is not something to overlook. Email marketing tools will help design and automate the perfect campaign. Many programs also assist in tracking performance, refining target audiences, and managing contact lists. And if you take into consideration that sending newsletters can deliver an ROI of up to 4300%, the conclusion is obvious: you should include email marketing tools in your marketing technology stack.
What Role Can a CRM Play in an Effective Martech Stack?
Customer relationship management (CRM) systems typically act as the central hub of a martech stack. These systems give your team an all-in-one space to collect customer information, uncover sales leads, manage marketing campaigns, and provide easy internal communication. Other marketing technologies can then be added to the CRM to assist in your specific marketing goals. Let's take a closer look at what role a CRM can play in an effective martech stack.
Benefits of a CRM in a martech stack:
Enhanced customer targeting
Efficient sales pipeline management
Improved customer data collection and analysis
Streamlined workflow and collaboration
Increased customer satisfaction
Enhanced customer targeting
CRM systems store customer data, including demographics, communication preferences, and purchase history. The information allows your team to pinpoint your ideal customer and create tailored messages to lure them in. Using these systems cuts back on research time and leads to higher conversion rates.
Efficient sales pipeline management
Sales and marketing go hand in hand. Marketers need to know which strategies are working for the sales team and which are not. A CRM provides detailed insights into the customer journey, showing which tactics are generating leads and sales. The marketing and sales team will be on the same page, allowing for quick adjustments.
Streamlined workflow and collaboration
CRMs and the tools you pair with them can automate time-consuming tasks. Duties like recording customer info, tracking social media engagement, and scheduling meetings can be done instantaneously. The systems will streamline your team's workflow, allowing them to accomplish more but still maintain quality.
Increased customer satisfaction
Ensuring customer satisfaction keeps clients coming back again and again. Achieving that requires your company to be responsive and informative. CRMs often come with customer support services. The features can organize inquiries, respond to FAQs, and free up service reps to handle more important tasks.
Clear analytics and reporting
In marketing, data and analytics are like a treasure map; If you follow the clues, it'll lead you to riches. CRMs are fine-tuned to break down data into easy-to-understand reports. Those reports will identify customer behaviors, trends, and the effectiveness of marketing strategies. Based on the data, your company can make better decisions, leading to more success.
The Best Marketing Technology Tools?
If you're new to marketing technology tools, knowing what services to use is overwhelming. There are thousands of programs to choose from, and your company should do its due diligence. But here are some of the top services on the market today to take your business to the next level.
Asana (workplace dashboard)
Asana is an all-in-one digital workspace. Teams can create goals and assign tasks to individual members. The platform makes it easy to manage deadlines, send documents, and track the overall performance of a company. According to Asana, users of the product and management software see a 72% increase in employee satisfaction and a 34% increase in on time-completion. Some of the top features are workflow builders, project timelines, and app integration.
CallPage's meeting scheduling (sales leads)
CallPage's automated meeting schedule tool is a great addition to your marketing tech stack. The tool invites website visitors to schedule a meeting via a pop-up window. The fields of the pop-up are customizable to ensure you get the information you need. Based on the visitors' answers, the tool notifies the right person on your team. Click here to start your free trial.
CallPage's click-to-call (sales leads)
CallPage's click-to-call widget connects your sales team with hot leads as soon as possible. The widget encourages website visitors to request calls in real time. In just 28 seconds, the visitor will be connected with the first available representative. Utilizing the app has been shown to increase your conversion by 75% or more. Give the free trial a try to see how it works for your business.
Read up more on the click-to-call software and all its advantages here!
HubSpot (CRM)
HubSpot is a CRM platform designed to help grow your business. The platform includes features such as lead generation, marketing automation tools, customer service software, CMS software, and much more. CRM platforms act as a great foundation for the rest of your martech stack, and HubSpot is a wonderful option.
GetRepsonse (email marketing)
GetResponse is an email marketing tool suitable for small and medium-sized businesses. The tool provides features such as email marketing templates with call-to-action options, automated newsletters, and auto-responder emails. You'll also have access to thousands of images from Giphy and Shutterstock, giving your emails a professional touch. It's a fair-priced product that can greatly increase conversion rates.
BuzzSumo (social media content creation)
BuzzSumo will help your company stay relevant in the fast-paced world of social media. The program allows you to analyze 5 years of content performance data, track trends, connect with influencers, and monitor performance. Implementing the app into your martech stack is an efficient option to enhance your content and increase your organic traffic.
Final Thoughts
Without a marketing tech stack, staying competitive in the world of marketing is tough work. Introducing digital technology tools is a fool-proof way to automate tedious tasks, generate analytics, personalize pitches, and monitor campaigns.
The most effective martech stacks reflect the specific needs of your company. When choosing the tools of your stack, be methodical. Take the time to outline your goals, identify challenges, and test multiple systems.
Start generating leads today!
Get a 14-day free trial now,
set up the widget on your site, and see how many more leads you can capture with CallPage
No credit card required

10 minutes set up

14 days fully-features free trial
Try for free
Get a Demo