Take three simple steps to start earning with CallPage:
Sign up
Hit the registration button to create your partner account.
Promote
Share your unique referral link with your customers or readers.
Earn
Earn 25% of every payment made by your referral for the first 12 months.
We believe in good partnership
'You only recommend the best solutions to your customers so you can be confident in their success'? CallPage is a highly-rated product with excellent customer support.
Why join the program?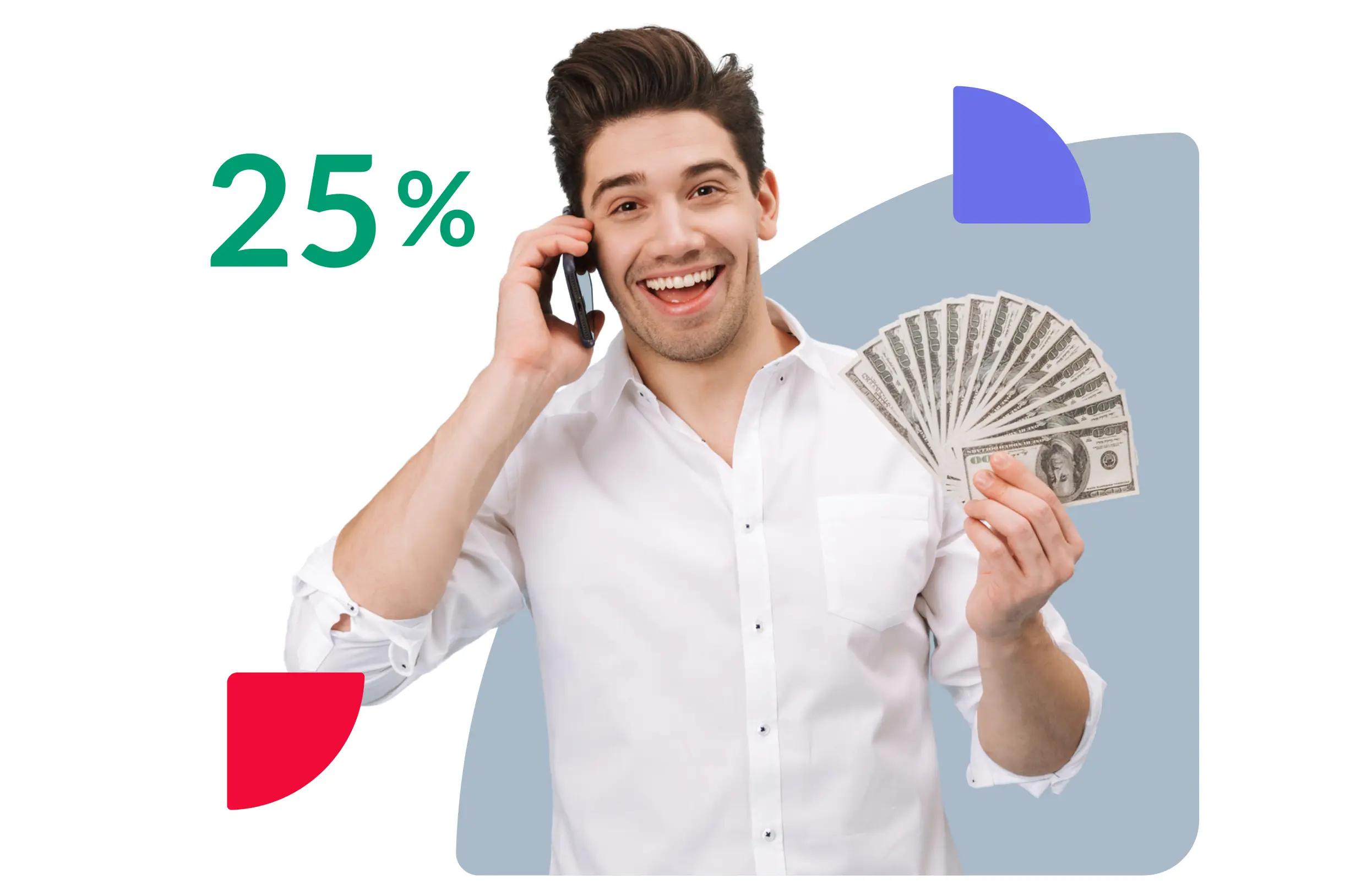 Earn 25% on every payment
For every payment made by your referral, you'll receive a 25% commission. Earn up to $1,000 USD on a single referral. Our sales and support team will take care of your customers. All you have to do is tell them about CallPage!
Provide value to your customers 
If your customers are struggling with lead acquisition or low lead-to-customer conversion rates, you finally have a solution for them. With a 7-day free trial period, they can test CallPage completely free of charge. Join CallPage's partner network and make your customers happy!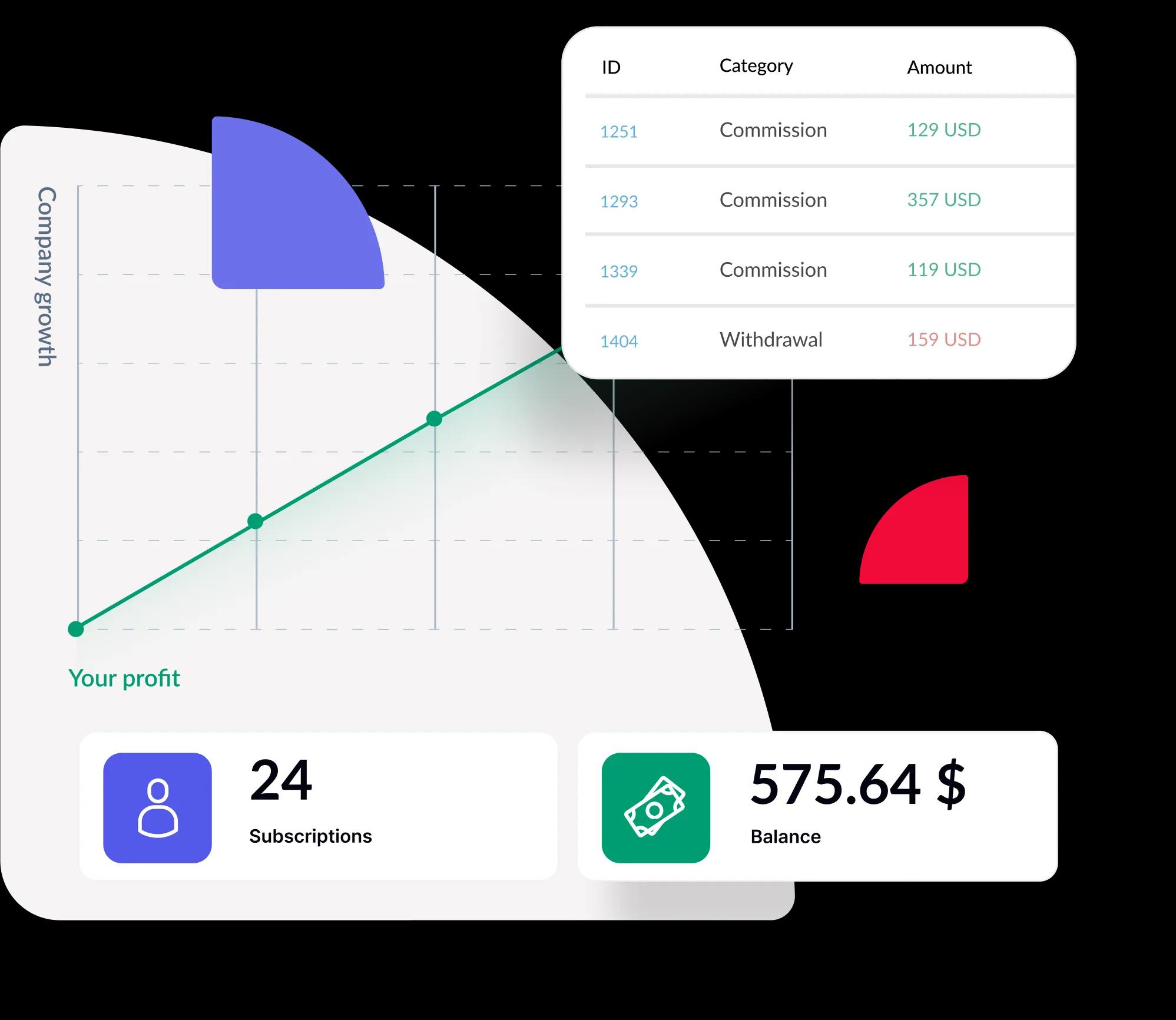 Access our Partner Portal
Gain access to our affiliate portal, where you can track all ongoing trials and subscriptions of your clients. Easily check your current balance and apply for withdrawal. Gain access to all ready-to-use marketing materials such as banners, sample copies, presentations, and training materials.
Easily create your unique tracking links and send your customers and prospects.  With a 30-day cookie policy, a customer will be counted as a referral, even if they sign up within 30 days of their first visit.
Who is a good fit?
Marketing & IT agencies
Do you run a marketing & SEO agency, or are you an IT and web development service provider? Join our partnership program so you can earn commissions while helping your customers get more leads.
Bloggers and trainers
If you run a business blog or provide marketing or sales training, our partnership program is meant for you. All you have to do is add a referral link to your posts or recommend CallPage during your lectures or meetings. Contact us to see how it works.
Technology companies
Contact our partner manager if you represent a technology provider and think our product would be a good fit.
FAQ
Browse through the most commonly asked questions about our partnership program.
You will receive 25% of every payment made by your referral for exactly 12 months from their first payment. You can request a withdrawal at any time using the portal panel, with a minimum payout amount of 50 USD. We pay the commission by wire transfer within 14 (fourteen) business days, counting from the date when we receive a correctly issued invoice. It's usually a lot quicker than that, though. In cases of bigger partners, the partner program rules can be negotiated. To prolong the payout period or increase the payout percentage, contact our Partner Manager at partners@callpage.io.

Our affiliate program is based on subscription, so you will only be paid after your customer makes a payment. If you have a pay-per-lead proposal, please contact our marketing team at marketing@callpage.io.

Yes, you can get an additional discount bonus for your customers. To get your individual promo code, please contact our Partner Manager at partners@callpage.io.

You can use all materials provided in the partner program, such as logos, banners, and presentation templates. You can use all promotion channels, including PPC ads, social media ads, and others. All rules regarding promotions can be found in our partner program conditions.

CallPage is available in 45 countries. Please check the pricing plan to view the list of supported locations. You can join our affiliate program if you are operating in any of those countries.

As a partner, you will be obligated to provide us with a legitimate invoice to allow a payout. If you don't have a registered company, you can still be our partner by using any of the popular digital invoicing tools.

Our customers are welcome in our partner program. The only rule is you will not receive a commission for your company subscription.

After logging into the partner program, you will be able to create any number of referral links that lead to CallPage's website or the trial sign-up page. You can promote links using any legit promotion method or send the link directly to your customers. Once the customer registers for a free trial or buys a subscription using your link, you will see their status in your admin panel. If you want to promote CallPage during lectures or personal meetings, please contact our Partnership Manager at partners@callpage.io to establish your individual tracking rules.