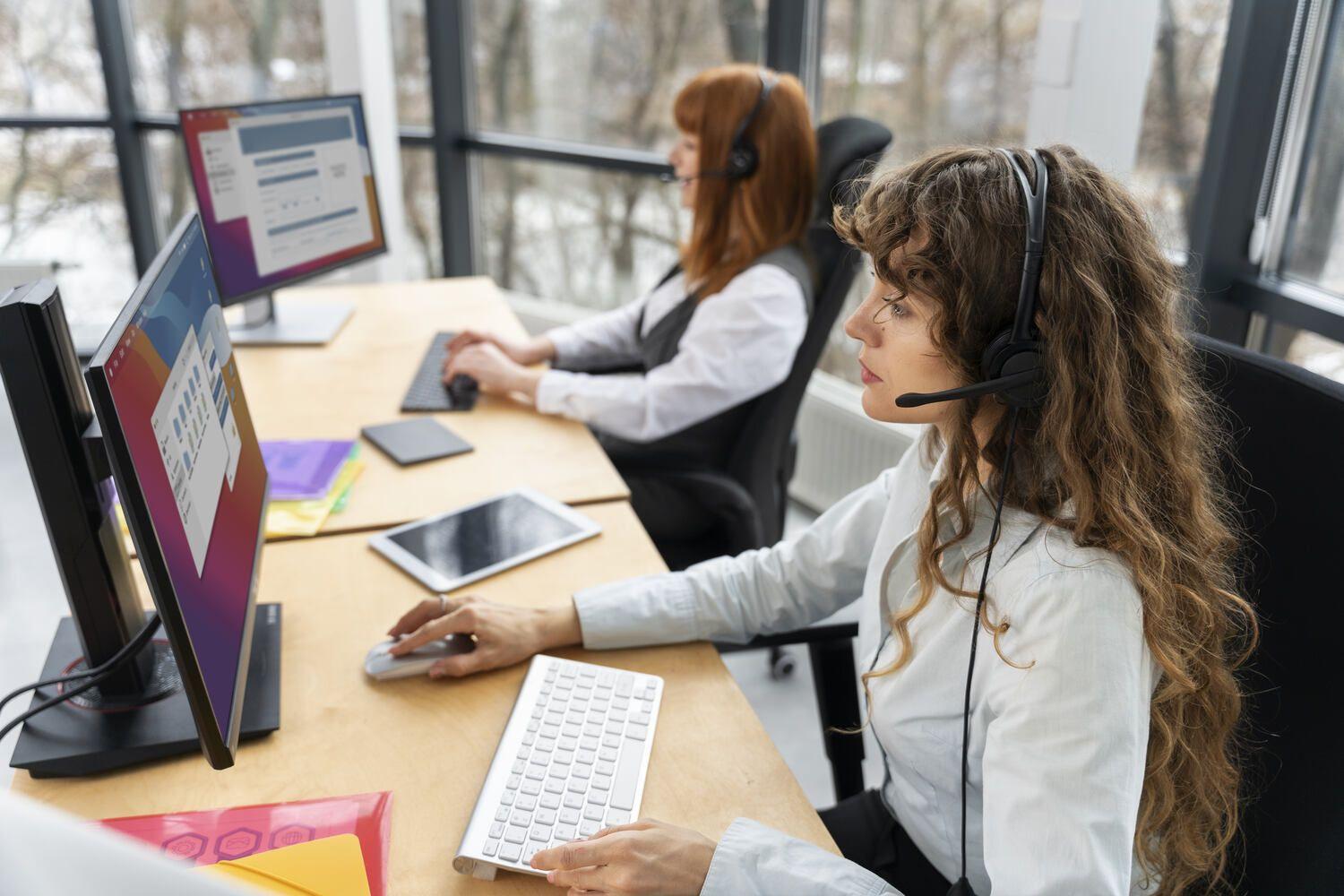 15 Best Sales Call Software Solutions for 2023 (Inbound and Outbound)
In this article, we will briefly discuss the role of inbound and outbound calls in sales. But for the most part, we'll be reviewing the best sales call software out there. So if you're looking for great tools to use for your sales calls, this is the article you've been looking for!

Did you know that 57% of executives at the C-level favor phone contact over other methods? And surprisingly, 69% of buyers answer cold calls from new providers, showcasing the potential of this often-underestimated tactic (source: HubSpot).
In the intricate dance of sales and customer engagement, inbound and outbound calls are the rhythm that drives success. Each type of call offers its unique advantages, and understanding these can be the key to unlocking unparalleled growth.
Read this article to learn more about their differences and explore the best inbound and outbound call software options that can streamline and improve your sales process.
What Are Inbound Calls?
When potential customers contact your business, it's an inbound call. These calls can come from various sources, including marketing campaigns, referrals, and customer recommendations. The benefit of inbound calls is that the potential customer is already interested in your product or service.
What Are Outbound Calls (Cold Calls)?
On the other hand, outbound calls involve your sales team proactively reaching out to potential customers. This approach is commonly associated with cold calling, where you contact individuals who may not have shown prior interest in your offering. Although cold calls require more effort to capture the prospect's attention, they can be effective when strategically executed.
The Power of the Phone in Sales
Even with the growing popularity of digital communication channels, the phone remains an effective sales tool for various reasons. Firstly, it offers a personal touch that cannot be replicated by email or messaging.
Secondly, cold calling, though often viewed skeptically, can be successful when executed properly. The secret lies in conducting comprehensive research, customizing your approach to meet the prospect's requirements, and maintaining a professional and respectful demeanor.
Interestingly, phone calls generate revenue at a rate of 10-15 times more compared to web leads (source: Invoca).
Inbound Calls vs. Outbound Calls:
Regarding sales, inbound calls are more effective than cold calls in today's market. According to MPI, 56% of calls coming to a business are considered viable leads, which are typically inbound calls. Moreover, on average, inbound calls close 4–5 times the rate of outbound calls (source: Flex). This is because those who initiate an inbound call have already expressed interest in your product/service, making them more likely to purchase.
However, cold-calling campaigns are still worth considering, as they can help you reach potential customers who may not have heard of your brand yet. The best approach to balance inbound and outbound strategies will depend on your target audience, the product/service you offer, and your overall sales objectives.
Whichever strategy sales teams decide to choose, you need the right software to successfully implement it. Read on for tips on the best sales call software out there.
The Importance of Choosing the Right Sales Call Software
The right sales call software can make or break your sales strategy. Here's why.
Efficiency and Productivity: Modern sales call software solutions come equipped with features like auto-dialing, call recording, and CRM integration. These tools can significantly reduce manual tasks, allowing your sales team to focus on what they do best: selling.
Data-Driven Decisions: With the right software, you can track and analyze every call. This means you can understand which strategies are working and which aren't. And adjust accordingly.
Improved Customer Experience: A good sales call software ensures that every call is of the highest quality. Features like call routing, interactive voice response (IVR), and call whispering can enhance the customer's experience, making them more likely to engage and buy.
Scalability: As your business grows, so will your sales team and the number of calls they make. The right software can easily scale with you, ensuring that you don't have to switch platforms or deal with unnecessary complications.
Cost-Effective: While there's an initial investment involved in purchasing sales call software, the return on investment can be substantial. By streamlining processes and increasing conversion rates, the software can quickly pay for itself.
We've created this article to help you find the best cold calling software and tools for handling inbound calls. Below, you'll find a comprehensive list of top-rated solutions in the market, along with their key features, benefits, and pricing details.
READ ALSO: Automated Lead Generation Software: Everything You Need to Know
Inbound Call Tools
Let's start our sales call software review list with eight tools for generating and handling inbound phone calls. They're all a bit different and have a unique set of benefits and drawbacks (although some of their features are, in fact, very similar). We'll give a brief summary of each tool, and round up its main features, benefits, and drawbacks reported by users. We'll also give you an idea of the integrations it can handle and how much you'll have to pay for it.
#1: LiveAgent — help desk solution for e-commerce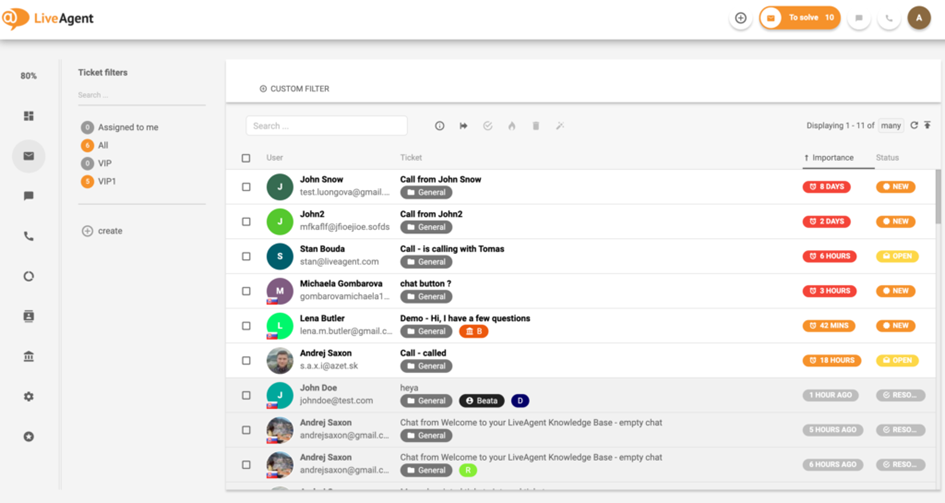 Image source: LiveAgent
LiveAgent is an omnichannel cloud-based call center tool. But it also has a live chat, ticket management, and self-service portals. Designed for e-commerce businesses, LiveAgent provides a platform for managing and responding to customer inquiries from various channels, including email, social media, phone, and live chat.
Besides that, LiveAgent offers comprehensive CRM software capabilities and a ticket management system that integrates all customer communication channels. Its flexibility allows it to scale alongside small businesses as they grow their customer base and online services. The software also offers a wide range of marketing and sales force automation options through partnerships with third-party providers.
Selected features
Ticketing System: This streamlined approach ensures that every query is organized, tracked, and resolved effectively, enhancing your customer support process.
Agents: By providing your agents with a user-friendly platform, the tool enables them to handle a wide range of customer interactions while maintaining high responsiveness.
Canned messages (macros): These predefined responses allow your agents to address frequently asked questions and common issues quickly.
SLA compliance report: LiveAgent provides you with insights into how well your support team is meeting response time targets and other SLA requirements.
Chat distribution: This feature ensures that customer inquiries are promptly routed to the right team member, improving response times.
Knowledge base: It allows customers to find answers to common questions and troubleshoot issues independently.
Call routing: Enables automatic routing of incoming calls based on predefined criteria such as priority or agent availability.
Integrations
LiveAgent integrates with a wide range of tools, plugins, and apps categorized by channel, such as email, phone, and chatbot, many of them used for monitoring.
Advantages
Image source: Super Monitoring
Lightweight solution: Offers streamlined customer service excellence, unlike heavyweight competitors such as Zendesk and Freshdesk.
Extensive CRM integration: Integrates seamlessly with popular CRM software for small and large organizations alike.
Efficient ticket management: LiveAgent's features, including the universal inbox, chat routing, rules, and knowledge base, empower teams to handle large ticket volumes effortlessly.
Simplified social management: Integrates Facebook and Twitter, enabling unified responses, real-time monitoring, and easy categorization of social interactions.
Reported disadvantages
Complexity of the software
Outdated UI
Few automation features
Limited number of tutorials
Pricing
Business plans are available from $9 to $49 per agent, while enterprise options begin at $69 per agent.
#2: Zendesk — a cloud-based customer service platform
Zendesk is a customizable cloud-based customer service solution with integrated live chat and inbound call handling. Its adaptable features cater to diverse industries, enabling efficient ticket management, self-service knowledge bases, and online communities.
A personalized approach, along with branding options, sets Zendesk apart in enhancing customer support experiences. It's also recognized for its ease of use, agility, and scalability.
Selected features
Messaging: Personalized conversations can be facilitated across various communication channels, allowing for engagement on preferred platforms.
AI and automation: Enhanced team performance and efficiency in issue resolution are achieved through the utilization of AI-driven solutions.
Help center: Customers are empowered to independently access solutions via a comprehensive self-service portal, reducing the reliance on direct assistance.
Ticketing system software: Tools designed for efficient management and resolution of customer support tickets are available.
Live chat software: Real-time conversations can be initiated with customers, enabling sales reps to provide immediate assistance and engagement.
Forum software: Community discussions and knowledge sharing are facilitated through an interactive forum platform.
Integrations
Zendesk integrates with a large number of applications, with the most popular among users being Slack, Giphy, Harvest, and Tables. Integrated apps are used for quoting and billing, time tracking, social media, project management, collaboration, and marketing.
Advantages
Unified communication channels: Zendesk brings together various communication channels, including chat, cloud phone system, email, and social media, into a single platform.
Customization options: Offers extensive customization capabilities, allowing you to tailor the platform to match your business needs and branding.
Lead generation integration: Enables each sales representative to capture potential leads directly from customer inquiries and interactions.
Multilingual support: With support for multiple languages, Zendesk allows you to provide customer service to a diverse audience.
Reported disadvantages
UI is not intuitive
It takes time to familiarize yourself with the system
Useful features are only available in expensive plans
Difficulties with reaching customer support and slow response
Pricing
Suites Team ($55), Growth ($89), and Professional ($115) are available in-store. For enterprise plans, contact the vendor.
#3: CloudTalk — business calling solution for sales reps
Image source: Super Monitoring
CloudTalk streamlines contact center management with virtual call systems, providing executives and sales reps with efficient inbound/outbound call handling, interaction history access, and personalized client assistance.
CloudTalk has automated call distribution, pre-recorded voicemails, IVR, and custom reporting. It also has a real-time wallboard to monitor staff and after-call work to improve customer satisfaction. Moreover, it's easy to integrate with other business tools.
Image source: Super Monitoring
Selected features
Call queuing: Custom call queues can be established for inbound calls, which are then directed to available agents within specific groups.
Call recording: All calls are automatically recorded, enabling subsequent reviews for enhanced customer interactions.
Interactive Voice Response (IVR): Multi-level IVR menus guide callers through various options and departments.
Skills-based routing: Calls are directed to agents based on their skill sets and qualifications.
Real-time dashboard: The call center's activities can be monitored in real time through a dynamic dashboard.
Caller-based routing: Calls are routed based on factors such as geographical region or specific contact.
Unlimited concurrent calls: Multiple calls can be managed simultaneously without limitations.
Integrations
CloudTalk integrates with a large number of CRM, helpdesk, automation, e-commerce, and business intelligence applications, from Pipedrive to Adobe Commerce and Freshdesk.
Advantages
Centralized management: CloudTalk's cloud solution provides a centralized platform for managing accounts, calls, cases, reports, and tasks, streamlining operations and enhancing efficiency.
Offshore call center capability: The system's accessibility via the cloud and multiple devices allows for easy setup and management of an offshore team.
Flexibility and mobility: Agents can access CloudTalk's system and record call conversations from anywhere with an internet connection.
Smooth scalability: As your business grows, CloudTalk accommodates unlimited outbound campaigns, skill-based routing, smart queuing, and unlimited concurrent calls.
Reported disadvantages
Phone app issues with call transfers
Issues integrating with the company's CRM
UI is not intuitive enough
Poor customer assistance
Pricing
You can choose from three off-the-shelf options, varying from $25 to $50/month. You can also enquire about the custom option with expert features and enterprise-level security.
#4: Five9 — a cloud-based contact center software powered by AI
Image source: Five9
Five9 is a leading global cloud contact center solution known for its AI-powered features. It enables exceptional customer experiences across diverse phone, email, chat, and social media channels.
The AI tools Five9 offers enhance routing efficiency, offer agent guidance, and optimize dialing modes for increased talk time. Its IVR system with speech recognition handles common inquiries, freeing up agents, while real-time metrics and CRM integration provide insights and streamline sales team operations.
Selected features
Skills-based routing: This feature ensures that calls are directed to sales reps with the right expertise.
Time-of-day routing: Optimizes call routing based on different periods, helping you manage call volume efficiently and provide better service during peak hours.
IVR with intuitive script designer: The user-friendly IVR script designer allows you to create customized call flows.
In-queue & estimated wait time: This feature informs callers about their queue position.
Toll-free numbers: Providing toll-free numbers encourages more phone calls and engagement, making it easier for customers to reach out.
Post-call surveys: Automated post-call surveys help gather valuable feedback directly from callers, enabling you to improve call performance based on their insights.

Integrations
Five9 UCaaS integrates with Zoom Phone and Microsoft Teams, as well as top CRM platforms like Salesforce, ServiceNow, Microsoft, Oracle, and Zendesk. This creates a seamless blend of telephony features and CRM capabilities.
Advantages
Instantaneous monitoring: Five9 offers real-time monitoring capabilities, allowing you to observe activities as they happen.
Dependable call connectivity: You can trust a consistent and reliable call connection experience, ensuring uninterrupted communication between agents and customers.
Intuitive utilization: The user-friendly nature of Five9's interface ensures straightforward usage.
Reported disadvantages
Difficult implementations
No free trial offered
Short retention times for records
Pricing
A variety of pricing and ordering options, including preconfigured solution bundles, custom quotes, and pricing based on users and pay-per-use, are available. You can purchase ready-made digital-only or voice-only plans for $149 and more complex ready-made options for up to $229.
#5: CallPage — a lead capture tool with a callback widget
CallPage is a call-tracking software platform that enhances businesses' call management and call analytics capabilities. It aids in identifying and monitoring customers, evaluating marketing campaign efficacy, and fostering better engagement with website visitors.
What is noteworthy is CallPage ability to engage with website visitors in real time, generate high-quality leads, and customize widgets. Thanks to its multifunctional capabilities, CallPage is a powerful solution that can help boost website conversion rates.
Selected features
Click-to-call: CallPage offers a click-to-call pop-up feature, allowing website visitors to easily initiate a phone call with your business by clicking a button or link on your website.
Lead automation: This can involve automating tasks such as lead capturing, lead tracking, scoring, nurturing, and follow-up call scheduling.
Lead distribution software: This feature helps distribute leads among your sales or customer service team members for efficient handling.
Meeting schedule: CallPage Meetings lets you schedule appointments or meetings with leads directly from your website.
Virtual PBX: A Virtual PBX (Private Branch Exchange) is a cloud-based phone system that provides a call recording feature and management options.
Phone tracking: It can provide valuable insights into call volume, call duration, call sources, and other metrics, helping you measure the effectiveness of your communication strategies.
Customization: CallPage allows you to freely customize its appearance to match your brand's visual identity.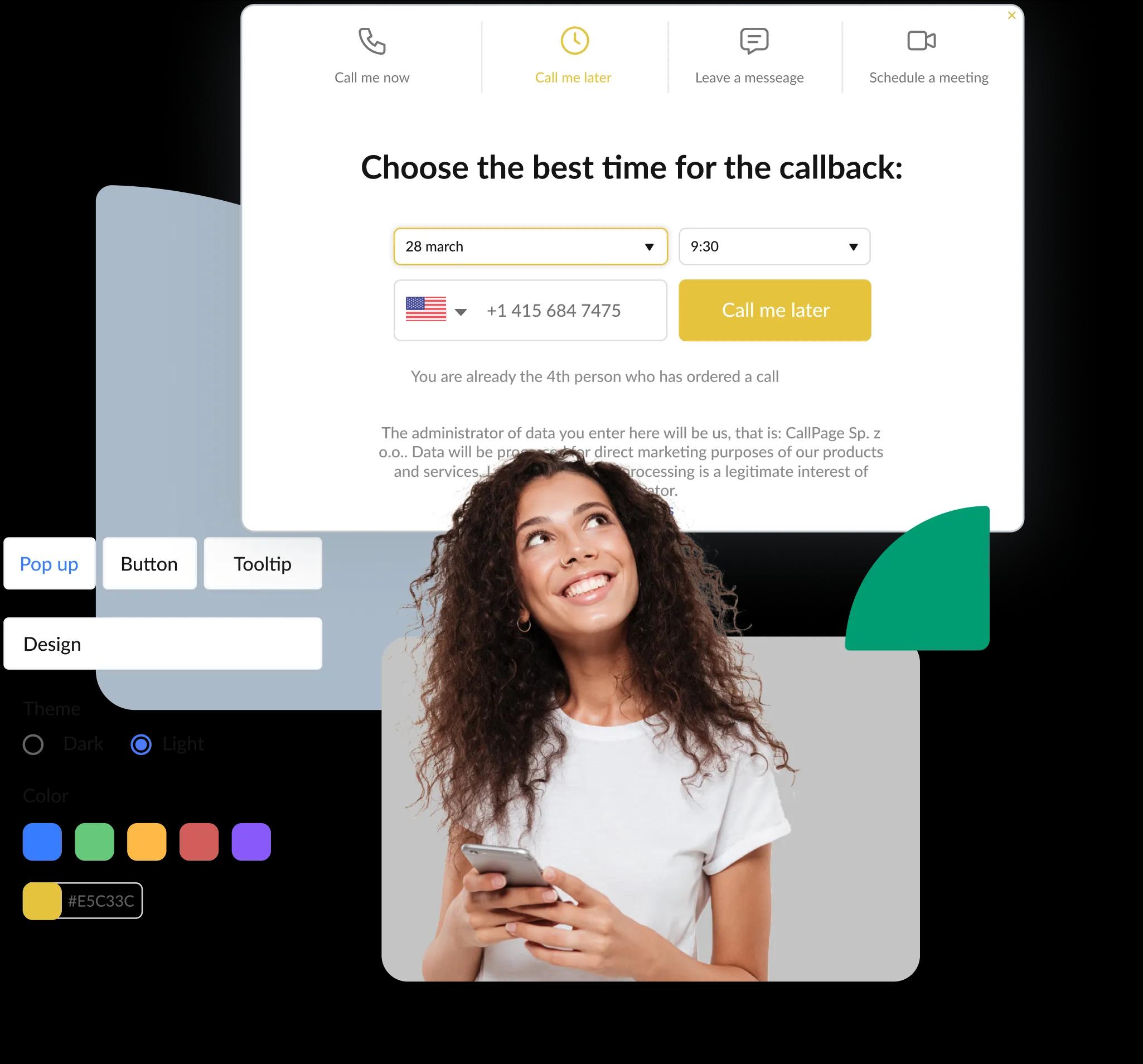 Integrations
Thanks to Zapier, you can connect CallPage with more than 3000+ apps. Most popular integrations include WordPress, Google Tag Manager, Shopify, Drupal, Slack, Salesforce, and HubSpot.
Advantages
Engaging customer interactions: CallPage improves customer interactions with automated callbacks and instant meeting scheduling, fostering personalized and efficient communication.
Enhanced sales performance: CallPage offers lead management software to improve sales performance and conversion rates.
Streamlined communication: A centralized approach boosts teamwork, streamlines communication, and improves customer experience by consolidating tools for better collaboration and productivity.
Actionable insights: CallPage's recording and reporting features provide data and insights to evaluate sales performance, improve, and make informed decisions.
Reported disadvantages
Some useful integrations require using Zapier
A few customers were dissatisfied with the response time of customer care
Pricing
Two main pricing plans are available: Essentials and Pro. You can get the first one for as little as $39 monthly plus a discount if you decide to pay for the whole year.
READ ALSO: The Sales Call Report: Turning Conversations into Conversions
#6: CallHippo — a virtual phone system for businesses and enterprises worldwide
Image source: CallHippo
CallHippo is a cloud-based call center solution that helps mid to large-size businesses improve customer interactions. It offers call analysis through recordings and an Activity Feed for quick insights, productivity tracking, sales script design, and call records samples.
Operating in 50+ countries, it's a top choice for the seamless global integration of virtual calls into communications.
Selected features
Smart call forwarding: It automatically redirects incoming calls to your preferred devices or numbers.
Call queuing software: The Call Queuing Software efficiently manages high call volumes by placing callers in a queue. This system ensures that callers are served in the order they arrive.
Call recording: The feature captures and stores crucial conversations, serving as a valuable resource for training, , handling sales objections, compliance, and review.
Automatic call distribution: This feature automates the routing of incoming calls to the appropriate sales reps or departments.
Post-call surveys: This data enables you to measure customer satisfaction, identify areas for improvement, and enhance overall service quality.
Integrations
You can connect CallHippo with various platforms, including Zapier, Zoho, Zendesk, Slack, HubSpot, Intercom, Groove, Freshdesk, and Pipedrive. The cost of the product is determined every month per user.
Advantages
Easy set-up & integration: User-friendly setup and CRM integration for efficient communication and improved customer experience.
Scalability: It includes adaptable plans for changing needs, ensuring flexible and responsive communication infrastructure.
Advanced call features: There is a call forwarding, recording, and IVR system for efficient call management and enhancing customer interactions.
Exceptional customer service: Prompt support through phone, chat, and email, enhancing user experience and troubleshooting is available.
Mobile & Web apps: You can manage communication from anywhere via a mobile app (iOS/Android) and web dashboard, which is ideal for remote teams.
Reported disadvantages
Dependency on external platforms
Limited features offered with a free plan
Complex and lengthy survey form
Phone application lags
Pricing
Startups have the option to sign up for free and enjoy basic features, paying only for numbers. As your company grows, so do the needs and the prices, varying from $16 to $40 for available plans.
#7: Call Center Studio — a Google-based contact center software
Image source: Call Center Studio
Call Center Studio is a cloud-based contact center solution known for its serverless infrastructure, ensuring remote work adaptability. Built for scalability, Call Center Studio is ideal for small to medium-sized businesses seeking efficient and adaptable customer service solutions.
Call Center Studio is a cloud-based solution for call centers. It eliminates the need for physical hardware and has multi-channel capabilities and AI features.
Selected features
Advanced transfer options: Calls can be effortlessly routed to the appropriate personnel, expediting issue resolution and ensuring efficient customer support.
Multi-channel connection: It integrates multiple communication channels such as social media, text, voice, and web, providing customers with a cohesive and convenient interaction experience.
Interactive Voice Response (IVR): Customer queries are automatically addressed around the clock, enabling self-service interactions, promotions, surveys, and brand engagement.
Quality control: You can record calls, chats, and surveys to maintain service standards and enhance sales management.
Agent supervision: Real-time insights into the status of your sales team, including names, call durations, and ongoing activities, facilitate effective team management and performance assessment.
Integrations
Call Center Studio integrates with a wide range of software systems, including CRM, payment platforms, WhatsApp, Facebook, and more, streamlining operations and enhancing customer interactions.
Advantages
User-friendly interface: Call Center Studio is designed to be easy to use and manage, making it convenient for both agents and administrators.
Account management: Call Center Studio offers robust account management, and users can communicate directly with an account manager for assistance and support.
Secure and stable system: The software is built on Google's infrastructure, which is known for its security and stability. This provides users with a reliable platform for their call center operations.
Web-based and Pay-as-you-go: It's a web-based solution, accessible from any compatible device with an internet connection. Its pay-as-you-go pricing model offers flexibility and cost-effectiveness, as users only pay for the resources they use.
Reported disadvantages
Connection problems
Complicated UI navigation
Difficult to read statistics
Doesn't work on Google Chrome
Pricing
You can enquire about three available packages - Basic, Pro and Enterprise. Contact the vendor to ask for a per-agent-based quote.
#8: Aircall for inbound calling — a cloud-based business phone system
Image source: Aircall
Aircall is a business VoIP phone system that brings call center tools, team collaboration, analysis software, and virtual productivity tools into one place. The Aircall app offers advanced phone-system features and real-time analytics on desktop and mobile. It's ideal for offices and remote teams, allowing integration with CRM and helpdesk systems.
Aircall is a powerful tool for sales teams. It improves performance by offering call routing, tagging, analytics, and call recording. It supports onboarding and allows for phone numbers from over 100 countries. It also provides real-time insights and seamless collaboration across devices.
Selected features
Call routing and forwarding: Intelligent call routing options like list-based, time-based, status-based, and relationship-based routing to optimize call management.
Interactive Voice Response (IVR): Enables customer self-service through an interactive call menu with customizable prompts and routing rules.
Call queuing and automated callbacks: Places callers on hold with customized messages or music and offers customers to receive a callback when an agent is available.
Power dialer: Streamlines outbound calling by automatically dialing the next number on lead lists, syncs with CRM systems, and eliminates manual dialing.
SMS business texting: Enables two-way business texting in multiple countries, integrates with CRM, supports bulk texting, and allows real-time notifications and message history.
After-call work: Offers built-in wrap-up time for agents between calls to take notes, assign calls, add comments, and prepare for the next call.
Real-time modifications: Allows on-the-fly adjustments to call routing, agent assignments, queue management, and live coaching to handle sudden changes in call volume or agent availability.
Integrations
Aircall offers integrations with popular CRM and helpdesk tools such as Pepper Cloud CRM, Copper CRM, Salesforce, Intercom, Hubspot, Zendesk, Zoho, Microsoft Dynamics, Shopify, Help Scout, Gorgias, Zapier, Front, Slack, Kustomer, Freshdesk, monday.com, noCRM.io, Re:amaze, Happy Fox, and more.
Advantages
Easy setup: Aircall's cloud system eliminates hardware needs, and its knowledge base guides setup. Onboarding portals and customization simplify the process.
Reliability and security: With seven global data centers, 99.99% uptime, and robust security measures, Aircall ensures HD call quality and compliance with encryption and standards.
Detailed analytics: You get real-time insights into customer journeys, agent performance, and contact center activity, plus historical dashboards for deep analysis.
Reported disadvantages
Difficult to understand calls log

Issues with the speed of the customer support team

Limited functionality of the IVR flow

Occasional call quality issues

Limited reporting options within the basic plan
Pricing
Essential or Professional packages are both available off-the-shelf, costing $90 and $150 respectively. You can also ask for a custom plan.
Outbound & Cold Calling Software
Now, let's take a quick look at some top outbound and cold calling software. Although we do think cold calls are a lot less effective than inbound strategies (in terms of conversion), we agree they can be a viable option sometimes. And when you do decide to go down that route, having the right tools in your arsenal can make all the difference.
Quick heads-up: Aircall is mentioned twice because it's great for both inbound and outbound calls, so it's worth highlighting in both categories. Let's get started!
Aircall for Outbound Calling
Aircall offers a suite of features beneficial for cold calling, including tools like PowerDialer and Click-to-Dial for efficient dialing, seamless CRM integration for personalized interactions, and call recording for quality monitoring and training.
These capabilities, along with call coaching and real-time analytics, help teams quickly onboard new members, make informed decisions and enhance overall sales performance. By streamlining call processes and providing essential data, Aircall significantly aids in making cold calling more effective and user-friendly for sales teams.

#9: Toky — a call center tool for businesses of all sizes
Image source: Software Suggest
Toky is a call center platform for businesses to optimize cold call tasks and improve customer engagement. It offers mobile apps for global calls, message access, and pre-recorded voicemail management on Android and iOS devices.
Toky stands out for its effortless setup, seamless platform integration, and crystal-clear calling quality. It caters to businesses of all sizes with its multi-agent support and an impressive list of constantly growing features.
Selected features
Call campaigns: Toky allows you to create and manage cold call campaigns, enabling your agents to make many calls efficiently. You can set up campaigns with specific goals, scripts, and call lists.
Call scripts: You can create and customize call scripts for your agents to follow during calls. These scripts help ensure consistent and effective communication with customers.
Call recording: Toky allows you to record outbound calls for quality assurance, training purposes, or compliance requirements.
Caller ID customization: You may customize your outbound caller ID to display a specific number or a recognizable name, which can help improve answer rates.
Dialer modes: Toky offers different dialing modes, such as manual dialing (agent-initiated), power dialing (automated sequential dialing), and predictive dialing (algorithm-driven dialing based on agent availability and call answer rates).
Integrations
This cold-calling tool integrates with popular business tools, allowing for seamless communication and workflow. It connects with websites, CRMs, existing phone systems, and business apps like Zapier, Pipedrive, HubSpot, Slack, Insightly, or Salesforce.
Advantages
Easy to set up: Setting up phone trees is easy with Toky, even for those without much tech experience.
Clear metrics: Tracking performance is made simple with clear reports and excellent metrics.
Competitive pricing: Toky's pricing is competitive, especially considering its useful features and integrations.
CRM integrations: Additionally, Toky can be easily integrated with many online business tools, making it an excellent option for improving productivity and customer satisfaction.
Reported disadvantages
Glitches during number registration

Issues with the quality and speed of customer support

Problems with the phone app

Integrates with a limited number of CRMs
Pricing
If you don't need a personalized plan, you can choose between a less complex one for $25 per month and a more developed one worth $35 per month. For a tailored package, contact the vendor.
#10: Myphoner — a cold calling software with in-built CRM
Image source: SourceForge
Myphoner is a cold calling software and a CRM tool for sales teams to manage prospects and leads for call outreach. It simplifies cold calling, warm calling, meeting booking, and inside sales. The platform provides tools to support practical sales efforts and streamline the sales process.
Myphoner reduces administrative tasks for sales professionals by providing email templates, scripts, and campaign options. It also offers Live Monitoring for agent training and four report types for real-time insights.
Selected features
Seamless lead capture: With Myphoner, leads are effortlessly captured and organized, ensuring timely and effective follow-ups.
Power dialer: The integrated power dialer in Myphoner maximizes agent efficiency by reducing dialling time and increasing prospect interactions.
SMS outreach: Integrated SMS templates simplify call outreach, enabling targeted communication while minimizing typing errors.
Optimized reports: Myphoner offers insightful reports that provide transparent information about agent performance and campaign effectiveness.
Efficient time tracking: Robust time tracking in Myphoner facilitates effective agent coaching and time optimization for enhanced productivity.
Automated lead recycling: Myphoner's lead recycling feature automates the management of unresponsive leads, creating opportunities for future follow-ups.
Integrations
Myphoner integrates with CRM platforms such as Salesforce, HubSpot, and Pipedrive, as well as with calendars, marketing automation, and lead generation tools.
Image source: Myphoner
Advantages
User-centric interface: Myphoner provides an intuitive interface that caters to both new users and experienced agents, allowing easy configuration and personalization.
Effective follow-up: It proves to be a catalyst for enhanced cold-calling achievements, elevating your success in this outreach approach.
Focused prospecting: Through its capabilities, Myphoner empowers the precision of prospecting efforts, enabling the seamless filtration of potential leads.
Sales funnel building: Myphoner is key to building a strong sales funnel by attracting and converting leads into clients.
Reported disadvantages
Inability for end-users to sort / re-sort records

Limited app functionality (for example, face calls via app)

Reports generated by the system look unappealing
Pricing
Myphoner is an affordable tool, with pricing varying from 19 to 49 EUR a month.
#11: Kixie — a sales engagement platform with automated calling
Image source: kixie.com
Kixie automates sales calls and texts, giving managers insights for increased productivity and efficiency. It's reliable and innovative, making it a great choice for sales teams.
Kixie is a handy cold-calling software for sales teams, customer support, and remote representatives. It automates tasks, provides a power dialer, streamlines call routing, and allows access to powerful features from home offices.
Selected features
Campaign & session management: This feature allows users to create, update, and manage PowerLists and PowerDialing campaigns directly from the Kixie dashboard.
Live call board: Provides real-time information about agent activities, displaying the CRM contact data of the person they're speaking with.
Business snapshot: Presents a comprehensive overview of phone call data for teams or businesses, including inbound and outbound call volume, connections, talk time, and missed calls.
Live leaderboards: Enables real-time monitoring of agent, team, and call queue performance through leaderboards.
Virtual call center: Facilitates coordination among remote teams by offering unified reporting, real-time cold calling data, leaderboards, and live call boards accessible from anywhere.
Parallel calls: Allows users to manage multiple calls simultaneously by placing one call on hold to accept or make another call.
Integrations
It offers integrations with CRM platforms such as Salesforce, Hubspot, Pipedrive, and more. It also integrates with marketing automation tools and e-commerce platforms, such as Amazon Marketplace, call analysis, and email tools.
Advantages
Efficient automation: Uses custom triggers based on call outcomes and sends automated emails and SMS for follow-ups.
Sales boosting features: Simultaneous dialing for high call volume, enriched with voicemail drops and tailored SMS templates.
Effective team management: Enabled through call whispering, campaign management, and leaderboards.
Seamless CRM integration: It Auto-creates new CRM contacts and allows ask scheduling and follow-ups to be streamlined.
Reported disadvantages
No team chat options

Low-usage plans are not available

Difficult setup

Mobile app that comes through a third party

Lack of consistency with customer support quality
Pricing
Enjoy the Kixie experience for $35, $65, or $95. The last price includes Outbound PowerDialer. You can also talk to the vendor about an option with custom workflows and integrations.
#12: Ringover — a business phone system with unlimited calls
Image source: ringover.com
Ringover is the perfect business phone system and one of the best cold calling tools for your team's communication needs. It offers unlimited calls, video conferencing, SMS, and more. Plus, it's easy to set up and integrates with major CRM systems. With over 10,000 users and plans to expand, Ringover is a reliable choice for cloud telephony services in Europe.
Ringover is a sales engagement platform that offers flexibility and scalability for businesses. With cloud-based systems, teams can work together from any location with an internet connection, making it a modern and convenient choice. Ringover is a cost-effective telephony solution with a variety of features, perfect for mobile freelancers and small businesses looking to set up phone lines.
Selected features
Calling from your computer: Installation isn't necessary; just connect and begin your calls within a few minutes.
Calling from your smartphone: Your cold calling process is easily manageable from anywhere and at any time using the Ringover mobile app.
VOIP Phone: You have the option to select from Ringover's advanced VoIP hard phones and softphones, which help bring together your communication and sales tools into one streamlined solution.
Transfer of a call in progress: The process of transitioning ongoing calls is smooth, enhancing your customer service by allowing uninterrupted conversations.
Outbound dialer: Ringover's Outbound Dialer enables the team to concentrate on valuable conversations that drive better outcomes.
After call: By using automatic After Call Work (ACW), you can allocate time for call assessment and efficiently share insights to improve post-call workflows.
Integrations
Ringover offers integrations with various CRM and helpdesk tools, including Salesforce, Zoho, HubSpot, Pipedrive, Zendesk, Gorgias, Freshdesk, and Sellsy, and can also be integrated with other apps through Zapier.
Image source: ringover.com
Advantages
Exceptional call quality: Users can experience high-quality calls by implementing the Opus codec, ensuring clear communication.
Availability schedules: Ringover allows you to define availability schedules for your team members, which ensures that calls are routed to the right people who are available to respond.
Transparent pricing: Accessible to all types of companies, regardless of their size.
Reported disadvantages
Limited dashboard customization

Occasional call delays

Complicated settings setup
Pricing
Prices start from $21 per month and go up to $54 per month, but you will need to purchase add-ons and the conversation analytics tool separately.
#13: Klenty — cold calling tool for B2B sales reps
Image source: klenty.com
Klenty is a cold calling software and sales engagement platform designed to assist B2B (business-to-business) sales representatives in effectively managing their prospecting, outreach, and follow-up processes.
What makes it stand out
Klenty automates and improves the sales communication process. It helps to address the challenge of reaching a larger audience while maintaining a personalized and effective approach, leading to better sales results.
Selected features
AI cadences: Using AI technology can help create and automate communication plans across multiple channels, making the process more efficient.
Cadence playbooks: Intent-based playbooks are used by sales managers to guide our sales approaches based on how potential customers behave.
Sales sequences: Customized sequences are used to automate the strategy for each sales cycle stage.

The "Goals & Reports" feature within Klenty offers specific benefits:
Image source: klenty.com
Alignment of sales activities: Pipeline targets can be broken down into manageable daily and weekly milestones for sales representatives.
Real-time visibility: Call outreach progress can be monitored in real-time, identifying gaps and enabling timely interventions and coaching.
Performance measurement through KPIs: Activity targets, prospect coverage, and conversion goals can be tracked and measured to enhance sales performance.
Rep effort visualization: Representative efforts across communication channels such as emails, calls, LinkedIn tasks, texts, and WhatsApp can be visualized.
Performance gamification: Sales representatives can be motivated through performance tracking and leaderboards.
Integrations
Klenty provides diverse integrations, such as Zapier for automated workflows, Salesforce CRM for prospect management, Klenty API for custom connections, Hippo Video for personalized videos, and Slack for direct notifications, among many others.
Advantages
Personalization at scale: You can maintain a high level of personalization even as you scale your outreach efforts, increasing the chances of meaningful interactions.
Optimized outreach: Klenty provides intent-driven playbooks to guide your outreach strategy based on prospect behavior, leading to more effective communication.
Multichannel engagement: The solution allows you to reach prospects through various channels, including emails, calls, LinkedIn, and texts.
Easy setup: Creating call campaigns is straightforward and allows for customization.
Reported disadvantages
Hard-to-read analytics

Not enough filter options in the reports

Occasional bugs in cadences

Slow email-sending rate
Pricing
With startup fees at $50, you can go up to $100 per month for a pro version or request a quote for the enterprise plan.
#14: Gong — a revenue and conversation intelligence platform
Image source: AppSumo
Gong is a leading call recording and Revenue Intelligence platform for businesses. Unlike typical call recording solutions, Gong employs AI and machine learning to analyze sales calls, extracting valuable insights such as patterns, sentiment, and deal predictions.
Gong's emphasis on Revenue Intelligence encourages businesses to make informed decisions based on customer realities, fostering a customer-centric approach and ultimately driving increased revenue.
Selected features
Archiving & duration: Retains call recordings and transcripts for a period of three years.
Call capturing: Records and stores audio content from telephone discussions.
Communication monitoring: Oversees call development and particulars for valuable insights and enhancements.
Textual record: Logs written exchanges for later examination or evaluation.
Situation-based support: Offers pertinent guidance according to the ongoing situation.
Dialogue analysis: Implements conversation intelligence and derives insights and data from interactions for further examination.
Integrations
Gong seamlessly integrates with diverse tools such as Google Calendar, Apollo, Cognism, and LinkedIn Sales Navigator, providing users with comprehensive sales insights and actionable suggestions. It also offers compatibility with telephony systems and other platforms, enhancing sales interactions.
Advantages
Data-driven decision-making: Gong's AI-driven conversation intelligence insights are based on data from customer interactions.
Cross-departmental benefits: Gong's services can benefit various divisions within a business, including sales, marketing, and customer service, by providing insights into customer needs.
Enhanced training and coaching: Gong's AI can act as a coaching tool for sales teams, offering guidance and recommendations for improving interactions and closing deals.
Visibility into market changes: Business leaders gain complete visibility into market changes and customer trends, allowing them to adapt strategies and offerings accordingly.
Reported disadvantages
Limited recording and automatization options

Confusing view of each sales cycle

Difficulties with locating specific calls
Pricing
Gong pricing depends on the company size, way of work, and several other factors. You can ask for a quote by filling out a form available on the website.
READ ALSO: Why You Need Sales Call Recording — Top Benefits
#15: JustCall - cloud phone and SMS system for sales
JustCall is a cloud-based phone system that offers global phone numbers in 58 countries, enabling cold calls through web, mobile, and desktop apps. It caters to sales, support, and remote teams, emphasizing efficiency, automation, and user satisfaction.
JustCall's feature of providing useful comparisons aids businesses in making well-informed decisions about their telephony requirements. Overall, JustCall stands out for its global reach, multi-platform accessibility, and emphasis on efficiency and customer satisfaction.
Selected features
Real-time agent monitoring: JustCall provides a comprehensive analytics dashboard to track agents' performance and call center metrics.
Business messaging: It offers in-built business messaging features like bulk SMS/MMS, SMS automation, SMS bots, and workflows.
Conference calling: Conference calls can be managed easily, enhancing communication and collaboration.
Call scheduling and team member tagging: Calls can be scheduled, colleagues tagged, and notes added for organized and efficient communication.
Integrations
JustCall offers over 100 integrations with various Sales, Marketing, and Service Hubs. Notable integrations include Gmail, Zapier, Nimble CRM, Infusionsoft, and Kustomer.
Advantages
Global availability: Calls can be received on the JustCall number anywhere worldwide, ensuring constant accessibility.
Team collaboration: Teams can be managed, virtual phone numbers assigned, call data and recordings analyzed, all in one place. You can invite several team members and allocate individual phone numbers to each of them.
Trustworthy call forwarding: It lets you redirect cold calls within your team to any landline or mobile phone.
Reported disadvantages
Occasional call dropping

Issues with customer support

Difficulty adjusting features without the help of a support team
Pricing
You can get your essentials for as little as $19/month, with Team and Pro plans available for $29 and $49. Larger businesses are invited to contact the vendor directly for a customized quote.
READ ALSO: The 11 Best B2B Marketing Tools You've Never Heard Of
Conclusions
In order to make an informed decision for your business, it's crucial to consider both inbound and cold calling software options. By evaluating your specific requirements, you can select the most suitable solution. Don't hesitate to reach out to us if you have any questions or need any help. Improving your communication capabilities is our top priority.
Start generating leads today!
Get a 14-day free trial now,
set up the widget on your site, and see how many more leads you can capture with CallPage
No credit card required

10 minutes set up

14 days fully-features free trial
Try for free
Get a Demo