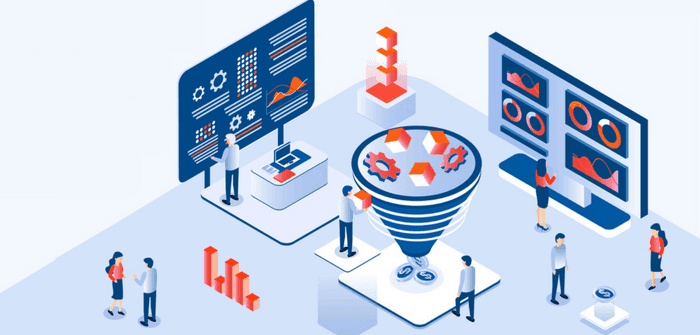 6 Best Sales Tools to Try in 2023
Facing the alarming speed of changes happening in the market, sales representatives arm themselves with specialized tools that help them reach customers faster and retain them more effectively. Read this article and see what the best sales tools in 2023 are.
Sales have always been a challenging career choice. It's fast-paced and competitive. And it's about so much more than a flawless pitch and finding leads. Relationship building, communication, and analytical skills are helpful and necessary for a great sales rep to have. Especially nowadays, when the industry is so focused on the customer.
If the pandemic and post-pandemic periods, with their remote-first approach and the fast pace of social media evolution, taught us anything, it's that we need to focus on the customer now more than ever. On understanding his needs and wants and addressing all the sale touch points.
But first, let's see what challenges lay ahead for the sales operation teams.
Key Sales Challenges in 2023
A salesperson's job is multifaceted. They must identify customers, bring them in, convince them to purchase, and lead the prospects through the company's sales funnel. A complex set of tasks and challenges may occur at every step. Here are some issues that sales reps face in the current digital environment and ways to tackle them.
Building trust in the digital world
Not long ago, salespeople could meet clients in person and demonstrate their products. Nowadays, they must face the virtual barrier and, at the same time, compete with thousands of similar offers, all available with one click.
One way to win over the customer is through personalization. While the customer can't judge your character and trustworthiness over an email or LinkedIn message, you should present your image as welcoming, supportive, and friendly. Avoid sending the same message to everyone – a personal approach is vital.
Building a relationship with the customer
A handshake, chitchat - there was always some form of relationship building between a seller and a buyer. But these days, it needs to go much further. It means moving beyond the presentation of the product and towards a buyer-first sales approach.
Your success depends on how you conduct the conversation with a client – including listening to his problems and consulting on the best ways to tackle them. Such an approach requires the company's omnichannel presence and active participation on social media platforms.
Social selling
Social sellers do and will perform better than those who do not engage on social media. Using them is an excellent way to find new leads and retain existing customers by engaging in discussions. It's also a perfect way to present your offer. Social sellers are 51% more likely to achieve their quotas, yet only 28% of companies prioritize social selling (source: Hootsuite). Don't be one of them – go social.
Data overload
Gathering, processing, and managing data has been an enormous problem. Relying on incomplete, inaccurate, or duplicate data flooding the system poses a significant challenge. Business choices based on flawed data may lead to lower sales numbers and generate hidden costs. Therefore, having a well-performing data management system is a must.
Introduction of AI to sales operations
Investing in AI brings undeniable benefits, especially regarding customer engagement, lead prioritization, and the automation of processes. In 2023, we're facing budget cuts, so a strategic approach to investing in AI is necessary.
What Are Digital Sales Tools?
Choosing the right tools will help salespeople improve the efficiency of prospecting, enablement, and acceleration processes. We're talking about digital tools that help companies understand their leads and recognize the best way to reach them while streamlining and automating sales processes. There are plenty of such tools out there.
When choosing one, remember to look out for the following:
easy-to-use platforms
mobile-friendly apps
scalable solutions
multiple integrations
security and data protection
software that offers analytics
Below are our recommendations for the best sales tools you should consider using in 2023.
READ ALSO: Skyrocket Your Sales with 10 Essential Sales Metrics

Best Sales Tools to Use in 2023
Pipedrive
Customer Relationship Management (CRM) tools have long had a bad reputation for being overly complicated and overpriced. But the truth is that they help sales operations streamline processes and manage documentation and customer service effectively.
Pipedrive is an easy-to-use tool designed by salespeople. It lets you create customizable sales funnel stages and add deals from Excel or CRM. You can also keep track of your progress and view regularly updated sales forecasts. In addition, AI support allows for automating routine and admin tasks and identifying new opportunities.
It's an affordable tool, with prices ranging from 14.90 euros to 99 euros. Holders of the Professional or Enterprise plan gain access to Google Drive integration, subscriptions, and forecast revenue reports, among other features.
HubSpot Sales Lead Software
HubSpot is a popular and reliable CRM, but we want to bring your attention to its lead-capturing abilities. Not only does it identify the details of the company page visits, but it also automatically logs business prospects. Once recorded, the leads can be sorted, prioritized, filtered, and easily tracked in real time. The notification system and daily email digest assist sales representatives in prospects' monitoring.
A free version is available as part of the Sales Hub. Paid plans' prices vary from 45 to 1200 USD. The most expensive version, the Enterprise plan, includes predictive lead scoring, recurring revenue tracking, and conversation intelligence.
LinkedIn Sales Navigator
LinkedIn Sales Navigator is one of the best relationship-building tools available. With 875 million members, LinkedIn is a well of prospective contacts and buyers. Sales reps can identify and connect with potential leads using LinkedIn's network data.
The tool gives access to the search engine with extensive search criteria for the perfect buyer. They are divided into categories, such as company, function, or workflow. The user also receives alerts about posted content, job changes, mentions in the news, and so on. These categories and information serve as good conversation starters.
After all, LinkedIn is all about making connections. The Sales Navigator allows users to create lists of leads and send them emails. To get even more out of the Sales Navigator, you should check out LinkedIn scraping tools. You can use them to extract data and find the email addresses of prospects you come across through Sales Navigator searches.
Sales Navigator prices start at $99. For enterprise plan details, get in touch with the provider.
CallPage
CallPage is an lead capture software that helps generate leads from the company's website. If you want to turn visitors into sales, this conversational marketing solution is made for you. We all know how important quick reactions are if you want to keep a potential customer's interest.
CallPage provides the possibility for free phone callbacks in just 28 seconds, thanks to the customizable click-to-call widget that a visitor can use to connect with your sales team. This is an excellent example of automation software that includes data analytics on performed actions.
The prices vary from $25 to $329 a month, or you can discuss an individual, customized plan.
READ ALSO: 9 Reasons You Should Consider Using Callback
Highspot
Highspot is widely regarded as the most comprehensive of the full sales enablement platforms. It combines content management with training, data analytics, strategic guidance, coaching, and customer engagement features to cover all the bases in sales.
It's designed to elevate customer conversations by providing valuable content to share. Empowered by patented machine-learning solutions, this tool enables deep analytics, which helps drive best practices and sales pitches.
If you're interested in the pricing, you'll have to get in touch with the vendor.
Mention
If you're searching for audience insights (as you should be), Mention is a handy option to look into. It lets you listen to what's happening on the market and social media platforms.
It monitors over a billion online sources, uncovers conversational trends, and facilitates collecting mentions of specific chosen keywords (for example, related to your brand). It comes in handy if you want to analyze how customers perceive your company but also your competitors.
The "Solo" plan is available for 49 USD. Companies should consult the vendor about the customized offer.
Conclusion
We addressed the challenges that salespeople will face in 2023 for a reason. It's not only advantageous to remain aware of them. Knowing the issues, sales operations departments can choose the right tools to approach them efficiently.
The sales tools we described are only examples of many available on the market. What's important to remember is that they should support activities at every stage of the sales process. To learn more about sales automation and lead generation, contact our team at CallPage.
Start generating leads today!
Start a 14-day free trial now,
set up the widget on your site, and see how many more leads you can capture with CallPage
No credit card required

10 minutes set up

14 days fully-features free trial
Try for free
Get a Demo