Trusted by 1,500 companies
CallPage helps generate more calls, increase sales, and improve the UX of our clients. Read stories of our customers.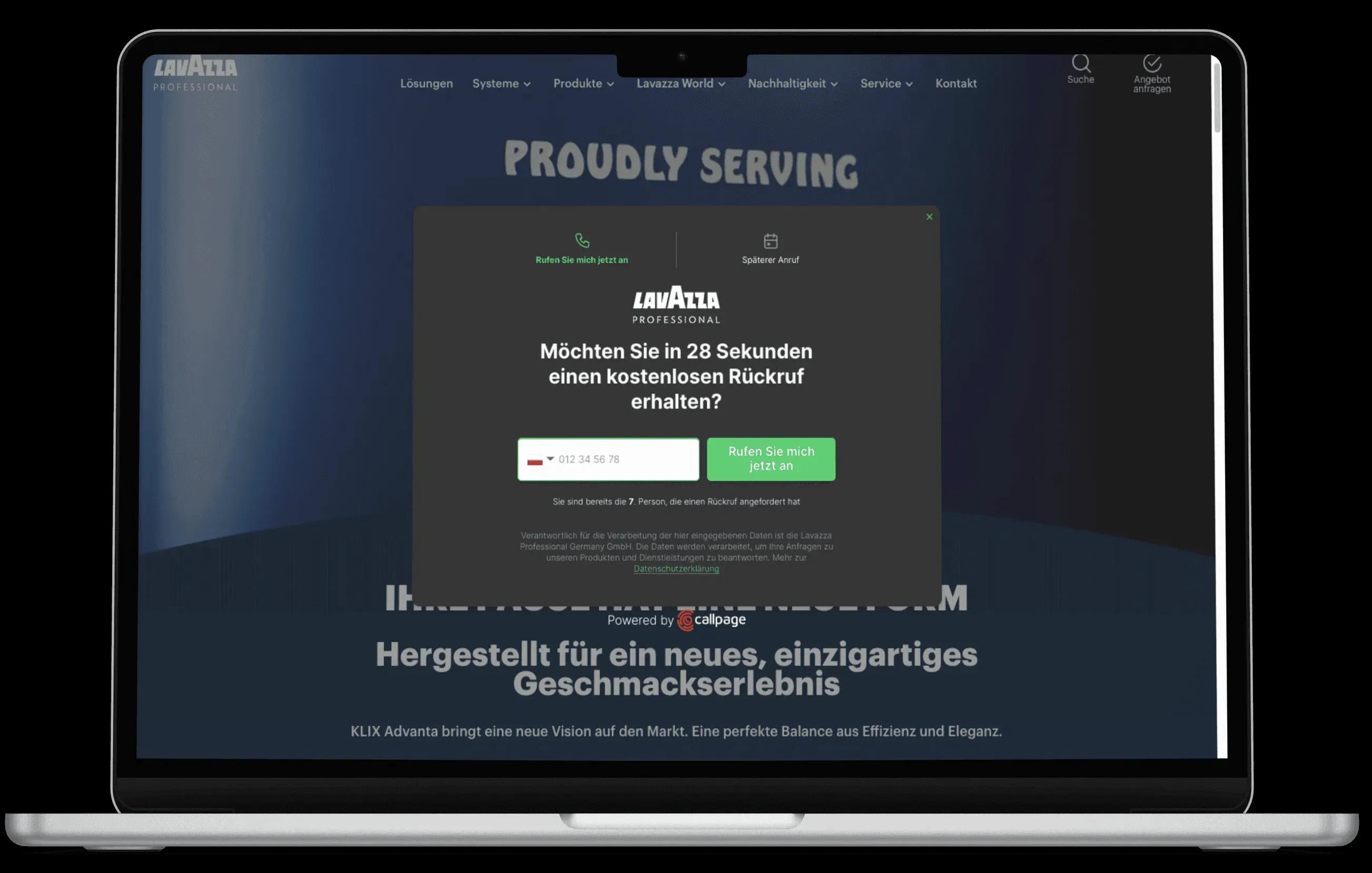 Improved Response Time
Lavazza is a well-known international coffee producer.
| | |
| --- | --- |
| 165 | calls per month  |
| 3 minutes | average conversation time |
| 2 | widgets installed  |
The company struggled with providing outstanding customer service. It received thousands of calls and contact inquiries daily but lacked a system that would enable quick response times, satisfying both the users and management. 
Since CallPage was introduced on the website, Lavazza has had significantly more interactions with customers and a highly improved reaction time. A callback offer makes the company seem instantly and constantly available to its potential customers. This builds trust and increases the number of sales calls from highly motivated users who are at the end of their buyer journey.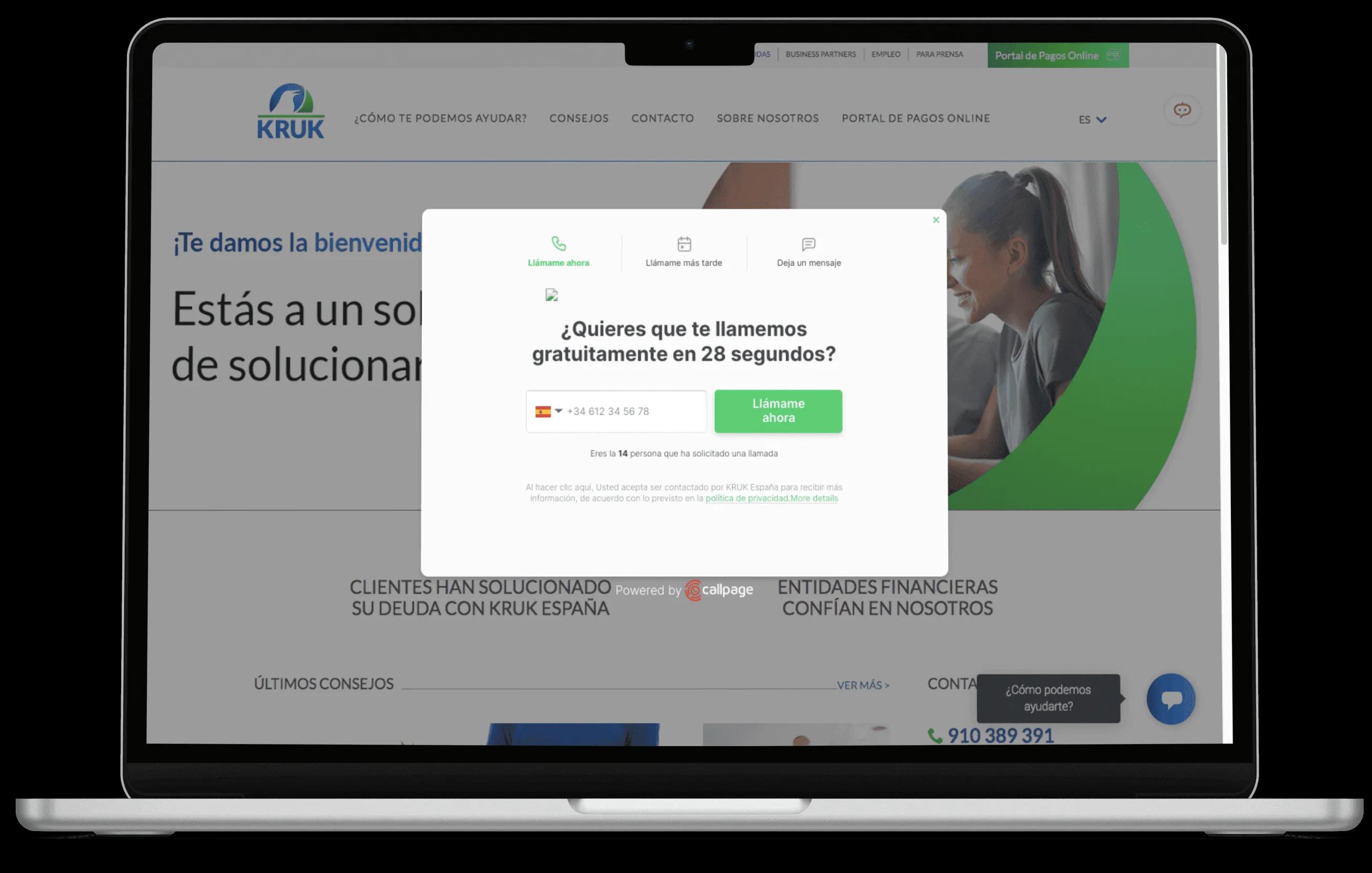 530 Calls per Month
KRUK España is an international company offering debt collection services.
| | |
| --- | --- |
| 530 | calls per month |
| 4 minutes | average conversation time |
The company wasn't able to find a reliable callback solution. They tested a few tools, but none of them fulfilled their high expectations. 
CallPage turned out to be the perfect solution for KRUK España. Offering an immediate call for anyone who expressed an interest in the company's offerings was exactly what customers and potential clients were looking for. Adding the CallPage widget to the website increased sales and improved customer satisfaction.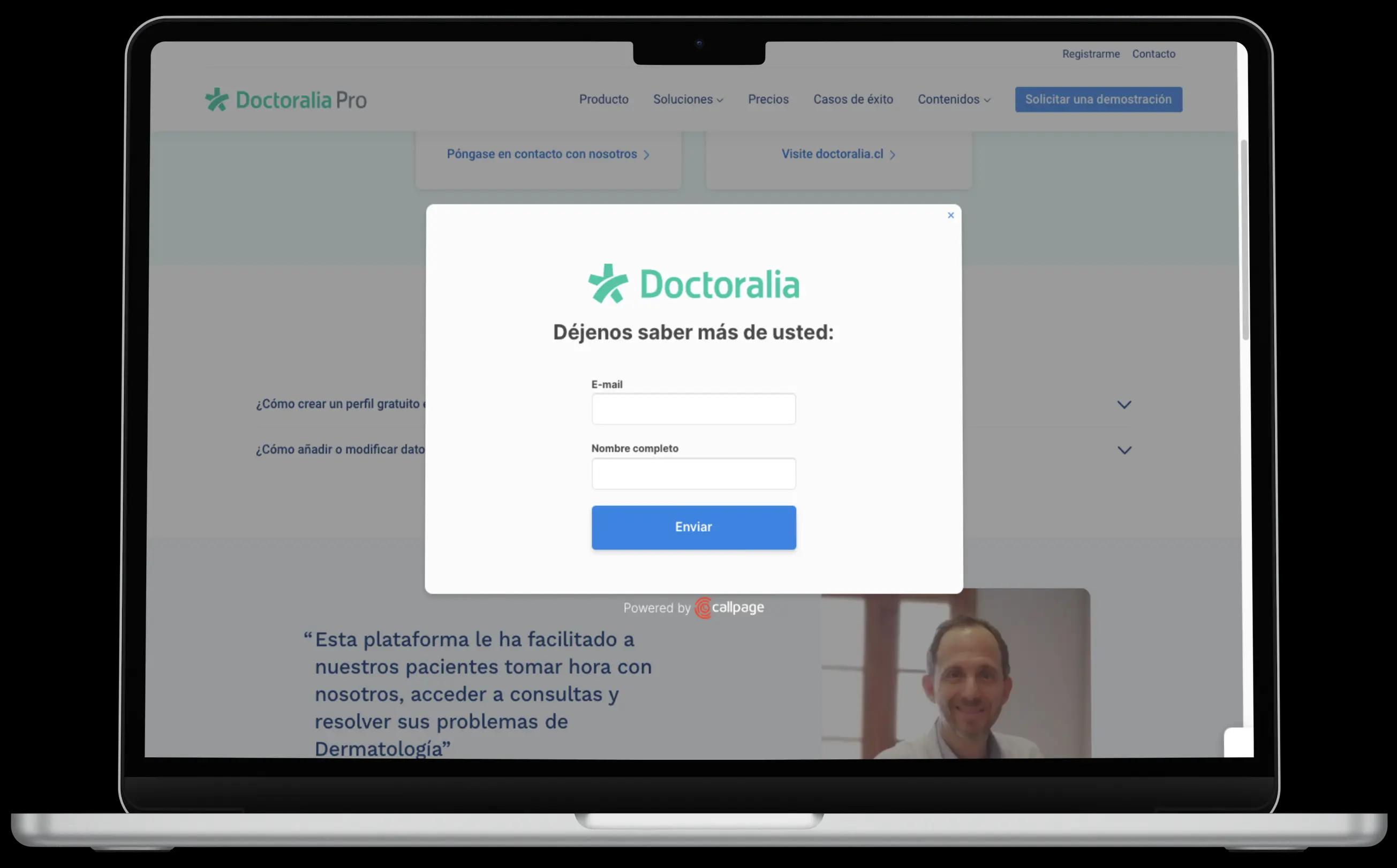 Seamless Callback Integration Across Markets
DocPlanner is a healthcare technology that connects patients with doctors.
DocPlanner operates in more than 20 markets and understands the difficulties doctors face in reaching them. To simplify communication, the website has added a CallPage widget. This widget enables doctors to receive a callback from a consultant within 28 seconds. If the consultant is busy, the call is automatically directed to the next available representative. Managers can also access call recordings to monitor customer interactions.
As an international company, DocPlanner prioritizes flexible software that can be used in all its operational markets. This ensures a smooth connection between doctors and patients worldwide.
| | |
| --- | --- |
| 8 years | with CallPage |
| 16 | widgets installed  |
| 4 languages | the widget is in 4 different languages |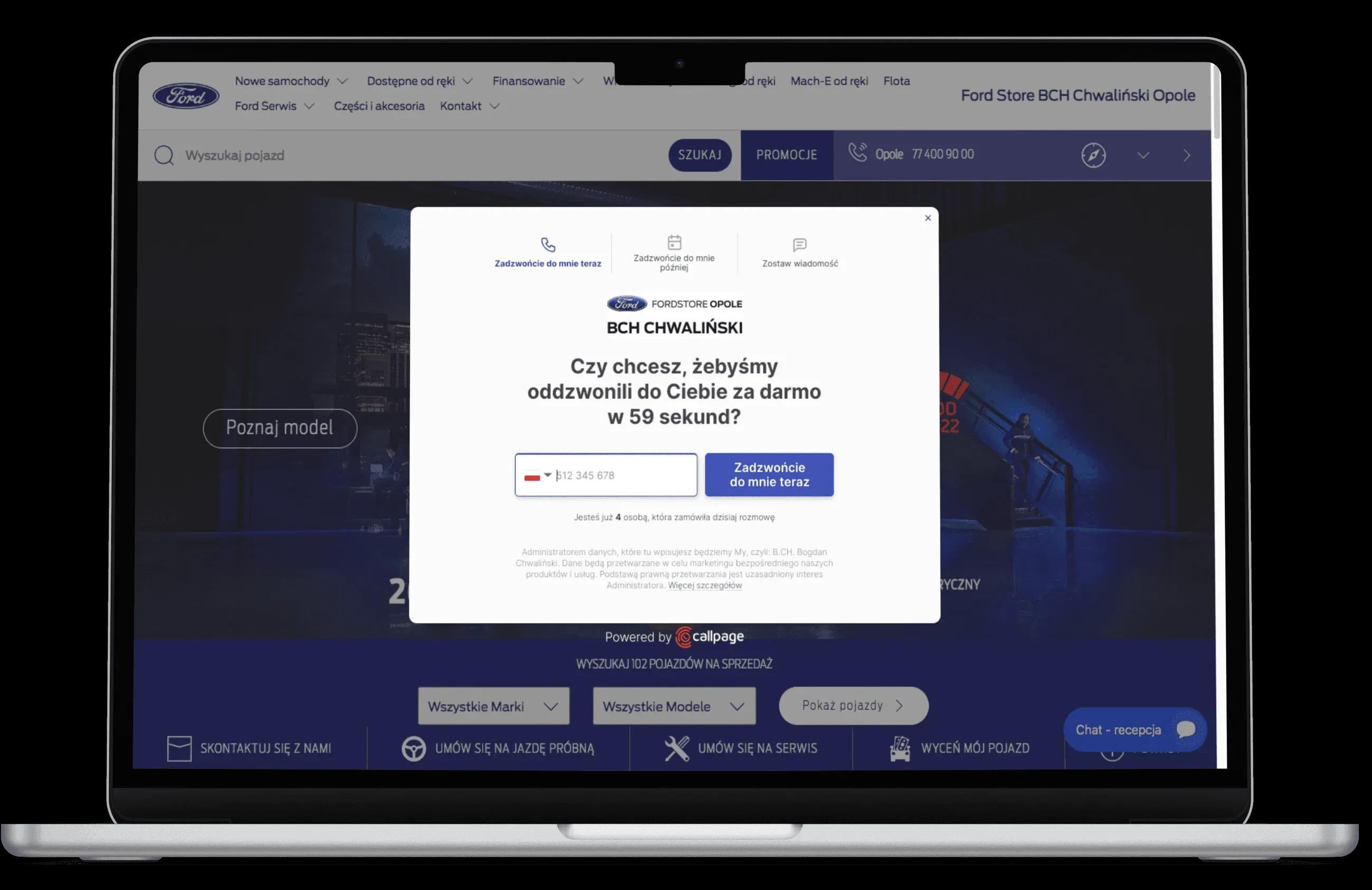 Lead Generation for Car Dealer
CallPage gave Ford BCH Chwaliński a substantial boost in lead generation.
| | |
| --- | --- |
| 32 | months with CallPage |
| 2 min 11 sec | average conversation time |
| 63 | calls per month |
Ford dealer was seeking a solution that would enable their customers to connect with a representative quickly and effortlessly, eliminating the need to search for a phone number.
With the convenient callback widget seamlessly integrated into their website. Potential customers were able to request immediate contact with a representative at the click of a button.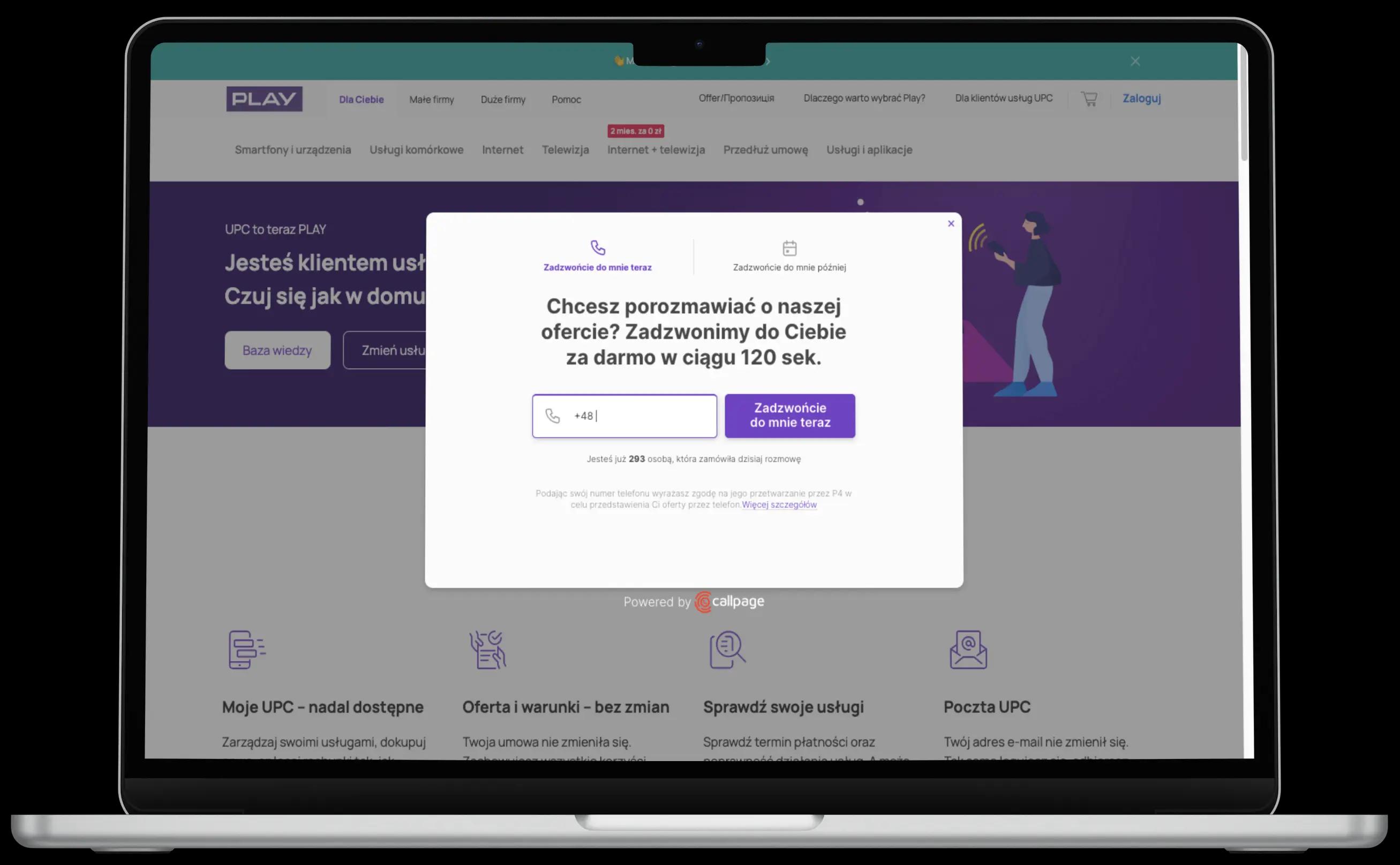 Increase Sales Results
Play is cellular telecommunications provider.
Before using CallPage, Play had a problem with their sales hotline. Customers had to wait a long time to connect with a seller, which made them give up and go to competitors instead. However, after implementing the CallPage widget, customers could contact the sales department much faster, sometimes in less than 28 seconds. This led to better commercial results and improved customer satisfaction.
| | |
| --- | --- |
| 6 years | with CallPage |
| 10 | widgets installed  |
| 14,000 | calls per month  |
96.3% Success Rate
FaktorOne (previously IdeaMoney) uses CallPage in its app for business clients.
| | |
| --- | --- |
| 800 | calls per month |
| 5 min 10 sec | average conversation time |
| 96,3% | calls are successful |
After logging into the app, customers can use the plugin to contact the company's consultant and select the department they want to connect with. 
When the customer provides their phone number, the company's consultant connects with them automatically within 30 seconds. Each month, about 800 people choose this form of contact.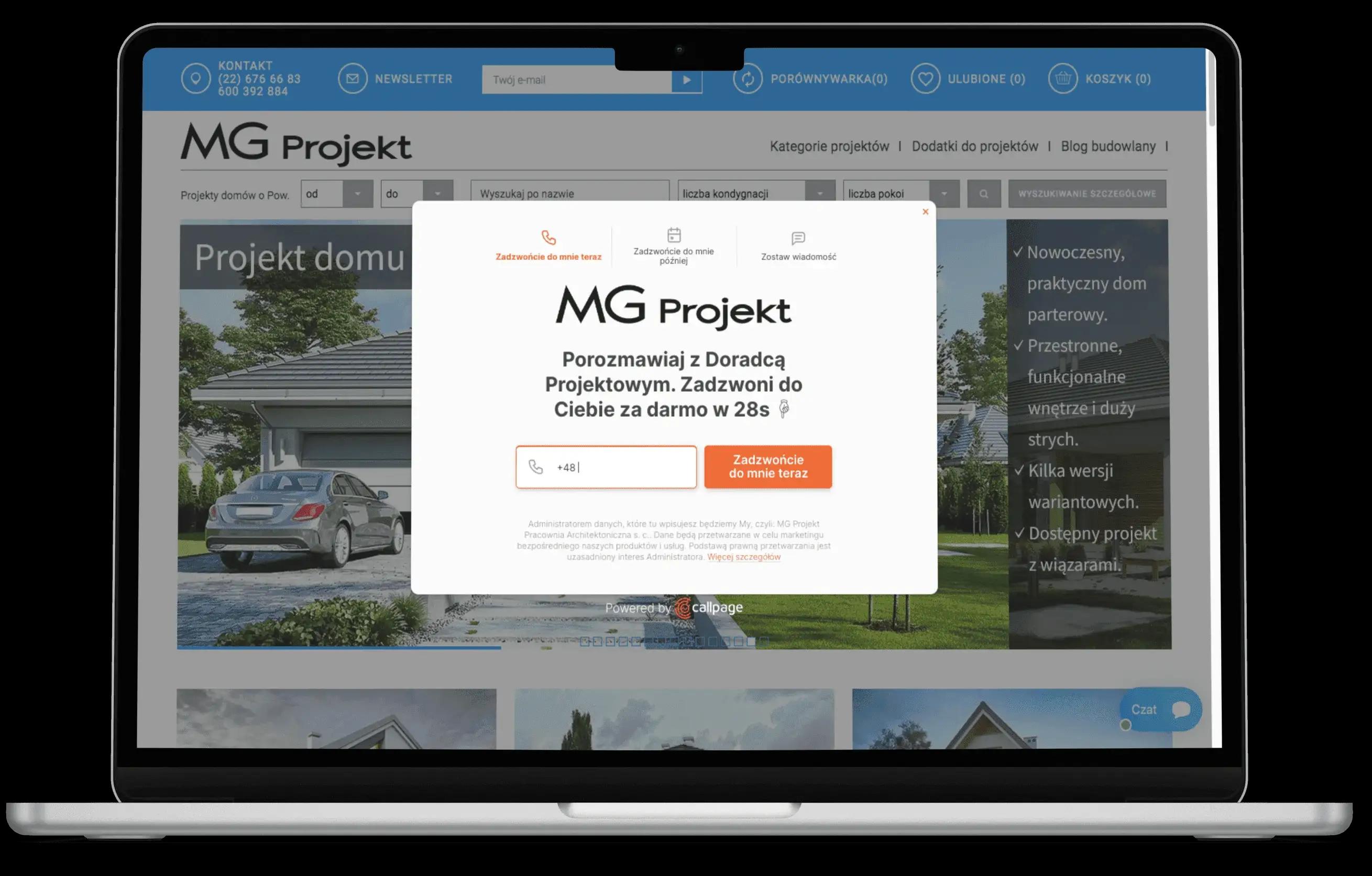 Quantity and Quality of Leads
MG Projekt is an architectural workshop specializing in designing single-family houses.
| | |
| --- | --- |
| 22 | months with CallPage |
| 165 | calls per month |
| 84% | calls are successful |
The company faced an important challenge: enhancing and automating its lead generation efforts. Potential clients in the industry valued personal connections and preferred phone conversations to discuss the details of MG Projekt's customized services. 
With CallPage's lead capture system, MG Projekt experienced a significant increase in both the quantity and quality of their leads. They were able to track and analyze where the leads originated from. MG Projekt expressed high satisfaction, rating CallPage a solid 9 out of 10.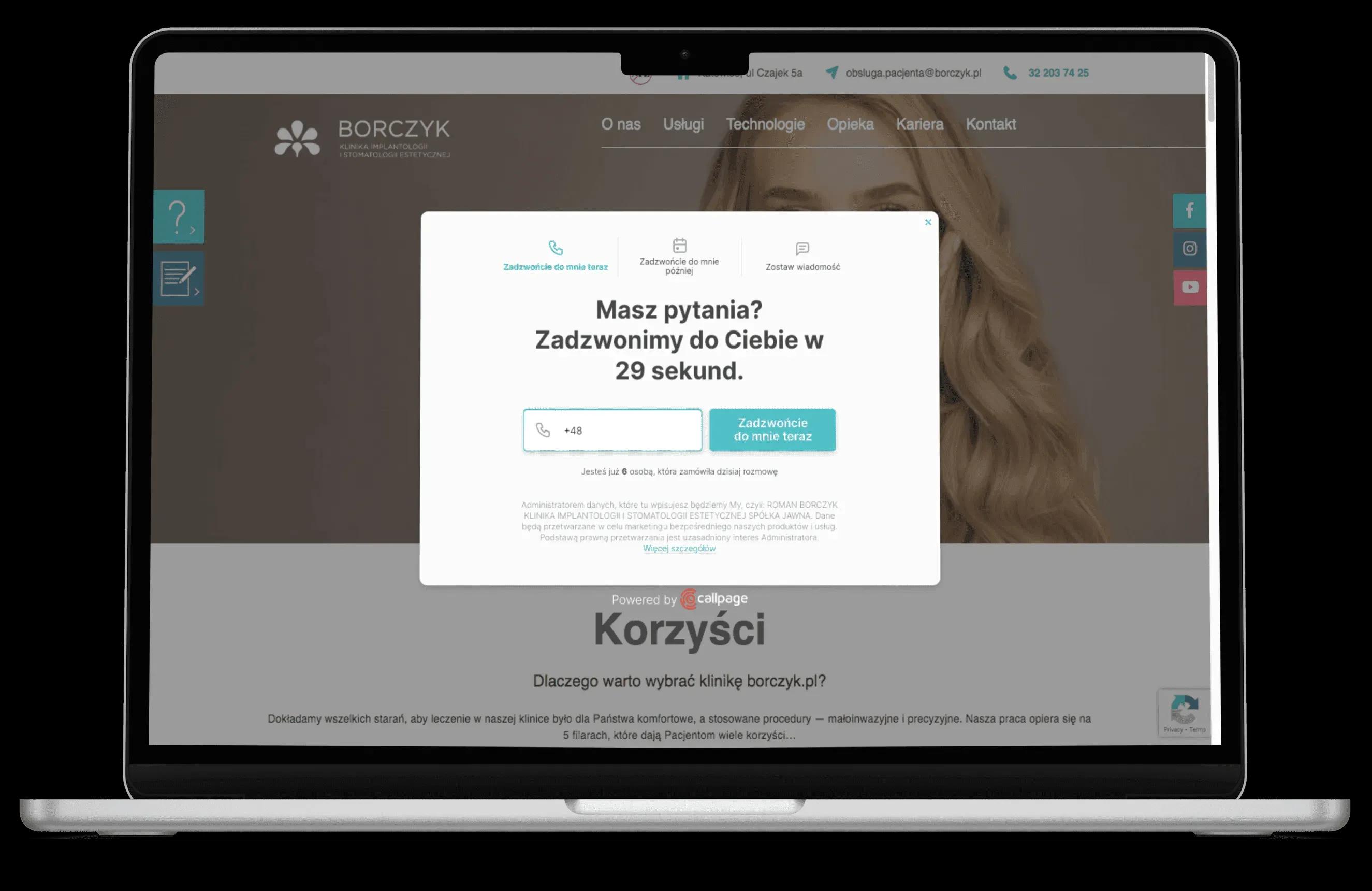 More Contact Data For Dental Clinic
The Borczyk Implantology and Esthetic Dentistry Clinic provides dental services.
| | |
| --- | --- |
| 200 | calls per month |
| 2 min 05 sec | average conversation time |
| 4 employees | for handling calls |
Since they're using CallPage, Borczyk Clinic offers new and returning clients a faster way of contact. Their pop-up widget uses scoring rules to analyze user behavior on the site. When a user, e.g., returns to the website for the next time – a window appears on their screen and offers a callback.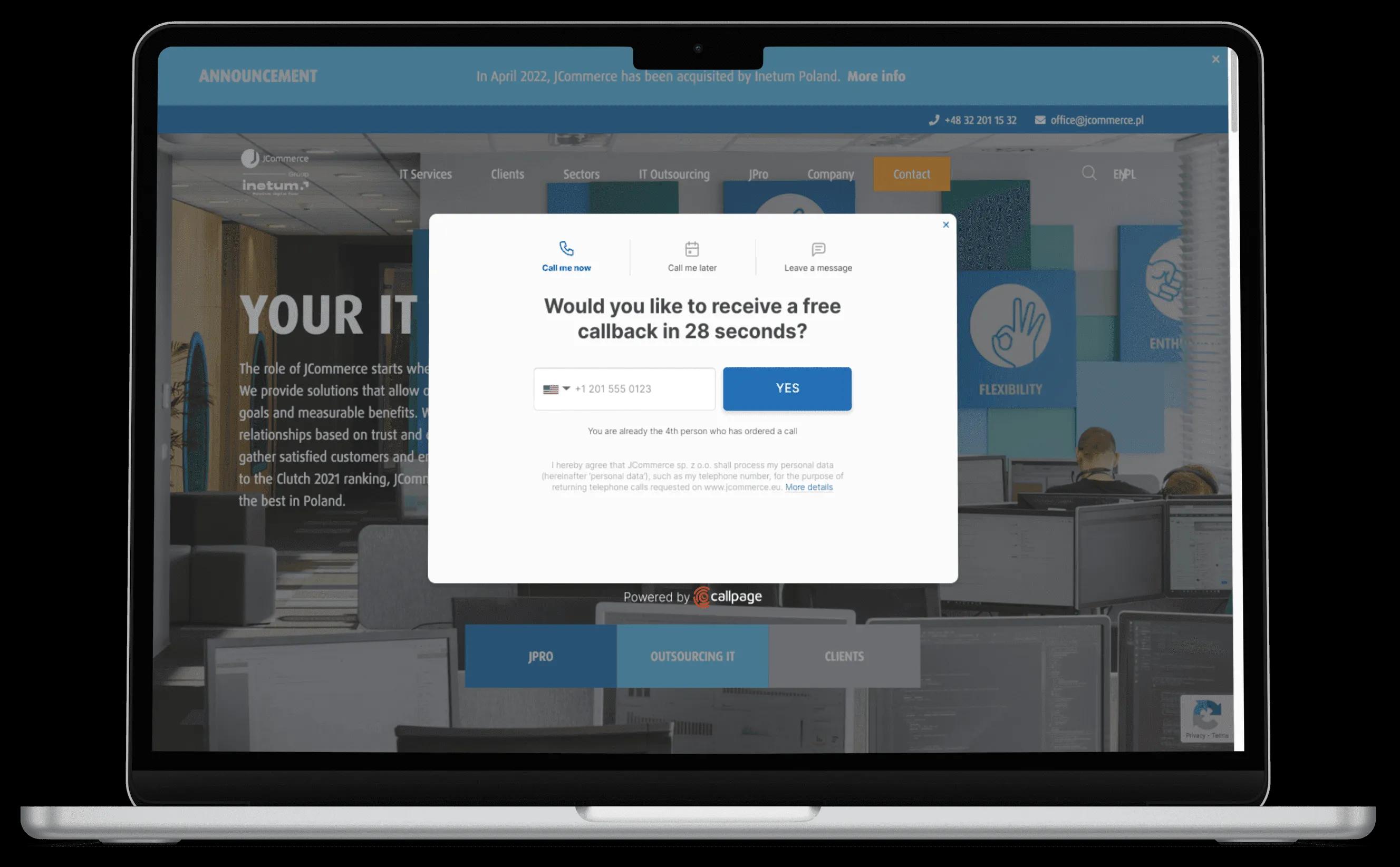 Improved Sales Tactics
JCommerce provides customers with specialized IT services.
| | |
| --- | --- |
| 31 | successful calls monthly |
| 2 min 22 sec | average conversation time |
| 3 employees | for handling calls |
The system uses scoring rules, which analyze user behavior on the website. When the consumer performs a specific action, e.g. browsing the website for a long time – the system displays a callback widget. Such quick contact with the user increases the chance of getting a new client.
The advantage of using CallPage on the website is also the fact that all conversations are recorded. Thanks to this, the sales department can listen to the conducted conversations and improve their sales tactics.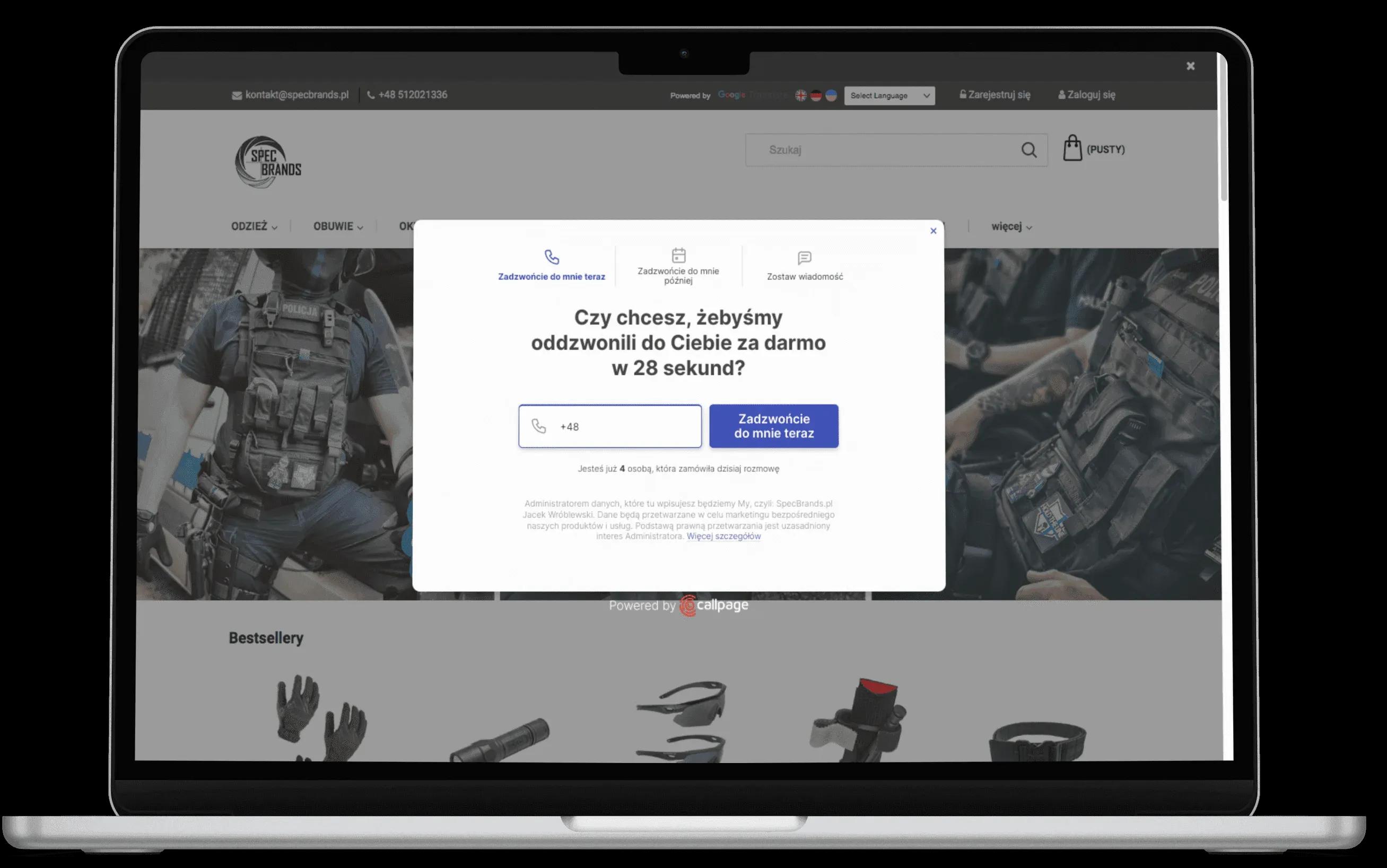 Instant Free Consultation
Specbrands is an online store that offers equipment and clothing for law enforcement and shooting enthusiasts
| | |
| --- | --- |
| 372 | leads generated in a year |
| 4 minutes | average conversation time |
| 1 advisor | for handling calls |
Specbrands tries to stay ahead of the competition on every level, which is why the decision to implement the CallPage widget was almost immediate. The store receives up to 40 calls monthly. What customers appreciate most is the possibility of getting a free consultation in such a short time.
Despite the fact that only one person uses the system, the answering rate is at the level of 77%. When time allows, the remaining unanswered calls are called back directly from the CallPage system panel.
CallPage works best for companies from the following industries.
Healthcare

Business services

Travel

Web services

Real estate

Automotive

E-commerce

HR

Education

Home decor
What our users say
Let the success stories of our clients inspire your own! With CallPage, you can boost sales and give users an unbeatable experience.
We are really satisfied with the results delivered by CallPage. Each day our agents answer phone calls from customers interested in our services. We can see a direct connection between the implementation of CallPage and increased customer satisfaction.
The first month with CallPage already proved that this tool can significantly improve our reaction times, which is our main KPI for both sales and customer service teams. As a result our customers and potential clients are super satisfied with our service. What's more, Lavazza employees admit that now it's easier for them to do their job properly.
Customers says:
Callpage is the best
Start generating leads today!
Get a 14-day free trial now,
set up the widget on your site, and see how many more leads you can capture with CallPage
No credit card required

10 minutes set up

14 days fully-featured free trial
Try for free
Get a Demo