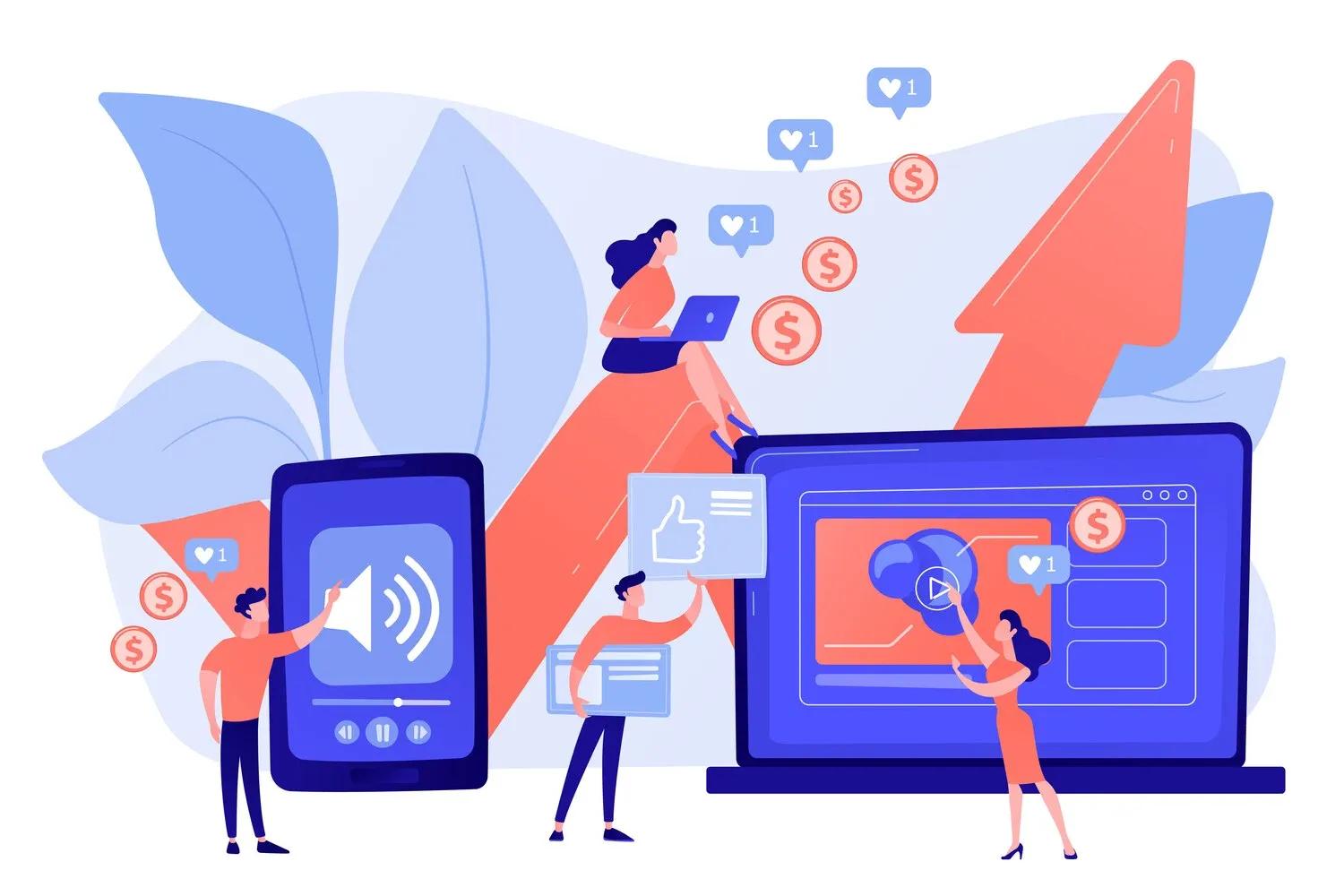 6 Common Marketing Issues — Tools & Lead Generation Channels to Solve Them
Discover how to turn your website traffic into hot leads ready for conversion. From interactive quizzes to instant callbacks, explore the top tools and lead-generation channels that can revolutionize your sales process.

Lead generation is no longer a mystery – there are multiple tools that facilitate the process of lead gen. A higher priority now for marketing and sales departments is generating high-quality hot leads ready to convert to paying customers. HubSpot has found out that converting leads into customers (69%) is a top challenge now.
How can you utilize the potential of the generated traffic and drive more leads that will be qualified for the sales process? Let's look at a few common problems you may be facing and how you can overcome them with the right tools and lead-generation channels.
Problem #1: Your Page Visitors Leave a Page Too Early
Recommended lead generation channel: interactive website content
Solution: Use quizzes as a lead generation channel to increase engagement and collect more information about your leads.
Tool: outgrow.com
Quizzes are an impactful way to engage the audience and get insights about their business needs. This is a great lead generation channel in B2B for several reasons. Let's discuss why.
Quizzes engage a visitor on a website
A Demand Metric Study indicates that interactive content drives twice as many conversions as static content. According to a CMI study, 87% of marketers say interactive content grabs attention more effectively than static content.
They're a great way to qualify leads
The more you know about your potential customers, the more personalized offer you can present to them. When designing a quiz, you can include questions that would help get more information about your customers' needs and challenges. You also can learn at what stage of problem and solution awareness those leads are at the moment when submitting the quiz.
The information you gather with interactive quizzes will help your sales reps personalize their first contact with prospects and relate to their business challenges. This information is available for the sales department as most quiz platforms allow for integration with CRMs.
And that brings us to the next point!
READ ALSO: In-House Strategies to Amplify Lead Generation for Financial Services
Quizzes help you filter leads
Once you get answers to your questions, you can automatically define when tags should be applied in the CRM. In this way, sales departments can easily check the status of each lead that comes from the on-site quiz and identify whether or not it fits the buyer profile.
To incentivize users to fill in lead forms, you have to provide a high value to get them to the end – a reward. It can be a free piece of high-quality content that brings leads down the funnel. You can consider a toolkit, free consultation, or knowledge assessment.
The most important criteria to account for in choosing a quiz tool are dynamic logic and jumps that will enable the creation of a different answer scenario. Using quiz calculators, you can provide users with tailored answers to their most pressing questions.
Use cases
If you're a software house, for example, you can give a recommendation by helping people define things like what programming language they should choose while building a product.
You can also help your potential customers define a need. For example, a car dealership could use a quiz to help answer a question along the lines of "What type of car will fit my technical requirements?"
To keep it short, you can get a lot of useful information out of a quiz as well as encourage your leads to take the next step in your lead funnel. One of the most comprehensive quiz tools on the market to test out and utilize for lead generation are Outgrow, Omniconvert, and Typeform. They offer important features such as jump logic, dynamic content, and customizable result pages.
Problem #2: You Respond to Prospect Requests Too Late
Recommended lead generation channel: automated callback pop-up
Solution: Use automated callback as a lead generation channel. It'll allow you to reduce lead response time.
Tool: CallPage
Marketers put a lot of effort into driving traffic to the website. But are they making use of it? Do they manage to convert page visitors into leads and pass them over to sales, who will close deals?
Customers considering your service will look for a fast way to answer their questions. As they are in the middle or even bottom of the funnel, they need to speak to your consultants or salespeople as quickly as possible.
According to an HBR study, companies that respond to leads in under 5 minutes maximize their chances of qualifying a lead into sales. The study revealed that leads get cold extremely fast. After the first 5 minutes, the odds of the qualification drop by 400%.
Image source: Harvard Business Review
According to an Inside Sales report, the average LRT for all lead generation channels is 44 hours, which significantly decreases the chances of not only establishing the first contact with a lead but will also result in a decreasing number of closed deals.
One of the solutions would be to facilitate contact and bring the time to under 5 minutes with a callback. With Callpage.io, a callback solution, a respective department will be connected with your prospect, asking for contact in under 28 seconds. Offering a callback option helps you react to buying signals from your customers and always be there for those seeking a fast response to qualify for sales.
As a matter of fact, to maximize your marketing and sales efforts, you can use statistics from calls and analyze which pages bring you the hottest leads ready to talk to your sales reps. You can then invest more in the promotion of the pages that convert the most visitors into calls.
By filtering through leads, you can check lead sources – leads attributed to specific advertisement campaigns, social media, Google searches, and email campaigns.
Problem #3: Lack of Time for Prospecting and Cold Outreach
Recommended lead generation channel: streamlined cold mailing
Solution: Find a tool to look up anyone's email address and automate the cold outreach process.
Tool: Snov.io
Snov.io is one of the most complete B2B platforms for prospecting and cold outreach, designed to automate your lead generation process. You can use the Snov.io email finder to look up anyone's email address, including single and bulk email searches based on names, domains, company profiles, and URLs, on different social media such as LinkedIn and Twitter due to its downloadable Li Prospect Finder Chrome extension.
What's more, you can immediately verify and sift through unnecessary emails with the email verifier, ensuring the ultimate quality of leads thanks to a thorough 7-tier verification process. It will significantly help you update your lists, clean them up from outdated, invalid leads you can't contact, lower the bounce rate, and boost overall deliverability.
Even on a basic plan, you will be provided with an in-built email drip campaigns solution to leverage your email sequences as well as a free CRM streamlining your sales processes with unlimited teamwork. Last but not least, Snov.io comes with an API that allows you to integrate email search into your app or CRM.
As a pleasant bonus for newbies and businesses on tight budgets, Snov.io's comprehensive toolset has an affordable pricing policy (paid plans start at $39 per month). Try it out!
Problem #4: Your Team Is Busy Responding to Tickets
Recommended lead generation channel: website chatbots
Solution: Chatbots are a great lead generation channel. Use them to get more demo requests.
Tool: Drift
Chatbots are a great tool to pre-qualify leads who are almost ready to buy your products. The only dilemma is that they still may have a few questions they need to get answered. And that's also a place where you have to react fast and provide your "almost customers" with actionable answers and advice, even when everyone is out of the office.
Let's get back to lead response time.
In this Tech Crunch case study, 90% of users mentioned they want to use messages as the main way to contact brands. To maximize the chance for users to become your leads and then customers, you have to facilitate on-page contacts with your company at any time of the day.
By prioritizing your website as a lead generation channel, you can respond to multiple questions users may have in their buying cycle – starting with the simplest and finishing with more complicated issues that should be directed to specific persons in the company.
Chatbots help in times when your sales team is super busy and is not ready to pick up the phone to answer questions from leads. By enabling customers to create support tickets within a bot, you don't lose them when they still have a few outstanding questions.
In Drift, using the power of Natural Language Processing technology, you can make your bot responses even smarter by specifying keywords. It creates a more natural and uninterrupted flow of onsite conversation with your leads.
One of the issues that sales departments are struggling with is being swamped with excessive private emails. It means sales reps are not able to find a company name to connect to a lead after the chat happens.
Using Drift, you can set a condition that states if the private email is inserted, a user is asked to re-enter a business one. Drift has been made for marketing and salespeople who want to increase their chances of generating valuable leads that are more likely to convert into customers.
Drift has estimated that leads coming from a website with their chat have a 2.5 times higher chance to convert into opportunity compared to leads acquired from webinars, events, or free product signups.
Problem #5: LinkedIn Is Too Time-Consuming as a Lead Generation Channel
Recommended lead generation channel: automated LinkedIn outreach
Solution: LinkedIn is one of the best lead generation channels, so don't give up on it just because it can be time-consuming. Opt for a more streamlined strategy by automating your activity on LinkedIn.
Tool: DuxSoup
If you are operating in the B2B world, you know that one of the most effective social media channels that needs to be utilized for sales is LinkedIn. 80% of B2B leads come from LinkedIn. That is why it's worth increasing marketing and sales activities there to drive higher conversion.
93% of sales start when leads search online and engage in conversation with companies through digital channels. This helps salespeople cut time to close deals by 20%.
One of the most challenging parts of B2B sales is that the trust and recommendation of happy customers play a key role in choosing a service provider.
To utilize LinkedIn as your lead generation tool, you need to establish relations to drive SQL leads from LinkedIn. Establishing contact and building a relationship requires a lot of engagement with the platform. And normally, salespeople don't have that much time.
That is why DuxSoup has become a great choice for B2B sellers who want to reach decision-makers within a click and automate a great deal of the activities connected to LinkedIn.Apart from automatically visiting and adding new contacts with a personalized message, DuxSoup also helps you do that through LinkedIn groups. It means sales representatives can easily reach and connect with professionals who share common interests and business challenges.
With DuxSoup, you can also tag visited profiles and add separate notes to later filter through and export. Contacts can be arranged by business, job title, company emails, tags, and more. All contacts can be exported as a customized document in multiple versions and sent over to your sales team for further collaboration. All in just a few clicks.
Another tool suggestion: ContactOut
Another tool that can help you boost your LinkedIn campaign is ContactOut. It is a simple browser extension that helps you find email addresses and phone numbers of anyone using this social network. ContactOut finds emails from 75% of LinkedIn users at a 97% accuracy rate.
Problem #6: You Have Traffic, but It Doesn't Convert Into Leads
Recommended lead generation channel: retargeting website visitors
Solution: Use spying tools to follow on-page visitors who haven't converted directly on your website.
Tool: Leadfeeder
Bringing in more high-quality traffic to the web pages is a crucial marketing task. The next step is to make these websites real lead generation channels, which means converting the traffic into high-quality leads and, ultimately, sales. According to the Unbounce study, on average, landing pages convert at the rate of 3.4% through sign-up forms.
Being distracted with popup windows and multiple on-page sign-up forms, page visitors will leave the page even if your lead magnets differ from the rest out there – you offer high value and unique content. It might happen that the most important leads will still escape.
How could you get them back and start meaningful conversations?
In the B2B environment, using Leadfeeder will help you learn more about your page visitors who have never converted into leads. With this tool, you can identify companies that visit the website and track their activity to later reach out to them e.g. on LinkedIn.
Why would that matter?
Knowing who is visiting your page and what subpages they have viewed in particular, your sales reps will be able to connect with such contacts later and start a contextual conversation – conversations that wouldn't be generic but relate to a unique journey those contacts have gone through on the page.
The second positive aspect of getting broader intelligence about your potential customers is that you can respond fast.
When page visitors are researching the topic – they can be already aware of a problem and actively looking for a solution. Your salespeople would be out there ready to lead potential clients through their customer journey without friction.
Another tool suggestion: Hunter
Hunter offers a suite of tools that allow you to automate lead generation. You can use Hunter's email finder to find anyone's email address and then verify it using the email verifier tool.
The company also offers a tool called Domain Search, which allows you to uncover all the email addresses associated with a particular domain. All of these tools can be used for a single email address or domain or for a list of email addresses or domains.
Once you've identified your prospects and their contact information, you can then use Hunter Campaigns to set up, launch, and manage cold email campaigns. Campaigns support custom sending schedules, automated follow-ups, advanced personalization, and more.
CHECK ALSO: What Is Product-Led Sales? The Role of a Sales Team in Product-Led Growth
Bonus Lead Generation Channel to Try Out: Affiliate Marketing
Affiliate marketing is one of the lead generation channels many overlook. But it's a great way to reach out to new audiences and generate leads interested in your offering.
What's more, it's no-risk marketing. How come? Well, it's built on cooperation and mutual trust between a company and an affiliate marketer promoting the company's products or services, where both sides win.
To sum up, the more you focus on low-hanging fruit and try to get those leads that are almost or fully ready to buy your products, the more deals you close. That is the best strategy to accelerate customer acquisition.
The tools mentioned in this article will help you reach your prospects at the right time and the right place, ready to engage with your sales team.
And remember, achieving results at scale without those tech solutions is just impossible. Order a personalized presentation or test our tool for free for 14 days!
Start generating leads today!
Start a 14-day free trial now,
set up the widget on your site, and see how many more leads you can capture with CallPage
No credit card required

10 minutes set up

14 days fully-features free trial
Try for free
Get a Demo