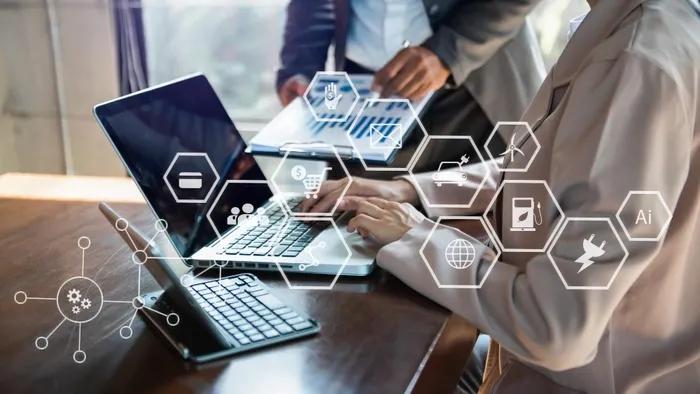 The 11 Best B2B Marketing Tools & Software You Should Get To Know
This article is a hand-picked list of the best B2B marketing tools and software to help boost the efforts of your marketing team. We've picked lesser-known apps and platforms that work just as well, or even better, than the big names you might know. Hope you find it useful!

In the ever-evolving landscape of B2B marketing, a few names have become iconic pillars that almost every marketer swears by.
Brands like HubSpot, Salesforce, and Ahrefs have not only set industry standards but have also become virtually synonymous with the best B2B marketing tools. These popular marketing tools offer a comprehensive suite of features that cater to everything from lead generation and customer relationship management to email marketing and analytics.
However, if you dig a little deeper, you'll discover a treasure trove of lesser-known yet equally powerful B2B marketing tools that are often overshadowed by these giants. These hidden gems offer specialized functionalities, innovative features, and unique advantages that can significantly enhance your marketing efforts.
Whether you're looking to optimize your content strategy, automate complex workflows, or gain deeper insights into customer behavior, there's likely a tool out there tailored to your specific needs. So, let's embark on a journey to uncover the best B2B marketing software that you've probably never encountered but should seriously consider incorporating into your overarching strategy.
These 11 marketing tools include everything from automation through management to the best B2B marketing tools for content creation.
#1 — Live Chat: Tawk.to
Live chat isn't just a nice-to-have for an e-commerce martech stack; it's a game-changer in the B2B world too. Why? Because instant connection is the name of the game, whether you're selling shoes or software solutions. So, if we're talking about the best B2B marketing tools, a live chat tool should be on your must-have list.
Enter Tawk.to — a cloud-based live chat platform that makes real-time conversations between businesses and customers a breeze. What sets it apart? Well, for starters, it's free. Yep, you heard that right. You get a whole suite of features without emptying your pockets.
In short, it's your one-stop shop for handling customer queries without stressing your budget. And don't just take our word for it. With a 4.6/5 rating from 314 reviews on GetApp, it's clear that Tawk.to is doing something right.
READ ALSO: Best Chat Alternative: Why Callback Is Making a Comeback
Who should try it
Businesses in need of a cost-effective, easy-to-use live chat solution should consider Tawk.to. It's particularly beneficial for small to medium-sized businesses and those who are looking to try out a live chat feature without any financial commitment.
The pros
Free of Cost: Tawk.to offers a live chat application for websites without any charges.
Real-time Engagement: It allows businesses to engage with their website visitors in real time.
Customization: Tawk.to offers a customizable chat widget that can match the branding of your website.
Mobile Apps: They provide mobile apps for both Android and iOS, allowing you to chat with your customers on the go.
Multilingual Support: The platform supports multiple languages, making it suitable for global businesses.
The cons
Inconsistent Notifications: Users have reported issues with inconsistent notifications, which can lead to missed customer interactions.
Questionable Filtering: Some users have raised concerns about the platform being used by scamming websites.
Pricing details
Tawk.to offers its live chat service for free. They do have some premium features and services that come at a cost, though, such as hiring chat agents. For detailed pricing, we recommend visiting Tawk.to's website.
READ ALSO: How to Create a Converting B2B Lead Generation Funnel
#2 — Inbound Calls & Lead Capture: CallPage
Ever wish you could turn website visits into real conversations, leads, and sales?
CallPage is one of the best B2B marketing software designed to capture leads directly from your website. It effortlessly integrates as a pop-up window, encouraging website visitors to either request an immediate callback from the company or schedule a call or meeting at a more convenient time.
And "immediate" is the keyword here. The more you improve lead response time, the more sales you will close. And statistics prove that.
CallPage's primary objective is to streamline lead generation, optimize inbound call management, and simplify meeting scheduling. It's like having a 24/7 receptionist who never takes a coffee break.
The platform also offers additional features that enhance user experience and ensure efficient communication between businesses and potential clients.
Who should try it
If you're keen on boosting your lead conversion rates, making customer engagement a breeze, and smoothing out your communication pipelines, then CallPage should appear in your marketing tools stack.
But keep in mind, this isn't a magic wand. It really kicks into high gear when your website's already a traffic magnet and your sales team is comfortable — or at least open to — the idea of sealing deals over calls and meetings.
The pros
Flexible Scheduling: Visitors can pick a time that works for them or leave a message. Perfect for those night owls and early birds.
User-friendly: It's a pop-up widget, so adding it to your site is a cinch. It's also intuitive to use for your website visitors.
Virtual PBX Powers: It can also act like a mini call center with features like call recording and routing.
Smart Analytics: Get the lowdown on how you're doing with analytics and notifications.
Targeted Pop-Ups: Set rules for when the widget shows up so you're not bugging just anyone.
Customization: Customize the look and feel to match your brand's vibe.
The cons
No Free Version: CallPage currently doesn't offer a free plan, but you can try out all its features during a 14-day trial.
Needs Website Traffic: Relies on website traffic for effective utilization.
Pricing details
CallPage's new pricing model offers two main plans: Essentials, which is ideal for small businesses and startups, and Pro — designed for growing businesses with more advanced needs. Large companies with an expected monthly call volume of at least 600 can ask for a custom Enterprise plan with premium support.
Essentials costs 39 USD per month, with discounts if you go for an annual payment. The Pro plan's base price is 99 USD per month.
READ ALSO: 15 Best Sales Call Software Solutions for 2023
#3 — Marketing Automation Tool & CRM: User.com
User.com is more than most marketing automation platforms, it's your one-stop shop for turning casual website visitors into loyal customers. This powerhouse covers all your bases — from an integrated CRM that keeps tabs on your visitors to email and marketing automation, push notifications, and even chat features to keep the conversation going.
But wait, there's more. Dive into advanced user segmentation, set up dynamic automation workflows, and run omnichannel marketing campaigns like a pro. Designed to amp up your website's conversion rates and keep your clients engaged across multiple touchpoints, User.com is a multilingual marketing maven with native apps for Web, Windows, iOS, and Android.
Who should try it
Whether you're a small startup or a full-blown enterprise, User.com is one of the best B2B marketing tools you can use. It's a dream come true for marketing, sales, and customer support teams who want to put all their customer engagement eggs in one basket.
The pros
Ease of Use: User-friendly interface that's easy to navigate.
Customization: Highly customizable email and notification settings.
Integration: Seamless integration with other popular platforms.
Multi-Channel Campaigns: Run campaigns across multiple channels from one dashboard.
Customer Support: Responsive and helpful customer service.
Language Support: Available in multiple languages, including English and Polish.
The cons
Learning Curve: It's feature-rich, so give yourself some time to explore all the nooks and crannies.
No Fixed Price: Our flexible pricing model means there are no fixed monthly fees, which can be slightly confusing for some people.
Pricing details
User.com operates on a monthly subscription model, and the cost depends on a couple of things, like the number of contacts in your database and the volume of emails you're sending out. For a detailed price plan, schedule a demo.
#4 — Cloud Phone System: JustCall
JustCall is a communication powerhouse designed for teams that live and breathe customer interactions. From automated dialing and smart call routing to live call monitoring, this platform has got you covered.
And let's not forget its compatibility with over 100+ platforms and apps you probably already have in your marketing tools stack. Whether you're in sales or customer support, JustCall helps you up your game 24/7. Plus, you can snag a local number in 70+ countries and run SMS and call campaigns like a pro.
Who should try it
If you're on the hunt for a phone system that's as robust as it is user-friendly, and you want the freedom to make both inbound and outbound calls, JustCall is your go-to. It's a hit with remote and blended teams, too.
The Pros
Affordable: Competitive pricing without any sneaky setup fees.
User-Friendly: A dashboard so easy to use, it's practically a joy.
Plays Well With Others: Syncs effortlessly with platforms like Salesforce, HubSpot, and Zapier.
Help Is On The Way: Responsive customer support, just a chat or email away.
Flexibility: Plans that can be tailored to fit your business like a glove.
The Cons
Basic Plan Limitations: The Standard Plan could use a boost in the real-time analytics and advanced SMS departments.
Extra Costs: Some features like call and voicemail transcription come with a price tag.
Pricing details
JustCall offers three main plans, plus a custom option for medium-sized call and contact centers that need the works.
Essentials Plan: Starting at $19 per user/month, billed annually. Comes with basic call and SMS analytics.
Team Plan: $29 per user/month, billed annually. Adds some advanced features and AI magic.
Pro Plan: $49 per user/month, billed annually. Includes the full analytics suite.

READ ALSO: How to Choose the Best Virtual PBX System?
#5 — Graphic Design Made Easy: VistaCreate
VistaCreate is your go-to digital canvas for all things graphic design. And the best part? It's free. Whether you're crafting animated graphics, social media posts, or even business cards, this platform has a template for that. And we're not just talking about a handful; we're talking thousands.
What's in the box?
Animated Graphics, Social Posts, and More: From YouTube thumbnails to e-book designs, it's all here.
Design Elements Galore: Think fonts, animations, and over 70 million royalty-free goodies.
Tools You'll Actually Use: Background removal, sticker creation, and even resizing tools for when you change your mind.
Who should try it
If you're an individual, a business, or even an organization that wants to make eye-catching content without a design degree, VistaCreate is your jam. It's perfect for marketers, social media buffs, content creators, and small business owners who want to look like they have an in-house design team.
The pros
Versatility: Templates for every occasion and platform.
User-Friendly: No design degree? No problem. The tools are super intuitive.
Speak Your Language: Yes, it's multilingual.
Freebies: A free version that's actually useful.
Media Library: A treasure trove of images, videos, and music.
Teamwork: Collaboration features for those group projects.
Always Fresh: Regular updates to keep you on your toes.
The cons
No Mobile Version: Sorry, no mobile version yet.
Customer Care: Some users wish the support team was a bit more on the ball.
Pricing details
VistaCreate keeps it simple. The Starter Plan is $0 per month and gives you basic tools and 10 GB of storage. Want to go Pro? That's $10 per month, and it comes with all the bells and whistles, including a 14-day free trial to test the waters.
#6 — Social Media Scheduling & Publishing: SocialBee
Social media is one of the top B2B marketing strategies among pros. A May 2023 report by Qnary showed that nearly 40% of professionals are interacting with content several times a day, up from 28% in 2021 (source). So, it's not just about likes and follows; it's about staying in the loop and making business moves. That's where SocialBee comes in.
SocialBee is a web and mobile app that takes the guesswork out of your social media schedule. While it doesn't do inbox management or brand monitoring, it's a whiz at organizing and automating your posts.
Who should try it
If you're a business or marketer who wants to keep your social media posts as organized as a bee's honeycomb, SocialBee is your go-to. It's especially handy for those who want to categorize their content and set it on autopilot.
The pros
Multiple Platforms: From Instagram to Google My Business, SocialBee has you covered.
Content Categories: Think of it as your social media filing system.
Unlimited Requeue: Perfect for giving your evergreen content another spin.
Manage Multiple Profiles: Up to 25, to be exact.
Integrations: Syncs with Pocket, Zapier, and even lets you add unlimited RSS feeds.
Analytics: Because knowing is half the battle.
The cons
No Freebies: There's no free plan, but it's still a budget-friendly option.
Just Scheduling: Don't expect it to manage your inbox or monitor your brand.
Pricing Details
SocialBee offers three plans to fit your needs and budget: Bootstrap, Accelerate, and Pro. Prices range from $29 to $99 per month, but you can take it for a spin with a 14-day free trial, and there's a 30-day money-back guarantee to boot.

READ ALSO: Breaking Bad Habits: Top Digital Marketing Mistakes and How to Avoid Them
#7 — SEO & Content Marketing: Senuto
Senuto is a versatile tool for all things SEO and content. With a full and complete set of tools, Senuto is designed to elevate your SEO game. Here's a quick rundown of what you can expect:
Visibility Analysis: Get the lowdown on how any domain is performing on Google.
Keyword Database: Discover what your customers are Googling and make sure they find you.
SERP Analysis: Find out how your competitors are ranking and then outdo them.
Position Monitoring: Keep tabs on how your keywords are performing.
Content Planner: Craft content plans that actually work, and do it in minutes.
Content Writer: Write SEO-friendly content without breaking a sweat.

Senuto is more than just a tool; it's a full-fledged SEO suite. With six modules and a host of tools, it lets you gauge the impact of your SEO efforts, pinpoint customer-attracting keywords, and drive valuable traffic. Plus, it's mobile-friendly with apps for iOS and Android, and it plays well with other platforms like Google Analytics and Slack.
Who should try it
If you're an SEO specialist, content marketer, or copywriter looking for a budget-friendly alternative to the big names, Senuto is worth a look.
The pros
Comprehensive SEO Tools: It's got everything but the kitchen sink.
Mobile App: Take your SEO work on the road.
Integrations: Syncs seamlessly with platforms like Google Analytics.
Free Trial: Test drive it for 14 days, on the house.
The cons
Learning Curve: Might take a minute to get the hang of it.
Not as Advanced: Doesn't quite match up to pricier competitors.
Pricing Details
Senuto offers a range of plans to suit everyone, from solo SEO specialists to large agencies. All plans come with a 14-day free trial. Here's the breakdown:
Essential Plan: €29/mo — Ideal for individuals, offering basic features.
Standard Plan: €59/mo — Geared towards content specialists and small sites.
Premium Plan: €99/mo — Tailored for SEO pros, with added integrations.
Professional Plan: €249/mo — Perfect for agencies, with API access.
Enterprise Package: Custom pricing for custom needs.
#8 — Writing Content: Wordtune
Wordtune could be described as an AI-powered writing sidekick. Designed to help you articulate your thoughts with clarity and precision, it's a game-changer for B2B content marketers who need to churn out quality content.
Wordtune goes beyond basic grammar checks. It offers a range of features that can rewrite, expand, or even shorten your text while maintaining your unique tone. Plus, it spices things up with "Wordtune Spices," offering data points, topical jokes, and crisp explanations to make your content pop. And the best part? It integrates right into your Chrome browser and even offers a Microsoft Word add-in.
Who should try it
If you're someone who writes — be it emails, articles, or academic papers — Wordtune is for you. It's especially handy for content marketers and writers who are on a quest for efficiency without sacrificing quality.
The pros
AI-Driven Personalization: Offers writing suggestions tailored to you.
Efficiency Boost: Acts like a co-writer that's always on call.
Versatility: Whether you're rewriting or expanding text, it's got you covered.
Seamless Integration: Works effortlessly with Chrome and Microsoft Word.
The cons
Cost: The premium features come at a price.
No Offline Mode: You'll need an internet connection to get the most out of it.
Pricing Details
Wordtune offers a variety of plans to fit different needs and budgets:
Free Plan: $0.00/month, includes basic features like 10 rewrites and spices a day.
Plus Plan: $9.99/month, offers a bit more, like 30 rewrites and spices a day.
Unlimited Plan: $14.99/month, gives you unlimited access to all features.

For businesses with specific needs, custom pricing options are available, complete with premium support.
READ ALSO: What Is H2H Marketing? 7 Strategies You Have to Know
#9 — Video Marketing: Promo.com
Promo.com is a one-stop shop for businesses and agencies looking to make a splash in the world of video marketing. Whether you're crafting social media clips or full-blown commercials, Promo.com has got you covered.
The platform boasts an extensive library of templates, stock footage, and music tracks, allowing you to tailor videos to your brand's unique style. It supports multiple video formats and offers specialized tools like a slideshow maker, video ad creator, and even a meme generator. Plus, it comes with built-in analytics and budget calculators for data-driven decision-making.
Who should try it
If you're a business, a marketing agency, or simply someone in need of a versatile video creation app, Promo.com is an essential marketing tool for you. It's particularly useful for crafting diverse video content, from Facebook ads to YouTube intros.
The pros
Versatility: Create anything from ads to social media videos.
User-Friendly: An intuitive interface that's beginner-friendly.
Rich Library: Over 100M premium photos and videos from reputable sources like Getty Images and iStock.
Extensive Template Selection: Choose from over 5,000 pre-designed templates.
The cons
Limited Editorial Content: The Basic Plan restricts access to certain premium content.
Storage Costs: Unlimited storage is only available in the Pro Plan, which may be pricey for small businesses.
Pricing details
Promo.com offers a range of pricing options to suit various needs:
Basic Plan: $29/user/month, billed annually. Comes with 50 GB of upload storage.
Standard Plan: $59/user/month, billed annually. Includes unlimited premium clips and 50 GB of storage.
Pro Plan: $199/user/month, billed annually. Offers unlimited everything, including reseller rights and white-label sharing.

For a more in-depth look at their pricing, you can visit their official website.
#10 — Customer Relations: Brevo (formerly SendinBlue)
Brevo is more than another email marketing tool. Brevo (formerly known as SendinBlue) is a comprehensive platform for email, SMS, and WhatsApp marketing.
It also includes live chat and chatbot functionalities. Over the years, Brevo has evolved into a robust tool with a plethora of features designed to make your marketing efforts more effective and efficient.
Who should try it
Brevo is particularly well-suited for small to medium-sized businesses (SMBs) and freelancers looking to streamline their multi-channel marketing efforts.
The pros
Multi-Channel Marketing: Brevo supports campaigns across email, SMS, and WhatsApp, offering versatility for various marketing strategies.
User-Friendly Design: A drag-and-drop interface makes it accessible even for those without technical skills.
Advanced Segmentation and Automation: Create highly targeted campaigns and automate repetitive tasks to save time.
Universal Inbox: Manage all customer interactions from a single dashboard.
Sales Pipeline Management: Get a holistic view of contacts, deals, and companies for better sales tracking.
Mobile App: Manage your campaigns on the go, ideal for remote or field teams.
No Credit Card for Free Plan: A low barrier to entry for businesses wanting to test the waters.
The cons
Poor Customer Service: Multiple reviews mention inadequate customer support, which can be a significant drawback for businesses relying on timely assistance.
Bugs and Technical Issues: Reviews mention some bugs and issues that hinder the user experience, from font issues to broken search filters.
Pricing details
Brevo offers a free plan that allows you to send up to 300 emails daily, albeit with limited analytics. For more advanced features, you can opt for one of their paid plans:
Starter Plan: Priced at 19 EUR per month.
Business Plan: Priced at 49 EUR per month.

For larger enterprises, a custom plan called BrevoPlus is also available upon request.
#11 — Easy Image Editing: Colorcinch
Last on our list of the best B2B marketing tools is Colorcinch. It's a no-fuss image editor that's all about making photo editing a walk in the park. Whether you're doing a quick touch-up or going for a full-on artistic transformation, Colorcinch makes it super straightforward with its photo-to-painting feature. And hey, it's browser-based, so you can dive in anywhere, anytime.
Who should try it
This is perfect for social media managers, bloggers, or anyone looking to add a splash of creativity to their images without getting bogged down in complex software. If you're into turning photos into cartoons or fancy paintings with just a few clicks, you'll want to check this out.
The pros
Filters & Presets: Fuel your creativity with a vast library of filters and presets, templated masks, overlays and frame
Background Remover & Changer: In

stantly change or remove image backgrounds with the unmatched precision of AI.

User-Friendly: With its intuitive interface, even non-techies can make magic happen.
AI-Powered Features: From cartoonizing photos to creating art, it's smart and snappy.
Works Online & Offline: It's there whenever inspiration strikes.
The cons
Basic Editing: It's not cut out for heavy-duty editing or raw photo manipulation.
Limited Advanced Features: The free version is great, but the more sophisticated tools will cost you.
Pricing Details
You can start with Colorcinch for free and have a good play around with many of its features.
But if you're looking to level up, the monthly plan costs $8.99. Or you can pay $59.88 for an annual plan (that's $4.99 a month).
Unlock the Full Potential With the Best B2B Marketing Software
While industry giants like HubSpot, Salesforce, and Ahrefs continue to dominate the landscape, there's a wealth of lesser-known but equally potent B2B marketing software tools waiting to be discovered.
Each tool comes with its own set of pros and cons, and pricing varies, so it's essential to consider your business needs and budget. But one thing is clear: integrating these platforms into your marketing strategy can offer you a competitive edge, streamline your workflows, and, ultimately, drive business growth.
So, why settle for the mainstream options when you can diversify your toolkit and optimize your B2B marketing strategy to its full potential?
Try out all 11 of these best B2B marketing tools and see how much you can gain!
Start generating leads today!
Get a 14-day free trial now,
set up the widget on your site, and see how many more leads you can capture with CallPage
No credit card required

10 minutes set up

14 days fully-features free trial
Try for free
Get a Demo