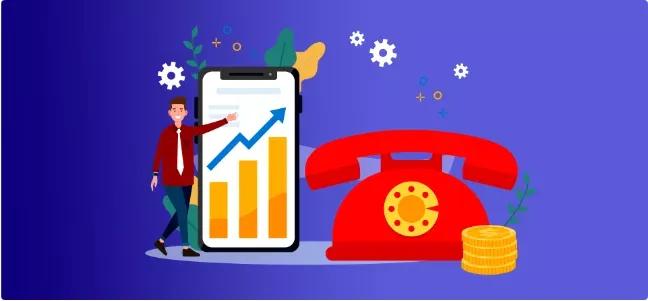 10 Ways to Generate More Inbound Sales Calls
"More calls = more customers " this correlation is true for companies in industries such as automotive, tourism, consulting, B2B services, finance, insurance, and others.
The logical conclusion is that these companies should do everything possible to generate as many inbound sales calls as possible because the number of calls has a real impact on the sales results. Does your company operate in one of the industries mentioned above?
If the answer is YES, I wrote this text just for you. Keep reading.
I share all the methods we know and use to generate more calls from potential customers.
You can easily apply them all! Get inspired, use them, and generate more leads. Here we go!
1. Add the phone number in the header or at the top of your page
It may sound obvious. But after analyzing many websites, I can say that more than half of the companies that should potentially fight for customers' attention and present their phone number in a visible place, don't do it.
A user needs to dig deeper into the website to find it – scroll the entire page to the footer or open the contact tab, where the phone number is placed.
This seems intuitive, but any additional click or action that the user has to undertake to find your phone number hurt conversion levels.
2. Make it possible to copy the phone number on mobile devices.
It's hard to explain how annoying it is when a user opens a website on a mobile device. Spots the number, clicks on it to make a call, and it turns out the number is not "clickable".
It can only get worse when a website visitor tries to copy the number, but they can't do it because it's placed on the page as an image. Thus, the potential customer has to rewrite the number to make a call. Probably each of us has experienced such a thing a few times. And it's not the most pleasant one.
Ask a team member who is responsible for the page to fix this TODAY. This tweak takes up to 30 minutes.
ALSO READ: Are Phone Conversations a Thing of the Past, a Necessity, or a Possibility for Your Business?
3. Add a callback option on your website.
The callback solution was first implemented in the US and since then it delivers measurable results. This way of communication really works, and people like to use it.
There are several reasons for that. Starting with the most vital one: they can choose the date of the call, they don't have to wait on hold listening to music, it's someone calling them back, not them calling someone – a psychological trick.
That's why you can use a tool like CallPage or any other solution that will give your website visitors the possibility to order a callback.
4. Add phone numbers to your email footer
Companies such as HubSpot or Marketo that employ hundreds of salespeople have long used email footers to promote its content or to encourage people to contact the sales department.
Here are some good examples of how you can rework your company's footers to generate additional calls:
MAY BE INTERESTING: Why should you decrease lead response time and how to do it in 2020 and beyond
5. Add your phone numbers in Google Maps and Google business card.
Everyone uses Google Maps or finds information about different companies in Google Maps. It's an excellent place to present your company, and it's also the right place to generate new inbound calls from potential customers.
6. Add Call To Action "Call Now" to your Facebook Page and Instagram.
Do you have a Facebook business profile? That's great if you do. In the settings of your profile so that people entering your profile can click on it and call you right away
It also applies to Instagram. You assign a phone number to your profile and then add a call button in your settings to allow your visitors to contact you.
7. Generate phone numbers to potential clients outside office hours.
In 90% of cases, your reps are no longer available when prospects visit your website because users are most active online after they've left their own office.
This is normal, after all, there are also weekends, evenings, and nights. Users are online at any time of day and may want to contact you. You can't offer them a callback from your agent at 11 PM when they enter your website, looks for a new car, and has a few questions about loan options. But you can display a message saying:
"Hey, we're out of the office, leave us your number. We'll call you back when we get back to work tomorrow morning/on Monday.
8. Add a phone number in Google Ads.
If you use the Google advertising network, you can add a phone number to your ads. Some of the people to whom your ad will be displayed will directly click on the phone number and immediately connect with your company.
9. Change or extend the working hours of your sales team.
It's very important to measure when your company receives the most inbound calls, especially if you answer many phone calls, and your reps work on a fixed hourly rate.
Maybe your reps leave the office at 5 PM, but you note many missed calls between 5 and 7 PM? And most of them are made by prospective clients or existing customers?
Testing and analyzing the results is very important. Extending the working hours of a sales office not only potentially increases the number of phone calls/leads generated, but also increases costs.
10. Increase Conversion Rate to phone calls: prediction, social proof and WOW effect.
Another way to increase the number of calls is to add small elements that will increase conversion rate on the web page.
First of all, leverage social proof. Display the number of people who have ordered calls or are currently on the phone. You can apply it to both standard contact form or use it on a contact widget like CallPage.
Secondly, inform users how much they will need to wait for a connection. This will also give them confidence and improve conversion.
And lastly:
Try using the WOW effect to gamify your call order process. At CallPage, we offer callback in 28 seconds, and combined with social proof, it delivers a very high conversion rate; compared to the usual form.
Wrap up
If you've reached this point, I'm sure you care about inbound calls from potential customers. That's good. I hope that you find this text useful and that you will implement some of the mentioned solutions in your company.
About Author:
Forbes 30 Under 30 Europe. Digital Marketer. Co-founder at CallPage – Callback Automation for website) and co-founder at Certifier – Online Certificate Creator.
Start generating leads today!
Start a 14-day free trial now,
set up the widget on your site, and see how many more leads you can capture with CallPage
No credit card required

10 minutes set up

14 days fully-features free trial
Try for free
Get a Demo