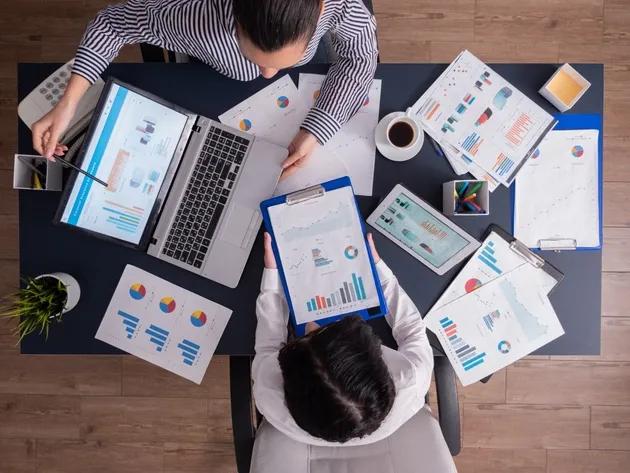 12 Ways To Monitor The Efficiency of Sales Calls
Every leader of a sales department needs to measure the efficiency of sales calls made by their team. There is no fixed recipe for this, however, many basic metrics can match your company's goals. In this article, we present 12 ways to monitor the efficiency of sales calls. By knowing your targets, you can choose those best suited to your business process and learn how to get more phone calls from your website.
12 Hack12 Ways to Track Efficiency of Sales Callss to Increase the Number of Calls from Potential Customers

To make sure you know how to get more calls, you need to know how to properly evaluate the performance of sales calls made by your team. To do so, you need to set a clear goal and decide which metrics adhere to your sales calls strategy.
But remember – productivity and efficiency are not universal indicators, they can be defined differently based on the industry or your environment.
What is more, 65% of B2B organizations see sales productivity and efficiency as their #1 challenge, according to research from The Bridge Group. So if you are wondering how to increase number of customers or customer calls, improving productivity and efficiency is the key to success.

Fortunately, some common metrics can be easily employed to monitor the sales calls efficiency in most sales teams.
Of course, a few of them may work better for you than others. Implementing them in one business may result in the higher increase the number of customer calls. Below, you will find 12 metrics you may consider worthwhile.
Also, get to know the facts about sales that you wish you had known earlier.

A really useful tip: never try to monitor all KPIs possible, this is a tremendous waste of time. Focus on those most important ones for your strategy to get more phone calls from potential customers.
1. Volume of closed records per agent and per team
The term "closed records" means a number of sales calls marked as "lost" or "won". This basic yet very useful figure enables you to monitor how your reps handle their tasks individually and if they are ready to get more contact numbers to deal with. It also shows the performance of the team as a whole.
The constant monitoring of this metric ensures that productivity is always on a decent level and your reps are ready and know how to get calls and how to handle them.
Read what other factors can negatively affect your sales productivity.
2. Measure average sales per sales rep (conversion rate) and per team
As simple as it is, this extremely important metric indicates the efficiency of sales calls placed by an individual salesperson and by the whole team.
It has to be measured in the specified reporting period.
It shows how many customers your sales reps brought in and with whom they closed deals. If you are looking for ways to get more phone calls from your website, you need to know what's the capacity of every single salesperson in your team.
The low conversion rate influences the whole company's performance.
3. Check rep's ability to qualify contacts and handle customer calls
Observe how your salespeople manage new leads.
Are they able to rate them correctly?
A simple example: a prospect has not answered the phone and your rep qualifies this call as lost.
Instead, they should try to reach the contact again.
This kind of mistake has a huge negative influence on sales calls efficiency. The thing is: you are looking for ways of how to get people to call your business, but your reps simply waste sales opportunities by not trying to reach a contact again.
Also very important: do your reps know how to deal with a lack of interest or with a rejection?
Sometimes they need just a little help and advice to sell more efficiently. It's your job to track these kinds of obstacles that your salespeople face.
LEARN MORE: How to handle objections during sales calls
4. Monitor average handle time
To measure this metric, divide the length of all calls by the total number of calls. You will know the average time employees in your team spend on one sales call.
In many businesses, average call lengths should be kept above one threshold and in others below.
Generally, a very low average handle time indicates low-quality sales calls.

Maybe your reps have a problem with attracting the client's attention? A potential client, at first interested in the product, ends the conversation after 30 seconds.
On the other hand, a high average call time may mean your sales reps do not know the product well or lack closing skills or… just talk too much and are not focusing on delivering specific information about the product. How to increase the number of customers? Find the sweet spot of a perfect sales conversation.
READ ALSO: The Sales Call Report: Turning Conversations into Conversions
5. Let the technology help you
Ensure your sales team has all the sales call software they need to support the efficiency of their work.
If you are still looking for an efficient way to increase the number of customers, invest in a callback solution that enables your clients to reach you at any time suitable to them.
Features of the tool, e.g. weekly/monthly reports, will give you many metrics you can analyze and check sales call efficiency. Integrate the calling system into your CRM. Check integrations available for CallPage users.
6. Percentage of sales calls per record
By observing this indicator, you will learn if your sales rep focuses equally on each contact/potential client to get more contact numbers.
This means trying to reach a prospect for the first time and then contacting them accordingly to the sales cycle.
7. First sales call close
This number shows how many first sales calls made by one employee ended up in sales.
These metrics may not be useful in businesses selling very complex products.
However, every leader of the sales department or sales team should motivate their reps to close as many deals as possible during the first of each customer call.
This ensures the improvement of the overall efficiency of the business.
As a quick reminder, check our eight teps to a successful sales call.
9. The cost of one call
An extremely important indicator shows how much it costs to handle a call. The collective aim of both management and employees should be to lower this number.
Another metric connected to this one is revenue per successful sales call. This one is even more accurate.
It indicates how much a single call that ended up in a closed deal is worth.
10. Number of callback messages
This one is directly connected to the previous point.
As some callers do not want to be put on hold and wait in a queue, they just leave a message asking you to contact them.
So, how to get people to call your business? Make sure your prospect has an opportunity to contact you when they are not able to talk to your sales representative.
This is a very convenient solution.
However, too many messages like this mean your sales team is inefficient and is leaving many clients behind.
11. Time spent by rep on after-call work
Making sales calls is not only about conversations with prospects.
It also includes another quite important aspect, which is after-call work.
By that, we mean everything the sales representative does in the minutes following each sales call.
Including logging summaries and notes, updating CRM information, and analyzing feedback from the customer.

This can be tricky for people managing sales teams, as this work has to be done, but it can not take too much time.
If done carelessly, it can lower sales call efficiency. However, too much time spent on this duty affects productivity negatively.
12. Analysis of sales calls quality
At the end of the day, the quality of sales calls is one of the most important indicators you have to monitor.
Are your prospects satisfied?
Do your salespeople follow the script and use all the recommended selling techniques? This metric is hard to measure and present in numbers, but you should make good use of sales call tracking and call recording.
If you are thinking about how to get more calls, the best thins is to randomly analyze conversations with clients to ensure the quality is on the best level possible and meets your standards.
Take notes, observe what works best, and deliver feedback to your salespeople.
Observe, measure, and conclude.
The biggest challenge for a leader of a sales team is to choose metrics that match the company's goals and will help monitor sales calls efficiency to ensure you get more phone calls.
You have to decide which ones to measure and how to manage your reps.
Efficiency is key but can be viewed and defined in many ways, depending on your industry.
Be vigilant, observe the everyday workflow, and draw conclusions.
Looking for solutions that will improve the efficiency of your sales calls? Try CallPage! Click here to order a personalized presentation or test our tool for free for 14 days!
Start generating leads today!
Start a 14-day free trial now,
set up the widget on your site, and see how many more leads you can capture with CallPage
No credit card required

10 minutes set up

14 days fully-features free trial
Try for free
Get a Demo