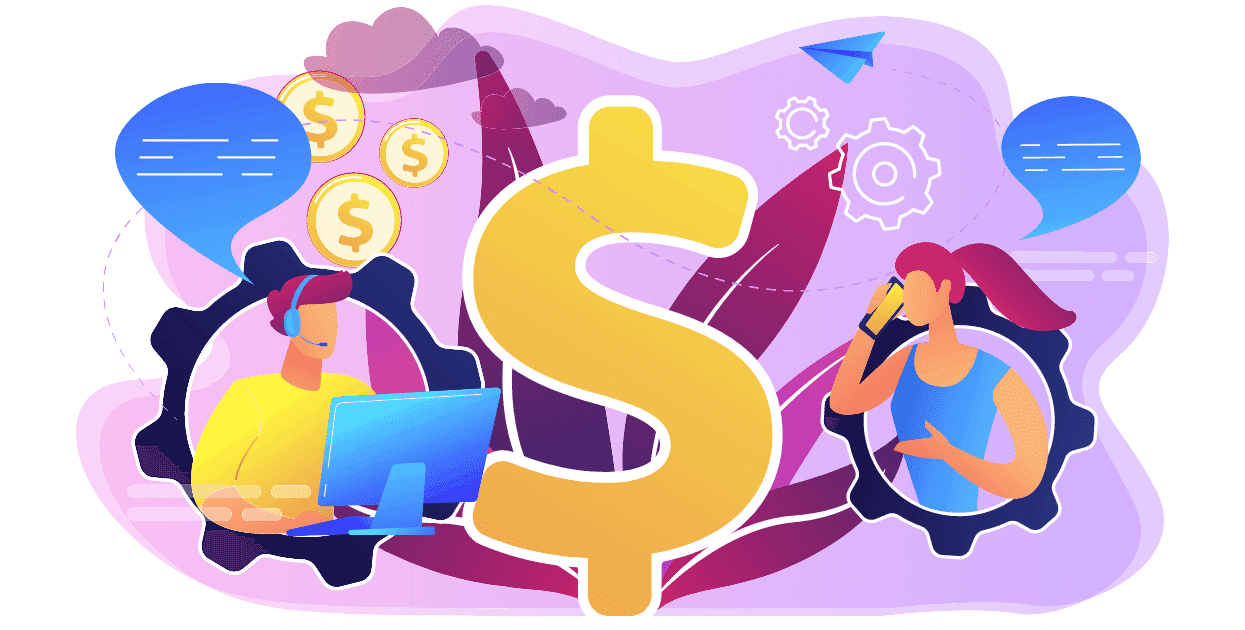 9 Callpage Features That Will Boost Your Sales Results
CallPage is a fantastic tool that helps companies generate more leads from websites and streamline their sales processes. But it doesn't stop there – in addition to its standard features, CallPage has several extra features that make the tool even more effective. To get the most out of CallPage, here are 9 features that can give your company an edge when it comes to improving sales results.
Exit-intent Pop-Up
CallPage tracks user behavior on the site and shows them a pop-up if the visitor is about to close the page (moves the cursor upward).
How to use this feature to increase sales > Visitors often abandon a website if they can't find what they're looking for. By giving them the opportunity to quickly contact a team member, you increase the chances that users will provide their contact details before leaving for good.
Personalized text
You can set up personalized text in the window, which will maximally correspond to the needs of your users.
How to use this feature to increase sales > Most of our customers use a standard text line that reads "Do you want us to call you back in 28 seconds" as their Call To Action. However, testing different forms of copy is also an effective way to capture the attention of website visitors. Try using words like "special offers" or referring to your products when crafting your message – this can make a big difference!
Department selection
If a company has several departments that may contact the client (e.g., Sales Department and Technical Department), you can add the option to select a specific department in the CallPage window.
How to use this feature to increase sales > You can use this feature to group phone consultants by topic of conversation or location, allowing your website visitors to select their desired contact purpose before requesting a call. This streamlines the process, allowing customers to quickly connect with the right person on your team. What's more, it personalizes the experience for the visitor.
Option to order a call at a preferred time
Your users can order a call at a later date/time. CallPage will automatically connect the user with your call consultant at the pre-selected time.
How to use this feature to increase sales > If you are running PPC campaigns, you might reach a potential buyer when they don't have enough time to look at your offer. Thanks to the "schedule for later" option, your potential buyers can schedule a call for a more convenient time. Scheduling calls in CallPage is fast and hassle-free, making it an ideal call to action over a standard contact form.
After-hours mode
CallPage can connect phone numbers from potential customers by informing them that you're not in the office and offering them a convenient time for telephone contact.
How to use this feature to increase sales > More than 50% of your clients visit your website after your office working hours. With the after-hours mode, you can collect the contact details of your potential customers even when your team is out of the office. CallPage will connect the buyer once your team is back at work. Moreover, 5 minutes before the call, CallPage will send an SMS notification with information about the upcoming call.
Personalized SMS notification after a call
Speaking of SMS, CallPage can also send an SMS message to your caller after the call is concluded. You can send this message from a number that will appear on the client's phone as the name of your company.
How to use this feature to increase sales > Your company's data will remain in the memory of your potential customer's phone, meaning they will be able to find you easily when they decide to buy your services or product. You can also use SMS to send a special message that will encourage your potential customers to take action faster, for example, by sending them a time-limited discount offer.
Lead management
In your CallPage dashboard, you can use features like notes, tags, rating, filtering, and many more to manage your leads.
How to use this feature to increase sales > In smaller companies, CallPage can act as a simple CRM system. Your sales team can add notes after a call, evaluate leads, or tag them to know which ones they should return to. Managers can filter the list and see how sales are handling the incoming leads.
Connect CallPage with your website forms
Using our API, you can connect your website form with CallPage. This way, whenever your customer fills out the contact form, they will be immediately connected with your consultant or sales representative.
How to use this feature to increase sales > 82% of consumers expect responses within 10 minutes, and fast responders win 50% of deals. Response time has a huge impact on a deal's win rate. But it's sometimes impossible to reach out to all your contacts from your website forms that fast. CallPage has a simple solution for his problem. You can connect any form on your website with CallPage. Whenever someone fills out the form, CallPage tries to connect the potential buyer with a consultant ASAP. This way, you can get back to your leads in just 28 seconds.
NEW FEATURE: Meetings
Callpage Meetings is a new product in the CallPage suite. It allows website users not only to order an instant call from your call consultants but also to instantly schedule a meeting with your team members. It's an advanced meeting scheduling system that includes lead distribution and lead automation features. What's more, you can include Meetings on your CallPage pop-up to hit a higher number of leads.
To learn more about how CallPage Meetings can help you generate more leads, check out our blog post: Gain More Quality Leads with CallPage Meetings
Summary
CallPage is an amazing tool that can help you get better sales results. You can not only generate more leads but also shorten your response time and improve your customer buying experience – all to make your sales results skyrocket! We hope this article will help you achieve even better results.
Need more info? Schedule a free CallPage demo.
Start generating leads today!
Start a 14-day free trial now,
set up the widget on your site, and see how many more leads you can capture with CallPage
No credit card required

10 minutes set up

14 days fully-featured free trial
Try for free
Get a Demo