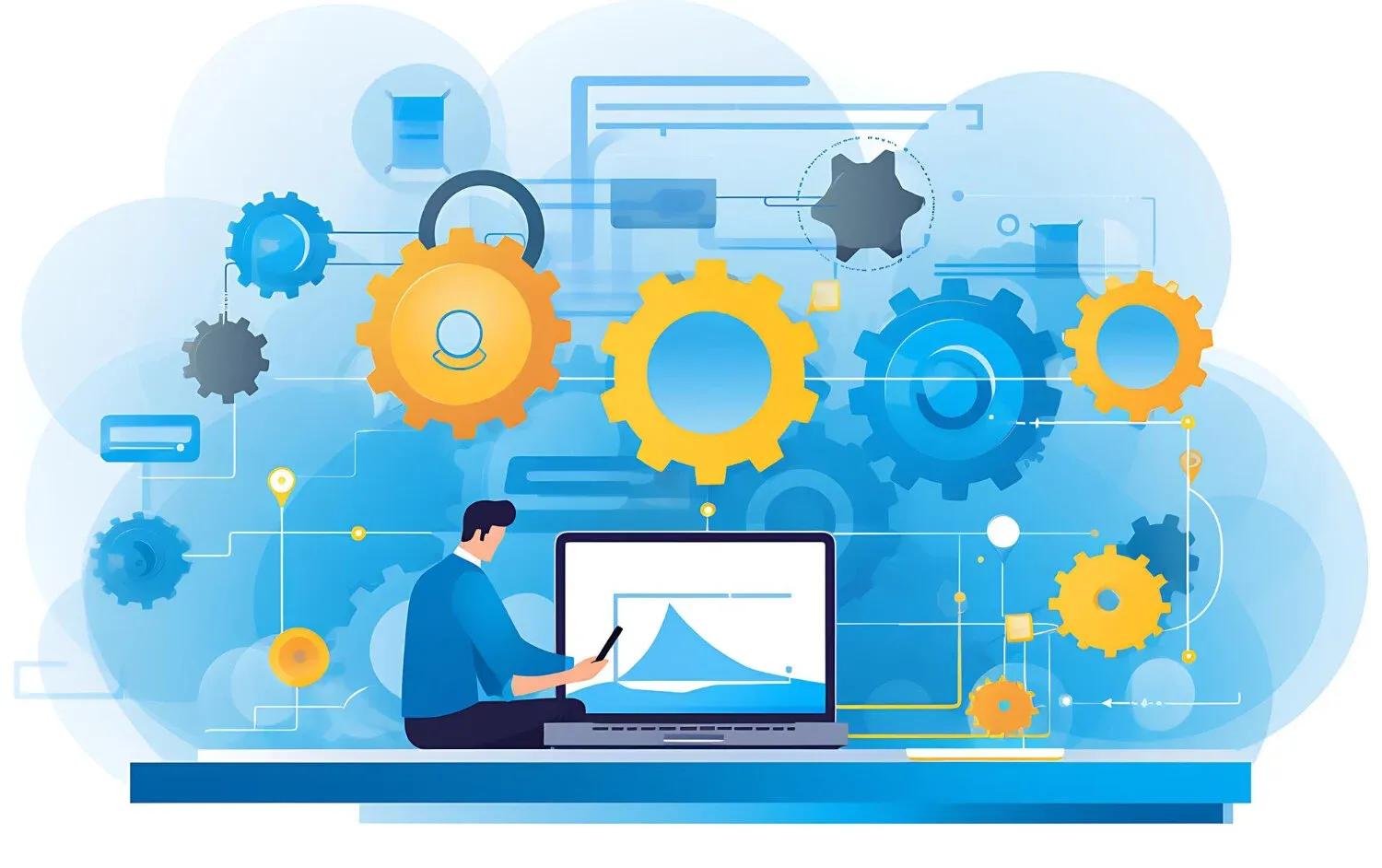 Assemble the Perfect Sales Toolbox — 10 Best Sales Productivity Tools
This article is talks about sales tools that can improve the productivity of your team. You'll learn about 10 amazing apps and platforms, some of which you may have never heard of. Choose the ones that fit your needs and build a complete sales toolbox!

What makes a great sales team? A successful sales team is a blend of various elements — skilled sales reps, effective leadership, and a robust customer relationship management strategy, to name a few. But let's not overlook the importance of the right tools. Just like a carpenter wouldn't be as effective without a hammer and nails, a sales team also needs its own sales toolbox to truly excel.
Sales productivity software tools are not just a "nice-to-have," they're essential. They can automate repetitive tasks, provide valuable insights, and facilitate seamless communication, allowing your team to focus on what they do best — selling.
So, what should be in your sales toolbox? Let's explore the 10 best sales productivity tools that can elevate your team's performance to new heights. Whether you're a sales newbie or a seasoned pro, these tools offer something for everyone.
What Is a Sales Toolbox?
A sales toolbox is a set of tools that help sales teams perform better and achieve their goals. These tools can include software, platforms, and resources that improve the productivity and efficiency of sales processes. For example, a sales toolbox can have a CRM system, a lead generation tool, a communication platform, and a sales training program.
A sales toolbox is not just about the software but also about the workflows, strategies, and best practices that guide the sales team. In other words, anything that can support the work of a sales representative or manager is a part of their sales toolbox.
In this article, we'll focus on the software tools you can use to increase sales productivity.
What Is a Sales Productivity Tool?
A sales productivity tool is a type of software that helps sales professionals perform their tasks more efficiently and effectively.
Sales productivity tools can automate various aspects of the sales process, such as lead generation, prospecting, scheduling, emailing, pipeline management, forecasting, and reporting. They can also provide insights into customer behavior, preferences, needs, sales performance, and trends.
By using sales productivity tools, sales teams can save time, increase revenue, and improve customer satisfaction.
Types of Software Tools for Sales Teams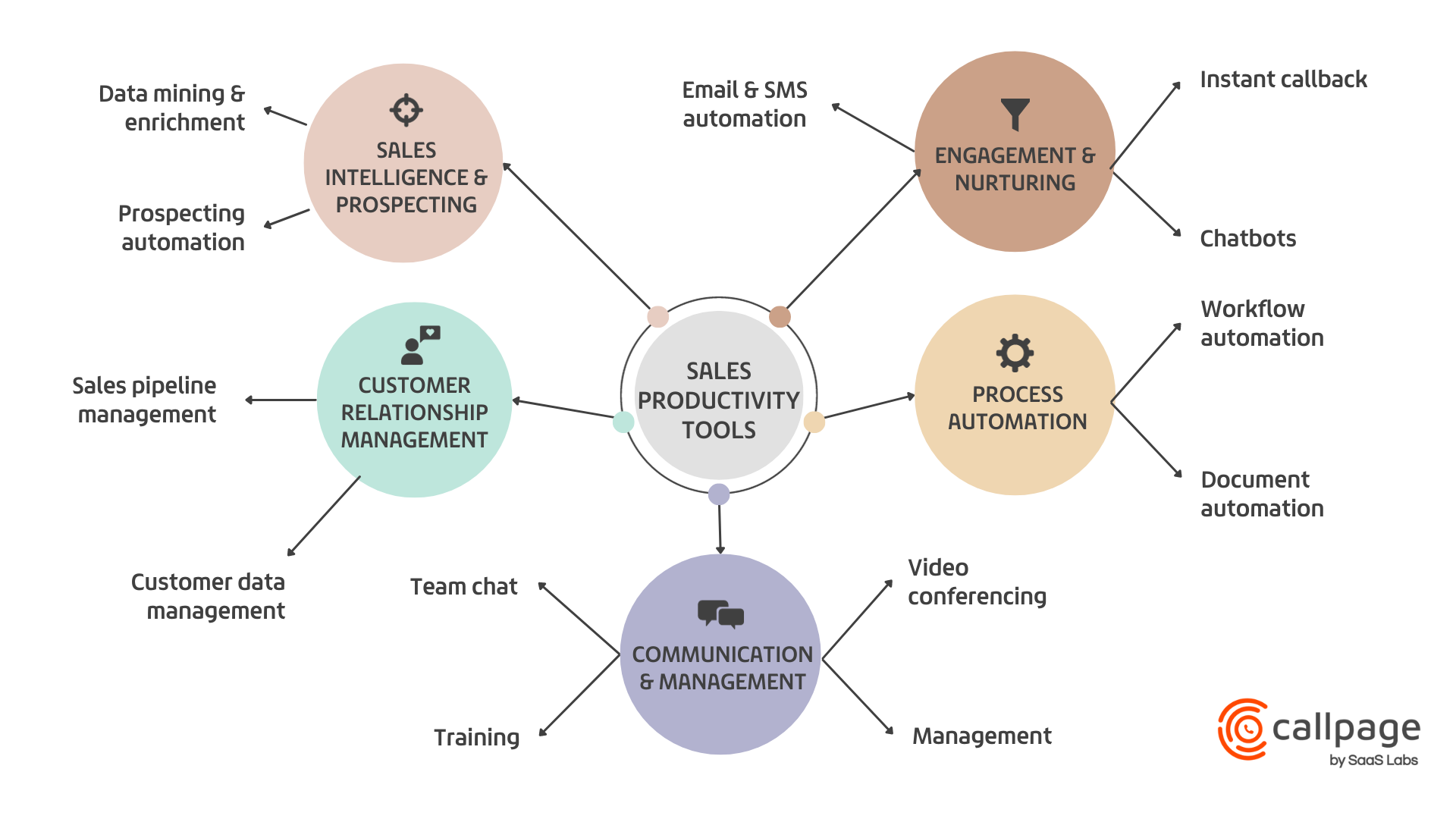 Sales intelligence & prospecting
Sales intelligence tools are your scouts. They help you find out everything about potential customers, industries, and even competitors. These sales productivity tools use advanced algorithms, data analytics, and web scraping to identify high-quality leads, making your team's prospecting efforts exponentially more efficient.
There are two main types of tools this category consists of:
Data mining and enrichment: Think of these as your research assistants. They search through the internet, social media, and different databases to give you information and help you build complete profiles of your potential clients.

Popular tools: Clearbit, ZoomInfo

Prospecting automation: These sales tools help in the initial step of the sales cycle. They send personalized messages to potential leads and can even schedule follow-ups. This automation frees up valuable time for your sales reps, allowing them to focus on more strategic tasks.

Popular tools: Hunter.io, Outreach, LinkedIn Sales Navigator
Engagement & nurturing
Engagement tools grab people's attention and get them interested. Once you've got their attention, nurturing tools come into play. These are the tools that let you send follow-up emails to build a stronger relationship and smoothly transition them into your sales process.
Many tools could be added to this category, but let's focus on these three that can really help you improve sales productivity:
Email & SMS automation: Your digital communicators. They automate the sending, tracking, and analysis of your sales messages.

Popular tools: Mailchimp, SendinBlue

Instant callback: Your on-site engagement specialists. They capture visitor information and initiate immediate contact.

Popular tools: CallPage

Chatbots: Your automated customer service reps. They handle basic queries and can even set appointments or qualify leads.

Popular tools: Intercom, Drift

READ ALSO: Consultative Selling — Say Goodbye to Pushy Sales Tactics & Drive Revenue
Process automation
Ever found yourself repeatedly clicking the same buttons while working on an Excel spreadsheet, thinking, "This is taking ages. Can't someone else do this for me?" That's where automation tools come into play.
Automation tools are invaluable time-savers for your team. While they can't handle complex or creative tasks (fortunately), they're great at automating repetitive actions. This allows your sales reps to concentrate on building relationships and closing deals rather than getting bogged down with mundane tasks.
Tools for automating sales processes can include:
Workflow automation: Your behind-the-scenes organizers. They set up automated workflows that trigger based on specific actions or conditions.

Popular tools: Zapier, Automate.io

Document automation: Your paperless office enablers. They streamline the creation and signing of contracts and proposals.

Popular tools: PandaDoc, DocuSign
Team management & communication
For a sales team to truly thrive, effective management is key. Strong leadership is essential, but so are the right tools. Think of team management and communication tools as your team's virtual office. They enable smooth communication and collaboration among team members, regardless of whether they're sitting next to each other or are spread across different continents.
This category includes tools for:
Team chat: Your team's virtual water cooler. It offers text-based channels for real-time communication.

Popular tools: Slack, Microsoft Teams

Video conferencing: Your virtual meeting room. It provides a platform for face-to-face interactions, regardless of location.

Popular tools: Zoom, Google Meet

Management: They help in task allocation, project planning, and performance tracking, ensuring that everyone is on the same page and working towards common goals.

Popular tools: Asana, Trello, Jira

Training: Platforms designed to improve the skills and knowledge of your sales team. They offer a mix of educational content, simulations, and real-world scenarios to make the training as effective as possible.

Popular Tools: Lessonly, MindTickle, Showpad
Customer relationship management
CRM tools are often seen as the backbone of a sales organization. They serve as a centralized hub for all customer-related information, streamlining the management of interactions, facilitating the analysis of customer behavior, and enabling data-driven decision-making.
Here's a breakdown of what this category typically offers:
Sales pipeline management to help visualize and manage the sales pipeline from the initial lead stage all the way to closing the deal.
Customer data management. Think of CRM sales tools as your database with everything customer-related. They securely store all customer data, ranging from basic contact information to detailed purchase history.

Popular tools include Pipedrive, HubSpot CRM, and Salesforce.
Top Sales Productivity Tools
Here are ten really good sales productivity tools that you should consider adding to your sales toolbox. These recommendations are based on our firsthand experience as well as reviews from G2, a trusted software review platform.
#1: Best Sales Intelligence Tool — Apollo.io
Apollo.io is a leading sales intelligence and prospecting platform. It caught our attention with a 4.8 rating on G2 and almost 6,000 reviews. People point out that it's intuitive and easy to use and really improves sales productivity. It's designed to help sales reps identify sales opportunities and boost the quality of conversations they are having with prospects.
Apollo helps sales teams in:
Prospecting: The platform has a living database of 265M+ contacts. It helps you find new leads, filter them, verify emails, and check phone numbers.
Engaging leads: Once you've made a list of people you want to contact, you can do it from Apollo. The platform allows you to connect with your ideal buyers via email, call, and LinkedIn.
Closing deals: Apollo provides conversation & deal intelligence, actionable analytics, and tailored coaching to help you close deals faster.

The price? $59 per user for the basic plan ($49 if paid annually). You can also try out their free version with limited credits.
#2: Best Customer Communication Platform — JustCall
JustCall is a go-to tool for sales and customer support teams looking to up their game. With its automated sales dialer, you can reach out to more leads and boost your sales without breaking a sweat. One happy user summed it up this way:
"With JustCall, we've got the reach of 100 agents, but only had to hire 10."
But that's not all. JustCall also offers SMS Campaigns so that you can send targeted texts and follow-ups to your leads. Their AI helps you nail the message every time.
Conversation Intelligence is another cool feature. It gives your reps real-time tips during calls and lets you score each call, making it easier to train your team. And you can integrate JustCall with your CRM, which ties everything together, letting your team manage all their tasks in one place.
As for pricing, it starts at $29 monthly per user. Choose the annual plan, and it drops to $19 per month.
READ ALSO: A Sales Manager's Guide to Inbound Call Center Sales Techniques and Software
#3: Best for Increasing Inbound Sales — CallPage
CallPage is two things: a website pop-up and an admin panel. The pop-up is triggered by scoring rules you set, such as exit intent, and nudges visitors to engage with your sales team. They can request an instant callback, schedule a future call or meeting, or even leave a message.
What sets us apart is the instant callback feature. It connects a potential customer to your sales rep in under 28 seconds, capturing interest when it's at its peak. If your team isn't available, the 'schedule a call' option comes in handy. And if a lead prefers a face-to-face or video meeting, they can easily set it up.
As for the admin panel, it offers valuable call insights, including sales call recordings and transcriptions for later analysis. It can also serve as a smile CRM. Plus, CallPage easily integrates with your employees' calendars, existing CRM, Google Ads, Facebook Lead Ads, and much more (both natively and through Zapier).
We're proud of our 4.7 out of 5 rating on G2. But don't just take our word for it. One satisfied customer shared this comment:
"We've seen a direct link between implementing CallPage and increased customer satisfaction. Our agents are consistently fielding calls from interested customers, and we couldn't be happier with the results."
Check out our new flexible pricing plans here!
#4: Best Chatbot — Landbot
Live chat is a great tool for connecting sales reps with potential customers, but it has limitations. It requires a human to answer messages, which can be challenging outside of regular business hours or during high-traffic times. That's where Landbot comes in, saving your team from spending time on basic or irrelevant questions (and improving sales productivity).
Landbot automates conversations with your website visitors. It guides them through a set flow that can answer their questions, qualify them as leads, or even assist in making a purchase.
One of the biggest perks of using a chatbot like Landbot is its ability to manage multiple conversations at once, 24/7. While chatbots are great for initial interactions, they can't handle complex queries that need a human touch. Landbot can smoothly transition the conversation to a live agent in those cases.
So, what sets Landbot apart?
Quick Setup: Landbot is a no-code, drag-and-drop tool with prebuilt functions.
Easy Integrations: Landbot offers ready-to-use and webhook integrations. You can connect it to databases, CRM systems and NLP tools.
Fast Response Times: Automated replies mean better response time than sales professionals can achieve, especially in rush hours.
Unified Chat Management: Landbot provides an all-in-one chat manager that supports multiple agents, streamlining your customer service efforts.

Landbot has a rating of 4.8 on G2, with people giving high notes for how easy it is to set up and use, even for non-technical sales teams. Prices start at $40 per month for 500 chats.
#5: Best Video Conferencing — GoToMeeting
At first glance, you might think all video conferencing tools are pretty much the same. But dig a little deeper, and you'll find that's not true. While Zoom and Google Meet are crowd favorites for their simplicity and ease of use, they might not cover all your needs.
Looking for something more robust? GoToMeeting should be on your radar. It's reliable, secure, and rarely experiences downtime — qualities you definitely want in a video conferencing tool.
So, what sets GoToMeeting apart?
Drawing tools: Collaborate in real-time by drawing directly on your screen, whether you're brainstorming or presenting.
Meeting transcriptions: Get automated transcripts of your meetings, making it easy to review key points or share notes later.
Cloud recording: Choose to record your meetings either locally or in the cloud so you can revisit or share them whenever you like.
Smart meeting assistant: This feature not only transcribes meetings but also highlights key moments and identifies action items for you.

When it comes to pricing, GoToMeeting offers two plans, with the more budget-friendly option at $12.50 per month. As for its reputation, GoToMeeting scores a solid 4.2 on G2, based on over 13,000 reviews. It may not be the highest-rated option out there, but thousands of people praise it as one of the best apps.
#6: Our choice for a CRM — Freshsales
In the world CRM, where big names like HubSpot, Pipeline, and Salesforce hold sway, Freshsales stands out as an attractive option. It's not just wallet-friendly; it also packs a feature set that could give its pricier rivals a run for their money.
Freshsales offers undeniable value in terms of pricing. Its most affordable plan starts at a mere $18 per user per month, a noticeable difference from Pipeline's $29 starting price. What's more, Freshsales has a free plan that supports up to 3 users, making it an ideal pick for small sales teams and startups.
Features worth mentioning:
AI-driven contact scoring: This tool quickly identifies leads with high purchase intent, enabling timely follow-ups. It offers a detailed view of customer interactions on your platform.
Predictive deal insights: Backed by smart sales analytics, this feature delivers practical advice and projections to fine-tune your sales approach.
Smart workflow automation: Streamline everyday tasks such as lead allocation, email dispatch, and task setup. The system's behavior-driven sales sequences make outreach more efficient and quicker.

What sets Freshsales apart is its comprehensive suite of features. It merges sales and marketing functionalities and even comes with integrated chat and phone capabilities. However, it may not be the best fit for businesses that need intricate customizations or those with complicated integration requirements, as scaling these aspects can get challenging.
With over 1,000 reviews on G2 and an impressive 4.5 rating, Freshsales has earned considerable praise in the CRM industry.
#7: Best Management Tool — Notion
While you might have heard of Notion as a note-taking app or a project management tool, it's so much more. Think of Notion as the multi-tool in your sales productivity toolkit — efficient, adaptable, and incredibly user-friendly. That's why we use it ourselves (and not just for sales).
Notion serves as an all-in-one platform, allowing you to manage everything from sales pipelines to team collaboration. This saves time and reduces the hassle of dealing with multiple tools. Its real-time collaboration features enable your team to make updates, share insights, and discuss strategies without missing a beat.
Almost 5,000 people on G2 gave it a score of 4.7. Pretty impressive, right?
READ ALSO: Effective Sales Meeting Agenda: Unlock Productivity and Engagement
#8: Best Tools for Sales Team Training — Mindtickle
Mindtickle calls itself a sales readiness (or sales enablement) platform. We'd call it a virtual coach for sales teams. It's a platform where you can learn about your company's products, practice selling them, collaborate with your team, and track your progress.
The analytics features help define key competencies, and you can integrate it with a CRM to map behaviors to business outcomes. Think of it as a one-stop shop for everything you need to become a sales superstar!
Key features:
Sales training: MindTickle provides on-demand online training to the company's sales team with mobile updates, coaching, and role-playing with a data-driven strategy. It speeds up sales onboarding with AI-driven technology and engages your team with gamification and microlearning tools.
Sales enablement + content: This feature is like a digital library for sales teams, where they can find, add, and share information about their products. It also tracks how this information is helping them make sales, ensuring that their learning and strategies are effective.
Revenue intelligence: This feature helps understand what winning behaviors are really all about with meeting insights, topic analyses, and call-scoring capabilities that help pinpoint and repeat successful sales tactics.
Sales coaching: MindTickle transforms readiness insights into real-time performance with unique tools like deal remediations, AI-driven personalized evaluation, and program modifications.

MindTickle has received positive feedback from users across various review platforms. As for its G2 rating, MindTickle has a score of 4.7 out of 5 stars. It's ranked #2 on the "Top 50 Best Enterprise Software Products" and #7 on the "Top 50 Sales Software Products" list for 2023.
It's a bit more expensive, though, so small companies might not be able to afford it. The average price per person to use MindTickle is between $30 and $50 per month, which is not bad, but there is also a one-time implementation fee of between $3,000 and $5,000.
READ ALSO: Motivating a Sales Team: Strategies, Incentives, and Tools
#9: All-Round Sales Automation — SalesBlink
SalesBlink is a comprehensive sales outreach platform designed to boost sales productivity and streamline the sales process. It offers a suite of tools that enable users to find leads, automate outreach sales sequences, and schedule bookings.
What SalesBlink has to offer:
ChatGPT sales sequences: Craft compelling sales emails effortlessly.
Cold email outreach: Automate sales email campaigns with follow-ups.
Meeting Scheduler: Schedule meetings across time zones.
Email Tools: Find, verify, and warm up B2B emails. Improve deliverability.
Mail Merge: Personalize emails for effective outreach.
Email Tracking: Monitor key metrics for better results.

SalesBlink has garnered praise from users on G2, earning an impressive overall rating of 4.5 out of 5 stars based on 121 reviews.
It's your all-in-one solution for sales automation and optimization. With the integration of ChatGPT and WarmUp Emails, SalesBlink provides an efficient and effective solution for managing and optimizing sales outreach efforts. The cheapest plan for SalesBlink is the Growth plan, which starts at $25.00 monthly.
#10: Best All-in-One Sales Productivity Platform — ClickUp
So, what's the deal with ClickUp? We first stumbled upon it on G2 while hunting for top CRMs. But labeling it just a CRM doesn't do it justice. ClickUp is more like a Swiss Army knife for sales productivity — useful, easy to use, and versatile.
They pitch themselves as the "one app to replace them all," and honestly, they've got a point. With 35 different features or, let's call them mini-apps, you're pretty much covered for anything sales-related (and beyond!). Here's a quick rundown:
CRM: Keep track of your leads, customers, and everything in between.
Project and task management: Whether it's a big project or daily to-dos, manage it all without breaking a sweat. This tool can really replace Asana, Monday, or Jira.
Team chat: Ditch the extra chat apps; you can talk to your team right here.
Docs, whiteboards, and dashboards: Create, share, and collaborate on documents, brainstorm on whiteboards, and keep an eye on key metrics with dashboards.
Automation: Automate repetitive tasks and focus on what really matters.
Goals, analytics, and reporting: Set targets, track performance, and generate reports, all in one place.
Artificial intelligence: It helps you write good copy, summarize texts, spark creativity and is promised to soon have more great features.

What's cool is that ClickUp is super scalable. It works whether you're a one-person show or part of a 1,000-strong army. ClickUp brags they're a great solution not only for sales teams but also for project management, marketing, engineering, HR, finance, product development
The user reviews speak volumes. With a 4.7 out of 5 rating on G2 and close to 9000 reviews, people are loving it. As for the cost, it's pretty straightforward. Plans kick off at $10 USD per month for each team member. So, it's quality without breaking the bank.
Does this tool replace everything else we've just talked about? Definitely not. Can other tools create their own eco-system through integrations? Of course. But if you're looking for a quick way to get all the most important pieces of your sales toolbox, this might be what you're looking for.
Enhance Your Sales Toolkit Starting Now!
So here you have it: ten sales productivity tools with the potential to become an important part of your sales toolbox. As we wrap up this article, we'd like to encourage you to give these tools a spin. Sure, not all of them come with free versions or trials, but hey, why not take advantage of the ones that do?
So go ahead and dive into these sales productivity tools today! Your adventure towards a better sales game starts now.
Start generating leads today!
Get a 14-day free trial now,
set up the widget on your site, and see how many more leads you can capture with CallPage
No credit card required

10 minutes set up

14 days fully-features free trial
Try for free
Get a Demo