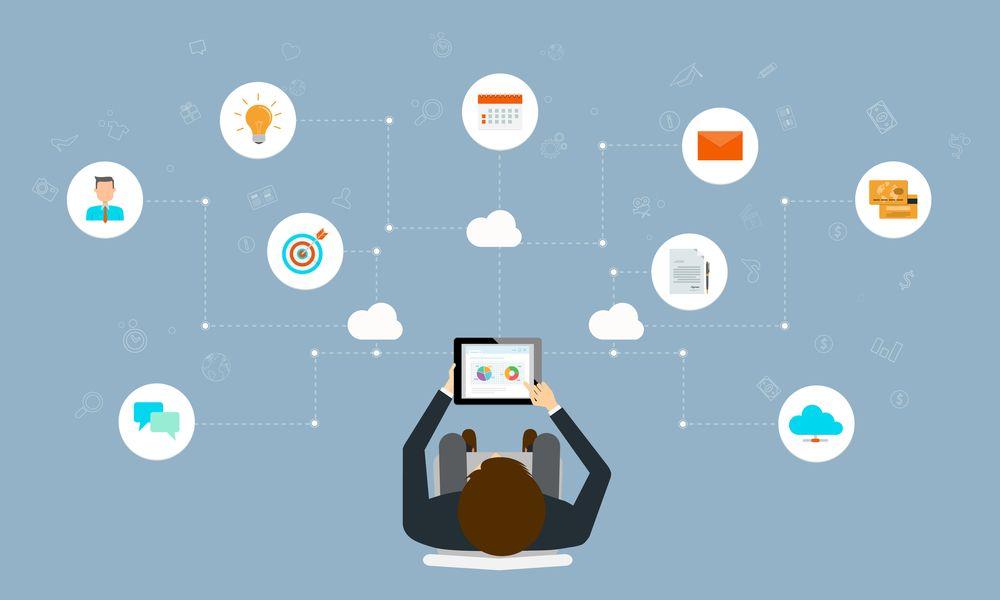 Boost Your Sales in 2023: Try These Top Sales Automation Tools Now!
Discover the game-changing world of sales automation tools and how they revolutionize businesses. From lead outreach to meeting scheduling, explore six powerful sales automation tools that will supercharge your team's productivity and help you close more deals. Embrace the future of sales and witness the transformative impact of automation on your bottom line.

From power stations to supermarkets, cafes to airports, automation is becoming more and more of our lives. Automation has even been used to lower the cost of workplace injuries by 35% and assess the cost of the Russian invasion of Ukraine.
The point is that automation is a part of our digital lives in a way that's often impossible for us to notice while also changing the way businesses operate.
Being able to speed up tedious processes or minimize the input from humans (who sometimes make mistakes) improves a company's efficiency and overall bottom line.
And the world of sales is also benefitting immensely from this rise in automation.
What Is Sales Automation?
Sales automation is a range of software that creates flows and processes for customers to take in order to increase profitability.
In most cases, this is done through the automation of repetitive tasks, such as outreach, scoring or follow-up emails. Sales automation helps teams function more efficiently and spend more time on tasks that maximize value and require the attention that only a human can show.
In fact, McKinsey reports that almost 33% of sales tasks can be automated.
Sales automation does not always feature complex AI or machine learning. In essence, sales automation allows teams to automate simple and repetitive tasks.
Examples of Sales Automation Tools
Here are several situations where you may find sales automation tools used.
Lead outreach
Outreach is a time-consuming process. Finding the right contact at the right company, finding their email, and then tailoring a message to them — it all takes time. Do it wrong, and you'll find yourself being ignored. But with careful crafting and the right automation tools, you can spend more time writing better outreach emails and less time sending them at scale.
Lead distribution
If you're a manager, you're undoubtedly aware of how hard it can be to assign the right leads to the right person. Time differences, language barriers, and a host of personal reasons can sometimes mean that the right person isn't around to make a scheduled sales call. Automated routing and queuing rules, like those found in CallPage, can help distribute the right lead to the right person.
Meeting scheduling
Automating team management can help assign the next best person to a scheduled call or contact the lead and organize a new meeting time.
Training
Upskill your staff using sales automation tools that act like a 'choose your own adventure' book. After studying a range of situations, your account manager can sit with an automated chatbot and try to solve a host of problems that the 'client' may be having.
Reporting
Crunching numbers is something that computers do infinitely better than human brains. Of course, crunching the right numbers is another thing entirely!
The point is that there are a host of CRMs and sales platforms that can help automatically report the most relevant metrics like AOV, MRR, and anything else you need.
The Benefits of Sales Automation Tools
For small teams (<10)
Most members of smaller teams are often spread between sales, marketing, and potentially several other departments.
A fine example is back-and-forth emailing to find an ideal meeting time. Instead of several emails to find a time, an automated calendar can be sent to your client, allowing them to pick a time that both your team and their team can meet.
For medium teams (10-50)
As sales teams start to grow, they often start to look at improving efficiency. Most often, this involves spending time talking to leads that are most likely to convert. At this point, lead scoring comes in.
However, rather than have an individual sitting down manually scoring leads, automation can ask the lead the most pertinent questions. What's more, these leads can then be assigned to a sales rep in the correct timezone or one that speaks their language.
Medium teams can also use sales automation to provide data from previous deals. Being able to find, for example, a correlation between company size and deal size is something that popular lead-management platforms can do. Your sales team can increase operational efficiency for a healthier bottom line by working on leads that have been proven to historically bring more profit.
For large teams (50+)
Larger teams are generally privy to a good marketing department and, therefore, might not have to do a lot of cold outreach. At this level, sales automation comes from efficient customer journeys over multiple channels. Whether a lead comes to your site from a social media channel, Google, or a referral, sales automation software can figure that out and treat them accordingly as they progress down the funnel.
Centralized databases also help managers act more strategically in creating KPIs and quotes for teams.
Seven Sales Automation Tools to Try Now
What's most interesting is that a lot of the technology on offer exists in a flooded market. Some huge players tend to do everything adequately, but those popular tools come at a price. This means that smaller yet stand-alone solutions often have a more competitive price.
In other words, there may be more value for your team in buying several stand-alone automation tools than one large platform that does everything adequately.
#1: CallPage
Callpage is an automation platform for marketing, sales, and customer support teams. Users landing on your webpage can request a callback in less than 30 seconds, helping you reach your customer when they're more engaged and ready to buy.
Callpage can also schedule meetings with sales reps at a time that best suits all parties. The interactive popup can be entirely customized to suit your branding, and the backend of the software is all the VOIP software you need to make sales calls.
Pricing:
Freemium models come from $0 per month, ranging up to $329 per month, or entirely customized options.
#2: Keap
Keap is a CRM suite that features a host of tools for sales automation. Quoting, invoicing, contact management, and scheduling meetings. All these elements can be automated but also personalized to ensure that the automation still sounds and feels human.
Keap also has an intricate email and lead scoring system. Many CRMs have the ability to qualify leads, but Keap improves on that with emails and task automation based on that automated lead scoring.
Pricing:
14-day free trial, then two pricing levels - $149 and $199 per month.
#3: Hoopla
The best sales teams know that they have to pump the brakes a bit occasionally, take a step back and assess recent performances, and perhaps even upskill or retrain. Hoopla helps sales managers (and their teams) visualize their data and metrics with leaderboards, motivational content, newsflashes, and other regular updates.
However, Hoopla isn't just about fostering competition between the top performers. Automation helps identify and motivate team members struggling to meet their quotas. The tool can then extract what other team members are doing that those falling behind might be able to try as a way to boost their output.
Pricing:
Pricing starts at $22 per user per month and goes up to $32 per user per month.
#4: Hunter.io
Cold outreach can be an uncomfortable process for many sales reps. That is, if they even manage to reach the right person.
Hunter.io is a database that helps sales and marketing teams find work emails and verify them instantly. By simply entering a domain name, sales teams can see all emails associated with that domain, as well as the sources that these emails have come from. Confidence is based on percentage points, and a range of filters and CSV export functionalities help cold outreach on a more significant basis.
Pricing:
The free plan gets you 25 emails per month, with plans going all the way up to 400EUR per month for 30k emails.
#5: Mixmax
Emails are the go-to medium for sales reps to communicate with leads on a one-on-one basis, but also at mass. Both individually and at scale, it pays to know when a lead has opened an email if they've clicked on links, and what other actions the recipient has taken. Throw automation into the mix, and then email becomes even more powerful.

Mixmax is an email plugin that can help sales reps automate how they interact with clients, leads, and just about anyone else. Simply put, it's a tool that promises to 'supercharge your email.' Create sequences, "if this, then this" rules, and get access to a host of other information that your recipient takes inside your emails. Moreover, it integrates with several other sales automation tools mentioned on this list!
Pricing:
The free plan has some strict limitations, but the cheapest paid plan, $24 per user per month, opens up a lot more. High-end plans are around the $70 per month mark.
#6: Overloop
Formerly called Prospect.io, Overloop calls itself a 'multi-channel outbound sales platform' that helps you get the most out of your outbound sales campaigns. Using automation, sales teams can expand to other channels and scale up their sales efforts while maintaining efficiency within their sales pipeline. Automation within Overloop can create workflows based on lead scores, acquisition channels, and past conversations.
It also complements other parts of your business, like recruitment and business development.
Pricing:
Overloop has a 14-day free trial, with pricing starting at 99EUR per month.
#7: Clari
Clari is a sales automation tool that helps B2B sales teams predict their next month, quarter, or beyond. Using complex AI algorithms, past data, and industry trends, Clari helps sales teams realistically plan for the next period by setting sustainable yet achievable goals. Clairi helps take the guesswork out of sales, relying on your data and modern technology to get it right.
Pricing:
While only giving prices out upon request, Clari has been known to charge entry-level users approximately $12 per month, with more comprehensive features being unlocked for around $120 per month.
Try Out Sales Automation Tools!
If your sales team can automate repetitive tasks, they'll be more effective in growing your bottom line. They'll be free to test and experiment in other areas and find other ways to grow your business impactfully.
Automation and other technology like AI and machine learning are really changing how we live and do business. It pays to use these technologies to help your sales team speak to people at the best possible time and close more leads.
You can get back to your customers quicker using the technology in CallPage. Leads leave their contact information on your site and, using our automation technology, are assigned to the best person available.
If you want to see how CallPage's sales automation technology can work for you, learn more about our click-to-call software here or simply try it out for free!

Start generating leads today!
Start a 14-day free trial now,
set up the widget on your site, and see how many more leads you can capture with CallPage
No credit card required

10 minutes set up

14 days fully-featured free trial
Try for free
Get a Demo