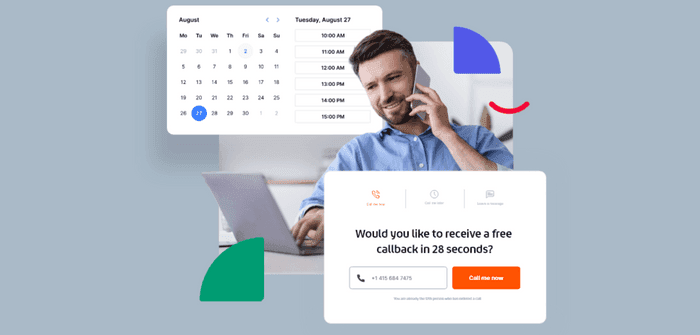 9 Reasons You Should Consider Using Callback
CallPage is a modern tool that uses a traditional communication model. Depending on business specifics, it helps businesses achieve their marketing, sales, or customer service goals. In this article, we provide 9 pain points that CallPage is solving for businesses.
A short explanation for Callback
The callback widget is an easy way to make sure your customers always have access to the help they need. With just a few clicks, customers can connect to a consultant and have their questions answered quickly and efficiently. Plus, it's easy to install on any website or landing page, so businesses don't have to worry about extra coding or complicated setup processes. To get more information about how callback works visit our second blog post on how to increase website conversion rate with callback where we explained the basics of the solution.
So when should you consider installing CallPage?
There are many objectives for which companies install callback solutions on their sites. We have compiled a list of the most common ones and divided them by departments.
Improved website conversion rate
Conversion on your site depends on a number of factors such as the source of the traffic, the UX of the website, the power of Call-to-action, and the industry in which you operate. A reasonable conversion rate should oscillate between 2% and 5%. However, it is often difficult to achieve these results, so companies are looking for ways to diversify call-to-action. By adding a new communication channel you are increasing the chance that users will leave their contact details. 
For a deeper understanding of conversion rate, read our article: A Comprehensive Guide to Website Conversion
For Marketing Team
An additional edge of a callback is time. Our research shows that reducing the response time from 24 hours (usually reply time for contact forms) to 30 seconds can increase conversions by up to 120%. The expected response time makes some leads more likely to contact you.
One of our clients in his review on g2.com described it this way: Every time I get a call from a customer, they are always wondering how fast I called them back 🙂 They say "wow that's a great way to get in contact". We use it on different websites, and all of them are a success. Maarten C., Owner, Developer
Improved conversion rate in e-commerce stores
E-commerce stores most often rely on chat as a preferable form of contact for buyers. This is a great solution for many reasons. However, chats have some limitations. First, consumers do not always want to wait for a response, and if they feel they are waiting too long, they will simply close the chat window without leaving their contact information. Additionally, when a customer is frustrated with the shopping experience, AI-based chatbots can increase their frustration. 
A callback can be a great addition to chat. It can be installed on selected web pages such as shopping cards or payment methods pages. Thanks to it your users will be able to quickly contact your team who will quickly answer questions or dispel doubts. CallPage works excellently, especially for stores with lower traffic, but more expensive or unusual products, such as home furnishings or specific equipment. In this case, your support team can provide shoppers with all the necessary information about the products and guide them through the buying process.  
Increase the number of leads from mobile devices
We don't have to convince anyone that a mobile website is important. Almost 60% of traffic on the internet comes from mobile – and this number is growing. However, building a high-converting mobile website remains a challenge. Even if you have managed to build a great website adapted to the size of a mobile phone screen, it is often a challenge to create an effective call-to-action. 
Companies frequently highlight their phone details in the mobile menu, but CallPage is making it one step further. It actually invites your visitors to leave their contact information in order to receive a quick call reply. And everything is already mobile-friendly so you don't have to do any coding on your side. 
Better results of your paid campaigns 
If you are running a paid campaign in Facebook Add, Google ads, or other channels you know it can be a daunting task. The cost of lead acquisition on the internet during the last years grew dramatically even by 335%. 
With such high campaign costs, you don't want to lose any leads.  CallPage helps in two ways. First, you can install it on the campaign's landing page(s) to maximize its conversion. We wrote more about this in point one. 
The second thing is you can connect CallPage directly to your Facebook or Google Forms. In such cases, as soon as the user enters his phone number in the form, CallPage makes an instant call connection. You can also use this as a call to action for your ads, and encourage users to arrange an immediate consultation with your team members. It works excellent eg. for health care services, online courses, or business services. 
CallPage dashboard statistics
For Sales Managers
More hot leads in your sales pipeline
In the part dedicated to marketing managers, we mentioned that CallPage helps to increase conversions on the website and thus increases the number of leads that are collected from the website. 
But what is particularly important from the sales manager's perspective is that the leads that are coming from CallPage are usually "warm" or "hot" leads. Why is this? Because people who are most ready to buy are also more open to having a conversation with a salesperson. What is more, thanks to pop-up and simple form, CallPage encourages your ready-to-buy leads to leave their contact details in the end increasing the number of hot leads by up to 75%. 
Faster reply to your best leads (and more closed deals)
90% of customers claim that immediate response is very important.  
What is more, a lot of customers settle for the first offer they received as they don't want to engage in too many buying processes. So before you will reply back to a lead from the contact form, it is possible he/she will be already in touch with other salespeople. And this will make you "option B". With CallPage you will be always the first one that will reply to your customer question. And as your sales reps will have the potential customer on the line, you can expect a higher lead-to-customer conversion ratio.  
As in Andrei's review from g2.com: CallPage is an excellent app. It helps to snatch potential customers who visit your website and offers them a phone call from your customer service. So first of all, it encourages potential customers to stay on the website throughout the whole conversation. It makes selling much easier. Secondly, it really connects a consultant with a customer in 28 seconds. What is more, it is easy to implement and requires no help from a programmer (it's a big plus!). Andrei S. Futures Trader Financial Services
Fewer lost sales opportunities
According to various data, up to 39% of acquired leads go unanswered and are lost in the sales process. This is because sales teams are struggling with multiple tasks and responsibilities. Even with excellent work organization, some leads can be lost in the process. This can be especially true for leads coming from direct calls. Sales representatives often forget to call back a number that went unanswered during lunch or a meeting with another customer. 
CallPage has a few features that lowing the risk of missing important sales calls:
CallPage attempts to establish a call with the first available sales team member.
If the call is not answered by either party, CallPage makes two automatic connection attempts. 
CallPage captures phone numbers even after business hours and attempts to make a call when your team returns to work. 
All numbers are stored in the CallPage panel
Thanks to all those features CallPage can help you reduce the number of lost sales opportunities. What is more, you can connect it with your CRM system to keep track of your team's performance from one place. 
For Customer Support Teams
Higher Customer Satisfaction
In the times of AI and self-served trends customer support usually relies on chat tools, knowledgebase, and email communication. While this trend is hard to ignore, you have to remember its drawbacks. First, the lack of human interaction reduces customer engagement and thus lowers brand loyalty. Secondly, with more complicated or urgent topics, customers often have trouble finding information in the knowledge base or even getting help via chat – which consequently increases their frustration. 
For these reasons, CallPage is also often used by customer service on selected places  – such as the knowledge base page or shopping cart page, allowing users to contact support quickly. A conversation with a helpful customer service representative leaves favorable associations in customers' minds and improved customer satisfaction and loyalty levels.   
Reduced the cost of customer service
It may seem that phone customer support is too involved and will take too much time. However, in some cases – such as more complicated problems, a single call that takes 3 minutes will help solve the problem faster than ping-ponging on email or chat. And as a result, it will not only shorten the waiting time for a customer but also allow the customer service team to solve more problems in the same amount of time. 
I really like that I can record all the conversations that are made through CallPage. Then I can listen to them and give my employees feedback. I really care about the quality of my client service, so I also liked sms notifications about missed calls. It made things easier to evaluate. My customers and potential customers are usually very happy when they receive a call from us in 28 seconds. Verified User in Accounting Enterprise
Closing thoughts
Since you're reading this article, we're assuming that you're considering implementing callback in your business. It might seem that the days of calls in business are irretrievably gone, but our base of more than 1,500 loyal customers shows us that there are many businesses for which a callback is an outstanding solution. What's more, with CallPage you can go beyond the competition and offer your customers a unique experience with real human touch. And that is something that cannot be replaced.  
Start generating leads today!
Start a 7-day free trial now,
set up the widget on your site, and see how many more leads you can capture with CallPage
No credit card required

10 minutes set up

7 days fully-featured free trial
Free Trial
Get Demo