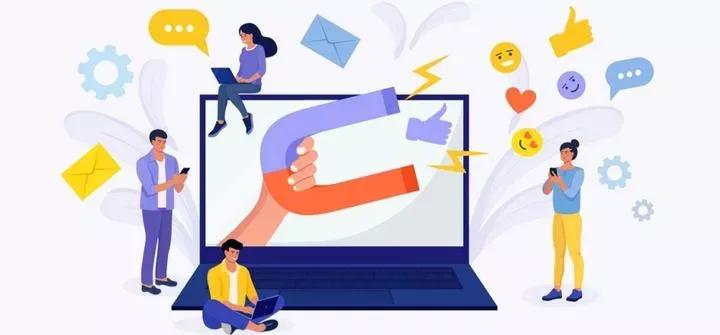 How to Improve Customer Engagement?
Customer engagement refers to the number of interactions between your customers and your company. Unlike typical communication, customer engagement relies on two-way communication, encouraging customers to "respond" to the company.
According to Gallup, customer engagement marketing can increase sales growth by 66% and customer loyalty levels by 25%. For these reasons, customer engagement has been growing in popularity in recent years.
What is customer engagement?
Customer engagement, similar to customer experience, focuses on building a positive relationship between the company and the customer. The other resemblance is that it should be applied at every stage of the customer journey process. However, unlike customer experience, which focuses on making the journey effortless, customer engagement concentrates on increasing the interaction between you and your customer. This means that in customer engagement, you want your customers not only to buy your products but also to interact with your brand more often.
Why is it important to have a customer engagement strategy?
While the main goal of customer experience is to make sure the customer buys your product, the goal of customer engagement is to make sure the customer buys the product again (or that they don't cancel their subscription if that's your business model).
Customer engagement is extremely important because it allows you to increase customer retention and loyalty rates, and these metrics translate into higher revenue for your company. Additionally, customers who interact with your brand more frequently are more likely to recommend your products or services to their friends.
For these reasons, customer engagement is (or should be) important for any company, regardless of the products or services they are offering. However, there are industries in which the lack of a customer engagement strategy can be dangerous. Companies that sell goods (such as clothing, footwear, or home decor) in omnichannel, as well as software providers, already understand that measuring and increasing customer interactions help them improve their retention rate or purchase frequency.
However, these are not the only sectors that can benefit from increasing interactions with customers. A customer engagement strategy can be a great marketing tool, especially for those brands that:
are operating in a highly competitive environment
have an extensive purchasing process
have a high purchase frequency
Customer engagement metrics
A customer engagement strategy should be applicable to every stage of your customer's lifetime. This means not only to the customer acquisition stage but also to the buying purchase process, delivery or onboarding, adaptation, or after-sales support. The steps will depend on the products or services you are selling and the same goes for the metric you will use. Below, we present some of the typical metrics used to analyze your level of customer engagement.
Retention rates
Churn rates
Website visits
Depth of website visits
Mailings open rate and CTR
Social media interaction
Purchase frequency
How can you build your customer engagement strategy?
Let's start with the obvious. First, you have to know your audience: know who they are, why they are buying your products, what problems your products are solving, what they like or dislike, how often and on what occasions they are buying your products, and even what their interests are. Gather all data and analyze them. If you don't have the data, talk to your team and to your customers.
Second, list all the places your customers are interacting with your brand. This can be your website, social media channels, blog, knowledgebase, and your advertising channels. Don't forget about your offline channels, your office, store, direct contact channels, and the sales and support center. Last but not least, check your distribution channels, partners, carriers, etc.
Finally, decide how you want to be perceived. What is your brand's personality? How do you want your customers to feel when they interact with your company? Are you a high-level exclusive services provider or rather straightforward and friendly? Why should your customers return to your brand? Because of the best prices, best products, because you are eco-friendly, or maybe because your products make them feel unique? If you have a marketing strategy set up, you probably know the responses to all these questions.
Okay, the hard part is behind us. You now have the proper background. Now, it's time to build your customer engagement strategy, which, in short, means: How do you want to make your customers engage with your company at each touchpoint?
READ ALSO: How to Talk to Customers? Client Communication Best Practices
Basic tactics
Here is our list of a few elements that you should definitely include in your engagement strategy.
Website
Depending on the sectors in which you operate, the importance of your website in the buying process can vary from very important to extremely important. In a web-centric society, there is not much place for businesses without a website. However, we often treat our website as a place to showcase about our company and its offerings. The question is, are we giving the customer a chance and a reason to interact? Is the content of your website relevant to them, does it invite the user to delve deeper into its structure, and does it allow the customer to easily contact your team or send feedback? A website is an emissary between you and your customers. Make it not only "easy to use" but also "easy to interact."
Buying process
Between demand generation and customer acquisition, there is a complicated process called the "buying process." It's complicated because you have to use one method to satisfy people with different backgrounds and needs. The buying process is an essential part of the user experience and should be carefully designed. However, customer engagement specialists should not put the process completely into the hands of a User Experience Specialist. There's also a place for customer interaction in the buying process, especially when you notice that customers are getting lost in it. The most common tool used in the buying process is chat tools. In some cases, you can also try click-to-call widgets.
Read also: 5 aspects of providing customer service over the phone.
Personalized Content
Many companies maintain their own company blogs to attract new prospects or nurture existing ones. However, blogging isn't the only type of content your company can create. Think about content that is more engaging than blog posts. The possibilities are vast: webinars, podcasts, live and online events, videos, personalized mailings or ebooks. Try different types of content and discover what form is most engaging for your customers.
Read also: Onboarding email sequence: Convert subscribers into customers.
Surveys
Surveys are a great way to understand your customers' needs on a larger scale. An added bonus is that customers will feel valued after you ask them to share their opinions and thoughts. However, to make your survey a customer engagement tool, you need to remember three rules. First, timing is key: Don't ask customers to share their opinions when they are in the middle of a buying process or struggling with an issue on your website. Second, make the survey questions understandable and easy for your customers to complete. The survey should also not be too long or require too much thinking on their part. Third, if possible, reward them for taking the time to complete the survey. It could be a gift card, a discount, or a special edition of an ebook, whatever you think might be of value to your customers.
Go beyond the average
We mentioned some of the standard elements of a customer engagement strategy. However, if you want your customers to interact with your brand, you need to go above and beyond what your competitors are doing. Here are some different ideas to check out.
Make the unboxing special
If you sell products online, the box is the place to interact with your customers in the real world. Make the unboxing more memorable than usual. Use personalization, unusual fabrics or prints, unexpected gifts, or local community support. Your customers will be pleasantly surprised, and additionally, you may gain additional reach on social media, thanks to the unboxing trend.
Surprise your loyal customers
Companies often use coupons or gifts to reactivate old customers. Why not use them as an element of customer engagement? Imagine you run a store selling photobooks and photo products, and you have a customer who buys a photobook after every vacation. How about sending her a gift that she can use on her next trip, for example, a travel bag with her photos (and your logo) on it? This will show your customers that you understand them and care about them.
Implementing gamification
Gamification helps companies achieve their goals, such as driving their customers to purchase in a more engaging and fun way. Gamification can be applied in many areas, such as during the customer buying journey, training and onboarding, in apps or even on websites. According to a study by Gigya, gamification of a website can increase comments by 13%, social shares by 22% and content discovery by 68%. For all these reasons, gamification can be an excellent addition to your customer engagement boosting strategy.
Offer your customers an experience
Events are an amazing way to increase customer engagement because they offer an experience—something your customers will remember for longer than a blog post or a personalized email. Of course, in-person events provide the most value, but organizing them in a global marketplace can be a challenge. Fortunately, virtual events can also be used in your customer engagement strategy. If you build them right, with virtual networking opportunities, engaging content and presenters, the option for instant customer feedback, and virtual conference bags, online events can be a great alternative to live events.
Tools to try
Once you have established your customer engagement strategy, you will need tools to put it into action. Some of these will probably have to be custom-created, but in some cases, you can use off-the-shelf tools. Here's a list of the tools most commonly used to engage customers.
Chat tools
Chat tools are great for helping your website visitors reach out to you and get immediate information about your offerings. They are also ideal for customer support and success. The selection of chat tools is astounding, from comprehensive tools like HubSpot to smaller tools like Olark or Livechat. You can also connect your chat to Facebook Messenger or WhatsApp.
Gamification tools
We mentioned gamification in an earlier section. Once you have decided how you want to apply gamification, you can choose from the selection of gamification tools available on the market. Here is a list of the most popular gamification tools in 2022.
Survey and NPS tools
It's a good idea to monitor your customers' net promotions score. You will find many tools that you can implement on your website, product dashboard, or support channel that will allow you to easily collect and analyze the current level of customer satisfaction. In addition, there are ready-made survey tools that will make the process of collecting responses easier for you and your customers.
Virtual event tools
After the Covid outbreak, the number of virtual events increased significantly, and the technology market responded quickly to this growing need. In a short period of time, a plethora of virtual event tools has emerged on the market. There are tools for registration, streaming, online networking, contests and prizes, feedback or voting, and many others. For more, check this list.
Callback tools
A large portion of your customers prefers written communication with your team. This is why tools, such as chatting or surveys, are so popular in customer service. However, in some cases, phone communication can also be a great addition to standard contact options, especially since people can feel discouraged after many contacts with chat consultants, who later turn out to be bots. You can implement a callback widget on your website or on the dashboard of your products. The fact that you are inviting them to contact you and giving them a tool to do so will make them feel more appreciated and wanted. After all, what is more engaging than a real conversation?
Start generating leads today!
Start a 14-day free trial now,
set up the widget on your site, and see how many more leads you can capture with CallPage
No credit card required

10 minutes set up

14 days fully-features free trial
Try for free
Get a Demo