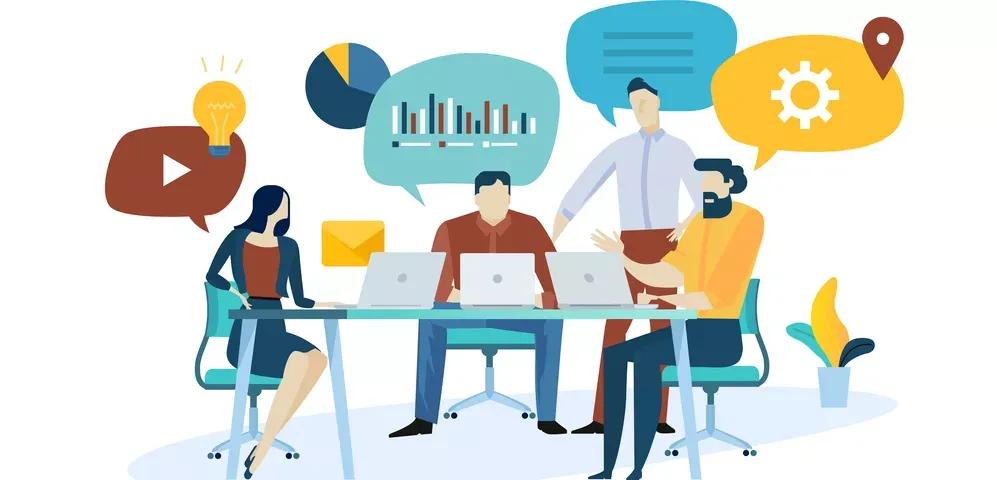 5 Reasons Why Digital Marketing is Important
With the advent of the internet, things have become a lot easier than they were before. The internet has created room for new possibilities and has given people a chance to come up with new business opportunities. As a result, many digital marketing enterprises have thrived and transformed the way businesses used to operate. However, this raises a critical question: What is Digital Marketing? Well, there can be many definitions for this but in a nutshell, it can be defined as the process of using electronic devices to promote or market products or services. This can be accomplished via a variety of channels, including email, social media, text messaging, and more. In today's world, nearly everyone owns a digital device, making this an essential part of any business's marketing strategy.
Now that we have learnt what it exactly is, let's move forward and learn a few more essential things about online advertising. And what's better than, to begin with, its most important part – SEO? Do you know what SEO stands for? Don't worry, keep reading to know more about it.
What is SEO in Digital Marketing?
SEO stands for Search Engine Optimization, and it is the process of obtaining traffic from free, organic search results in search engines. The higher a website ranks in search engine results pages (SERPS), the more traffic it will receive. SEO Services are a type of service that focuses on growing websites and improving their rankings for search engine queries so that they can be easily found by users searching for them on platforms such as Google, Yahoo, and Bing. It has been observed that, while we may not come to realise it, we use the internet throughout the day without acknowledging how much time we spend on it.
It is a marketing strategy in which businesses promote their website on search engines in order to drive free, organic traffic. It is entirely different from and should not be confused with SEM, which includes paid search engine advertisements. SEO refers to the use of specific online strategies to improve a website's page ranking on search engine result pages, or SERPs. It is a vital internet advertising service that brands all over the world rely on for an effective web presence.
What is a Digital Marketing Strategy?
A good business strategy is what directs the course of your web advertising services. It drives your goals and strategies for you to achieve them. Essentially, it is the driving force behind your goals. As a result, you need to have a strategy in place before making any other decisions, or else it will be difficult for your company to see success in the industry. There are numerous types of agencies, each of which provides a unique service. To determine which type of agency would be best for your company, you must first decide on a content branding strategy.
So, if you're looking for an SEO agency, look for one that specialises in it. Once that has been narrowed down, find out what services they provide so you can determine if they can meet all of your company's needs!
Check also: Breaking Bad Habits: Top Digital Marketing Mistakes and How to Avoid Them
What is a Digital Marketing Agency?
A digital marketing agency is a type of firm that specialises in branding products or services through the use of digital technologies, primarily the internet, but also makes use of mobile phones, display advertising, and any other medium. Among other things, many such agencies may provide social media management, SEO consulting, web design, PPC management, and analytics. Each of these services may be provided by a different agency or business unit. A larger agency might have teams who focus on each of these areas. The number of employees working for a single agency can vary significantly based on its size and client needs. Some small businesses may only hire one or two employees to handle their online presence while large corporations may employ hundreds of people to run their online operations using an in-house team or an outside company. Regardless of the scale, working with advanced ATS (Applicant Tracking System) can significantly enhance the efficiency of the recruitment process, ensuring a streamlined and effective approach to hiring the right talent for your business.
A diverse range of clients hire different agencies to maintain their online presence through the creation of websites and blogs, the creation of content for search engines (SEO), and the management of social media channels such as Facebook and Twitter, to name a few. Most people are surprised to learn how much effort goes into acquiring just one new customer!
What are Digital Marketing Services?
Web Advertising services are very important because they help businesses connect with customers and create a relationship. They can also help enterprises to scale their operations by allowing them to reach more people with their message. Additionally, these agencies can provide valuable insights into what customers want and how they search for things online. Eventually, SEO can be used to improve a website's visibility on search engine results pages, making it easier for potential customers to find the business. This has also transformed how companies grow and market themselves over the past few years.
A variety of services fall under online marketing. For example, search engine optimization, which works to increase a website's visibility in search results, is one common form of this. Other forms include paid ads on social media and email outreach campaigns for brands looking to connect with potential customers directly. Companies need to decide what type of services they want from their agency because each service differs in how it can help companies achieve their goals. Different agencies offer different services based on what the company needs. Some establishments will have an in-house marketing team while others will hire an external agency that provides various types of content branding such as SEO or Social Media Management Services.
Now that we have discussed the As and Bs of Online advertising, it is time to now discuss why it is so important.
Five Reasons Why Digital Marketing is Important?
Online Advertising has become one of the most important aspects of running a successful business. By utilizing these services, businesses can reach a larger audience more effectively and efficiently. Additionally, various agencies can help create and implement an effective strategy tailored to a business's specific needs. Finally, SEO can help improve a website's visibility and organic search results, providing another avenue for reaching potential customers.
The majority of business retailing strategies are shifting from traditional to online marketing. More and more businesses are considering the advantages of online marketing over traditional forms of business advertising. In an almost entirely online realm, it is more important than ever for businesses to have a solid strategic plan. Given below are five of the reasons why is it essential for any enterprise:
Increased Conversion Rate
The foremost and most obvious reason for its importance, particularly for businesses without a physical presence, is to increase conversion rates. Consumers are more likely to purchase from you if they understand what you have to offer and the value you can provide. This includes maintaining an active social media presence and ensuring that your website provides a thorough overview of your company and its products. When potential customers come across your brand online, these things make it easier for them to make a purchase decision. In most cases, it is impossible to generate interest, which severely limits your ability to make sales.
Cost-effective
Another important reason why digital marketing is important to businesses whether large or small, regardless of their industry, is that it is cost-effective. The majority of these services can be provided by an agency or through a monthly subscription service that is relatively inexpensive in comparison to traditional advertising options. For example, if you own a large company that will almost certainly spend a lot of money on traditional methods anyway, you might as well try this as an alternative. Most of these services are inexpensive, to begin with, and they can pay off if your company has a smaller budget than some of its competitors.
Extensive Reach
The fact that internet advertising has a greater reach than most traditional forms of advertising is a third key reason why it is essential for businesses of all sizes. When you create an advertisement, only those who see it in print or receive it via email will see it. Similarly, radio and television commercials are more likely to reach more people, but they are still constrained by the number of radio stations and television channels available whereas social media sites, on the other hand, can expose your company to a much larger audience, making these platforms even more significant than search engines in terms of visibility.
Easy Competition with Large Organizations
Another prominent consideration is that it allows you to compete with larger companies that typically have a wider reach and a larger budget than traditional methods. You'll never have to worry about getting lost in mainstream advertising if your company has a strong social media presence. It only takes one person to share something on social media, and if they see value in what you do or sell, they will likely share it with their friends, who will likely pass it on as well. If they like what they see on social media, they may choose to visit your website directly to learn more. When compared to most other forms of advertising, this can get your brand in front of a large number of new eyes at a low cost.
Brand Recognition
A fifth key reason for businesses of all sizes to consider, including small businesses with limited budgets and large corporations with large advertising budgets, is brand awareness. As you expose your company to more people through various channels, you will build an online reputation that potential customers will be aware of when they go to buy something or hire your services. It may take time to establish a presence and a solid reputation, but it does not require a lot of money or resources at first. Starting with traditional advertising options, on the other hand, can be difficult if you don't have deep pockets because you need things like media space to run ads or employee uniforms for signage.
This was all about Digital Marketing and its different aspects. Hope you find it informative enough.
Start generating leads today!
Start a 14-day free trial now,
set up the widget on your site, and see how many more leads you can capture with CallPage
No credit card required

10 minutes set up

14 days fully-features free trial
Try for free
Get a Demo