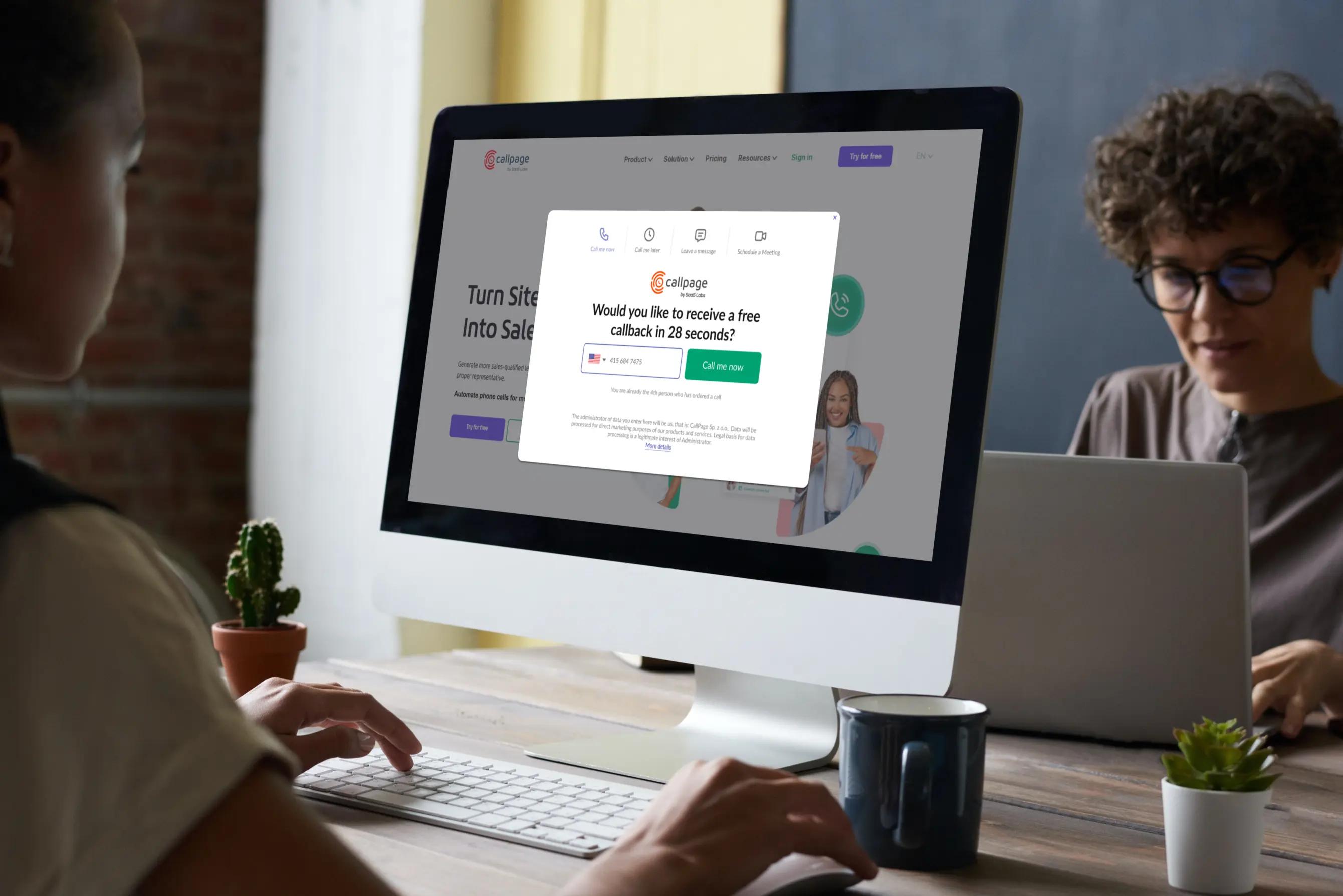 Improving Conversion Rates with Callback Software: A Must-Have for Your Digital Marketing Strategy
This article delves into the functionality and standard features of callback software. It explains how offering immediate, personalized communication can turn website visitors into high-quality leads and boost sales.
Welcome to the age of convenience, where information is accessible round the clock and instant gratification is the norm. Unfortunately, this has led to a decrease in buyer patience.
 Buyers now expect immediate answers and have a low tolerance for delays in their interactions with businesses. As a result, it is crucial for businesses to prioritize speed and convenience in their go-to-market strategies. Providing fast and personalized contact is no longer just a revolutionary strategy but a necessity.
According to research from HubSpot, 90% of customers expect an immediate response when they have a question and need support, and 82% expect the same when they have marketing or sales-related inquiries.
Image source: HubSpot
Another study from Harvard Business School states that businesses that return to potential customers within 60 minutes are seven times more likely to engage in significant discussions with key decision-makers.
Amongst changing customer behavior, you've invested significant time, effort, and resources to drive traffic to your website. You've explored every avenue, including SEO, PPC, and social media campaigns. However, leads are still scarce, and potential buyers are getting lost on your website. 
What's missing? 
The answer could be as simple as offering real-time, personalized communication through callback software.
This guide will explore how callback software provide real-time communication and how it can offer a practical solution to improve conversion and lead generation efforts. 
What is Callback Software?
The challenges of converting website traffic into high-quality leads are all too common. By offering a callback option, customers no longer have to wait on hold for support. This can lead to higher conversion rates by reducing the likelihood of customers abandoning the website due to long wait times. 
Callback software, also known as click-to-call technology. It's an automated service that allows website visitors to easily connect with a business in real time without any barriers. 
It's a specialized software that turns website traffic into actionable leads. It automates the connection between the company and interested website visitors by initiating phone calls. Rather than having potential customers fill out a form and wait for a follow-up, this software enables immediate or scheduled phone calls directly from the website to the business. This real-time engagement streamlines the communication process and aims to improve the quality of leads and conversion rates.
How Callback Software Works 
The callback software provides a widget that appears on a website and a dashboard panel with extensive settings to customize the callback form and widget. Callback software also allows tracking of all leads in the Analytics Panel. More information about this is provided below. 
The process of callback is designed to be user-friendly and efficient, both for the website visitor and the business. 
Here's a step-by-step breakdown of how callback software works: 
Visitor Engagement: When a visitor lands on your website, a pop-up widget appears. Additionally, some callback offers to set scoring rules which trigger pop-up based on the specific moves on the website. Usually, after a set period or upon specific actions like scrolling down or attempting to leave the page.
Call Request: The widget prompts visitors to enter their data, like a phone number to request an immediate or scheduled callback. 
Backend Trigger: Once the visitor submits their number, the software triggers a call. This can be directed to a designated sales representative or routed through an automated system to the appropriate department. 
Connecting the Call: Simultaneously, another call is triggered to the visitor. When both parties are on the line, the calls are connected. 
Data Collection: Throughout this process, the software collects data about the lead. Some software products provide analytics that can be used to measure the effectiveness of the call. This incudes call recordings, information about call duration, visitor location, and the webpage from which the call was initiated. 
CRM Integration: The collected data can be automatically updated in your CRM system for future follow-ups and lead nurturing. 
Callback software can connect website visitors with a company representative in seconds. The whole process is automatic, making it a practical addition to any digital marketing and sales strategy.
Most Common Features of Callback Software
Here are some of the key features you can expect: 
Instant Callback: One of the standout features is the ability to initiate a phone call within seconds of a visitor showing interest. This immediate response can significantly improve conversion rates. 
Scheduled Calls: The software allows call scheduling for visitors who prefer to speak later. This ensures you don't miss out on leads who may visit your website outside business hours. 
Call Routing: The software can intelligently route calls to the appropriate department based on the criteria you enter into the system. 
Virtual Numbers with PBX system: Most callback software offers the added benefit of a virtual number that is connected to a virtual PBX system. The system offers local or international phone numbers and efficiently distributes calls to the right people or departments through its virtual PBX. It allows you to manage all company calls from a single dashboard.
Personalized IVR: An interactive voice response (IVR) system can be customized to guide the caller through different options, making the experience more personalized. It's useful for companies with different departments that receive calls or have expanded customer support teams.
Analytics and Reporting: Analytics tools are often built into the software, allowing you to track key performance indicators (KPIs) such as conversion rates and lead quality.
Multi-Channel Support: Besides the website, some callback software integrates with other platforms like email, social media, and even SMS, providing a multichannel approach to lead generation. 
CRM Integration: Many callback software options offer seamless integration with customer relationship management (CRM) systems, making managing and following up with leads easier. 
Call Recording: The software often includes a call recording feature for quality assurance and training purposes. 
Mobile Responsiveness: Given the increasing use of mobile devices, a good callback software is usually optimized for mobile experiences, ensuring you don't miss out on leads coming from smartphones or tablets. 
When considering callback software, knowing which features to look for is important. Keep in mind that not all software may offer every feature. However, these features can still be beneficial in improving conversion rates. When choosing which software to use, consider which features are most important to your business needs. One callback software that provides all of the above features is CallPage – a multifunctional lead capture tool.
What Businesses Can Benefit from Using a Callback Software?
A callback widget is not confined to a single industry; its utility spans multiple sectors, prioritizing direct sales and where the path to purchase is long. Check in what industries callback software is a need.
Real Estate 
The real estate market is an incredibly competitive industry. This is especially true in the digital age, where a large percentage of homebuyers begin their search online. According to a Realtor's study, 41% of homebuyers will start their home search online by 2023. A callback widget allows agents to connect with potential clients via their website, giving them the edge they need to stand out in a crowded market. By using this technology, agents can increase their chances of securing clients and closing deals, ultimately boosting their business and reputation in the industry.
Business Services 
 
In the B2B sector, the sales cycle is often long and complex. According to Salesforce, converting a lead into an opportunity takes an average of 84 days. A callback widget can accelerate this process by offering immediate, personalized engagement increasing conversion chances. 
Automotive 
The automotive industry is shifting towards online sales, especially post-pandemic. According to a McKinsey report, almost a third of consumers want to purchase their next car completely online. A callback widget can help automotive dealers engage with this growing online customer base more effectively. 
Ecommerce 
Cart abandonment is a big problem in ecommerce. As per the findings of the Baymard Institute, the average cart abandonment rate is nearly 70%.
By using a callback widget, online retailers can immediately connect with customers. This helps lower cart abandonment rates by providing real-time support and assistance to customers who may have questions or concerns about their purchase. 
Additionally, callback solutions can help address any technical issues or glitches that may be causing customers to abandon their carts, such as difficulty with the checkout process or shipping information.
READ ALSO: How to Reduce Shopping Cart Abandonment in E-commerce Stores
Education 
By integrating the callback widget on their website, educational institutions can allow website visitors to request a call from a representative who can assist them with questions about enrollment, course schedules, financial aid, and other related topics. This can help improve communication and engagement with current and prospective students and parents. 
Additionally, CallPage's lead distribution can direct callback requests to the appropriate department, ensuring a timely and personalized response.
Travel
In the travel industry, where prices and availability change rapidly, customers often seek immediate information. According to a study by PhocusWire, 38% of bookings are made on the same day or two days before a trip. A callback widget can help travel agencies capture these last-minute bookings by offering instant support. 
Healthcare 
Healthcare centers often struggle with organization when it comes to receiving calls, which can lead to long wait times and frustrated patients. Callback software can help streamline communication and keep track of every patient in one place, making it easier for healthcare professionals to provide efficient and effective care.
31% of patients have reported difficulty reaching their healthcare provider over the phone, highlighting the need for solutions that can improve accessibility and responsiveness.
To sum up, callback widgets can be a tool for any business offering real-time, personalized customer support and engagement. Their benefits are backed by data across industries, making it an essential component of a successful digital marketing strategy. 
Callback Software — Summary
Callback software is valuable for businesses to enhance customer experience and improve the overall lead generation process. By providing a convenient and efficient way for leads to request a callback, businesses can increase their chances of converting website visitors into customers. 
Start generating leads from your website with CallPage and see for yourself that immediate response to leads makes a big difference. 
Start generating leads today!
Get a 14-day free trial now,
set up the widget on your site, and see how many more leads you can capture with CallPage
No credit card required

10 minutes set up

14 days fully-features free trial
Try for free
Get a Demo