Top 10 Best Lead Capture Software Tools: Get More Quality Leads
Looking to generate more leads? Well, then you need the right tools. Here's a list of the best lead capture software we've found.
Do you want to generate more leads for your business? If so, you need to use lead capture software. Lead capture software is a powerful tool that can help you collect contact information from potential customers, so you can follow up with them and convert them into paying customers.
But with so many lead capture software tools available, how do you know which is right? In this article, we'll compare the best lead-capture software tools on the market. We'll look at their features and pricing. We'll also provide tips on choosing the best lead-generation tools for your business.
So whether you're a small business owner or a large enterprise, this article will help you find the best lead capture software to help you generate quality leads.
Why Do You Need Lead Generation Software?
Meet John. He was a small business owner who was struggling to generate leads. He had a great product but couldn't get people to sign up for his email list or download his free ebook.
One day, John decided to try using lead capture software. He installed a pop-up form on his website that offered an instant call-back in exchange for contact information.
Within a few weeks, John's lead generation skyrocketed. He started getting dozens of new leads every day. He followed up with these leads and converted them into paying customers. He built successful relationships with his client and increased their lifetime value.
This is one way how lead capture apps can help you. But looking at various tools and features, there's much more to discover.
39% of all leads remain unanswered and lost in the sales process. Considering that lead acquisition cost grew in the last year by around 335%, it's a lot of money wasted! By choosing a lead capture software that serves your business best, you can take care of your potential leads better and decrease the acquisition costs. What are the other benefits?
Increased number of potential customers
Improved conversion rates
Reduced customer acquisition costs
A better understanding of your target audience
Increased brand awareness

Let's look at some of the best lead capture software out there!
READ ALSO: Lead Generation Channels & Tools to Solve 6 Common Marketing Issues
Top 10 Best Lead Capture Software Tools
#1: CallPage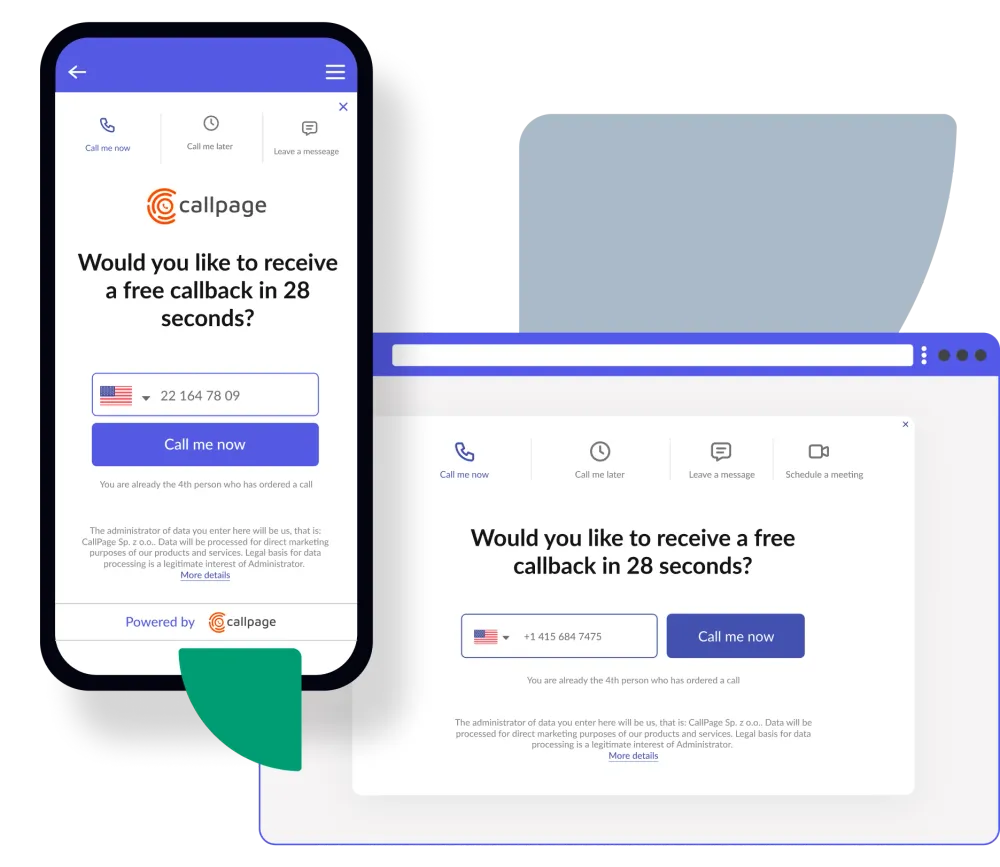 Features
CallPage provides a revolutionary approach to capturing online leads through its unique click-to-call and meeting scheduling widget for websites. Designed to enhance the customer experience while maximizing lead generation, CallPage sets itself apart by enabling real-time interactions and automating the lead capture process.
CallPage's lead capture widget at its core allows website visitors to request an immediate callback, bridging the gap between online browsing and personal customer engagement. This enables businesses to interact with potential leads in a matter of seconds, significantly improving response times and increasing the chances of conversion.
Further enhancing its lead capture prowess, CallPage also includes a meeting scheduling feature akin to tools like Calendly. Prospective leads can conveniently book a call or meeting at a later time that suits them, thus eliminating the back-and-forth often associated with scheduling.
What truly sets CallPage apart is its integration into a single, easy-to-use platform. This pop-up widget can be seamlessly incorporated into any website, turning every visitor interaction into a potential lead-capture opportunity. Moreover, CallPage automates the whole process, freeing up valuable time for your team to focus on closing sales rather than administrative tasks.
Adding to this, CallPage includes valuable analytics capabilities. It enables real-time tracking and reporting on call data, providing crucial insights into your sales and marketing teams' efforts and helping you understand what's working and where there's room for improvement.
Summary
CallPage is the best lead capture software that blends immediate customer engagement with convenient scheduling and powerful analytics. It offers a practical, automated, and efficient solution for businesses looking to elevate their lead capture performance.
For who:
From small companies to big enterprises. Both B2B and B2C.
The greatest value:
Fast interactions with potential clients can significantly increase conversion rates and build valuable customer relationships.
Pricing:
CallPage offers a 14-day free trial. This way, you see the first results without paying a cent. Plans for small businesses start from $39 per month. You can also get a discount if you pay annually!
#2: Monday Sales CRM
Features
As a lead capture software, Monday Sales CRM (customer relationship management tool) shines in its ability to automate, streamline, and simplify lead management processes.
Monday CRM springs into action when a prospective customer interacts with your business. It captures crucial lead information such as contact details and the source of the lead. This lead data can be manually entered or automatically imported from various sources like web forms, emails, or integrated marketing platforms.
Once the leads are captured, Monday CRM's customizable boards allow you to visualize and track the entire sales pipeline. You can create custom workflows to ensure that no lead slips through the cracks, with automated reminders and notifications keeping sales teams proactive.
Moreover, it features robust analytic capabilities. With insightful dashboards and reports, you can measure the effectiveness of your lead capture strategies, identify bottlenecks, and make data-driven decisions to improve your conversion rates.
Summary
In conclusion, Monday Sales CRM is more than just a CRM; it's a comprehensive lead capture tool that can centralize and optimize your lead generation and management processes.
For who:
From small companies to big enterprises. Both B2B and B2C.
The greatest value:
A complex tool to manage customer relations.
Pricing:
Monday also offers a free trial. After it expires, the cheapest option with lead-capturing tools costs 14$ per month but does not offer valuable reporting features. It also doesn't have any tools that can provide your customers with real-time interactions with your company.
#3: Leadfeeder
Features
Leadfeeder offers a distinct, data-driven approach. It's a web-based tool that leverages website visitor analytics to help businesses identify potential leads that would otherwise remain anonymous.
Using the principle that every website visit is a potential business opportunity, Leadfeeder integrates with Google Analytics to track visitor activity. It identifies companies behind the website visits and provides valuable information such as the pages they viewed, the time they spent on your site, and their origin. This enables businesses to capture leads even if the visitor does not fill out a form or make direct contact.
Beyond capturing leads, Leadfeeder allows users to score, filter, and assign leads to different sales team members. This enhances the lead management process by helping businesses focus on the most promising prospects and effectively distribute tasks within their teams.
Moreover, Leadfeeder offers seamless integration with various CRM systems and tools, allowing businesses to incorporate Leadfeeder's data into their existing sales and marketing workflows.
Summary
In summary, Leadfeeder offers a unique take on lead capture. Focusing on visitor analytics and company identification uncovers potential leads that traditional lead capture tools may miss. Its lead management features and integrations make it a comprehensive solution for businesses leveraging data to enhance their lead capture and conversion efforts.
For who:
From small companies to enterprises. Most suitable for the B2B market.
The greatest value:
Capturing leads even if they didn't leave their contact info.
Pricing: Leadfeeder offers a free plan, but it only includes identifying 100 companies and seven days of data storage. To use all the helpful features, you must pay $199 a month, paid annually. So it's quite a pricy option.
#4: Salesflare
Features
Salesflare is an intelligent CRM automating tedious data entry and streamlining lead capture and management.
One of the key aspects of Salesflare as a lead capture app is its automatic population and updating of lead information. The software pulls data from social media profiles, company databases, and publicly available information to create comprehensive contact and company profiles. This means less manual data entry and more time to focus on relationship-building and selling.
Salesflare's website tracking feature provides valuable insights into potential leads' behavior. Monitoring your website visitors' activities helps identify which pages and products attract the most interest, enabling more targeted follow-ups.
Furthermore, Salesflare integrates seamlessly with your email, offering an in-depth view of your interactions with each lead. It automatically tracks and logs every touchpoint, ensuring no conversation or detail is overlooked.
In addition to its lead capture capabilities, Salesflare includes robust pipeline management features. You can efficiently manage and track leads as they move through the sales funnel, and the software provides intuitive visualizations of your pipeline.
Summary
Overall, Salesflare takes an automation-focused approach to lead capture. Minimizing manual data entry and offering comprehensive tracking features allows businesses to focus more on nurturing and converting leads than administrative tasks.
For who:
Small to medium-sized B2B companies.
The greatest value:
Freeing up time and letting you focus on the selling process.
Pricing: After a free trial, you can choose between three options starting at $29 monthly. If you want a custom dashboard and more than 25 emails finding credits, you must pay at least $49.
#5: Pipedrive
Features
Pipedrive is a sales-focused CRM that provides robust tools for lead capture and pipeline management, designed to give businesses enhanced control over their sales process.
A standout feature of Pipedrive is its customizable web forms, which serve as effective lead-capture tools. These forms can be easily embedded on websites, and whenever a visitor fills out the form, their details are automatically added to the Pipedrive CRM as a new lead. This eliminates manual data entry and ensures no potential leads slip through the cracks.
In addition to web forms, Pipedrive allows for direct prospecting via its LeadBooster feature. LeadBooster is an add-on that includes a chatbot and live chat, which can engage website visitors, answer their questions, and capture lead information 24/7. It can also be programmed to provide lead scoring based on your specific criteria, ensuring your sales reps focus on the most promising prospects.
Pipedrive's Prospector feature, another part of the LeadBooster add-on, uses AI to provide users with high-quality, targeted leads from a global database of 400 million profiles. This can be a powerful tool for businesses looking to expand their reach and fill their sales pipeline with new potential clients.
The captured leads can then be tracked and nurtured through Pipedrive's visual sales pipeline. The platform offers clear overviews of sales processes and accurate data to help businesses effectively drive their leads toward conversion.
Summary
Pipedrive's lead capture tools are comprehensive, versatile, and well-integrated into a sales management solution. This integration makes it a powerful tool for businesses aiming to streamline their lead capture system and manage leads more effectively.
For who:
From small companies to enterprises. Both B2B and B2C.
The greatest value:
Complex solution to manage pipeline. A lot of add-ons to serve your business best.
Pricing: Basic Pipedrive CRM options cost $14,90 per seat monthly. But the Lead Booster add-on costs $32.50 per company, and the Web Visitors is another $41 you should add to your monthly bill. In summary, using Pipedrive as an effective lead capture app cost around $90. It can be a lot to handle for small businesses.
#6: Accelevents
Features
Accelevents is a comprehensive event lead capture app, and while it's not a traditional lead capture software, it offers innovative and robust lead capture capabilities particularly tailored for virtual and hybrid events.
One key feature that makes Accelevents a noteworthy lead capture app is its ability to gather detailed event attendees' data. Whether attendees are joining a virtual conference, networking session, or fundraiser, Accelevents tracks their interactions, engagements, and preferences. This data is invaluable in generating high-quality, event-specific leads.
Accelevents' Virtual Event Hub is where attendees can interact, attend sessions, and engage with event content. The actions taken within this hub, such as session attendance, booth visits, or networking activities, are all tracked and quantified to create an engagement score for each attendee. This score helps identify the most engaged and potentially valuable leads.
For trade shows and exhibitions, Accelevents offers virtual booths where businesses can present their products or services. Attendees visiting these booths can be tracked, and their information can be automatically captured, offering a seamless lead-generation method for exhibitors.
Furthermore, this software includes marketing tools to nurture leads before, during, and after all your events. Email marketing, ticketing, and integrated CRM tools ensure no lead gets overlooked and every potential customer is engaged effectively.
Summary
In conclusion, while Accelevents may not be a traditional lead capture software, its innovative approach to event lead generation makes it a powerful tool for event organizers and exhibitors. It capitalizes on the natural interest and engagement of events, turning those interactions into measurable, actionable leads.
For who:
From medium-sized companies to enterprises.
The greatest value:
Advanced insights into your target audience.
Pricing: Let's just say it's not cheap. For one event and up to 500 visitors, you have to pay $5,000. Unlimited events and 2,000 registrants included cost you $12,000. As it may be an innovative and valuable tool, you should already know if you have a strong enough community to organize such a pricy event and gain new insights.
#7: HubSpot
Features
HubSpot is a comprehensive, integrated platform that provides a range of marketing, sales, and customer service tools. Among its diverse offerings, it has capabilities for lead capture, making it an attractive choice for businesses of all sizes.
A standout feature of HubSpot for lead capture is its lead capture form builder, which lets you quickly create custom, mobile-optimized online forms to place on your website, landing pages, and blog posts. When a visitor fills out a form, their information is automatically captured and added to your CRM (like in Pipedrive), where you can further qualify and nurture these leads.
HubSpot also provides live chat and chatbots to engage website visitors in real time. Conversations via these tools can be used to gather valuable lead information and direct visitors to relevant content or representatives, improving the chances of conversion.
Moreover, HubSpot's lead capture capabilities are enhanced by its integration with its free CRM and other tools on the platform. You can easily track, manage, and analyze your leads within the same ecosystem. With tools like email marketing, marketing automation, and analytics, you can effectively nurture your captured leads and guide them down the sales funnel.
HubSpot's CTAs (call-to-actions) are another essential lead capture tool. They are highly customizable, trackable, and can be personalized based on the viewer's lifecycle stage or other characteristics, making your offers more appealing to prospects.
Summary
Overall, HubSpot provides a comprehensive, integrated approach to lead capture. Its robust capabilities and a wide array of complementary tools make it a compelling option for businesses seeking a holistic lead capture solution.
For who:
From small companies to enterprises. Both B2B and B2C.
The greatest value:
Complex CRM with valuable lead tracking options.
Pricing: HubSpot offers a free plan with basic options that you can start with. To have more advanced tools available, pricing starts at $18 and goes up to even $792 monthly. But its versatile offer lets you choose the option suitable for your business.
#8: Lucky Orange
Features
Lucky Orange is a unique tool in the realm of lead capture, as it provides a suite of conversion optimization tools that include session recording, heatmaps, form analytics, and live chat. While not a traditional lead capture software, it plays a vital role in understanding user behavior to improve lead capture strategies.
Lucky Orange's live chat feature serves as a direct lead capture tool. It allows businesses to engage visitors in real-time, answer their questions, and collect their contact information, turning them into qualified leads.
The platform's form analytics offers valuable insights for lead capture as well. By tracking how users interact with forms on a website, businesses can identify issues preventing visitors from completing the form. Whether it's a particular field causing users to abandon the form or the form's length deterring completions, these behavioral data can help optimize forms to capture more leads.
Furthermore, the session recording and heatmaps features provide visual insights into how visitors interact with your website. You can tweak your website design, placement of lead capture forms, CTAs, and other key elements to improve their visibility and effectiveness by understanding what catches visitors' attention and what elements they ignore.
Summary
While Lucky Orange might not be a traditional lead capture software, its ability to provide insights into user behavior and improve interactions makes it a valuable tool in a lead capture strategy. By enhancing understanding of user behavior, it can significantly improve the effectiveness of other lead capture tools used by a business.
For who:
From small companies to enterprises. Both B2B and B2C.
The greatest value:
Heatmaps and sessions recording provide exciting insights into your audience's behavior.
Pricing: Lucky Orange offers a free plan with 100 recordings of sessions and 30 days of data storage. Payable plans to analyze your website more effectively start from $32 monthly.
#9: Phonexa
Features
Phonexa is a lead capture solution focusing on call tracking and lead management. It is mainly designed for marketers who rely heavily on phone calls for lead generation.
It enables businesses to track inbound calls, capture caller information, and analyze data from each call. Its comprehensive analytics suite allows you to delve deep into the effectiveness of your marketing campaigns, helping you understand which efforts are driving the most valuable calls and leads.
Moreover, Phonexa's Lead Management System (LMS SYNC) provides extensive tools for capturing, distributing, and tracking leads across various channels. It supports web leads, calls, and clicks, providing an all-in-one solution for businesses managing leads from multiple sources.
An integral part of Phonexa's platform is its cloud-based PBX system that can handle high volumes of calls, capturing caller data and automatically routing calls based on preset rules. This aids in ensuring potential leads are directed to the correct department or representative for effective conversion.
Finally, Phonexa integrates with popular CRM systems, allowing seamless data exchange and lead management in your most comfortable environment.
Summary
Phonexa's focus on calls as a primary lead source and its comprehensive lead management and tracking capabilities set it apart as a lead capture solution well-suited for businesses relying on phone calls for lead generation and customer engagement.
For who:
From medium-sized companies to enterprises. Both B2B and B2C. Strongly focused on phone calls.
The greatest value:
Tracking calls and capturing caller information allows you to adjust efforts to achieve the best value.
Pricing: The cheapest suit starts at $100 per month. But the bill doesn't stop here, as many actions cost you additional money. So every month's bill is not entirely predictable.
#10: Typeform
Features
Typeform revolutionizes data collection by creating interactive, engaging, and intuitive forms that are a pleasure to fill out, enhancing lead capture for businesses across various sectors.
Typeform's strength lies in its design-focused form builder. The platform provides a variety of customizable, dynamic templates that are not only visually appealing but also mobile-friendly. This leads to a more engaging experience for potential clients, increasing the likelihood of form completion.
Unique form features, such as conditional logic, enhance the user experience by making forms interactive and personalized. You can gather detailed information about your leads conversationally by asking relevant follow-up questions based on previous answers.
Typeform's integrations with numerous other platforms, including CRM systems, email marketing tools, and spreadsheets, enable seamless lead capture and management.
Its built-in analytics provide valuable insights into form performance. You can see completion rates, time spent on the form, and even analyze responses question by question. This can help you identify points of friction and optimize your forms to capture leads better.
Summary
In summary, Typeform provides a user-friendly and engaging method for lead capture. Its visually attractive, interactive forms, robust integrations, and insightful analytics make it a great tool.
For who:
From small companies to enterprises. Both B2B and B2C.
The greatest value:
Customizable and visually appealing forms can help you catch potential customer attention.
Pricing: A basic account (100 responses/month) costs $29 monthly. To remove Typeform branding and have more options available, you have to pay at least $50.
READ ALSO: 15 Best Sales Call Software Solutions for 2023
Let's Wrap Up
Effective lead generation is crucial for businesses looking to drive growth and maximize their revenue potential in the competitive digital landscape. But it's essential to choose the tool that will deliver the best outcome for a fair price and will suit your business best.
Taking the lead among these powerful tools is CallPage.io, a robust platform designed to revolutionize lead capturing and customer engagement. With its user-friendly interface and advanced functionality, CallPage.io stands out as the ultimate solution for businesses of all sizes.

It focuses on building customer relationships and providing fast interactions, which is so important in today's tendency to look for instant and high-quality customer service. That's why it can be the best lead capture software for you.
If you want to know more, start a free trial or connect with us! It's so simple - all you have to do is click on a green phone call button in the bottom right corner. We will call you back in 28 seconds!
Start generating leads today!
Get a 14-day free trial now,
set up the widget on your site, and see how many more leads you can capture with CallPage
No credit card required

10 minutes set up

14 days fully-features free trial
Try for free
Get a Demo