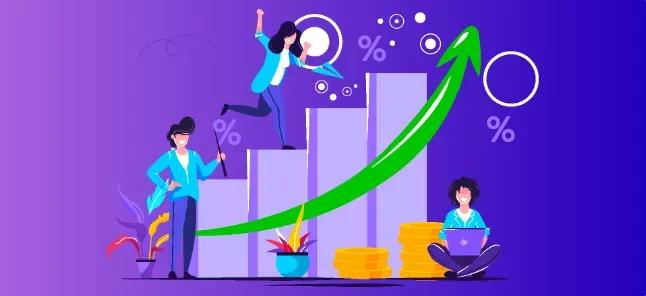 How to Increase Your Conversion Rate? 7 Tips to Make Your Conversions Skyrocket!
The main goal of digital marketing is to attract the right customers and keep them coming back to the website, and, sooner or later, convert them into customers.
However, there are cases of customers who stop interacting with your website and become non-convertible prospects. This sudden stop in the customer's journey can result from a poor communication strategy, a conversion funnel that is too complex, or a platform that is too slow or poorly designed, just to name a few.
Any of these elements can negatively influence the conversion rate on your website and hurt your company's bottom line.
But let's start with the basics.
What is the conversion rate?
A conversion rate or CR is the percentage of users who perform a specific action, whether it is a purchase, a download, a registration or a reservation, filling out a form, conducting surveys, signing a petition, or clicking on emails. The conversion rate is obtained as a result of dividing the number of goals achieved by the number of unique users who visit a website.
According to Sara Helmy (Tribu's CEO), measuring a conversion rate is the most crucial way to check whether the work and efforts you've put into a marketing campaign are turning into positive results of sales and engagement.
The best-known conversion is the purchase one. Technically it means that a customer landed in the sales funnel to close a deal.
Enough of the theory. Now let's focus on some practical tips that will improve your website's conversion rate.
Increase your conversion rate now by applying these tips!
When it comes to strategies to improve the experience of your potential customers and turn them into happy customers, many marketing specialists implement different creative tactics. Carefully analyze the content below and implement one tip at a time to be sure which change positively influenced the conversion rate.
1. Show your customers the value of your products or services
The first contact during the communication with your customers is one of the most crucial phases of any marketing activity. To make sure they follow the journey through the sales funnel, show them what your product or service can do for them (its value). On top of that, give your potential customers content they like in the format they prefer. Sometimes, it's all about "packaging" and how you are presenting your product.
2. Reduce the steps required for a conversion
People get impatient easily. Nowadays, they like things to happen quickly. Therefore, if you want your customer to complete the action needed to increase your conversion rate, for example, filling out a contact form, be sure to ask only about the important details. Don't flood them with too many unnecessary questions.
3. Acknowledge objections
There are cases in which the client goes through your offer, and something in it says: 'no, this is not right'. And this is totally normal. Some people hesitate at first because there's something about the offer they didn't understand correctly. To fix this kind of problem, you need to know what a client doesn't understand, what bothers them, or what they don't agree with. This way, you can explain to them what they need to know to keep them moving forward in the purchase or conversion process.
4. Provide a smooth purchase process
Remember that customers do not like complicated processes. They like simple things. Therefore, if you want to increase your conversion rate, make sure you provide your customers with a simple and easy transaction process.
Here's how to do it:
Don't put too many options on the table. According to The Paradox Of Choice book, choices complicate decision making.
Each stage of a process should inform your customers what to do next. Don't let them figure it out on their own.
Don't push potential customers to register just to buy your products.
Again, provide as few fields as possible.
Always remember that promotional offers are what customers want.
5. Pay close attention to your headlines
It is a rule. A headline summarizes what the message is about. To increase your conversion rate, you must be creative with the way you craft your headlines.
Additional TIP: According to a survey, for 82% of UK consumers and 80% of US consumers, the most common and useful motivation to buy is they are offered free shipping.
6. Tell your potential customers what's in it for them
People like direct statements. So when you're describing your product, let potential customers know what they're going to get if they buy it, what are the benefits of a certain item, whether it's environmentally friendly, or what the delivery process looks like. Always provide accurate information for your customers. And do it in a simple way.
7. Provide at least 5 payment methods
There are many ways to pay online these days. Don't just provide two or three options. Offer at least five or six payment methods if possible. And make sure those are the most common methods and the ones people like.
Wrap up
The key to a successful business comes from compelling communication in which customers are satisfied with the way you present things to them. And using today's advanced technologies, it is possible to create a smooth, customer-friendly transaction process.
In business and marketing, the main objectives are to attract potential customers and convert prospects into sales, so make sure you put into place different ideas and tactics to get it right.
If you are looking for proven ways to attract more customers over the phone, book a free consultation with our expert, and try CallPage now! CallPage is a simple yet extremely effective widget for your website, which will allow you to instantly call your website visitors and turn them into happy customers.
Start generating leads today!
Start a 14-day free trial now,
set up the widget on your site, and see how many more leads you can capture with CallPage
No credit card required

10 minutes set up

14 days fully-features free trial
Try for free
Get a Demo