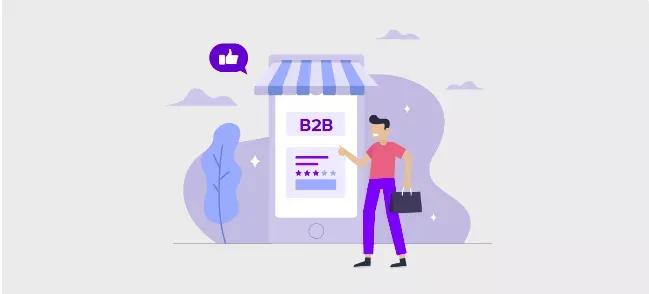 6 Best Practices for Increasing B2B eCommerce Sales
The B2B market is booming at an unprecedented rate. According to Shopify, global sales have exceeded $7.7 trillion practically dwarfing the B2C e-commerce sector ($2.3 trillion). The only problem is that profit is not just there for the taking. In fact, maintaining a competitive edge and securing ample market share is a daunting task more often than not.
6 Practices to Increase E-Commerce Sales
New strategies, tricks, tools, and hacks surface on a regular basis, joining the already crowded ranks of tactics floating around. Only a small fraction of them has staying power and actually enters the mainstream. So, we are going to focus on those selected few instead of the fads galore.
Here are the enduring business practices you need to follow to achieve success in 2018 and beyond.
Personalized Marketing.
It is estimated that 89% of B2B buyers do online research prior to contacting sales representatives. Most of them carry it out via search engines, although they may use other channels like social media as well.
That is to say, a vast pool of consumer data lies at our fingertips. Moreover, this data can be harnessed to tailor and deploy messages on a massive scale.
The technology is accessible and more affordable than ever. Industry leaders employ a variety of marketing tactics, including multi-channel messaging, email segmentation, targeted Facebook ads, Google Ads, social media marketing, and customer relationship management (CRM) tools.
Their ultimate goal is to connect with customers on a meaningful, personal level. Bombarding everyone the same messages and sales pitches does not cut it.
Interactive content.
Modern consumers are tech-savvy and spoilt for choice. They do not accept the role of mere bystanders and passive recipients— they want to join the show.
So, albeit detailed product copy remains an e-commerce staple, it is not enough to spark attention at the top of the funnel. That is when interactive content comes into play to intrigue and delight users.
READ ALSO: Transforming Prospects into Customers: How to Create a Converting B2B Lead Generation Funnel

Online calculators and dynamic cart pricing with real-time updates are a great example. The same goes for interactive demos that allow prospects to see how the product feels and works. Other types of interactive content you should consider are games, contests, quizzes, interactive infographics, assessments, wizards, etc.
Smooth the buyer's journey.
E-commerce is about the unparalleled convenience of purchasing. Still, the B2B buying process is consultative, not transactional. It is longer and involves more back-and-forth than B2C. Therefore, it is of the utmost importance to keep the fingers on the pulse of the audience. In other words, map out different stages of the buyer's journey and segment customers accordingly.
Make an effort to educate, provide answers, solve problems, address pain points, and add value on an ongoing basis. Every touch point must revolve around these goals and accumulate to nothing short of an Amazon-level service. This is the only way to minimize churn and tap into a stream of repeat purchases from a number of higher-volume clients. Don't forget to make sure that your ecommerce order fulfillment process works seamlessly.
Business automation.
E-commerce automaton is a true game-changer reshaping the industry. Namely, B2B brands eagerly utilize marvels of modern technology to streamline a variety of business process.
The focus of automation is on tasks that are time-consuming, repetitive, and manual work. It promises to eliminate human error and boost efficiency across the board.

You are able to launch new campaigns easily, send email notifications, process orders, schedule content, promote new products, manage inventory, and put other workflows on autopilot. This leaves more time for higher priorities that impact the bottom line and long-term sales.
So, make no mistake. Automation is no longer optional— it is the backbone of growing and scaling a B2B company.
A consumer-centered virtual store.
It goes without saying that a fully-fledged storefront is an absolute must. However, you cannot just build it and then play the waiting game, hoping for the best. The bar for e-commerce web design has been set high. To improve visibility and profitability, one must create a clean and functional design that oozes user-friendliness and increases consumer satisfaction.
What is more, your store should enable easy navigation, customized product browsing, and a seamless checkout process. To flesh out this kind of bespoke design, B2B companies often rely on working closely with some of the renowned E-commerce agencies.
The investment tends to pay off, as the professionals know very well how to improve traffic volume and increase conversion rates. At the same time, cart abandonment and bounce rates become extremely minimized.
Mobile-friendliness.
In order to get to the forefront of the industry, B2B companies must awaken to the mobile-first digital reality. This is the future of the whole industry, which is already upon us. Mobile searches account for a bulk of all traffic (desktop is dethroned), and Google is constantly pushing mobile into the limelight with algorithm updates. Besides, customers want to be able to purchase anywhere and at any time. They are dismayed when pages and content poorly render across smaller screen sizes or take more than a few seconds to load.
So, if that is currently the case, then you have to tweak the code and rebuild the site with responsive design in mind. An alternative option is to direct mobile prospects to a separate subdomain. Either way, you must take mobile experience to the next level.
Staying Ahead of the Competition.
Being trendy and posh is not what it takes to beat the competition. If you mean business, you are better off sticking to what works today and what will work in a world of tomorrow. We are talking about tried and true, ROI-generating tactics that lay the groundwork for long-term success.
So, first off, develop a deeper understanding of the target audience. Use acquired insights to set up well-targeted and personalized service. Furthermore, take advantage of automation tools to simplify tasks and drive efficiency with value-added activities. Design a visually-appealing, mobile-friendly, and highly-functional store that fosters a frictionless purchase process.
Following these best practices, you should be able to get ahead of the curve and keep clients coming back for more.
Start generating leads today!
Start a 14-day free trial now,
set up the widget on your site, and see how many more leads you can capture with CallPage
No credit card required

10 minutes set up

14 days fully-features free trial
Try for free
Get a Demo