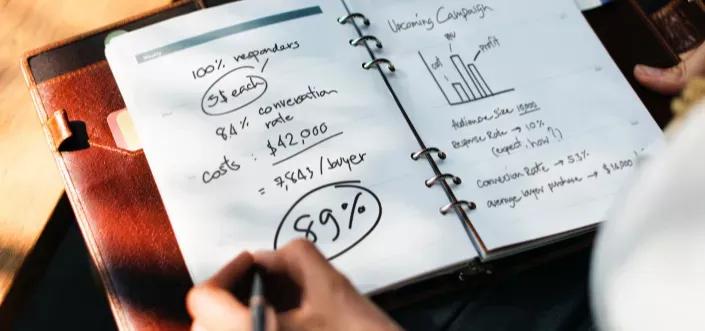 Why You Need to Optimize the Conversion Factor
Any company that sells its products/services or generates leads through the internet goes to the "golden recipe" for a successful business that consists of 3 steps: attract more visitors, get more leads and get more customers.
In this article, we will focus mainly on the second step – how to get more leads. To achieve this goal, conversion optimization should be implemented. If you have been dealing with internet marketing for several years and you are looking for good examples and practices on how to optimize your conversion rate keep reading because this article is full of many practical and useful pieces of advice.
By optimizing the conversion on your website, you will meet many definitions and concepts associated with internet marketing. But, before going further, you need to understand what CR and CRO mean. Conversion Rate is the percentage of visitors from a website that was converted into customers. The higher the conversion, the better.
CR = NUMBER OF CONVERSIONS / NUMBER OF VISITORS
Conversion optimization is all about a growing number of conversions. It is the process of optimizing your site to increase the likelihood that visitors will complete that specific action.
What level of conversion rate is good?
This million-dollar question is highly controversial. You need to remember that first, conversions don't have the same value. Products/services have different price variations within a business, e.g. in the e-shop ,there are products at the price of $100 and $500. The value difference between these conversions is fivefold.

Second, visitors cannot be evaluated the same way. There are distinctions in traffic sources, a status of the visitor: new or returning one. Therefore, it is not possible to answer this question unambiguously and indicate which level of conversion is good.
So, how to evaluate whether the conversion rate is strong or weak? It can only be compared with the previous results on the same page, with the same movement.
Why to optimize your conversion rate?
"The conversion factor is the thing that differentiates market leaders from the rest of the industry", said the US-based Wordstream specialist, who conducted conversion studies.
If you're still considering whether going for conversion rate optimization, look at the convincing facts we've prepared for you.

Possibility to use more advertising channelsAs the conversion rate increases, the cost of acquiring a client decreases. It allows you to invest in some additional promotion channels that were unprofitable prior to optimizing conversions.
Greater ROI from current advertising channels
By spending the same amount of money on advertising, you can gather more clients. Consequently, you will earn more profit from every dollar invested, so the total rate of return on investment will rise as well.
Reduced costs in paid promotion channels
Due to the high competition in some industries, companies, like Google AdWords can experience conversion rate as much as $ 30-50. You can achieve the same results by optimizing your conversion rate. If you gain a higher rate than the competition, you automatically lower the costs of acquiring a customer.
Better to optimize rather than gain additional traffic to the site
The option to optimize conversion on the page is less expensive than investing in gaining extra traffic.
We optimize the conversion rate in 5 steps.

This is a complex process that requires knowledge of the customer and business psychology of the CRO, knowledge of analytics, text writing, UX, A/B testing.
1. Collecting analytical data and detecting weak points.
To make the right decisions in the optimization process and to understand if our actions are effective, we use several tools to collect and analyze all the data.

You can use:

Google Analytics: a basic tool for website analytics, which allows creating personalized reports, measure traffic and convert.
Kissmetrics: a tool that helps to identify, understand and increase traffic on the website.
Mixpanel: a tool measures actions, like searches or shares which allow to get information on user behavior.
Hotjar: a comprehensive tool for collecting information about website users. Helps to improve the website, offer or service.
Remember to install analytics correctly, set the goals for all conversions that you have and analyze regularly heatmap (the map that shows the users behavior on a webpage, what they click the most.
2. Working on the key elements that influence your conversion rate.
Start with creating an effective value proposition.It is a unique value offer to your customers, which can convince a lead to perform an action.

Find some key suggestions concerning the value proposition (VP) on your website from us:

Consider the unique added value that you can offer to your customers
VP should be easily visible and explained on the site, so visitors could immediately see what you offer
Add the content: "250+ satisfied customers in 2017" rather than "hundreds of satisfied customers."
Show that your offer is secured – offer a free trial and try to validate that potential customers will not lose anything
The difference between a properly constructed Value Proposition and a poorly constructed one:
Create and customize Call to Action (CTA). Usually, it is expressed in the form of an imperative sentence, e.g.: "Buy now!". The CTA should be on every web page as it indicates the purpose of the page, encouraging a user to perform a specific action. CTA button should be:
Clearly visible.
The color of the button should stand out against the background.
Text on the button should match the form and VP.
Use CTA not only for key conversions but also for micro conversions
(*micro conversions are additional conversions on the website, such as a web page, a product review, a newsletter, etc.).
Change the UX and content. Start with optimizing contact forms. It is a well-known fact that forms should be legible and shouldn't contain too many contact fields, but here are a few tips and tricks that can help to increase your conversion rate.
Reduce the number of fields to be completed on mobile devices.
Provide Auto Fill Forms via Facebook, Twitter or LinkedIn.
Leverage users in the checkbox.
After Form Fill Conversion, present the next offer and the form.
Find out about the impact of three colors with more practical examples in our e-book.
3. Collecting analytical data and measuring results.
Use social proof as a way to optimize the conversion rate. It is a very important part of a website, which develops customer trust and influences conversions. The social proof can be expressed in the form of a customer logo on your website, case studies, office photos, safety certifications, awards, etc. Don't forget to add social media buttons with a number of shares.
4. Continuing A/B tests and measuring results.
User experience determines the experience that accompanies user while using the website. Very often companies invest large sums of money in paid advertising but do not record conversions. Why is this happening? It can be a problem for a user to navigate the web page. Keep the following tips in mind:
Store some blocks on your mobile device. That way user will not be forced to scroll infinitely.
Break the text blocks into pieces, so it will be easier for the user to read the text.
Use a simple and readable font.
Verify the links are active on mobile devices.
5. Using different tricks and ideas.
Conclusion.
Conversion, conversion rate, and rate optimization are not just popular marketing terms. It indicates the effectiveness of many complex processes and the effectiveness of service. It is necessary to measure conversions systematically, analyze the data and test new conversion enhancements in order to make effective business decisions and achieve higher revenues.
But keep in mind that everything should be tested on your own as no universal solution that would fit best everybody. We hope that we inspired you to work and the knowledge from this guide will be converted into effective conversion rate optimization of your business.
If you liked the article and want to gain more information and practical examples on the topic, download our FREE e-book.
As many conversions as you wish from CallPage Team!
Start generating leads today!
Start a 14-day free trial now,
set up the widget on your site, and see how many more leads you can capture with CallPage
No credit card required

10 minutes set up

14 days fully-features free trial
Try for free
Get a Demo