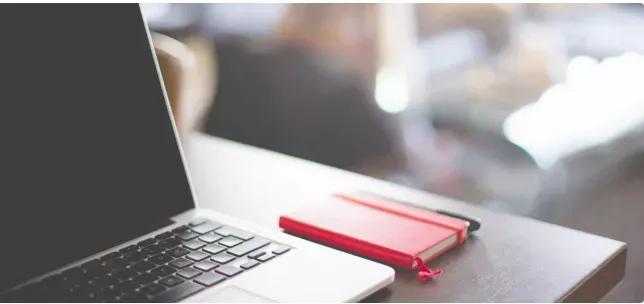 6 CallPage Features You Had No Idea About
With all the marketing platforms at your disposal, it is common to use a multi-tiered strategy that leverages many of these platforms to attract the highest number of leads. We know many of our users are not fully utilizing the capabilities of our plugin. But, by the way, CallPage is not only a widget that offers call back within 28 seconds.
It is also a multifunctional tool that can become a powerful weapon for increasing conversion rates.
Hence, we have prepared a brief list of CallPage features to use that significantly increase the number of conversions on the website.
A Call Tracking platform
Using call tracking is a great way to see which campaigns are translating to phone calls that develop into leads and sales for your business or which are working badly and need to be clipped.

Call tracking allows you to determine peak call hours. With this compiled information, you can pinpoint correctly which days and which hours of the day you receive the most calls.

The most valuable call-tracking metrics which help you optimize the performance of your marketing strategy are :

1. Call duration – is a crucial metric for giving you insights into the average length of a successful call so you can establish a minimum threshold that can help you identify a successful call.

2. Call time of day and location – knowing the location and times of calls driven from your marketing campaigns helps you optimize your strategy.

3. PPC landing page performance – let you know which landing page generates the most calls.

4. Conversions – due to tracking the number of achieved conversion you can better understand how to spend your fields wisely.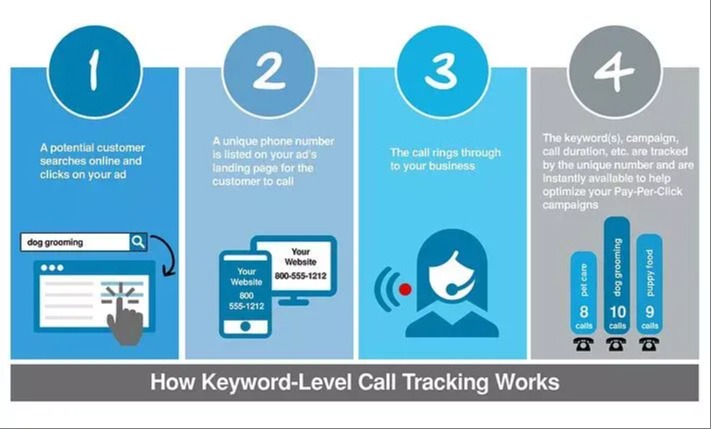 Call Recording
This function helps to provide excellent customer service, and in that way increase their sales and service.

Probably, it is the best option for you as a manager, to check whether the interaction between an agent and customer was at the highest level.

By analyzing the recordings, management can compare employee program to company standards.

With a call recording system in place, you can use the record evidence to defuse customer disputes before they escalate.

It will be beneficial for them to take notes while taking part in the conversation: note what was discussed and promised.

Phone call recording is an easy way to observe performance and make suggestions for improvement.
Widget Personalization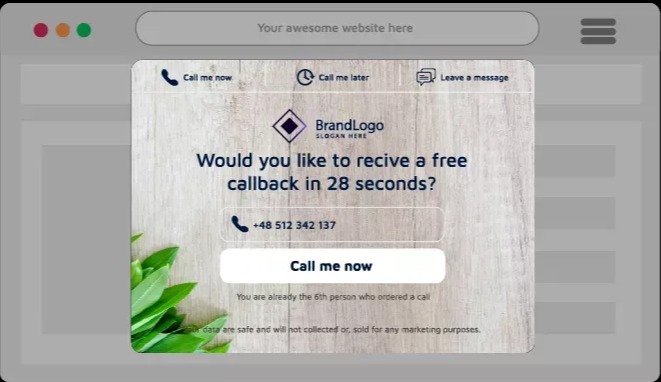 CallPage allows you to customize the look of the widget.

Your web design isn't just a "pretty face": it can make or break your conversion rates, and it also applies to the widget.

You can change four features that are responsible for the widget's appearance:

1. Color

The color of the widget can be matched to the color of the page or maybe distinguished against the background of other elements.

Avoid red, as it associates with rejecting a call.

2. Widget position

Place the widget in such a way that it will be visible to the user and will not interfere with viewing other elements.

3. Logo/Photo

Adding a logo allows you to customize the widget.

Thanks to this feature you reinforce your brand and make it easier for customers to remember.

The photo of the person handling the phone in your company gives you more authenticity and emphasizes that on the other side of the handset there is a real person.

4. Content

Did you know that the widget conversion for websites of the medical industry (for example), is higher when standard text is changing?

This is important to keep in mind when adjusting the look of your widget.

In addition to good color matching, the text that you end up in the window is, and it should encourage the recipient to leave the personal data and order a return call.

For example: instead of the standard "Would you like to receive a free call back in 28 seconds?" you can place the text "Want to know more about our product? Leave your phone number, and we will call you within 28 seconds."
Adjusting for mobile devices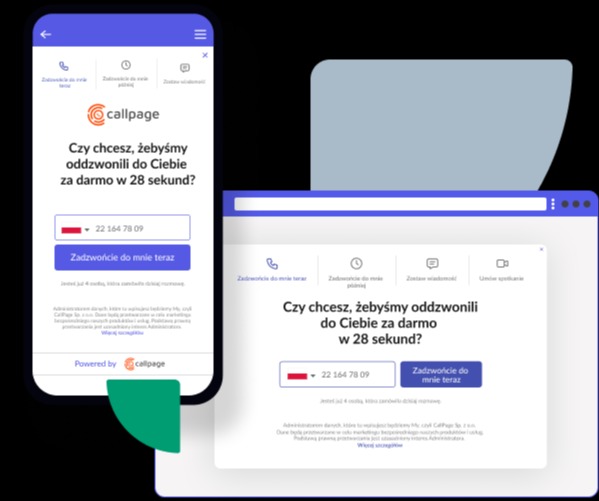 People are not always near a computer, but many people have a mobile device with them at all times.

Unless you've been living under a rock, you'd know that having a mobile-optimized site is critical for your online presence.

Mobile sites can help lead to more mobile purchases.

Consumers want a smooth, seamless experience on your site. A frustrating mobile experience can create a negative image of you and your company.

According to a recent Google survey:

• 74% of visitors were more likely to return to mobile friendly websites

• 61% were likely to leave if a site wasn't mobile-friendly, and

• 67% were more likely to buy at a mobile-friendly website

Our widget cares about your mobile experience.

Engaging mobile users will no longer be a struggle.

CallPage works on both smartphones and tablets.

Our widget is fully responsive, which automatically adjusts to the size of the screen on which it displays.

Your customers will be delighted!
Facebook Lead Ads Integration
One of our most requested integrations will let you seamlessly add new leads to your Drip workflows as soon as they opt-in from a Facebook Lead Ad.

The benefits are clear: connect your Facebook Lead Ads to Drip and start nurturing your new leads automatically.

Once integrated, you'll be able to automatically leverage the communication channels and systems you've already set up and maximize the value of the leads you collect in real-time.

CallPage allows you to earn real-time sales calls directly from Facebook ads.

How does CallPage integrate with Facebook Lead Ads?

Through the Zapier integration, you can connect Facebook Lead Ads to CallPage. Zapier also allows you to integrate CallPage with over 3,000 other apps.
Find out: How to set up CallPage integration with Zapier?

Thanks to this opportunity you can utilize powerful social platforms to escalate your audience reach, make sales calls immediately after the user clicks on your Facebook Lead Ad and stand out with fantastic customer service and outpace the competition.
Scoring System
The System Usability Scale is one of the most efficient ways of gathering statistically valid data and giving your website a clear and reasonably precise score.

Lead scoring will measure any activity related to a commercial interest of the lead or prospect, such as website visits or email openings.

According to Gartner (2015), the average B2B customer conducts 70% of his buying research online, facilitating the job for lead scoring solutions today.

What actions that were taken by a lead would indicate they deserve your attention?
These are the basic scoring rules, that are already settled:
The user tries to leave the website [exit-intent]
A person who is visiting your website receives points when he/she tries to leave the website.
2. User has visited the website before [old-user]
The Scoring system assigns points if the website visitor has already visited your website in the past.
3. Scroll offset [scroll-to]
The Scoring system assigns points for scrolling through the website.

CallPage Scoring System detects and monitors these interactions and 21 more scoring rules, as they are a reflection of the lead's purchasing interest and help to catch and snatch potential customers.

Simple as that.
Learn all scoring rules at CallPage: Everything You Need to Know About CallPage Scoring System
So, is there anything else you'd like to know about CallPage?

About Author:
Forbes 30 Under 30 Europe. Digital Marketer. Speaker, Author, AI passionate. Co-founder at CallPage – Callback Automation and co-founder at Certifier – Online Certificate Creator. Areas of expertise: product design, marketing technology, and B2B sales.
Start generating leads today!
Start a 14-day free trial now,
set up the widget on your site, and see how many more leads you can capture with CallPage
No credit card required

10 minutes set up

14 days fully-features free trial
Try for free
Get a Demo