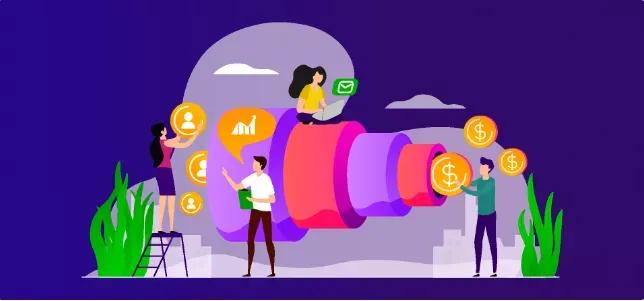 10 Lead Generation Principles That Will Stay With Us Longer
Every leader of a sales department needs to measure the efficiency of sales calls made by their team. There is no fixed recipe for this, however, many basic metrics can match your company's goals. In this article, we present 12 ways to monitor the efficiency of sales calls. By knowing your targets, you can choose those best suited to your business process and learn how to get more phone calls from your website.

Every year, sales and marketing experts announce new trends and new ideas for stepping up the lead generation game. Marketers around the world try to follow these trends, hoping that they will help them attract and convert more prospects.
And let's be honest — we all want to use the best and most effective lead generation techniques, preferably without investing your time and money in it. Sounds familiar?
There is no magic trick that will make your lead generation initiatives successful right away. However, continuous testing of new ideas and lead-generation methods is always a good idea. This allows you to decide which ones work for you and which ones you should ignore.
In this article, we have collected those lead generation principles and methods that have been around for quite some time and that are not going anywhere. They have stood the test of time and still work and deliver results because they are based on common sense and focused on the potential customer.
Therefore, if you haven't tested any of them yet, we strongly encourage you to do so.
Lead Generation Principle #1: Know Your Potential Customers
One of the basic techniques for effective lead generation is to know exactly who your leads and potential customers are. Knowing what motivates your potential customers to make a purchase, their main concerns, and how you can reach them are just some of the advantages of having this knowledge.
Lead Generation Principle #2: Be Where Your Potential Customers Are
Every person interacting with your brand is a potential customer. But for this to happen, you need to be prepared. You have to plan the right communication and use the right tools at each and every touchpoint between your company and your prospects.
Having a website is not enough. You need to be constantly visible in all lead generation channels, and you have to give them a chance to contact you in all the ways (callback, contact form, telephone number, email). But don't forget to be available offline, too. Events such as conferences or trade fairs bring you closer to people who are already looking for the products or services you offer.
Lead Generation Principle #3: Be Empathetic
The best way to find out what you are doing well and what needs to be improved is to put yourself in the shoes of potential customers.
Adapt to their needs and try to go the same way your potential customers would have to go to buy your product or service. Treat it as an advanced test. Think about what may drive your potential customers why they choose one product or service over another.
It is important to understand what the buyer needs and to speak their language. Empathy in sales is key.
Lead Generation Principle #4: Address Potential Customers in Communication
People don't want to listen or read about you and your company. They want to know about ideas that will help them improve their lives or their business. They want to know how your product or service will help solve their pain point. You can also attract new customers by sharing your knowledge and experience with them through content marketing.
Lead Generation Principle #5: Add Value
One way to get in touch with potential customers and to be able to contact them later is to offer them something valuable in exchange for their data. A guide, tutorial, ebook, or industry report is an ideal excuse and a simple and straightforward form of asking for user information. Just make sure that what you offer is valuable.
Lead Generation Principle #6: Qualify and Segment Leads
In a world where optimization and being effective are important, proper segmentation of the database is vitally important for gaining new customers. Learn to recognize which type of leads brings the greatest profit to your company, which contacts are worth investing time and energy in, and which are only a waste of time and resources.
In this way, you will use every penny you invest in lead generation and generate only those contacts that are really worthwhile. What's more, with this knowledge, you will focus your campaigns on the type of prospects that will get a lot of value from using your products or services.
Lead segmentation is essential if you want your marketing and sales to be more effective.
Lead Generation Principle #7: Lead Your Prospects Through the Customer Journey
In addition to identifying your "ideal" leads with accurate segmentation, you have to be aware of what steps each prospect is taking in your channels throughout the purchasing process. Track the leads' interactions from the very first contact with your brand until they become your happy customers. Map their purchase path, also known as a "buyer's journey" or "customer journey."
Lead Generation Principle #8: Data Is a Priority
We live in an era of digitization, and you need a proper tool to collect and analyze all relevant information on your leads. A good CRM (Customer Relationship Management) system will solve your problems by gathering data and subsequent analysis.
This kind of tool will help you to store every interaction and every reported problem. Or document processes related to your leads. This will allow you to avoid situations such as offering the same service twice or offering a customer products that they do not need.
Lead Generation Principle #9: Don't Neglect Paid Channels
A lead generation strategy focused on creating valuable content, sharing knowledge, and generating leads, all in an organic way. Sounds tempting, right? It's a very good approach, but it will only work for a while.
It's best to strike a balance between running great inbound marketing campaigns and complementing them with pay-per-click (PPC) ads and a few other activities that will help strengthen your basic promotional campaigns.
Lead Generation Principle #10: Use Outside Help
Suppose your company doesn't have a team that deals with content creation, database segmentation, email marketing strategy planning, etc. Instead of trying to do it yourself, it is better to reach out to a specialized marketing agency. It will help you create a well-planned strategy to focus on what is most important: offering your leads and clients a unique experience.
Sometimes good things last forever!
Is any of these lead generation principles already part of your marketing strategy? If not, you can still adopt them and start generating sales leads. The rules listed here are timeless, and they are still bringing great results to companies that leverage them.
READ ALSO: Automated Lead Generation Software: Everything You Need to Know
Whichever of these principles you include in your strategy, it is essential that you set yourself clear goals for what you expect from your marketing and measure the results. This will allow you to judge whether you are on the right track.
If you are looking for proven ways to generate leads, book a free consultation with our expert, try CallPage now! CallPage is a simple yet extremely effective widget for your website, which will allow you to generate more contacts with potential customers. Try CallPage for free.
Start generating leads today!
Start a 14-day free trial now,
set up the widget on your site, and see how many more leads you can capture with CallPage
No credit card required

10 minutes set up

14 days fully-features free trial
Try for free
Get a Demo