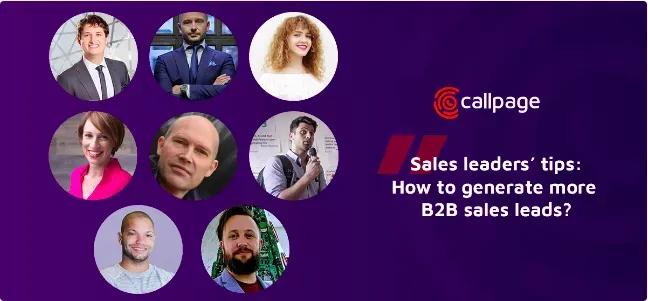 Sales Leaders' Tips: How to Generate More B2B Sales Leads?
It is easy to generate leads, but it's harder to generate leads that will translate into higher revenue for your company over time. Over the past 12-18 months, high-performing sales teams 2.8x more frequently tended to prioritize personalization of sales. So how can you acquire hot, high-quality leads for the sales department?
In this article, we are highlighting the top sales challenges in 2019 and ask sales leaders which channels they recommend using to help solve those challenges and generate higher-value leads.

#1 Basing sales conversations on more in-depth customer data

Achieving a high level of relevance during sales calls is one of the challenges every sales leader faces in the coaching process. Customers don't accept a one-size-fits-all solution – they need sales people to lead them through their unique customer journeys and adjust to their unprecedented business environment fast. What tool can help increase relevance?
Tom Winter, Chief Revenue Officer, Devskiller
We have found that being prepared with the right information makes the difference between a successful sales call and a quick hang up. We rely on siftery.com combined with LinkedIn Sales Navigator to get the intelligence we need.
Both tools give us a deeper insight into our leads with information like what products they use, how quickly the company is growing, the best people to invite to the conversation, and much more. We've learned that by showing up to the call prepared, we differentiate ourselves from other salespeople, proving that we are the better partner to work with. The team loves any tool that doubles their conversion rate while cutting down the five seconds: "No thank you"
Lukasz Turczynski, Sales Director, Inpost
When you get the knowledge about e-commerce and the vertical, then you need to know how to find your potential customer because three streams of leads usually drive my team: hunting, lead inquiries which are split on our web page, and you get Callpage – incoming calls. When you get down to hunting, you need to know where to find your potential customers.
Right now we are using an old solution which is SalesOptimize or Datanyze. These two companies provide quite good information about the potential market. And there is one company from Poland that is Shop Rank and they give a daily update about new companies which are blooming on the e-commerce market.
#2 Focus on sales activities that bring the most profit

You may already be familiar with the statistics first presented by Hubspot saying salespeople are bogged down into unproductive bureaucratic activities for most of the day. Also, many reps waste time by making repetitive mistakes.
According to the statistics, salespeople talk to prospects for only one-third of the day. 21% of the rest goes to writing emails, 17% is devoted to prospecting and researching leads, while 12% – scheduling calls. If you haven't automated the later, consider a few solutions such as online calendars that will help schedule calls faster and more efficiently, regardless of a sales rep and prospect's time zone.
Dasha Hilkevich, Sales Executive, Packhelp
Calendly – an absolutely great tool for managing appointments. "How does your schedule look?" These kinds of questions never lead to smooth communication, but rather a never-ending email ping pong. Calendly accelerates the process due to the integration with my personal and business calendars. As so people have an option to schedule a meeting with me in seconds with no adjustments of the time zones or triple checking of their calendars.
The simplicity of the tool helps avoid time wasting, thus improving productivity, which always leads to growth.
#3 Connect with leads that don't convert on the page

In B2B services you can expect a 3.4% on-page conversion rate on average. In order to extract the most value from your page traffic and reach out to page visitors who have expressed interest in your business, you should use other smart channels such as…
Adam Coombs, Digital Marketing Manager, Perfect Gym Software
Our sales team uses Leadfeeder to prepare better for sales calls. We started using it at the beginning of November and have seen our Lead to Opportunity ratio increase by 15%. The tool allows us to pinpoint the businesses that are visiting our websites and identify the pages that brought them there along with the pages viewed.
Therefore, when we're on a discovery call, we're better prepared to discuss exactly what their interest and intentions are from browsing through our website. In some cases, we can even see the search terms used to find us, which better helps us understand their exact pain point.
#4 Increasing chances for closing a deal on a call

Analyzing calls of your sales reps is crucial to understanding the secret formula of sales overachievers and implement it among underachievers. What makes the success and failure of each sales call?
Jen Spencer, VP of Sales and Marketing, SmartBug Media
We use Zoom for all of our video conferences, and that's really how we engage with our prospects and our future customers. I do ask our sales team to record calls, save them, submit – one or two calls a week for me to review. I like to review a discovery call and an assessment review call from each person every week.
Sean Sherwin-Smith, Operations Director EMEA, Narvar
As someone who is predominantly focused on strategic selling, I have found the best tool to generate B2B leads to be networking. There are a number of benefits of maintaining a strong group of industry connections who you will often bump into at networking events, shows and exhibitions.
Networking allows you to get a much deeper insight into the workings of the industry and behind closed doors at companies. You are soon able to map out trends, challenges, and opportunities
You will become influenced by the people you meet and at the same time will be able to start influencing. Having a common business interest, sharing experiences and imparting advice is a very powerful way to build credibility and trust in your network.
By default, as you become trusted and respected in your network, leads and referrals will start to come your way.
Remember, it's not always just about your sale. Connecting people in your network to help them solve mutual issues, putting people together means you are seen as someone who can solve problems. This again builds trust and will be reciprocated.
Don't be afraid to recommend a competitor if its the right solution for the person in your network. This shows you value their long-term relationship over a short-term sale.
There is no set rule about how quickly your network will develop but as the phrase goes, "you will reap what you sow". What I do know is that the bigger your network grows, the more opportunities and insights you will get.
Read Also: How to generate leads without cold calling.
#5 Creating highly-targeted content

Content marketing is driving leads, but one of the main challenges connected with content creation is attracting the wrong type of leads. That's why it is better to make a step back, look into analytical data and find out what customers are the most profitable, and stay the longest by profiting from your product the most.
Syed Asad Hussain, Team Lead Business Development, Prezly
By thinking over your Ideal Customer Profile once again and project what articles, webinars or podcasts will be of interest for your ideal high LTV clients, you will be able to create more targeted content that speaks only to a narrow segment of the buying audience and brings more sales qualified leads.
How do we attract strangers that fit our ICP (Ideal Customer Profile) to our website? Well, we write. Specifically, we write content that is of the interest to our potential customers, and we know it gets their attention.
But before you get into any of that, I implore you to ask yourselves a question. What is a high-quality lead for you? And the answer is really simple, one that fits your ideal audience or your ICP (Ideal Customer Profile). These are the types of leads that have the highest chance of converting on your website and ultimately becoming paid customers.
So our best lead generation source is our blog, we also write special or "gated content." Which is only available if you subscribe to our newsletter and once anybody subscribes they go into the marketing automation funnel, where they receive new content on a weekly basis. Once these people are on our website and get to know our product, the best way to convert them into "leads" is to have a form or a landing page of the sort where they can leave their contact details.
The "hotter" leads will go for CTAs that require more attention, e.g. pricing request or a demo request. Once you have those details, your sales team that can reach out to them and start qualifying.
Social Media posts are another big one for us, in terms of sheer inbound traffic that we get, sponsored posts are simply a very effective way to boost your brand and marketing on social media, e.g. Facebook. Which allows you to reach your target audience, aka your ICP, but also helps you attract a new market. Specifically, Facebook sponsored posts are very powerful as they give you the power to edit who sees your posts and in which demographics, etc.
We focus heavily on our SEO, our best leads come organically. So, that is an area we invest heavily in, it can take some time to get the SEO rolling, but the benefits far outweigh the costs and time that goes into it and SEO is and should be an ongoing and critical part of your marketing strategy.
In the end, no matter what channels you use, it comes down to nurturing those leads and making sure they are converting once they are on your website. For that you need different CTAs, they could be demo request forms, pricing pages, contact request or product trials.
Majority of the visitors on your site might not be ready to buy your tool right away, but if you nurture them well and keep following up with good content and have a conversion strategy in place, they will eventually become interested enough to book a demo or sign up for your free trial, etc. Remain flexible, as there is no "one solution fits all." Keep on iterating until you have found the perfect strategy that works for you.
Thomas J. Vosper, Retail Director, Pricesearcher
Nothing beats an old-school outreach approach on the phone, and a retailer's website is the best source of contact information.
Even the big tech giants like Amazon grew their marketplace with a large team of outbound callers reaching retailers and brands. They still do this now.
We are lucky to have an unusual take on lead generation. Whereas many businesses have a target list and then need a cold engagement starting with an introduction, our position as a search engine means that most of our target list is the same as our existing customers. So for me, lead generation is two things: inbound – awareness, LinkedIn, industry news and outbound – cold calling, LinkedIn, events.
The biggest challenge is that we work with thousands of retailers and brands via our tech, so I have a production line set up that supports my team to simply call through to find the right person we can share details with.
Almost everyone is open to this approach because we're able to get relevant info in front of the right person. We're not taking up time or inbox clutter with offering 'to grab a coffee' or set up a quick call without something valuable and specific. I've also just started trialing personalised video engagement with Vidyard so will be interested in seeing how that goes.
With a stacked inbox every day and masses of LinkedIn messages and requests, I am generally turned off by impersonal, cut and paste, email approaches. Frankly, if you can't be bothered to take the time to find out if I'm the right person and then hit me with a relevant message, then I'm not likely to engage.
What do you think is the main challenge of sales executives in 2019? Share your predictions and recommend a few tools to other sales professionals in comments!
Start generating leads today!
Start a 14-day free trial now,
set up the widget on your site, and see how many more leads you can capture with CallPage
No credit card required

10 minutes set up

14 days fully-features free trial
Try for free
Get a Demo