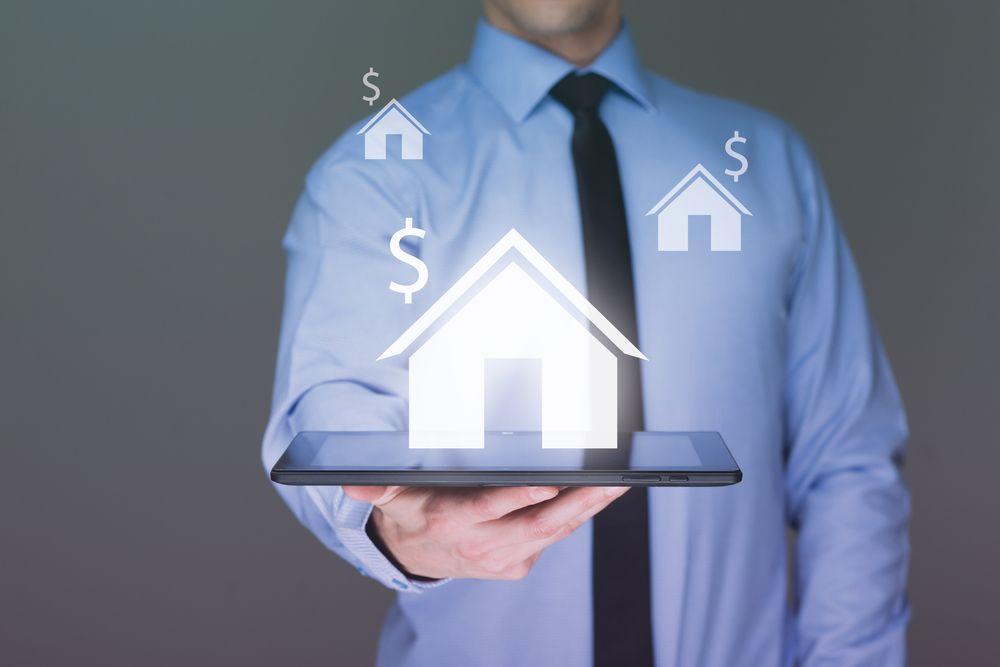 Real Estate Technology & Tools that Drive Sales and Improve the Customer Experience
With so much competition in the real estate market, it's important to stay ahead of the curve by incorporating the latest real estate technology and tools into your business strategy. You'll be equipped to provide a better customer experience, drive sales, and ultimately grow your business. That said, let's explore some of the most innovative real estate technology and tools that can help you succeed in today's market.

Technology has completely transformed the way we do business, and the real estate industry is no exception. From online property listings to virtual home tours, it is now easier than ever for buyers and sellers to connect with one another. In 2023, 41% of homebuyers look online first when starting their home search.
Real estate technology tools that improve the CX
Chatbots for instant and personalized communication
One of the key challenges that real estate agents face is providing personalized communication to their customers. With the help of chatbots, you can automate your customer communication process and provide instant support to your clients.
Chatbots are AI-powered tools that can simulate human conversation and provide instant responses to customer queries. This real estate technology can be integrated into your website or application, allowing you to get in touch with your customers at any time of the day.
The bots can ask customers about their preferences and provide property recommendations based on their needs. Chatbots can also schedule property visits and appointments, making it easier for customers to book a property tour.
AI-powered property recommendations
Speaking of property recommendations, this AI-powered real estate technology uses machine learning algorithms to analyze customer data and provide personalized suggestions based on the customer's preferences. With the help of these tools, customers can easily find properties that match their needs without having to go through multiple listings.
Online scheduling tools for easy appointment booking
Online scheduling tools are a real estate technology you can integrate into your websites or applications, allowing your customers to schedule appointments at their convenience. They usually send reminders to customers, reducing the chances of missed meetings. With an automated appointment-making process, you avoid double booking and manage schedules more efficiently.
CallPage Meetings is an excellent example of an online scheduling tool you can rely on. With Meetings, your customers can schedule property tours and appointments online in a few clicks, making it easier for them to book a property visit. Our new product also integrates with all popular calendars and features lead routing to make sure clients are matched up with the most fitting agent.
Digital signing tools for more efficient paperwork
Digital signing tools are a great way to speed up the paperwork process in the real estate industry. You can use them to send documents such as contracts and agreements to customers electronically. Signing papers through the Internet reduces the need for physical documents and makes the process faster and more efficient. There's also no need to print any physical documents, so neither party has to have a printer, and less paper is wasted.
Digital signing tools can help improve the customer experience by reducing the time and effort required to complete paperwork. Customers can sign documents from anywhere, at any time, without having to schedule an in-person meeting with the agent, making it an essential real estate technology. They come with encryption and authentication, and they store signed documents electronically, making it easier to access and manage them in the future.
Transaction management system
A good transaction management system can help you keep track of all the paperwork and documents associated with a real estate transaction. With such a system, you can manage contracts, track deadlines, and even communicate with clients and other agents.
Some popular transaction management systems for real estate agents include Dotloop and TransactionDesk. However, this real estate technology is typically more essential for medium to large-scale companies.
Customer feedback tools
Collecting feedback from your clients is essential for improving the customer experience and growing your business. There are a variety of tools that can help you collect feedback and improve your services. SurveyMonkey and Qualtrics are notable mentions and we recommend you try them out.

SurveyMonkey is user-friendly and suitable for individuals and small businesses. Qualtrics is a bit more advanced with a lot of integration capabilities and it's designed mostly for larger organizations. Consider factors like budget, survey complexity, and target audience size when choosing between them. Other options include Google Forms and Typeform. Try free trials or demos to find the best fit for your needs.
Real estate technology tools that drive sales
Attracting new customers
In the competitive world of real estate, generating new leads is a constant challenge for agents. The market is saturated with options, making it difficult to capture the attention of potential clients. Let's explore a few tried-and-true real estate tools that can give your business a boost.
Social media advertising
Social media platforms like Facebook, Instagram, and LinkedIn offer powerful advertising tools that allow you to target specific demographics and geographic regions. By creating interesting posts, you can reach potential clients who may be interested in buying or selling property.
LinkedIn will work better for targeting businesses and organizations, for example, if you're offering to sell or rent office space. Facebook will be best for marketing to individuals. Remember, you can try advertising organically on social media, but if your profile doesn't have a large following, you should try out CPC ads for instant effects.
Search engine optimization (SEO)
Search engine optimization (SEO) is a critical tool for any modern business. It focuses on optimizing your website and content to achieve higher rankings in search engine results. In fact, it is one of the most essential tools in your arsenal. Neglecting SEO means your website remains in obscurity. By investing in professional SEO, you can shine a spotlight on your website, attract increased traffic, and generate valuable leads.
Lead capture tools
Once you've attracted potential clients to your website or social media page, it's important to capture their information so you can follow up with them later. Here are a few lead capture tools you may find helpful.
Contact forms
Adding a contact form to your website allows visitors to easily provide their contact information. Be sure to keep the form short and sweet, and offer a compelling reason for visitors to provide their information.
Chatbots
Chatbots are a great way to capture leads and provide quick, automated responses to common questions. You can program your chatbot to ask for contact information or schedule a meeting with a real estate agent.
CallPage's widget
CallPage's widget is a powerful lead capture tool you can add to your website to speed up your lead conversion rate. When your website visitors click on the widget, they are prompted to enter their phone numbers. CallPage then connects the visitors with a real estate agent to answer their queries and proffer customized solutions.
It also offers the option to schedule a meeting, schedule a call for a later time, or simply leave a message. Add basic call analytics, as well as integrations with popular CRMs, calendars, and video conferencing software and you get a versatile real estate tool.
The meeting scheduling feature - CallPage Meeting - is arguably the most useful when it comes to real estate technology. Every customer in this industry wants a speedy and convenient way to book an appointment. This online scheduling feature is crucial for customer experience as your prospects and customers know they can get any appointment with only a few clicks.
CRM tools for managing client information
Efficiently managing client information is crucial after capturing leads. This is where customer relationship management (CRM) tools come into play. A reliable CRM tool enables you to effortlessly handle your contacts, including their contact details, communication history, and sales funnel status.
Task and deadline tracking is vital for real estate agents, and a CRM tool equipped with task management features helps you stay organized and ensures no critical deadline slips through the cracks. With an effective CRM tool, you can streamline your client management process and enhance your productivity as a real estate professional.
Simple CRM and call analytics with CallPage
Customer relationship management (CRM) tools help agents manage client information, track interactions, and automate follow-up tasks. CallPage offers a simple CRM tool that integrates with its lead capture widget. In addition, CallPage provides call analytics that allows you to record calls and track other important metrics.
Virtual tours and 3D visualizations
Virtual tours and 3D visualization tools will help you showcase properties and close deals. Here are a few examples of tools and ideas you could use:
Matterport is a popular virtual tour provider that allows users to create 3D models of properties. The company sells the equipment needed for creating a digital twin of any space and offers a platform for creating 3D tours. By using Matterport, you can create immersive virtual tours that allow potential clients to explore properties from the comfort of their own homes.
Virtual staging is another key real estate technology you can use, especially if you already have a digital version of a property you want to sell. Why spend time and resources to physically bring furniture to the place when you can achieve the same effect digitally? Showcase the full potential of space without the hassle and with more flexibility!
Although virtual reality (VR) headsets are not commonly used in the real estate industry, they are an excellent tool to help potential buyers explore a property in a fully immersive environment. This can get a better sense of the space and ultimately make a more informed decision.

Companies successfully using real estate technology
In recent years, many companies have started to embrace technology as a way to improve their processes, enhance the customer experience, and drive sales. Here are two examples of thriving real estate companies that are taking advantage of some of the latest real estate technology.
Redfin
Redfin is a real estate brokerage company that has successfully integrated technology into its operations. The company has developed a proprietary technology platform that allows customers to search for homes and book tours directly from their website or mobile app.
Redfin's platform allows customers to take virtual tours of homes, which became an essential feature during the pandemic. Additionally, the platform has a feature called "Book It Now," which allows customers to schedule a tour of a home directly from the website or mobile app.
And how's the company doing from a business standpoint? In 2020, the company reported a revenue of $886 million, an increase of 14% from the previous year. After two less fruitful years caused by the pandemic, Redfin's stock went up 98.6% at the beginning of 2023. And we're pretty sure that it's their investment in technology and software tools starting to pay off.
Zillow
When it comes to real estate technology and its advancement, you can't leave out Zillow. For those of you who live outside of the U.S., Zillow is an online real estate marketplace and database that provides information about properties, home values, and real estate trends. It is one of the most popular and widely used platforms for buying, selling, renting, and researching real estate in the USA. Here are a few notable innovations and technology tools that Zillow had implemented:

Zillow 3D Home allows users to create immersive virtual tours of their properties using a smartphone. This tool enables potential buyers or renters to explore homes virtually and get a realistic feel for the space.
Zillow Offers is a program that provides homeowners with a quick and convenient way to sell their properties. Users can request a cash offer from Zillow, and if accepted, Zillow will purchase the home directly from the owner, simplifying the selling process.
Zestimate estimates the market value of properties. The company has made efforts to improve the accuracy of Zestimates by incorporating additional data and refining the algorithms behind the calculations.

The company has

developed a mobile app specifically for real estate agents called the Zillow Premier Agent App. It allows agents to manage their leads, respond to inquiries, and track their performance on the platform.
Conclusion on Real Estate Agent Tools
The real estate industry has seen a significant shift in recent years toward the adoption of technology solutions. In today's digital age, customers expect easy access to information, virtual tours, and the ability to book appointments online. By implementing innovative technology solutions, you can provide a seamless customer experience that sets your business apart from the competition.
CallPage offers a range of solutions to help drive sales and improve the customer experience. Our tools include a callback widget, seamless meeting scheduling, many integrations, call tracking, and more. All this is designed to help you convert more leads and grow your business. Don't get left behind in the ever-evolving real estate industry - embrace technology and take your business to the next level.
Start generating leads today!
Get a 14-day free trial now,
set up the widget on your site, and see how many more leads you can capture with CallPage
No credit card required

10 minutes set up

14 days fully-features free trial
Try for free
Get a Demo