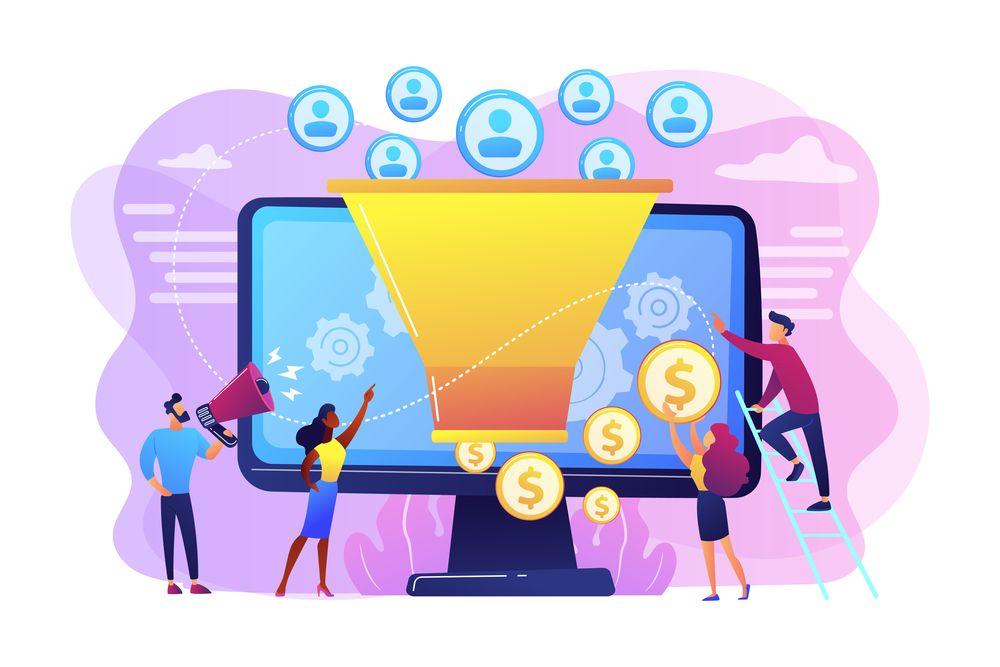 Lead Generation Through Content Marketing: How to Use Content to Generate More Leads?
Advertising and other more traditional forms of marketing are still effective and used often. But if you want to apply the customer-centric approach and show your forward-thinking, you should complement those forms with the content strategy. This article will explain how to use content marketing for lead generation and nurturing.

Are you aware that roughly 90% of companies use content marketing strategies? Additionally, 71% of content marketers have noted an increase in the importance of content marketing over the last year (source: ProperExpression). These statistics show most marketing professionals really believe in content marketing as a lead-generation strategy. Let's see why.
What Is a Lead Generation Content Strategy?
The ultimate goal of every marketing strategy is to encourage people to buy products or services. Content marketing lead generation is no different, except that it aims to attract and acquire an audience by creating valuable and tailored content instead of using advertising. This could include blog posts, guides, videos, podcasts, newsletters, emails, social media posts, and other media that visitors find appealing and useful.
The latter factor is extremely important – the quality of your content depends on how relevant and consistent it is. Its value is judged by the level of expertise it provides and the ability to build trust in your brand.
We're not, therefore, talking about the generic pieces of content addressed to everyone without any in-depth consideration or purpose. You need a well-thought-out lead generation content strategy to ensure that the content you create is tailored to specific audiences, builds a community around your brand, strengthens your relationship with customers, educates leads and buyers, and solves problems they may face.
It sounds more challenging than advertising. You may wonder if all this effort is worth it. Consider this – content marketing generates three times more leads than outbound marketing while costing less.
Content Marketing Funnel
As in the case of all marketing activities in the digital world, everything revolves around the customers and the efforts to address their needs. You must understand for whom you create the content, how it benefits the recipients, and what experience it should deliver. Once you answer these questions, you can start working on the content marketing funnel.
This sort of campaign directly corresponds to the buyer's journey, comprised of awareness, consideration, and decision stages. An individual takes certain steps before purchasing a specific product.
First, they realize they have a need or a problem to be addressed; they look for information on how to approach it (awareness stage). Then, they compare available choices and solutions (consideration stage); and decide on the preferred vendor and product (decision stage).
As a marketer, it's your job to understand your audience and choose the best content and distribution channels for each stage.
Here are some examples:
Awareness stage: Your content should address concerns and pain points and provide advice. At this stage, the best types of content are blogs, social media posts, ebooks, webinars, and tool kits.
Consideration stage: At this point, you should go more in-depth. Provide detailed information on available choices, and educate leads while promoting your product. The best types of content for this stage are comparison guides, case studies, how-to articles, and videos.
Decision stage: Now you're in sell mode and must show why your product is better. The best types of content for this stage are demos, consultation offers, and even more case studies.
READ ALSO: Generating Inbound Leads - How To Improve and Streamline the Process
Combine SEO and Content Marketing Strategies
Even the most knowledgeable and valuable content will only help your business if it's easy to find online or shareable. While you can't rely on optimization techniques alone when generating leads, you do need to combine content and SEO strategies to achieve the best results.
When you optimize your blog posts or articles and add relevant keywords and structure, you have a bigger chance of your website showing up higher in SERP results. However, even if you're on top of the ranking, the chances that people opening the link will turn into customers are slim if what they see on the website is useless. Therefore, it's a good idea to combine efforts. Write for people, but optimize with search engines in mind.
Here are some useful tips to remember:
Create high-quality, audience-tailored content

Perform a keyword search

Follow the rules set up by Google and other search engines; be mindful of what the algorithms "like"

Use language understandable for the visitors

Include internal and external links

Build both strategies based on the gathered data about the audience's preferences and interests
The goal of all your efforts is to turn prospects into buyers. You need to, however, approach your activities strategically and design methods to attract, nurture, and retarget leads. Below are some examples of lead-generation content ideas.
Using Lead Magnets to Convert Blog Readers
Companies that have blogs generate 67% more leads than those that don't publish relevant posts. You know that a well-written blog is an excellent tool for your brand to establish itself as trustworthy and knowledgeable. But your ultimate goal is to convert website visitors into paying customers. You can introduce lead magnets to ensure you take advantage of all the opportunities generated by the blog.
The real point of a lead magnet is to get the prospect's email address and other contact information. To do that, you can offer your leads an incentive in return for their contact information. This way, you gather precious data while improving the prospect's experience and providing him with certain benefits. Why do you need this data?
Because up to 95% of visitors do not make a purchase on their first visit to your website, you need some tactics that will allow you to approach them at a later stage and encourage the key 5% to convert.
A lead magnet is free content, such as a white paper, case study, trial subscription, toolkit, ebook, cheat sheet, checklist, tutorial, or video – the list is virtually endless, and its items depend solely on your creativity. In exchange for the downloadable content, you will ask for the lead generation form to be filled in.
Depending on the magnet type, this could be a registration form, a newsletter subscription, or a pop-up. You can also use a call-to-action (CTA) button, which takes the visitor to a lead magnet-dedicated landing page where the contact data is collected.
You can convert the blog into a lead magnet by "gatekeeping" a part of the article or turning multiple posts into a comprehensive ebook or webinar. Content marketing gives you lots of opportunities to become creative in your activities.
Lead Nurturing Process
Once you find potential leads and turn website visitors into prospects, it's time to enter the nurturing process. As mentioned, not all prospects are ready to buy your products. Lead nurturing is all about growing and maintaining relations with potential buyers. It describes how you gently lead future customers through different stages of the buyer's journey by providing helpful and informative content at every step.
This process is difficult and requires the sales and marketing teams' joint efforts to produce tangible results. It's based on a customer-centric approach, understanding your leads' profiles, applying consistent communication efforts, and doing regular follow-ups. It's a process, which means that it consists of a series of carefully planned and crafted communications performed via different channels.
It's important to choose the right content for the process. One which will show that you understand your audience and their needs. Segmentation is key to preparing various materials for different groups of leads. If you publish valuable articles on your website, as we do at CallPage, use them and include links to relevant blog posts and entries when emailing and following up with prospects. Lead nurturing and content marketing go together.
How to Use Retargeting Techniques?
If, despite all your efforts, you still need to convince some undecided visitors to try your product or service, try the retargeting technique. It's a form of advertising that serves people interested in your product. Meaning those who looked at your website but are still hesitant to convert.
You can apply different methods:
Pixel-based retargeting uses JavaScript code that creates an anonymous pixel. Every time the visitor lands on the site, the pixel drops a cookie in their browser. It means that when the user leaves your page and continues to browse the web, they will see ads convincing them to come back and take a closer look at your offer.
List-based retargeting can be used if you already have prospects' or customers' contact information. You can use the gathered emails to send personalized messages or upload the contact list to the chosen retargeting platform to show them ads.
This type of advertising is, of course, not only done through the website. Social media platforms are ideal for retargeting ads. Facebook, Twitter, and Instagram use data from search engines to grab attention and increase lead generation and conversion chances.
What the Future Has in Store
Research carried out by ProperExpression indicates some interesting trends.
Video is getting more popular; 78% of marketers will invest in it this year, up from 69% last year. Businesses see that videos can grab attention and turn viewers into potential customers.
But it's not just about video. More marketers are also investing in their own digital content, like blogs, e-books, and whitepapers. These aren't just useful resources; they also attract people who are looking for information or solutions.
Social media is also becoming more important. Investment in it has grown from 39% to 57%. This shows that marketers want to create online communities where people can interact with the brand and ask questions.
In short, getting new customers in the future will involve a mix of strategies. Video will be important, but so will other types of content and social media. Brands that use all these methods well are more likely to turn website visitors into customers.
Summary
As you can see, when applying content marketing lead generation techniques, you must always consider all stages of the buyer's journey. You should also have a set of tactics prepared to convince people who are hesitant about finalizing the purchase of your product. Finally, always prepare for the future.
Good luck in generating those hot leads!
Start generating leads today!
Get a 14-day free trial now,
set up the widget on your site, and see how many more leads you can capture with CallPage
No credit card required

10 minutes set up

14 days fully-featured free trial
Try for free
Get a Demo