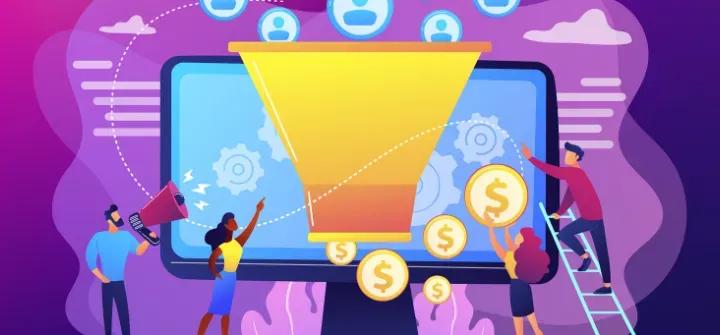 7 Great On-page Lead Generation Tools You Should Test in 2023
On-page lead generation tools can be used to improve the conversion rate of a website. In other words, they convert anonymous visitors into real leads.

Unlike in- and outbound lead generation, on-page approaches will not help you reach new audiences. For this kind of tool to work, some effort is required to develop marketing actions to attract potential customers to your website. That said, on-page lead generation tools will help significantly increase the number of leads coming into your sales process. Simply by getting more people to leave their contact information.
Here, we present our list of free and paid on-page lead generation tools that you should test this year.
Sumo
Pricing: Free or from 39 USD per month
Sumo calls itself "the #1 free email capture tool". It allows you to create simple forms to capture email and other data and to display these forms in various places across your website.
Sumo gives you the option of using several different types of forms, from classic pop-ups through info bars to mats that cover the entire page. The form editing is itself quite limited, but you can create some pretty cool-looking widgets with website-matching colors and graphics.
While the editing choices are narrow, the display rules are much more extensive. You can choose which pages the forms appear on and how often a visitor sees them. You can decide in which countries and on which devices they should be visible and even set a UTM link that triggers each pop-up.
An additional feature of Sumo is the auto-reply, so you can create an email that will be sent automatically once a form is filled out. If you're using another email marketing tool, you can integrate it with Sumo using native integration or through Zapier.
Installing Sumo is easy; you just have to add a special installation code. Note that in the free version, all of the forms are marked with the Sumo logo and you don't have access to the full rules settings.
CallPage
Pricing: Free or from 29 USD per month.
CallPage is the #1 callback automation, allowing website visitors to request phone contact from your company. The application automatically connects the potential buyer with an appropriate consultant, and it typically takes about 28 seconds to make the connection.
In addition to requesting instant callback, visitors can leave a text message or schedule a call at a time of their choice. You can add any number of sellers or consultants and even define departments or topics for types of contact.
The widget's appearance can be personalized to match the design of your website, and the same goes for pop-ups where you can change the background, customize the colors, and add text or graphics, such as logos.
CallPage offers some cool features, including automatic SMS call notifications and custom fields that allow your company to capture not only phone numbers but also any other data you might need. It has relatively advanced scoring and display rules that let you decide where and to whom callback pop-ups should be displayed.
As with most lead capture tools, installing the CallPage widget is fairly straightforward and requires adding an installation code to the site via a plugin or GTM. CallPage also offers quite a few integrations, and it is connected to Zapier, so it can be integrated with virtually any sales or marketing tool.
CallPage is available with three pricing plans which differ mainly according to the number of calls a business can generate. The free version allows you to receive 15 callbacks every month.
Driftrock
Pricing: Starts from 149 USD per month with no free version available.
Driftrock provides an extensive selection of lead generation tools so that with this one solution, you can create lead capture forms, like banners and inline widgets, as well as entire landing pages.
But perhaps its most impressive element is that you can generate leads from external sources such as Facebook, Google, LinkedIn, and TikTok. Driftrock also allows you to catch leads from chats.
Driftrock can be integrated with any CRM or marketing automation tool to make sure all leads are kept in one database. It provides automated lead validation, enabling you to decide which parameters need to be met for a lead to be sent to CRM. In addition, Driftrock offers quite rich analysis and tracking options. The dashboard allows you to easily analyze your ads' KPIs, your lead costs, and a range of other metrics.
There is no free version of Driftrock, but you can start with a free trial before jumping into the paid solution.
Livechat
Pricing: There is no free version, and pricing starts from 16 USD per agent.
Livechat is one of the most popular chat tools on the market. Like other similar solutions, it is mainly used in customer service as an additional contact option.
Chat is now considered the most convenient, and thus preferred, form of contact between a company and its existing customers, but it can also function very successfully in generating leads. For example, chat works especially well when a website visitor has doubts or needs specific information before making a purchase.
Livechat offers all the features of typical chat tools, and you can personalize window appearance as well as prepare a sneak peek message to encourage visitors to take the first step. Its display rules let you decide who sees the chat option, when, and what the welcome message should be.
Livechat offers more than 200 integrations, and the installation process is pretty simple. There is no free version, but a 14-day trial is available.
Qualaroo
Pricing: From 80 USD per month.
Qualaroo is an automated survey solution to collect feedback from site users or customers. If implemented properly, it can also be used as a pretty cool tool to engage with your visitors and ultimately collect their contact information.
With Qualaroo, you can reach visitors with a dedicated survey at the exact moment they are looking at that particular product or page, for example pricing. If the welcome message is encouraging, chances are they will respond, and after they complete the survey, you have more information about their buying intent and needs. If you offer them something in return, like a discount, they may leave you their contact information. And if not, at least you gain additional knowledge about your site visitors.
You can customize the look of the survey window to match your branding, and Qualaroo also offers simple lead generation forms, in case you want to stick with standard contact acquisition methods. Qualaroo includes integrations with the most popular marketing and sales tools, including SalesForce, Mailchimp, and Hubspot.
Pricing depends on site traffic, starting at 80 USD per month, and you can also test it for 15 days for free.
LeadRebel
Pricing: 14-days free trial, then starting from 29 USD per month
LeadRebel converts anonymous visitors into B2B leads. It shows you, which companies have visited your website.
As you probably know, conversion rate of a website is usually between 1 and 3%. Actually, 3% is already a good number, you have to do your homework to get there. Rest of your traffic is more or less lost. Now imagine, you can raise this number to 10 or even 20 percent. Sounds too good to be true? Actually not. By showing you, which companies exactly have visited your website and what they did during the visit, LeadRebel generates "B2B leads to go". Closing rate of such leads are much higher, than of cold ones.
Besides recognizing your website visitors and showing you their navigation pattern, LeadRebel provides you with tones of information about each company, their contact data, and their employees.
On top, the tool is GDPR compliant, works without cookies and stores the data within the EU.
Salesmate
Pricing: Its starter pricing is $12 to $40 per user per month.
Salesmate is your solution if you're searching for a comprehensive lead generation platform for multiple teams. The CRM caters to all three teams – sales, marketing, and customer success perfectly.
Salesmate is a lead generation CRM, which helps to provide result-driven features like lead creation, lead management, analytics reports, and sales and marketing automation.
It is a complete solution for gathering, sorting, qualifying, nurturing, and converting leads.
With powerful tools like Web Forms, Live Chat, Marketing Automation, Lead Scoring, Email Automation, and Meeting Scheduler, you can automate every step of your lead generation and qualification procedure.
Your staff won't need to switch between different platforms because Salesmate interacts with more than 700 applications.
Start generating leads today!
Start a 14-day free trial now,
set up the widget on your site, and see how many more leads you can capture with CallPage
No credit card required

10 minutes set up

14 days fully-features free trial
Try for free
Get a Demo