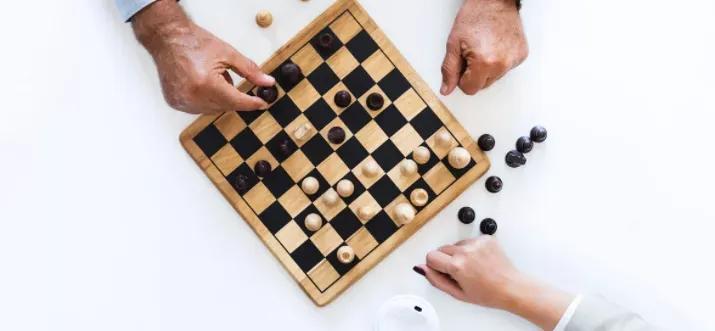 How to Fix Lead Management and Generate 50% More Clients? [CMO Guide]
The main priority of B2B marketers in 2018 is not generating leads per se. 69% of marketers say their main priority is converting leads into customers. Generating leads with a content funnel is not hard using just a few lead gen tools. But driving high quality leads that are just about to become customers always stays a challenge.
Lead generation is one of the building blocks, but not the main one. Without the right lead management strategy, a sales department won't get high-quality leads. As a result, the cost of acquiring a client soars.
There are several strategies that will help attract leads with just the right profile, qualify them for a call with a sales rep and decrease the cost of each closed deal.
With the right lead management strategy, you can decrease the cost of client acquisition by 33% and generate 50% more sales. In this article, you will get actionable strategies to establish the right lead management roadmap for your business.
Before I explain how you can attract more high-quality leads and decrease acquisition cost, let's see why lead management matters for your business.
Each B2B business that wants to facilitate the work of the marketing and sales department should establish a lead management framework.
Broadly speaking, lead management is the processes that help establish a dialog with leads and qualify them for the sales department to take over.
Apart from that, it helps understand what marketing strategies drive high-quality leads and what makes such leads different from others.
The reason why your leads don't convert at the expected rate lay in lead management. In this article, I will suggest several small fixes that will help facilitate a sales department and boost conversion.
1. Identify your buyer persona better.
Identifying your buyer persona in the wrong way may lead to attracting leads that won't convert. You may want to have a fresh look at who you are targeting with your marketing campaigns and think over what characterizes your highest value customers.
By identifying commonalities, you are able to see who you have to target. Sometimes it makes sense to start with a niche. For example, marketing automation software, ConvertKit is focusing solely on solopreneurs.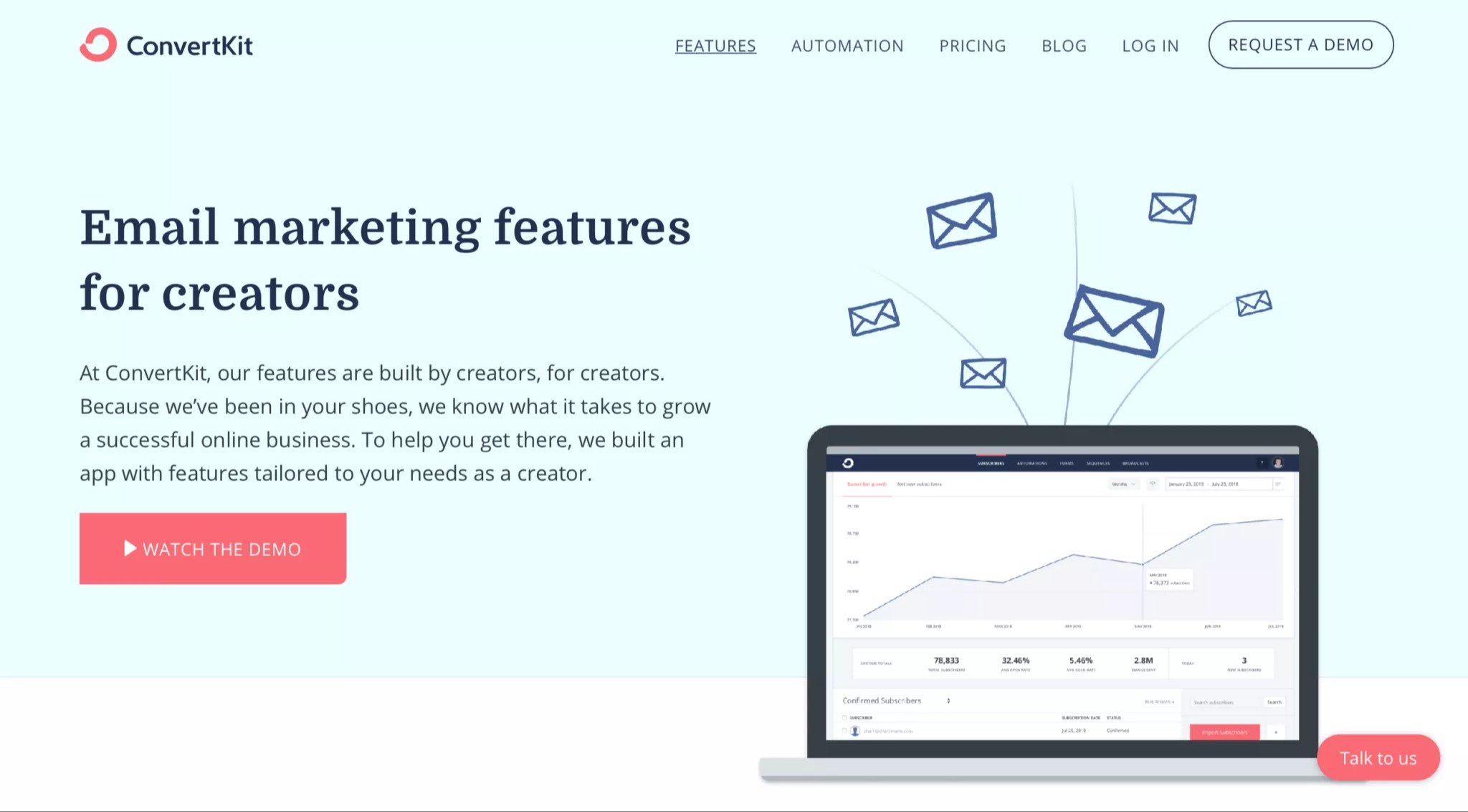 2. Segmenting in the wrong way.
Without clarifying who your buyer personas are, it may also happen you speak to each of the segments the same language. One group may understand it, while the other would be put off by the wording. When you have already defined what clients you want to attract, repair your segmentation strategy.
Times of broadcast emails sent to everyone no longer stay in line with actionable marketing. As once Stewart Butterfield, co-founder of Slack said: "Email is a cockroach of the Internet." Email is still actionable, but only if it is targeted and personalized. To make email targeted you would have to think on which segments to divide your email base.
Below is the way how James Cook Media is doing segmentation. If you visit their page you and want to watch a free masterclass (their lead magnet), you would have to go through a quiz that segments leads. In a marketing automation system, you could assign tags to each answer your leads submit through a quiz. You can also divide them into lists and tailor email communication and PPC ads for each of the groups.
The other way you can implement segmentation is through tracking on page activity of leads and assign tags if a lead takes and action that would qualify them for a specific list.
In practice that might be e.g. downloading an ebook that would matter for just one of the segments while would not be important for the other. Once you have information about your buyer personas (point 1), you are ready to tailor the right communication that would resonate with each group.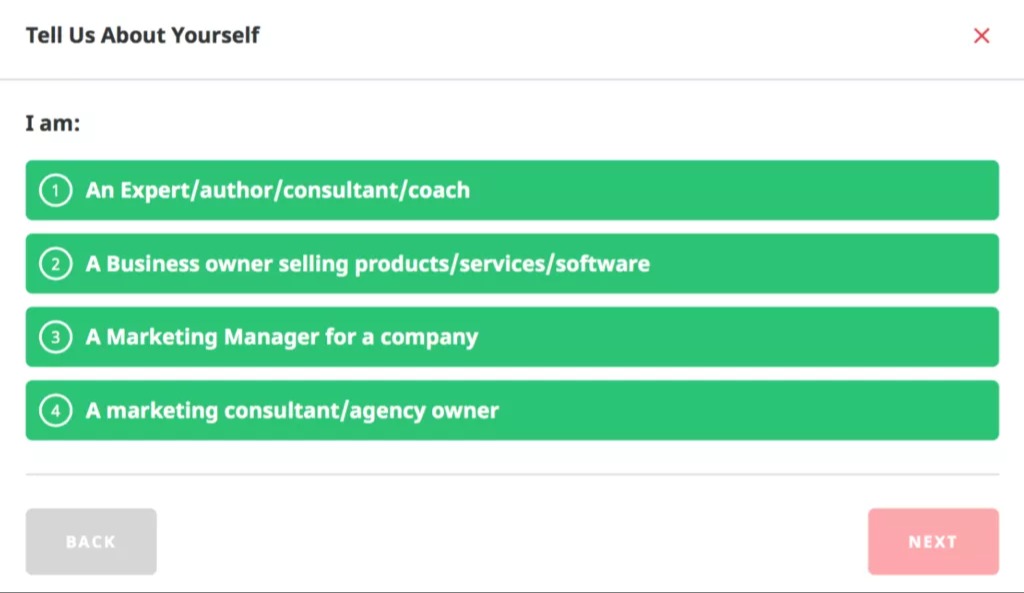 3. You serve the wrong content.
The reason your leads don't convert in customers is a weak lead nurturing process. If you have been implementing content marketing, you should do content audit breaking it down into three main stages.
TOFU content – blog articles, short videos, ebooks, white papers, checklists, infographics.
MOFU content – in-depth analysis, longer reports, playbooks, webinars.
BOFU content – demo, free consultations, estimates, testimonials, case studies.
After making a content audit, you will see how much content from each group you have been producing so far. If your content strategy lacked BOFU content, then adding it to your content plan would positively affect lead management.
Very often B2B companies lack solid BOFU content. See how 10Clouds is doing there BOFU content.
Free Estimate
Video Testimonial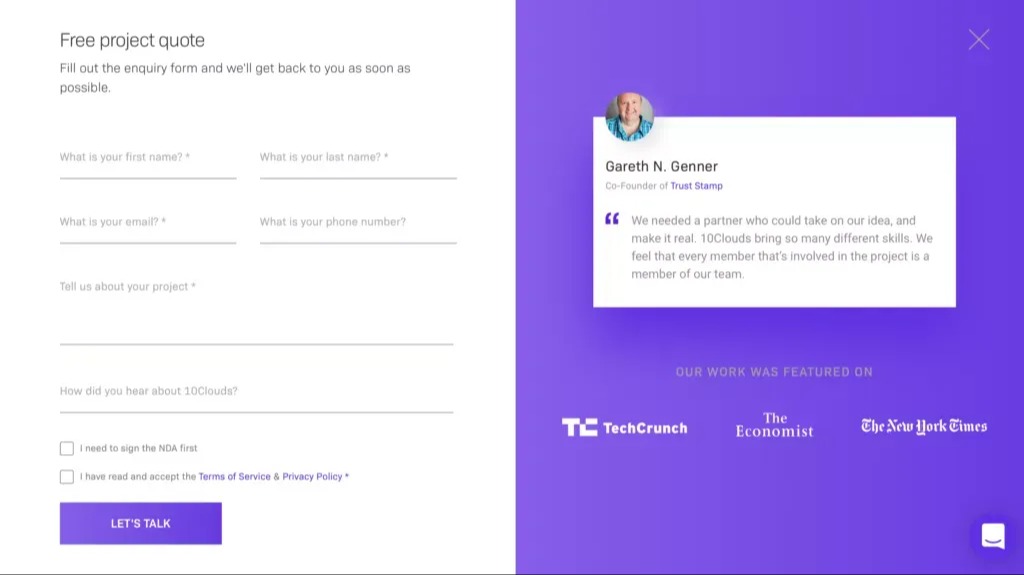 4. You haven't set the correct qualification criteria.
Build the right lead qualification system. Think over what features would qualify a lead to talk with a sales rep. When a marketing department passes a lead to sales, a high-quality lead should be ready to talk about a product and ready to buy.
Downloading a free ebook from a blog would not definitely qualify a lead to be passed to sales as it is not ready to talk about product solutions yet. Once your specified what requirement a lead should fulfill, assign a score to each requirement.
Some examples of criteria and scoring:
Monthly revenue – 1 to 5 points
Amount of traffic on the page – 1 to 5 points
Number of people in an organization – 1 to 5 points
That is a simplified way to qualify leads. You may want to build out a more complex qualification strategy in your company.
5. Bad communication with the sales department.
When defining qualification criteria for SQL (sales qualified leads), representatives from a sales department should also sit at the table.
After you have agreed on the qualification criteria with your sales department, the agreement should be laid into a service level agreement (SLA) to specify goals of the marketing department and what activities follow from the side of a sales department. 81% of companies that implement SLA have an effective marketing strategy.

What should you do next?
Here is a list of my suggestions:
Summon your marketing team and map out your buyer persona relying on the latest insights about your clients. Define what characterizes you ideal clients. You may go further creating an empathy map and working over the jobs-to-be-done framework.
Think over the ways how to segment your audience – single out the main segments and implement a quiz. Integrate it with your marketing automation system and CRM. Assign tags and break your audience into lists.
Make a content audit and analyze how you could provide more value with content. Think if you should do more content of some type – focusing more on testimonials or gathering case studies.
Set qualification criteria and use scoring. Invite a sales team to the table to share observations from both sides – marketing and sales.
This is not the full list of lead management issues you may have encountered. Write down your suggestions and share experience in solving lead management issues in your company. Order a personalized presentation or test our tool for free for 14 days!
Start generating leads today!
Start a 14-day free trial now,
set up the widget on your site, and see how many more leads you can capture with CallPage
No credit card required

10 minutes set up

14 days fully-features free trial
Try for free
Get a Demo