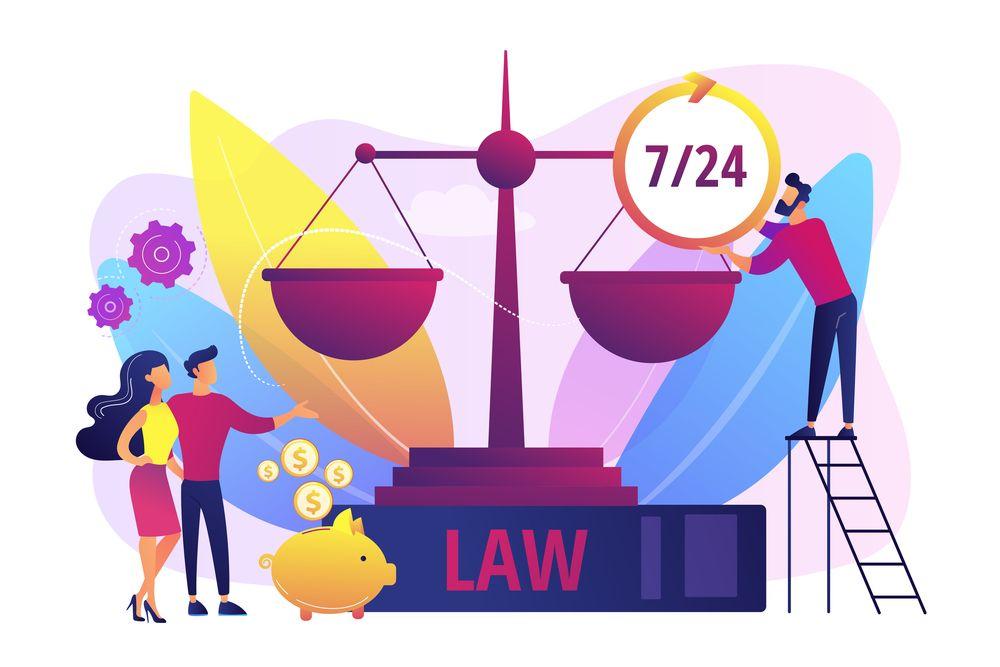 Marketing for Law Firms: 6 Strategies for Attracting New Customers and Growing Your Practice
This article will touch on some tried and tested law firm marketing techniques. Like all forms of marketing, it's essential to test and assess what works for your brand, and law firm marketing is no different. Use the following ideas for marketing your law firm and see how you can reach your marketing and advertising goals.
Marketing for law firms is a mix of activities, both online and offline, that help bring new clients to your legal practice.
Effective marketing is essential for all businesses, and advertising a law firm is no different. The legal industry is not unlike most other industries. There are trends and changes that law firms have to stay on top of if they're to establish themselves and stay leaders in the industry. Communicating these trends, changes and other specifics about the law can help you get your name in front of clients who are in need of your services.
Defining Target Audience
Every business should have a clear definition of its target audience. A target audience is a group of people that are the focus of your marketing efforts. It's also important to note that 'everyone' is not your target audience. By trying to appeal to everyone, you appeal to no one.
Marketing is more effective when you know whom you're trying to talk to. In law, most of your clients know they need your services. They understand that they have a problem with the law or some other legal matters, and they need a professional to help them.
However, there's a big difference between a law firm that helps murderers avoid the death penalty and a law firm that helps people with unpaid parking fines.
To define your target audience, consider the following factors:
Age

Income

Location

Occupation

Gender
Your existing clients can help shed some light on those factors - there may be a trend that a lot of your clients have been women aged between 40 and 60 who are working part-time. The legal situations that this demographic finds themselves in are likely to be the fields that you specialise in.
Check also: A Comprehensive Guide: 17 Strategies for Attorneys to Generate Leads
Simply put, defining your target audience helps you create copy, marketing messaging and other values to communicate throughout your law firm marketing campaigns.
Set Up Your Law Firm Marketing Budget
Establishing a marketing budget can be a fickle process. Small American law firms reportedly spend between 5-10% of their gross revenue on marketing every year. This percentage may increase in busy areas with a lot of competition.
It's important to consider all the areas where you'll spend your marketing budget. Some factors will influence your marketing spend, too:
Marketing channels. Paid social media costs are only increasing, while physical offline is getting cheaper
Younger law firms generally spend more on marketing their brand
Aggressiveness: A bigger ad spend can bring more results, but you need to have an established ROI
Areas of expertise: Marketing to individuals, as opposed to other businesses, means you'll have different processes and funnels and ultimately different spending.
Another thing to consider is your ultimate goal with your law firm marketing. Are you looking to get more general leads, spread awareness of your firm, or market a specific area of expertise? Collecting leads, increasing awareness and niche marketing are all different marketing techniques that will have different budgets.
That being said, there are some general best practices to follow for marketing for law firms.
Create an Attractive Website with an Easy Contact Option
In this day and age, a website is a must for any law firm. You don't need to be reminded that people no longer look through phone books to find a service but go straight to Google.
Therefore, an attractive website that's easy to use is essential. Legal matters are often complex, so it's much more straightforward to talk to someone on the phone. It's, therefore essential that your website encourages users to contact you via phone.
Using a tool like CallPage, users are prompted to leave their contact details and receive a call from your team in as little as 28 seconds. If no one is available, CallPage will organize a call for the next available person to call the lead back.
6 Strategies for Advertising a Law Firm
1) Optimize your website for SEO
SEO, or search engine optimization, is the process of optimizing your website for search engines. No surprise to learn that that search engine is more than likely Google.
Keywords play an important part in SEO and marketing for law firms. By ranking for keywords relevant to your practice, your areas of expertise and your location, you can generate leads directly from Google searches.
This involves creating content about the problems that people search for. For example, 'immigration law New York'. If you're a lawyer in New York specializing in immigration, it pays to create content on your website that covers that topic. Individual pages for each area of expertise ensure that you'll be seen in Google when people search for solutions to their legal problems.
Provide valuable content on your pages, and you'll not only rank higher in Google and bring more traffic, but you'll convert more of that traffic into leads.
2) Focus on geolocation and local SEO
It's not common for someone in Seattle to hire a lawyer in Texas. That is to say, many people looking for legal help are looking for a law firm in their immediate location. Therefore, when advertising a law firm, it pays to focus on geolocation.
Using Google My Business, you can place your law firm on Google Maps. This, along with other Local SEO best practices will help your web page rank for search terms like 'law firm near me', 'corporate lawyer in [your city]', and any other keywords that are location-based.
3) Leverage content marketing for your law firm
As mentioned earlier, the legal industry is subject to trends and changes like any other. As a law firm, it's obvious that you need to stay on top of these changes, especially if you specialize in one area of law.
Good marketing for law firms means creating content about those changes and communicating that with your target audience. Once you've created content about recent changes to the law, consider the following:
Reaching out to more significant publications, asking them to link to your content about the changes
Doing a traditional PR campaign to get your lawyers' opinions in larger publications or other media
Writing content for other websites that are frequented by your target audience
Appear on podcasts or webinars and discuss topics relevant to your target audiences
Sharing that content on social media and telling your followers what may or may not change for them.
4) Optimize your pages and content for conversions
The success of content marketing and SEO really depends on how well the traffic of your website converts into leads. Therefore in all the content you create, it's important that you build trust between yourself and the reader and convince them that your law firm can help them with your legal needs.
On these pages, go into detail about how your law firm can help the reader and showcase situations where you've helped others in the past. Answer questions that new clients regularly ask you and you'll quickly build trust with your reader.
Always include a CTA (Call To Action) on all pages, and optimize your page for conversions. Persuading a reader to take action is the first step in generating more leads from your site.
5) Benefit from free listings and online reviews pages
If you're a new law firm, it can take some time for your new website to rank high in Google and generate traffic. Therefore a good law firm marketing technique is to list your business on public directories, listings and other review websites.
Websites like Yelp, Consumer Affairs, Trustpilot, Angi and HomeAdvisors are directories that many people worldwide turn to when they need the help of a professional.
Your business must be listed on these sites, whether you're an established law firm or just starting out. Not only do these sites rank high in Google for search terms that are used by your potential clients, but these same users also trust these sites to provide them with solutions to their problems.
Therefore, when a user sees your law firm listed on a review website that they trust, they already trust your law firm a little. Throw in a few positive reviews, and your law firm will generate leads from review sites and directories.
6) Establish your presence on social channels
Social media is a vital channel for establishing an online presence and marketing for law firms. Use Facebook, Instagram, Twitter, or whatever your preferred channel may be to engage with past clients, contact journalists, and support those who have been victorious in their legal cases.
It also pays to spend time sharing your own valuable content in the form of blog posts, new coverage that mentions your law firm, and other case studies.
It pays to put a little personality into your social media presence, especially as legal matters are often personal matters, too. However, it goes without saying that you need to maintain professionalism at all times.
Conclusion
A good website is the centerpiece of your law firm's marketing campaigns.
It's the online home of your legal firm and is essential in making a positive impression with potential leads and also helping spread your firm's name. With other efforts like SEO-optimised content, social media marketing, and traditional digital PR campaigns, your law firm can grow and scale while staying within budget.
But all that traffic to your website can only convert into a lead if they can reach you. Therefore, when a potential client is asking for help, it pays to get back to them as soon as possible.
Using a tool like CallPage, you can contact your lead in as little as 28 seconds. They can be assigned to the most appropriate lawyer or assistant in your firm or simply to the next available person.
Learn more about CallPage and see how it can complement your ongoing marketing for law firms.
Start generating leads today!
Get a 14-day free trial now,
set up the widget on your site, and see how many more leads you can capture with CallPage
No credit card required

10 minutes set up

14 days fully-featured free trial
Try for free
Get a Demo