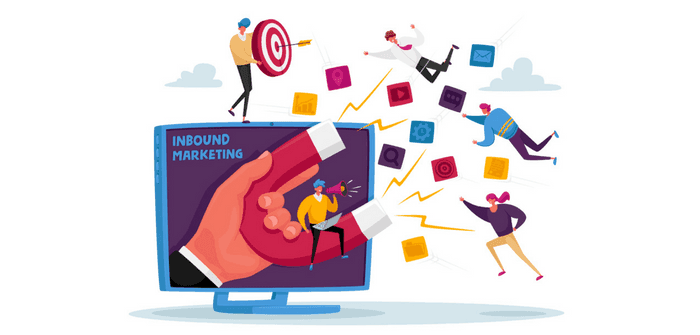 Trends for Inbound Marketing
Year after year, inbound marketing constantly brings great results to companies following its rules. But those who specialize in inbound marketing need to keep up to date with industry trends and news if they want to achieve outstanding results.
When the term "inbound marketing" was coined in 2005, the way we used the Internet was completely different than it is now. It is, therefore, logical that this methodology is evolving and constantly changing.
At first glance, inbound marketing in 2020 may seem totally different from its version from 2005. However, inbound marketing in 2005 had the same goal as inbound marketing in 2020: to attract users naturally and lead them to become loyal customers.
Let's see what the trends in inbound marketing will be like for the rest of 2020 and 2021. It's worthwhile to get to know them now to be able to use them efficiently for years to come.
9 Inbound Marketing Trends
1. Progressive forms
Forms are an essential tool used to qualify contacts you acquire and assess whether you are dealing with a potential customer. At the same time, however, you can't ask a user for too much personal data, because it may discourage them from sharing any information and as a result they will leave your site without providing any details.
A simple and effective solution are progressive forms. They "remember" the user and present only those fields that they did not fill in during the previous visits.
Thanks to that, you can collect information about a lead throughout several interactions and check whether it is a potential customer or recipient of your marketing communication. In all cases, however, you must ask for their name and email address, as this data is used to identify a lead and to check whether or not they have visited your site before.
2. Public relations in inbound marketing
Public relations may seem like a bit outdated form of communication for some marketers, as they may associate it with cooperation with traditional media. Nothing could be further from the truth! This is one of the marketing trends for 2020 and 2021. The trick is to cultivate the company's relationships with the media and encourage journalists to promote a brand naturally, without paying for sponsored content.
A modern public relations strategy can bring many benefits to brands: more visibility and engagement, positioning as thought leaders, and more lead generation reach.
3. Automated predictive sales qualification
Generating leads is just the beginning- all the specialists of inbound marketing know about it! The next step is a proper qualification. This will allow you to determine whether a given contact is ready to be passed on to the sales department, or perhaps it should go through the so-called lead nurturing and receive well-suited marketing communication.
During such a process, it may also turn out that a given lead will never become a customer. In this case there is no point in engaging time and energy to build business relations with them.
Traditionally, leads are qualified by awarding points based on several different variables. This can be done semi-automatically or manually.
On the other hand, predictive sales evaluation automates the whole process. It uses an algorithm that analyses the common features of contacts based on their decisions made during the sales process. It compares what current customers and newly acquired leads have in common. Thanks to this, the algorithm can assess which contact has the greatest chance to convert and become a loyal customer.
4. From conversion funnel to conversion cycle and flywheel
The conversion funnel scheme has been known to marketers for years. Most promotion or sales strategies are based on this methodology. But the time for the great change has come.
HubSpot has recently surprised the inbound marketing community with a new theory. They are proposing to move from the conversion funnel theory to a conversion cycle called "flywheel" (source). This theory describes a constant process which consists of the following stages:
Engagement: creating content and engaging in conversation.
Interaction: building lasting relationships with customers by providing valuable information and solutions tailored to their needs and goals.
Enchantment: providing an extraordinary experience that adds real value and encourages users to become brand ambassadors.
In the conversion funnel the lead loses the momentum over time. In the "flywheel" user gains momentum with every interaction with the brand. The idea is that the customers you have already acquired will help you generate new sales and reach out to new customers. This process never ends; it just goes through the next stages over and over again.
5. Chats and communication
Instant messaging applications such as WhatsApp and Facebook Messenger have changed the way we communicate. Now this revolution reaches inbound marketing.
According to HubSpot data, the attitude of users towards contacting businesses through these applications varies considerably from region to region (source). Globally, 49% of users would agree to communicate with brands via Messenger, but this percentage decreases to 26% in Germany and increases to 73% in Latin America. WhatsApp, on the other hand, gets 46% acceptance of users worldwide, but the figure is only 11% for the US population and just under 83% for Latin Americans.
That's why it's worth offering your customers or potential customers various communication channels so that they can choose a convenient way to contact your company. Chatbots are not everything!
6. Being a trusted source of knowledge and information in Google
According to Google research, users often base their decisions more on Google search results than on advice or opinions from family, friends, and acquaintances (source). That's why you have many opportunities to attract them, thanks to a well-planned strategy based on content marketing and SEO.
However, in 2020 we are in a market saturated with great brand content. To stand out, you need to be able to adapt to user requirements and offer high-quality content.
7. A/B tests in SEO
Continuous testing and checking which solutions work and which don't are the two keys to success in marketing. SEO cannot be an exception.
Carrying out A/B tests in SEO allows you to extract variables that really work in attracting traffic from search engines. Thanks to this information, you can make decisions based on data, not guesswork, apply changes in the existing content, and improve your website's positioning with relatively little effort.
To spot areas for improvement, start by analyzing those pages on your site that attract the most traffic, but get relatively few clicks. You can try to create two pages with the same content but with different titles and meta descriptions, and see which gets more traffic from search engines.
8. Conversion Rate Optimization (CRO)
Conversion Rate Optimization (CRO) is a trend in inbound marketing that is based on changing websites' structure to improve their performance and efficiency or to convince customers or leads to undertake specific actions.
The CRO is closely related to data-driven marketing because it leverages analysis of user interactions on particular pages and draws conclusions based on these interactions.
The CRO helps identify and solve possible problems that visitors may encounter, identifying bottlenecks and website conversion problems. The aim is to improve the conversion rate by implementing simple changes to key elements of the site.
9. Natural Language Processing (NLP)
Natural Language Processing is an area of artificial intelligence that is constantly developing, and thanks to its rapid progress marketers can use it in many ways. Therefore it comes as no surprise that NLP is one of the inbound marketing trends for 2020 and 2021.
The latest generation of NLP systems can, for example, distinguish between messages that convey brand information and those that express a real intention to buy and provide a company with a list of users potentially interested in a company's products or services.
Another use of NLP in inbound marketing is to use this technology to create content. Although computers are not ready to replace people in the writing process yet, we can expect disruptive changes in this area in the upcoming years.
It is worth comparing the trends presented in this article with your company's quarterly or annual goals. This will help you decide which of the presented trends will help you achieve your business goals and improve your company's bottom line.
If you're looking for ways to improve your inbound marketing strategy, schedule a free consultation call with one of our experts or give CallPage a try! CallPage is a simple yet very effective lead generation tool that will allow you to improve your website conversion rate.Try CallPage for free.
Start generating leads today!
Start a 14-day free trial now,
set up the widget on your site, and see how many more leads you can capture with CallPage
No credit card required

10 minutes set up

14 days fully-features free trial
Try for free
Get a Demo