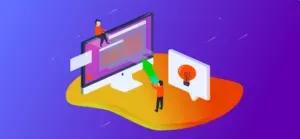 How to Generate Leads with the Unsubscribe Page
Unsubscribe page is probably the most overlooked page on your entire website. There is a chance you don't even know how it looks. Maybe it's whatever your template had in stock, maybe even plain HTML straight from the nineties saying "Unsubscribe: successful". However, this page is very important because it offers the last chance to make a case for your brand. Why not grab it?
Don't make it a pain to unsubscribe
I get it, the first stage of lead loss is denial, but let me remind you that you are legally obliged to let your users unsubscribe whenever they want to. Moreover, you want to strengthen your relationship with a customer, not to frustrate them. Therefore, make sure that your users don't have to:
log in to unsubscribe
search high and low for an unsubscribe button (make it really obvious)
generally, jump through the hoops
No matter the reason, if they want to unsubscribe, let them and part on good terms. Otherwise, they will find it easier just to mark your emails as spam and never see them again. Each "spam report" like that harms your reputation as a sender and hurts your deliverability rates.
On the other hand, don't make the un-subscription a one-click procedure without a confirmation, otherwise, your customers may hit the wrong button and unsubscribe accidentally. Make sure that the "unsubscribe" link leads to a designated page instead of automatically taking your customer off your mailing list.
RELATED TOPIC: You Are Sleeping on the Value of Email Signatures, Here is Why
Make your page awesome
Now, what CAN you do to make your renegade subscriber change their mind? Remind them once again how awesome you are and why they decided to subscribe in the first place. I only hope you didn't sneak that subscription in among tons of other auto-checked boxes? If so, not cool.
It must be branded
A branded landing page works in two main ways: makes sure your lead knows what they are doing and gives you some space to negotiate. For example, to offer a solution on the assumption that your client is here by mistake or just wanted to update their email info (that happens!)
Personalize the page
A little personalization goes a long way. Inserting the name is the simplest thing you can do to make your page resonate more with your client. When instead of "Sorry to see you go" they read "Sorry to see you go, Janette!" and feel as if they have your undivided attention, feel valued – and yes, it does make them feel a bit guilty to quit this way.
You must already have some data about this lead, such as location, age, position, interests, and past activity on the site. These are the things you can leverage as well, creating dynamic templates for engaging smart content.
Make emotional connection
Don't leave plain technical text there, get creative with your copy. If you aren't sure how to go about it, get some writing help from social media writers or lead generation copywriters, who are skilled at finding unique angles on familiar subjects.
Being formal and cold doesn't help your case and may even come off as passive-aggressive; use this chance to humanize your brand and show the best in you – maybe that will push your lead in the right direction – that is away from the unsubscribe button.
Be lighthearted
Even if your subscribers won't change their mind and will eventually unsubscribe, at least they will remember you fondly. Be witty and lighthearted, show your personality, use your sense of humor to connect with the (un)subscribers through a shared laugh.
Evoke cultural references that your subscribers will appreciate – this can even make them share your page with their friends! This hilarious "breakup" message from HubSpot's unsubscribe page is an example of parting done right.
Strategies to win your leads back
Okay, all this will help you to leave a good impression and part as friends, but that's the last resort. We want them to stay, right? That's why we must try to understand why they decided to unsubscribe.
MAY BE INTERESTING: Sales Leaders' Tips: How to Generate More B2B Sales Leads?
Offer snooze option
Reason number one is too many emails in general – nothing personal, they just have an overflowing inbox. Sometimes your client needs a break a for holiday season, they've started job hunting or they are experiencing a crisis on one of their projects.
They can't handle this much mailing right now. Offer them a snooze option – a break from your emails for a week, two weeks, or a month.
Suggest preference update
Put your client in charge and give them the power to fix whatever they weren't happy about without leaving for good. Suggest tweaking their preferences and changing frequency of the newsletter, the type of content they would like to receive, or their email address – chances are they just want your emails in another inbox. The added bonus of this approach is more feedback about your clients' likes and dislikes.
Note that it's best to offer this option after you've confirmed that you have unsubscribed your client. All these options must not be an obstacle on the way out – merely an alternative path.
Image source: HubSpot
MUST-READ:6 Ways to Effectively Follow Up with Your Leads
Offer alternative channels
If your lead doesn't want emails from you it doesn't necessarily mean they don't want to hear from you. Maybe they just hate emails. It's almost 2020 after all. Offer them to keep in touch in a more casual way and suggest following you on social pages, adding your instant message chatbot to their contact list, etc.
Ask for feedback/offer them a poll
At the risk of sounding like a broken record – any poll should be optional, don't make it a requirement in order to unsubscribe. Otherwise, your clients will feel harassed. That said, a poll can be quite a boon because it will give them time to change their mind – don't forget to put a "Change mailing preferences" button on the poll page to give you lead a chance to re-subscribe.
Another plus is you will get valuable information about your subscriber including why they left if they eventually did.
The takeaway
Now, even the most thought-through unsubscribe page is not a silver bullet. People will keep ticking off that box. It's okay, some of them just not the right fit.
The important thing is that you have done everything you could to retain your leads and optimize their experience – you offered them alternatives, made them laugh, reinforced emotional connection, left a good impression – and generally were cool about the whole thing. Good on you!
With CallPage, you can start talking to more potential clients, improve the efficiency of your sales process and make your salespeople more efficient. Get in touch with one of our experts or Start a free trial.
Start generating leads today!
Start a 14-day free trial now,
set up the widget on your site, and see how many more leads you can capture with CallPage
No credit card required

10 minutes set up

14 days fully-features free trial
Try for free
Get a Demo