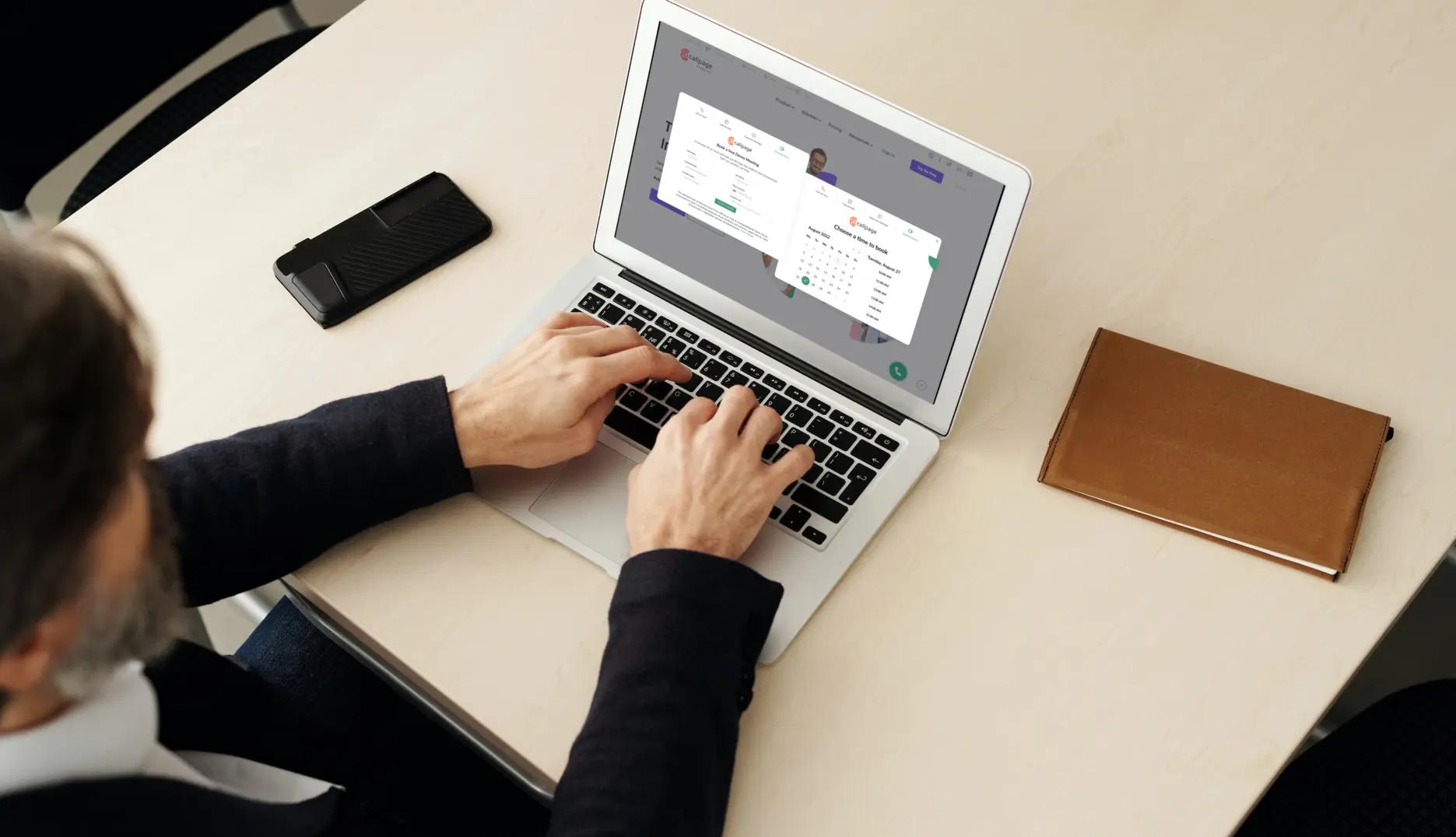 Gain More Quality Leads with CallPage Meetings
You spend hours sending emails and making phone calls, but you still can't seem to find an opening in your potential customer's schedule. What if you could generate leads and schedule meetings at the same time? CallPage Meetings makes it possible.
Without a proper tool, scheduling a meeting can turn into an exhausting game of email ping-pong between sales teams and potential customers, and too often, this process makes the prospect resign from the meetings. What's more, 60% of Americans prefer to book meetings with a business online.
So if your business doesn't use a meeting scheduling tool yet, it is high time to start.
With CallPage Meetings, appointments arrange themselves. CallPage Meetings captures and automatically qualifies leads. Callpage Meetings' advanced routing system enables booking a meeting with the right person in just a few seconds.
Keep reading to discover all the benefits and possibilities of CallPage Meetings for your business.
What is CallPage Meetings?
CallPage Meetings is a meeting scheduling system that is easy to use for both customers and companies. CallPage Meetings is designed for businesses of all sizes to simplify and optimize every step of the appointment booking experience.
We hope you already know how CallPage works and how it helps generate leads. Our new product, Meetings, is another channel for generating leads on your site. It works in a similar way, but with Meetings, instead of ordering a call back, the user schedules a meeting. Meetings is available in a pop-up window and allows visitors to seamlessly arrange a meeting with your team.
Meetings is the fourth way to contact your company, alongside "call me now," "call me later," and "leave a message." From the dashboard level, you can choose which of the four forms of contact you want to display on the pop-up. Also, individual forms of contact can appear on the pages of your choice. For example, "schedule a meeting" can display on the main page while "call me now" displays on the customer support page.
You can choose which information input fields you want to display in the pop-up and indicate a consultant's calendar depending on the information provided by the user. The Meetings system will automatically select the right consultant for the meeting based on the information provided by the user. For example, if you run a medical clinic, based on the information the user enters about their medical needs, the Meetings system will schedule an appointment with the appropriate doctor.
How Does CallPage Meetings Work?
How Meetings works on your website:
CallPage Meetings encourages your website visitors to schedule a meeting with your company.
Website visitors provide their contact information in the pop-up and fill out form fields customized by you in the CallPage panel.




Based on the responses, CallPage shows the calendar of a matching member of your team. The website visitor books an open time slot directly in the pop-up.




The customer receives an email confirmation with full booking information.

Your team member receives booking information in connected calendar (Google Calendar, Outlook, etc.) and on the CallPage dashboard in the LEADS tab.
The tool integrates with your team's calendars and provides automatic follow-up reminders so you can be sure that everyone has all the important details about the meeting.
Benefits of Using CallPage Meetings
The main benefit of using CallPage Meetings is that Meetings automatically schedules appointments and captures leads from your website, all at the same time.
CallPage Meetings automatically qualifies, routes, and books meetings with the right consultant in your company. Based on the response and contact information provided by users in a form, you can ensure that clients are matched with the consultant who is best equipped to handle their needs and questions.
CallPage Meetings allows you to make the pop-up widget look similar to your company's website so it fits in seamlessly and looks professional. You can customize the fields in the form to collect the information you need, and the widget can be easily integrated into your website with no coding required
Sync Online or Offline Events
Meetings lets you book both online and offline appointments. Whether you're hosting an in-person event or offering virtual consultations, you can use the same scheduling tool to book meetings and manage your calendar.
The CallPage Meetings widget always displays the hours available for booking according to the integrated calendar and the consultant's hours of availability. This saves you time and makes it easier to find a time that works for everyone. You can also set up buffer times between meetings to ensure that consultants have time to prepare and follow up with clients.
After specifying their ideal date and time, your users and team members receive an automatic follow-up message with the meeting details. This not only ensures that everyone is on the same page, but it also helps to reduce no-shows and cancellations. You can even customize the follow-up message to include additional information or resources to help clients prepare for their meeting.
How to Start Using Meetings If You're New to CallPage
If you're not familiar with CallPage products, the best way to start is to set up the widget on your site and see how many more leads you can capture with CallPage. Simply start a 7-day free trial now. If you need assistance during the configuration or have more questions, book a demo with our Sales Team.
How to start using Meetings if you're already a CallPage customer
CallPage customers have access to a Meetings tab in their dashboard. All they have to do is set up pop-up meetings.
Learn more about CallPage Meetings and check articles in our Knowledge Base:
You can contact your Account Manager if you have any difficulties setting up the Meetings widget. Check also How to distribute Meetings among team members.
Conclusion
CallPage Meetings simplifies the entire appointment booking process and saves you time and energy. With its easy customization, automated scheduling, real-time availability, and automatic follow-up features, you receive a great lead capture tool and the ability to simplify meeting scheduling for your team.

Start generating leads today!
Start a 14-day free trial now,
set up the widget on your site, and see how many more leads you can capture with CallPage
No credit card required

10 minutes set up

14 days fully-featured free trial
Try for free
Get a Demo