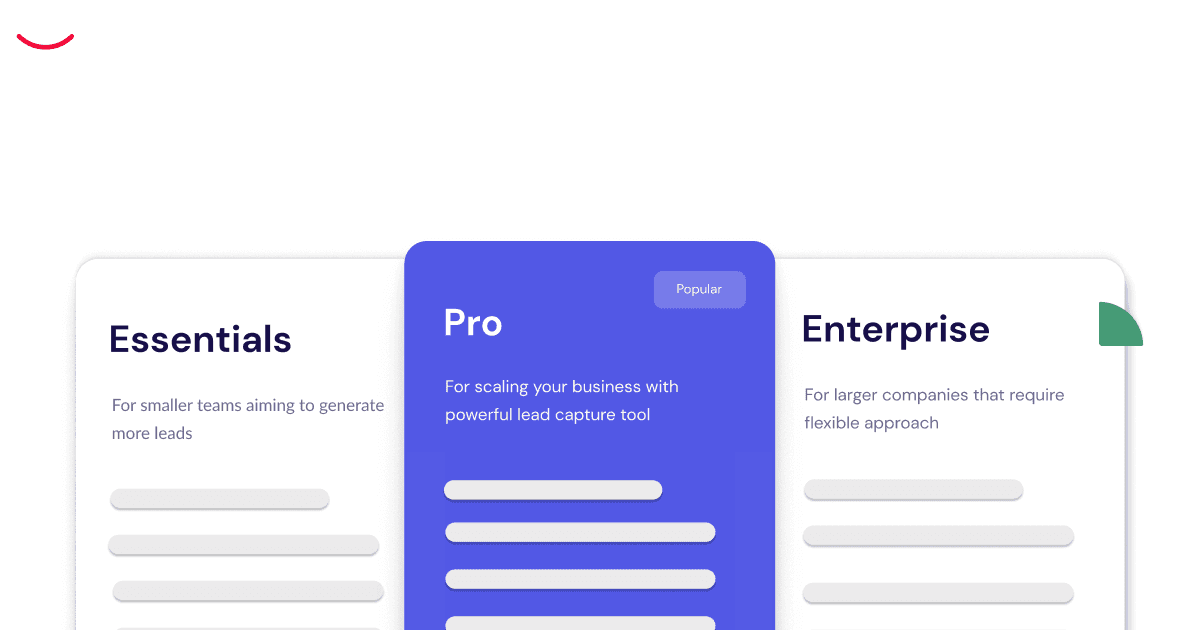 Exciting Announcement: Introducing the New CallPage Pricing!
We are thrilled to announce that starting September 1st, we are rolling out our new and enhanced Pricing Plans. They're designed to provide you with even more value and flexibility for your business needs. Read on for more details.
We are thrilled to announce that starting from September 1st, we are rolling out our new and enhanced Pricing Plans. They're designed to provide you with even more value and flexibility for your business needs. Read on for more details.
CallPage Presents New Pricing
At CallPage, we are constantly working to improve our services to meet the evolving needs of our customers. Our software is currently used in 40 countries, and we are privileged to serve a diverse range of clients.
The previous pricing was released in 2019. As our company and customer base grew, it became increasingly inefficient. Furthermore, in April of this year, we launched a new product, CallPage Meetings, and it became clear that the old pricing was not suited anymore.
Over the past year, we have diligently gathered customer and partner feedback. Your valuable insights have been instrumental in shaping our new pricing model, which is tailored to meet the evolving needs of our global user base.
The new pricing plans better reflect our product's new structure, market changes, and, most importantly, the needs of our customers.
You will find more information about the new pricing, its main differences, and the benefits below.
In the article, you will:
discover the main differences between the old and new pricing plan
check the new pricing plan details and instructions
learn why we are introducing a new pricing plan
find out what new pricing means for existing customers
Top Differences Between the Old and New Pricing
14 days free trial: Now, you can enjoy an extended 14-day free trial to fully experience and understand the benefits of CallPage before committing to a plan.
Two pricing plans: We have simplified our pricing structure to offer just two standard plans — Essentials and Pro, making it easier for you to choose the plan that suits your requirements. As with the previous pricing, Enterprise companies can contact us for a customized plan that reflects their advanced needs.
Platform fee plus usage-based: The new pricing model will be based on a platform fee plus limits and add-ons. This means you will only pay for the users, consultants, and calls you need, optimizing cost-effectiveness.
No freemium: To maintain a high-quality support service, we have decided to discontinue our Basic Plan for new users. However, our new pricing plans are more affordable and accessible, catering to businesses of all sizes.
Overview of Pricing Plans
We will introduce a tiered pricing plan allowing customers to choose the plan that best aligns with their business needs. The three tiers are:
Essentials: This plan includes the main features of CallPage and is suitable for small businesses or startups. The pricing will start at $39 per month.
Pro: This plan is for businesses that require additional features such as call recording and virtual call center features. The pricing for this plan will start at $99 per month.
Enterprise: This plan is for larger businesses or enterprises that require custom solutions and dedicated support. The pricing for this plan will be customized based on the specific needs of the business.
Why a New Pricing Plan?
Get ready to experience a more tailored and cost-effective solution that caters to your unique requirements. Here's why we decided to create a new pricing system and what benefits it brings.
Affordability for small businesses and startups: The new pricing structure enables small businesses and startups to leverage our most powerful features without exhausting their budget.
Customizable solutions for larger businesses and enterprises: Larger businesses and enterprises can now enjoy customized pricing plans to meet their unique communication requirements.
Better feature segmentation: Our Essential plan provides all the necessary features tailored to smaller companies' needs, while the Pro plan grants access to advanced functionalities for more demanding business operations.
Access to all lead capture features for every business size: Even with the Essential plan, you get access to the full suite of CallPage lead capture features such us Callback, Meetings, and Leave a Message.
Higher flexibility: Thanks to add-ons and limits, you can create a plan that perfectly aligns with your company's needs, ensuring you only pay for what you require.
Gain agility with proration: Thanks to universal billing data and proration, you can upgrade plans or limits whenever you need. You will only pay for the remaining time period.
Information for Existing Customers
Our company prioritizes loyal customers and strives to avoid making any changes that could lead to stress or dissatisfaction. As an existing customer, rest assured that your current plan and pricing remain unaffected.
However, if you find a new pricing plan better suited to your business needs, you can seamlessly switch at any time.
Please take note that any alterations to your current subscription after the new pricing release will result in an automatic transition to the updated pricing structure. We recommend reaching out to your dedicated Customer Success Manager before making any adjustments to your current plan.
More information for existing customers is available here.
Where to find more information about the new pricing
New Pricing Plans will be published at www.callpage.io/pricing on September 1st.
If you require assistance, our support, customer success, and sales teams are here to help you!
Get ready to experience enhanced communication capabilities and a more cost-effective solution for your business!
Start generating leads today!
Get a 14-day free trial now,
set up the widget on your site, and see how many more leads you can capture with CallPage
No credit card required

10 minutes set up

14 days fully-features free trial
Try for free
Get a Demo