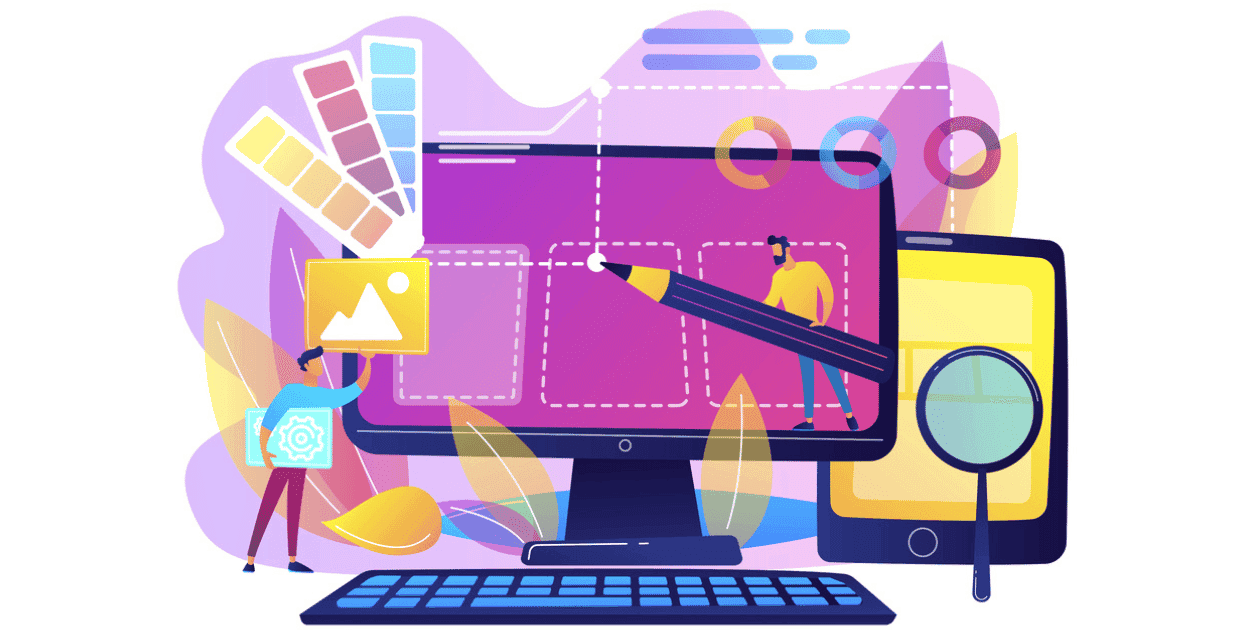 10 Best Landing Page Builders – How to Choose the Right One for You
If, like many other companies, you're short on time, resources, or technical skills, you'll be interested in taking advantage of the tools that let you create marketing-focused pages in the simplest possible way. Enter the page builders – software tools that enable companies and individuals to build custom landing pages for their marketing campaigns without requiring extensive coding or design skills.
Landing Page Builders – How They Work
Let's quickly recap the basics.
A landing page is designed specifically for marketing purposes, for which the ultimate aim is conversion. Its purpose is to encourage visitors to take a specific action, such as subscribing to a newsletter, downloading an ebook, or making a purchase. Unlike a homepage, which provides an overview of the offer, a landing page is highly targeted and removes any distractions that might prevent visitors from taking the desired action.
What's a landing page builder? A landing page builder is a software tool or platform that allows you to create and design landing pages without coding or technical expertise. These tools are designed to be user-friendly and provide a range of customizable templates, elements, and features to help users create effective and visually appealing landing pages.
The majority of the best landing page builders provide drag-and-drop interfaces, predesigned templates, and various features, like, for example, split tests (A/B tests) and instant publishing. A drag-and-drop interface is a particularly helpful and time-saving tool. It's easy to use and lets you see the changes you make while editing the same way as they will be presented on the published page.
The best landing page builders give you access to a library of templates for different marketing campaigns, like events, sales, books, webinars, and so on. You can then add multiple types of content, such as headlines, text, images, and videos.
Once you're done creating your landing page, you can publish it on your website, a custom domain, or the builder's servers. In addition, most landing page builders come with analytics tools that enable you to track visitor activity and other crucial metrics.
Many landing page builders are available as WordPress plugins connected directly to the WordPress site. There are also SaaS tools that offer complete creative freedom for designing landing pages with no limitations.
Unbounce
Unbounce was the first landing page-building software on the market. With over 150,000 customers, it is one of the most popular solutions of this type, offering more than 125 templates, custom domains, and an abundance of features, such as automated SSL encryption, client and multi-user management, AI-powered templates, copy-generating tools, and targeted pop-ups.
Interestingly, you can use either the classic builder option to flexibly customize your page or choose the smart builder option, which provides suggestions regarding the layout based on prompts and data about the goal of your campaign.
Pricing
Although you get a 14-day free trial, the regular prices are not low, ranging from 79 to 192 USD per month.
Leadpages
Leadpages offers seamless integration with various digital marketing tools, such as Facebook ads, Google ads, and e-commerce platforms. It allows users to test multiple versions of campaigns side-by-side to determine the most effective approach.
Leadpages allows you to communicate with visitors in real-time through integrated chatbots and add images, a video player, a timer, or a Calendly planner. One of the most outstanding features is the in-built conversion guidelines. It lets you receive insights into your page's performance before publication, allowing you to make necessary adjustments and avoid making guesses.
Pricing
This is a more affordable option, with a standard cost of 37 USD and a pro version available for 74 USD per month.
Wix
Wix is particularly popular among small businesses due to its ease of use. It gives you pre-made widgets, a vast variety of templates (900+), and in-built SEO optimization tools (customizable meta tags, URL slugs, canonical tags, and structured data).
Perfect for e-commerce platforms, it provides integration with over 50 different payment solutions and gives access to features such as events and "coming soon" pages.
Pricing
Wix offers pricing plans ranging from 16 to 59 USD per month (with annual billing) and a tailored plan for enterprises.
Landingi
A relatively new solution, Landingi advertises itself as the one that lets you create a landing page from start to finish within minutes. With a simple drag-and-drop interface and over 300 templates ready to use, it might provide this building speed.
Moreover, it has some admirable features, such as lead capture, custom coding, and landing page import from other platforms or from the designer tool.
Pricing
A starting price of 49 USD. There are three different plans available.
Hubspot
Who hasn't heard about HubSpot – the most famous all-in-one suite for marketing, sales, and operations? HubSpot provides everything you need to build a successful marketing campaign, from CRM to email marketing to blog creation tools.
Using the editor, you can personalize predesigned templates and embed and fine-tune multimedia content. HubSpot's A/B testing can display up to five landing page versions concurrently. The analytics dashboard provides data on the number of visits, contacts, and customers each page generates, along with insights on visitors' origin, including social media platforms like Facebook and Twitter and other traffic sources.
Pricing
There are plenty of free resources. A starter CRM suite for individuals and small businesses costs 30 USD monthly, while enterprises pay up to 3600 USD per month for comprehensive marketing software.
ClickFunnels
ClickFunnels is a solution used mostly in sales. It helps create landing pages with pre-made funnels and sales-focused features.
The primary aim of this tool is lead generation and nurturing with automated email marketing functionality, among others. ClickFunnels provides a dedicated sales dashboard and integrations with services such as Salesforce and Mailchimp. On top of that, it's an extremely easy-to-use platform with lots of training material at hand.
Pricing
The prices vary from 127 to 208 USD per month.
Instapage
No, Instapage isn't used for Instagram. It's another easy-to-use landing page builder that lets you create mobile-friendly landing pages within just a few minutes.
Focused on providing the best possible user experience, Instapage gives you a wide choice of templates, a visual collaboration feature, customizable landing page forms, and fonts, as well as access to A/B testing and heatmaps. Instablocks is another useful feature, allowing you to reuse and import landing page elements into other pages.
Pricing
The basic plan's cost is 199 USD per month. More advanced options' details are available on request from the vendor.
GetResponse
The strength of GetResponse lies in its analytics options. It integrates with multiple analytical and marketing platforms like KissMetrics, Google Analytics, and Adwords.
Notably, a landing page builder is only one of the offerings – the platform also supports sales funnel creation, email automation, and web push notifications. Nevertheless, it is a straightforward drag-and-drop solution, with over 1000 photos and templates available to use.
Pricing
You can create a free account with access to one-page builder. More complex plans' prices start at 19 USD per month.
Wishpond
With its user-friendly interface and live chat customer support, Wishpond is a solution even for those new to page-building. It's far from a primitive tool, though.
On the contrary, it provides powerful lead generation and marketing automation features, integrations with marketing platforms, email verification tools, sales, e-commerce, and project management applications. Wishpond also has developed social media functionality, making it a well-regarded marketing tool.
Pricing
For pricing, contact the vendor's consultant.
Mailchimp
Mailchimp's landing page creator lets you design attractive pages with just a few clicks. It is also a good platform for experimenting with products, messaging, and ideas before launching, and it accepts online payments.
In addition, you can showcase offers with product imagery from your connected e-commerce website. Although phone support is only available on the top plan, Mailchimp offers multiple pricing options and excellent analytics and reporting.
Pricing
A free plan is available, but more advanced features are provided with monthly packages starting from 13 USD.
Which Landing Page Builder Is the Best?
The answer to how to choose the best landing page builder is, as usual - it depends. Look at the learning curve, the integration with tools you already have, the level of customization, and, last but not least, the pricing. Many options are available nowadays for users with different needs and levels of technical knowledge.
An Alternative Way to Capture Leads Effectively
CallPage is an alternative way to capture leads on your website effectively. Unlike traditional landing page builders, CallPage focuses on a specific lead generation technique: callback requests. It allows you to place a widget on your website that prompts visitors to enter their phone numbers to request an immediate callback from your sales or support team.
But that's not the only form of contact it offers website visitors. In addition to the callback request option, CallPage has a built-in meeting scheduler. And if your consultants are offline, the user can also schedule a callback for a later time or leave a message.
CallPage is a better alternative to landing pages when a business prioritizes real-time customer engagement and immediate interaction. It's particularly effective for businesses that offer complex or high-value products/services, as it allows potential customers to connect directly with a sales or support representative, providing a more personalized and persuasive experience.
Additionally, CallPage can be advantageous for businesses with limited resources or technical expertise, as it simplifies the lead capture process and requires minimal setup and maintenance compared to creating and optimizing landing pages.
Sounds interesting? We've got a free trial for you. Why not try it out?
Start generating leads today!
Start a 14-day free trial now,
set up the widget on your site, and see how many more leads you can capture with CallPage
No credit card required

10 minutes set up

14 days fully-featured free trial
Try for free
Get a Demo