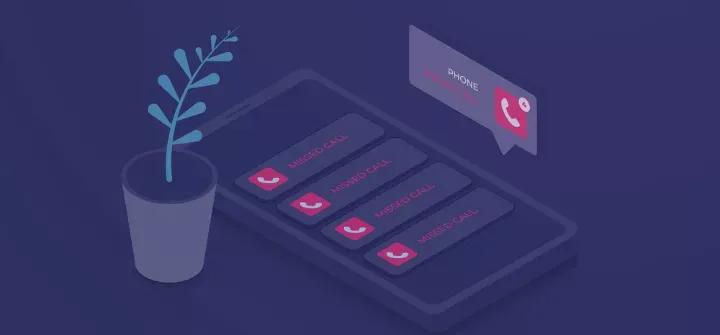 Virtual Phone Number for Your Business
In this article, we share information about virtual phone numbers and virtual PBX. We also show you how to set up a virtual number and what you should do before using a virtual PBX.
Not only are cold calls unpleasant and difficult, but they are also becoming less efficient. In fact, only 2% of them result in a meeting.
While browsing through other articles you might find tons of ideas on how to generate leads using marketing tools such as content, ebooks, or PPC ads. They are wonderful resources for generating leads. However, what if your company doesn't have a big marketing budget or a big marketing team? Are there strategies a sales team can try to get more potential customers without resorting to cold calls?
In this article, we will discuss 5 tactics to generate sales leads without cold calling.
Generating sales leads in B2B
The B2B market is tough and competitive. The decision-making process is long. In addition, there are many stakeholders to manage. Before doing anything, you have to consider what your customers want and where / how they are looking for information. Not everything will work in every market/industry. While some tactics might be great for one company, they might not be great for another. Whatever you try, don't forget to build proper communication first.
Here you can find some useful tips on how to build your sales pitch.
What is a virtual phone number?
A virtual phone number is a number that is not assigned to any specific device and is used to redirect calls to a different phone number. Virtual phone numbers are most often used when there is a higher volume of incoming calls to better distribute the calls among different departments or individuals in a company. They are also used for international numbers to reduce the cost of calls.
What is a Virtual PBX?
A virtual PBX enables the distribution of all incoming calls. Once connected, the user selects the department or person he/she wants to talk to. The virtual PBX automatically connects the caller with the right number. The virtual center also queues calls and decides which IVR recording the caller should hear at a given moment.
What are IVR messages?
Interactive voice responses (IVR) are pre-recorded voice messages. When a call is set, the caller hears a selected voice message. Most often, it is a request to choose the designated department or the topic of the call, to stay on the line, or to share information about call recording or the probable wait time for the call.
What are the main benefits of using a virtual phone number for small and medium-sized companies?
We all are familiar with virtual PBX systems as we use them when we are calling telecommunication service providers, insurers, or other big companies. Big data in telecom is the fuel that can (and will) drive the entire industry toward higher revenues and better customer service. However, PBX systems are not only for large companies. Smaller companies can also use such solutions. Below are a few situations in which you can consider investing in a virtual phone number for your business:
If you would like to have only one phone number on your website. Thanks to a virtual PBX you can easily distribute all incoming calls to the appropriate departments or individuals without the need for the receptionist to manually connect calls.
If your company receives many calls and you do not want your clients to hang up after hearing the busy signal. You can connect all your consultants to the virtual PBX to ensure that the caller is connected to the next free person faster. Moreover, voice messages make callers stay on the line for longer.
If you would like to better control incoming calls and the performance of your consultants or sales team, calls going through the virtual number can be automatically recorded. And you can have access to call records to monitor performance. This is especially important in the case of customer claims. Thanks to these recordings, you will be able to follow up on phone conversations with clients.
If you are planning to enter the international market and need a local number. Oftentimes customers are reluctant to call foreign phone numbers as they fear high call costs. With virtual numbers, your number will be local to the caller, but the call will be directed to your team at headquarters. And no one will pay more for the connection.
If you run marketing campaigns and want to track results better. You can use a virtual number to track clicks on ads or the conversion rate of your landing pages by checking which ad campaigns brought you the most phone calls and how your sales department handles them.
How much does a virtual phone number cost?
Since large companies use virtual call centers, it often seems that these solutions are expensive. However, the prices for a virtual number from a provider like CallPage start at as little as a couple Euros per month.
How do I set up a virtual number?
Virtual numbers and virtual PBX are provided by telecommunication service providers. In the case of most European countries, you have to confirm your company's existence, for example, by presenting an extract from the National Court Register.
If you are a CallPage user, setting up a virtual number and a virtual PBX is even easier. Just enter the CallPage app, choose the number you are interested in, and confirm the data of the company.
See how to order a virtual number on CallPage by following this link.
What should I prepare before using a virtual PBX?
Of course, you will need IVR voice recordings like a welcome message, which will enable you to distribute incoming calls to particular departments.
It is also worth preparing other voice recordings, such as to inform about your office working hours or to request the caller to stay on the line. If the call is recorded, in accordance with GDPR, you must also inform your caller about this fact. Preferably with an automated recording. Some recordings (e.g., about call registration) can be predelivered by your virtual PBX provider. Some voice messages may be highly personalized; therefore, you have to take care of this preparation yourself.
Once you have the recordings, the only thing left is to configure the virtual PBX by adding consultants with their work schedules, grouping them into departments, and assigning them to the appropriate numbers. Be sure to add an extra number that should be used when the caller does not choose the recipient using the numerical system.
Now, all you need to do is add the virtual number to your communication channels and receive the first calls.
Virtual PBX from CallPage
CallPage is a trusted provider of virtual numbers and virtual PBX. By using CallPage, combined with the contact widget, all statistics about your company's phone contacts will be available in one panel. You will also receive access to recordings and analytics – both through the CallPage widget and virtual numbers.
If you want to learn more about the CallPage plugin and virtual switchboard, schedule a demo presentation with us. If you are already a CallPage user, please contact our Customer Support Department.
Start generating leads today!
Start a 14-day free trial now,
set up the widget on your site, and see how many more leads you can capture with CallPage
No credit card required

10 minutes set up

14 days fully-features free trial
Try for free
Get a Demo