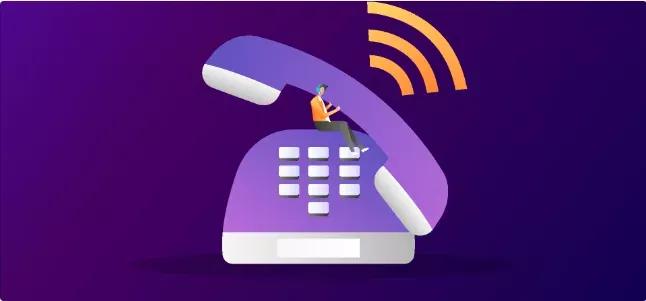 5 Aspects to be Taken into Account While Providing Customer Service Over the Phone
Voice, silence, or language are keys to paraverbal communication. While talking with anyone over the phone, paraverbal communication (intonation, emphasis, voice changes, in short, variations in the use of the voice) conveys a special message. Since we can't see the other person's face, paraverbal communication transmits the emotional dimension of the conversation.
We want to highlight the importance of elements such as personal attitude, voice, use of pauses, smile, or language you use. These elements have a huge influence on achieving our objectives when you use the phone to contact a new visitor, close a sale, or assist your customers.
1. Personal attitude
The attitude or personal predisposition with which we make a phone call is sensed by our caller from our voice and the language we use. It is important to consider that attitudes are contagious. Therefore, the attitude we have will directly affect the effectiveness of the telephone conversation we are having, influencing the other person positively.
Therefore, we must have a positive attitude and know how to maintain it despite the different situations that we may encounter throughout the workday, learning to control our feelings and never let the emotional state affect our phone call atmosphere.
2. Voice
During a phone conversation, communication is based on the voice and its attributes, with all the nuances that we are able to give it. Through the voice we give shape to our messages, transmit sensations, feelings, and attitudes.
With our voice, we can suggest, reassure, persuade, or create confidence. On the other hand, we can also create distrust, dissuade, and even make the other person feel attacked. The most significant attributes of the voice or paraverbal aspects of communication during a telephone conversation are:
intonation,
articulation, and
rhythm.
We give shape to our messages and transmit sensations, feelings and attitudes through our voice.
3. Silence
Pauses during a conversation emphasize the important words and encourage the other person to speak. That's why you should make pauses every few sentences to let the information sink in and give your interlocutor the possibility to engage or ask questions.
What should be done when we leave a person on hold on the phone?
Use the disconnect button. It is important to set the "mute" key to avoid that our interlocutor could be listening to background conversations or comments that we could make to our colleagues.
Inform them of what you are going to do. Do not leave the caller "on the phone", and if you have to make any queries or procedures that take longer, and inform them in every 20-30 seconds of the procedures that you are carrying out.
4. Smile
The smile is heard on the phone and helps build a good connection. It reflects a positive attitude and encourages a similar attitude from the client.
The smile communicates:
A friendly and cordial tone.
Willingness to help.
A nice atmosphere between the partners.
An attitude of open-mindedness and respect.
When to use it:
During a presentation – creates a good atmosphere.
Throughout a conversation – facilitates communication.
During a farewell – leave a good impression.
5. The language
It is the set of words we use to express the ideas we want to communicate. The language you use during a phone call must be clear and intelligible. Use words and expressions that create positive images in our interlocutor. Steer away from using jargon or technical terms that may not be clear to your client.
What words to use? Positive words and expressions in present tense.
What not to use? Negative words and expressions in the conditional and future tense.
Good luck with talking with your clients over the phone!
If you are looking for proven ways to attract more customers over the phone, book a free consultation with our expert, and try CallPage now! CallPage is a simple yet extremely effective widget for your website, which will allow you to instantly call your website visitors and turn them into happy customers.
Start generating leads today!
Start a 14-day free trial now,
set up the widget on your site, and see how many more leads you can capture with CallPage
No credit card required

10 minutes set up

14 days fully-features free trial
Try for free
Get a Demo