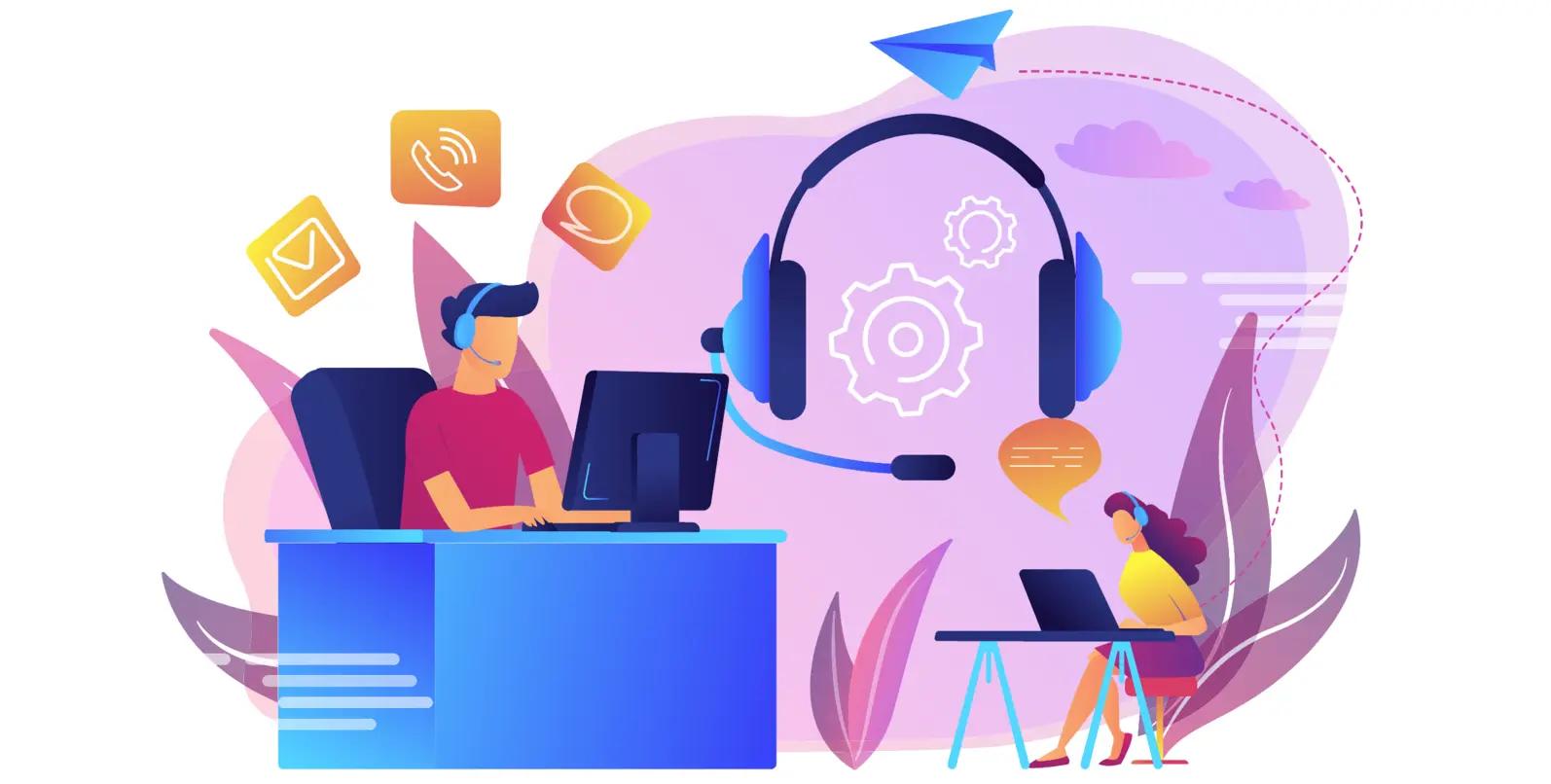 How to Combine Effective Communication and Advanced Technologies in Inbound Call Handling
Check our advice on using effective methods for handling inbound calls and choosing the right tools to invest in!
Did you think that using phone calls is an outdated business technique? Think again. Since instant messaging, chatbots, and social media dominate communication, one might be tempted to believe that traditional phone calls have lost their relevance. However, this couldn't be further from the truth. In fact, the telephone is by far the most popular method of contact with customer care teams, used by over half of customers of all ages. Even though there are many ways to get in touch with others, there is nothing quite like having an actual conversation with a human being.
Calls that come in from consumers asking for help or information are known as "inbound calls," and they play a significant role in both customer satisfaction and a company's success. Effective inbound call handling may make the difference between a happy customer and a missed opportunity, whether the call is about answering questions, offering assistance, or making a sale.
So, let's dispel the misconception about phone calls and explore why mastering the art of inbound call handling is essential for any business's success.
What Are Inbound Calls?
Customer-initiated calls, or inbound calls, are those that come into a business's call center or contact center. They have many functions, including customer service and technical assistance, sales, complaints, contract renewals, billing, and more.
Customer service representatives and other support staff answer these calls and help the people who have placed them. Unlike outbound calls, in which a company's representatives make contact with potential consumers, inbound calls are received by the business.
Inbound Call Handling Strategies
Keep in mind that the key to successfully managing inbound calls is to focus on the callers' needs first and foremost. Retain and acquire customers easily by putting into practice these tried-and-true methods of building an effective inbound calling strategy:
Smooth and customer-centric inbound calling strategy
Imagine your sales team as a group of cool, calm, and collected agents, providing a warm and personalized touch to every incoming call. They should excel in handling inbound calls, impressing customers with excellent service and composed demeanor, and be genuinely interested in solving their needs.
Metrics & quality: the secret sauce of inbound call management
Keep a watchful eye on performance metrics, like a detective on a case. Regular monitoring and quality assurance will ensure your inbound calling strategy leads to better customer service. And what's more important than clients' satisfaction?
Training: sharpening the skills
Equip your team with the knowledge and finesse of seasoned professionals. Regular training sessions will be like skill-building workshops, refining employees' abilities to handle inbound calls gracefully and deliver excellent service effortlessly.
Smart automation enhancing inbound calling
Introduce smart automation that adds ease to managing a high volume of sales calls. Automated systems will be like helpful assistants that guide incoming calls to the right department, making interactions smoother.
Diverse communication channels for inbound call management
Offer customers an array of communication options. From email to live chat, social media, and support tickets, they'll be free to connect with the customer service team in ways that suit them best, receiving support across all channels.
How to Handle Inbound Sales Calls
Imagine this situation:
A potential customer dials the number of an online electronics retailer, hoping to get some advice on which laptop would be best for them. When the salesperson picks up the phone, they sound bored and uninterested in serving the caller.
The client states that they have a budget of roughly $1000 and that they need a laptop that can handle both work and play. But the salesperson seems unconcerned with the customer's needs, suggesting that the buyer looks at the website independently.
The agent is rude and useless when the customer requests individualized suggestions, claiming that most laptops have identical characteristics and dismissing the importance of the customer's decision. The buyer walks away from the conversation, disappointed and doubtful that they made the right decision to shop there.
Your business just lost a customer.
What could have been done instead?
Engaging with enthusiasm: A good salesperson will immediately make potential customers feel important by greeting them with energy and showing interest in their issue.
Using call scripts: Call scripts help salespeople stay on track and make sure they don't forget anything important; they need to be careful not to come off as robotic. Instead, they may tailor the conversation to each customer's individual requirements and concerns.
Asking questions: The sales professional should inquire about the customer's budget, how they plan to use the laptop, and any other preferences they may have. The first rule of inbound call handling is not to make assumptions but provide informed advice instead.
Providing expert advice: Inbound call center agents who are well-versed in their products are in the best position to advise customers on the best products to buy, outlining the specific benefits of each model based on their needs.
Listening actively: Careful attention to the customer's concerns and understanding the gravity of their decision are hallmarks of excellent customer service.
Being patient: The salesperson must always maintain a professional attitude and avoid showing signs of frustration or disinterest.
Closing positively: Closing on a positive note, the agent should thank the customer for their inquiry and encourage them to contact the company again if they have any questions or concerns.
When it comes to inbound call handling, First-Call Resolution (FCR) should be your goal. That means that you have to get yourself stocked up on product info and materials to be able to respond quickly to questions and, if necessary, provide viable alternatives.
READ ALSO: How to Talk to Customers? Client Communication Best Practices
Business call center tools and technologies
Since 67% of callers tend to disconnect when unable to reach a customer service staff, having the correct tools in place is vital to enhance customer retention and reduce potential losses. Below you will find some necessary resources to help you tackle this problem head-on.
Call routing
Incoming calls are automatically queued and sent to available agents based on a set of rules known as "call routing," which is an integral part of an inbound call strategy. A routing system is highly beneficial for inbound call centers and other businesses with high daily call volumes. The primary goal is to optimize the customer service experience by routing calls to the best available department or agent, whether done automatically by an IVR or manually by call center staff.
Call queuing
Call queuing is a method of managing a high volume of incoming customer service calls to minimize hold times and maximize problem resolution. Customers can avoid long wait times and unnecessary transfers by joining the call queue while all agents are busy. In addition, call queues improve the service by directing callers to the most qualified employee to handle their needs.
Automatic call distributor (ACD)
An ACD's principal function is to standardize and simplify inbound call-handling procedures. When a client contacts a business via its assigned phone number, the automated call distributor (ACD) takes over. Calls are expertly triaged by smart algorithms based on specified rules and distributed to available agents or designated groups inside the company to eliminate s the potential for frustrating wait times.
Interactive Voice Response (IVR) system
With IVR, users can access pre-recorded messages and menu options without interacting with a human operator. In addition, IVR can gather pertinent client data, such as account numbers, before connecting the caller to a live agent, resulting in a more tailored and efficient customer support interaction. IVR plays a critical role in improving inbound call centers' operations and maximizing customer interactions, whether it is replying with pre-recorded messages or dynamically generated voice.
Customer Relationship Management (CRM) system
With this kind of software, you can keep track of customer information and have instantaneous access to relevant, individualized data to speed up solving any issues that may arise. By combining customer relationship management and call center technology, businesses may improve customer service efficiency, productivity, and satisfaction.
Call recording and analytics
An organization's ability to record and analyze incoming calls is crucial for outstanding customer service over the phone. To better train and prepare sales agents, call recordings are used to capture and evaluate discussions with prospects. In the meantime, call analytics allow monitoring, recording, and reporting on consumer phone interactions to enhance the quality of service provided to callers.
Inbound call handling software - examples
Selecting the most suitable software depends on factors such as business size, goals, commitments, budget, and support. Several inbound call-handling software options are available:
LiveAgent: Ideal for B2B sales teams, this software easily facilitates outbound calls and emails while offering valuable customer insights from a hybrid ticket stream.
HubSpot: A powerful yet user-friendly call center software enabling direct customer calls, call logging, and analytics, with recorded calls integrated into the HubSpot CRM database for comprehensive customer information.
CloudTalk: Providing smart call routing, IVR, unlimited call recordings, video calls, and robust data analysis and reporting functionalities, this software covers both inbound and outbound call needs, along with numerous help desk features and third-party app integrations.
Five9: A cloud-based contact center software offering automatic call distribution, IVR, and predictive dialer features, along with integrations to popular CRM tools for streamlined call handling and customer engagement.
CallPage: This software provides a solution for inbound calls with features such as call tracking, lead capturing, and instant callback capabilities, enhancing customer engagement and lead generation efforts.
READ ALSO: How to Choose the Best Virtual PBX System?
CallPage - the Best Tool for Inbound Call Handling
CallPage is a tool that helps businesses turn internet visitors into inbound phone calls. A potential client can get in touch with a salesperson without spending a dime by clicking a button on the company's website or using a pop-up widget. Customers who want to take advantage of this offer should only enter their phone number and click the "Yes, call me right now!" button. After the request is submitted, CallPage immediately goes to work and, within 28 seconds, connects the consumer to a company representative who can help them.
CallPage's ability to be customized is a major selling point. You can personalize the click-to-call button and window by replacing the default text and colors with your brand's ones. This degree of customization is a great way to keep your visitors engaged with your business.
With CallPage, visitors may make appointments to talk or ask for callbacks whenever they choose. As a result, businesses can maximize their chances of making sales and converting leads at any time.
Another major part of keeping clients interested after every call is made is through automated follow-ups. You can stay connected and remember your consumers with CallPage's automatic SMS follow-ups.
Moreover, the CallPage control panel provides access to call data and analytics, allowing managers to keep tabs on sales teams' activity, record the outcomes of conversations, and compile crucial contact information. This data-driven method improves call center operations by allowing for more educated decision-making.
Overall, CallPage's robust capabilities, such as the ability to retry missed calls, schedule holidays and breaks, queue calls, record conversations, block numbers or countries, and provide call statistics, make it a one-stop shop for managing incoming calls, generating leads, and improving the customer experience.
Conclusion
The effective management of incoming calls is crucial to the success of any organization because, as it turns out, phone calls are still essential even in this day of high tech. Improve your sales results by interacting enthusiastically with consumers, following call scripts, and offering sound advice. Use call center technology like IVR, CRM, and analytics to your advantage and invest in an optimization tool like CallPage to generate more leads and provide a better experience for your customers. Success is the result of mixing good communication with modern technology.
Start generating leads today!
Get a 14-day free trial now,
set up the widget on your site, and see how many more leads you can capture with CallPage
No credit card required

10 minutes set up

14 days fully-features free trial
Try for free
Get a Demo