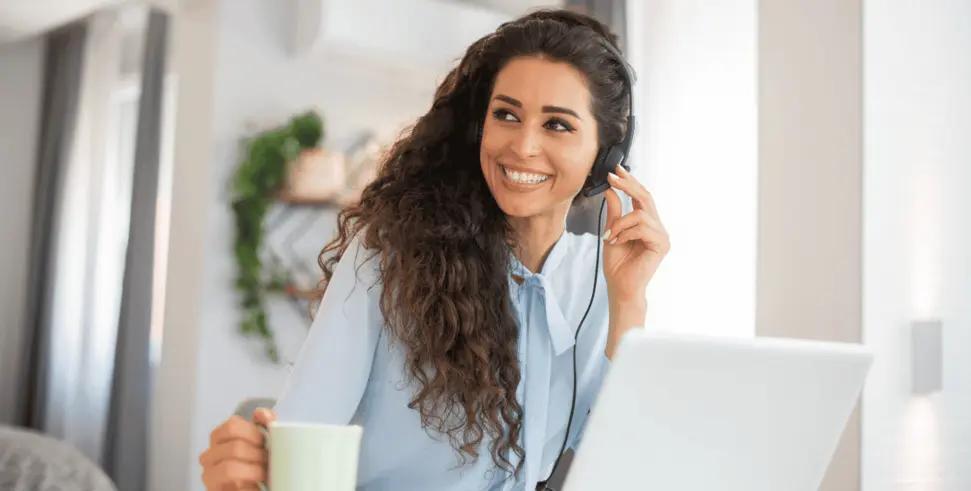 9 Ways On How To Prepare for a Demo Call That Wins
A great product demonstration is one of the most powerful and valuable weapons a salesperson can use to win over a customer. When conducted properly, a demo call shows the prospect how things will look if they buy and what they lose if they don't choose you. So keep reading and discover how to prepare for demo calls that win.
Nine Proven Tips on How to Give Demo to Client

So you've worked hard, and you've arrived at this promised land of a scheduled product demo. Your prospect agreed to invest their time to listen to you. You know the date and time of your demo call.
Never take this for granted. Ever.
Prepare yourself and use every single second you are given to get the most out of your demo call. Simply put – close that deal! You are almost there; don't waste that chance. Here's what to do to prepare for a successful demo call.
Before we get into the details, let's talk about the meaning of "demo call".
Demo call meaning and the definition of this term are nicely presented in one of HubSpot's articles:
A sales demonstration, or a sales demo, is when a sales rep delivers a presentation to a prospective customer to show them the features, capabilities, and value of the product or service. The purpose of a sales demo is to close a deal.
This short description not only gives the demo call meaning but also provides some tips and hints on how to give a demo to a client, how to start a demo, and what to focus on during a client demo.
Now, after the official and much-needed intro, let's dive into some details of sales demo calls.
Demo Preparation – A Step-By-Step Guide
1. Know the Product You're Presenting on a Demo Call
Wondering how to start a demo call? Know your product first!
Of course, demo calls are not about your product, they're all about your audience. However, you still need to have a decent knowledge of your product to conduct a demo call properly. You must know and understand what you're presenting, even if you will not get into details.
For example, if there is a new version of your product or service that you're not familiar with, learn about it before starting the demo call. Sounds pretty obvious, but it seems many sales reps underestimate the value of knowing those newest details of their product. The last thing you want is to be asked about something you don't know but should be familiar with.
And it's not only about basic features but also about the technical aspects of what you have on offer. Don't be too focused on technical specs, but be aware of them to ensure a successful demo call.
2. Do the Research Before Your Sales Demo Call
80% of success lies in the preparation for a demo call.
Another cliche, we get it… but as with product knowledge, do your research as a part of demo preparation! Every potential customer is unique, so every client demo should be matched to that customer. As part of the preparation for a good demo call, check who you are going to deal with. No excuses because all the data you need is at your fingertips. Of course, what you specifically look for depends on the product you offer.
At the same time, a great deal of information is universal, meaning regardless of what you are trying to sell, you need to find some basic data and act upon that knowledge. This is the easiest and most straightforward way to level up in the demo calls game.
How do I look for the information?
Learn as much as you can about your potential client – both the company and the person (or a group of people) you are going to talk to before a demo call. Remember that now, B2B prospects are becoming more like B2C clients. They demand the same buying experience and, therefore, should be given one. They expect you to put some effort into your client demo!
Go beyond simply googling the company's name and skimming its website. As a part of demo preparation, get to know their product or service, sales levels, number of employees, and the size of the company. What else should you check to prepare for a good demo call?
Check the company's LinkedIn profile
According to sales expert Jill Konrath, top performers spend an average of 6 hours researching prospects and connecting with peers on LinkedIn. So, do some digging and check the latest posts to get some context and be up to date. Maybe they have just launched a new product or organized a conference? Have they published any info about the company's culture? You will use that knowledge during a call demo you scheduled.
Look through their Twitter profile
A Twitter account can also provide you with some useful information before the demo call, especially if your prospect contacts their clients directly. Spend a few minutes going through recent tweets. Try to understand how the company interacts with their audience and if possible, adjust your language and the way of communication to their narratives.
Go through their recently published content
Go through recently published materials from your potential buyer. Look for anything that can help you craft your offer and understand the company's current situation, like leadership changes, big deals announcements, product releases, etc.
Check their competitors
Check how your prospect's competitors are doing and if they announced some important projects or experienced major failures. All this influences the way your potential buyer plans their business activities and may also have an impact on your future deal.
Find some financial statements
The bigger your client is, the more you can learn about them. In the case of enterprise deals, do not hesitate to check the company's economic situation. If your buyer comes from a public company, check their financial statements. Before hopping on a client demo, look for data like this from Airbus or have a look at SEC fillings.
Use databases like the British Companies House to gather this kind of information.
Check industry reports, data from studies
Read about the current industry situation, get some context, and try to understand the problems your potential client may be facing. Annual industry reports, data from various studies, and articles about a particular market branch are really helpful and can give you a useful overview of the industry in which your prospects operate.
Use Glassdoor
Check reviews regarding your potential customers on Glassdoor. What do their employees have to say about the company? Is the feedback positive or negative?
Try to understand the culture inside the organization, and look for information that matters to you as a salesperson. Is the company looking for new hires in the department that will benefit from your product? Stress that and do your best during demo calls – use the chance you are given, as your prospect is investing in the area of business that relates to your offer.
Make use of DiscoverOrg, Datanyze, or similar tools
By researching tools and technological solutions that your prospect uses, you can get an overview of what works for them and what business problems they try to solve. Also, tools like DiscoverOrg will give you some insights into data about your potential buyer.
All this information will help you during the client demo, but it will also answer one of the most popular questions: "How to start a demo?".
How? Relate to any useful or interesting information you have found during your research.
Stalk your prospect (for a good cause, of course)
To prepare for a demo call that wins, apart from researching the company, gather some specific, useful information about the person or the group who will participate in your demo. Be sure you know who you are going to talk to.
Look at their LinkedIn profile
If you are running short of time, invest your precious minutes into going through your prospect's LinkedIn account before a client demo. Check their current experience and previous jobs to be aware of their expertise and, most importantly – their position within the company.
Pay attention to the things they publish or share, what matters to them, and what topics they are interested in. It can be beneficial while adjusting the content of your presentation and may be used as an introduction point to your demo call.
Check the prospects Twitter account
Check if your prospect uses Twitter and if they do, take a look at their recent tweets and the trends they are following right now. Pay attention to things not connected with their professional life. What kind of issues matter to them? Can you somehow relate to them in your conversation with the potential client?
Look up their activity on Quora
By reviewing the prospect's activity on Quora, you may get a competitive advantage – you will know what questions they are trying to answer and what are their potential pain points. You already know what to do with this knowledge during your demo call, right? It will also help you clear up any doubts about how to start a demo.
Google the prospect
After checking the social media activity of your prospect, simply Google their name. You'll more than likely have a few different sources to go through. An article in a business magazine, a blog post about recent trends within the industry? Or maybe something less official, like information about their hobby or involvement in a non-profit organization?
Check your CRM
Check if someone from your team or another division within your company has ever got in touch with your potential buyer. If so, what happened? How did the exchange of information look? Be aware of previous touchpoints between your prospect and your company before a demo call with them.
Take notes and have them with you during the call. You can have the content edited on PDF editors and saved as a PDF format or, for example, stored in Notes.
3. Craft your offer before giving any demo calls
When you already know who you are dealing with, use this knowledge!
But not by saying I know you have an office here and there, you employ this number of people…
The big mystery of product demos is not demonstrating your product. It's about identifying the problems of your prospect and presenting how your product will solve these problems. That's the way to prepare for giving a demo that wins.
Here's where the knowledge of the product also comes in handy.
Think about which features offer the most value to your prospect (based on your research) and how to present them as useful and valuable. Ask yourself these questions:
What are the common challenges in my prospect's industry?
Am I aware of the pain points of my potential client?
Which features of my product are the best fit to solve the prospect's problems?
Are all features valuable to my prospect? Do they need to hear about them all?

Then, focus on these features. Describe them and link them directly to the corresponding problems in your prospect's business. Demo calls should be kept short; don't waste your target's time boasting about options that provide zero value to them.
Look at the following example: CallPage offers an option of choosing departments or different locations in the pop-up so a user can decide what division or office they want to connect with.
If our client operates in different parts of the country or within the region, we will certainly recommend they set this option to organize the work of their consultants.
However, having a demo with a small business owner who runs just one office, we will not mention this feature, as it's simply irrelevant.
Crafting an offer is useful in both the demo presentation and the product presentation. Having a good sales deck, you can modify and work with will not hurt you. It's not easy to prepare one, but you certainly can not have one.
READ ALSO: Consultative Selling — Say Goodbye to Pushy Sales Tactics & Drive Revenue
4. Choose the Best Tool to Connect With Your Prospect
To do a winning demo call, you need some help from technology. Choose the best online meeting software and tool for screen sharing. It's better to avoid software that requires installation. Choose an online solution. There are plenty of options available, so read about them and test the software before your real call takes place.
Be sure you know the tool you are about to use. During the presentation, you have to know the meeting software inside out, you will not have time for mistakes.
To be fully professional, consider as many options as possible and, for example, test the chosen tool with your colleague. Check if the connection is fine, if there are any delays, how the software and the presentation are displayed on the other computer, if all content is visible, etc.
You have many tools to choose from to give a good demo call. Here are a few examples.
GoToMeeting
GoToMeeting is an online meeting program. It has a very user-friendly interface and offers useful features like launching meetings from a variety of locations, including email, instant messaging tools, and Microsoft Office. GoToMeeting gives you the option of multiple video feed sharing per session and ensures a high quality of audio thanks to VoIP and toll-based options.
Skype
We do not need to introduce this tool. You can use Skype both for one-to-one demo calls or turn to Skype Business and organize high-quality video conferences.
Zoom
A simple, intuitive tool that connects you with your prospect by a shared link or via installed software. It has a simple, easy-to-use interface. The quality of the audio is reliable, and the screen sharing is just fine for demo calls.
WebEx
Product by Cisco, WebEx provides the same experience as other tools, but it also enables users to keep meeting-related content on their screens simultaneously and to resize or move it around as desired. It is very professional, but because of the expanded features, it requires some training to get the most out of its functionality.
JoinMe
This toll-free program is powered by OpenVoice Integrated. JoinMe offers very decent audio, and what's more, the tool enables the user to personalize the meeting background and promises one-click screen sharing. So you can add a personal touch to each of your demos.
READ ALSO: A Sales Manager's Guide to Inbound Call Center Sales Techniques and Software
Don't forget about the importance of good hardware!
You will need a reliable microphone, ideally a wireless one, during your demo call. You can't go into a presentation if your potential client has a problem understanding what you are talking about. Needless to say, it's just unprofessional to use the built-in microphone. It will ruin your call quality.
5. Plan Demo Calls Properly
Yes, it's exactly what you think – we're talking about a good, old list of steps you're going to take during the demo. Rethink everything, write down each point you want to cover, analyze the sequence, decide how to connect the first step with the second one, and so on. During this process, you may very well come up with a new, great idea or decide to modify your presentation.
This part of the planning is more about sticking to a general order and having a sort of backup, not strictly following a set structure. You have to be flexible and prepared for swings or unexpected questions during the call. But having a rough plan will help you get back on track.
Don't treat this plan as something you need to follow, no matter what. Don't try to discuss each point even if the conversation flow doesn't require this particular topic. The list is supposed to help you, you must not read from it or treat it like a set, solid structure.
READ MORE: 12 Ways To Increase The Number of Calls from Potential Customers
6. Rehearsal Is Key
Rehearsing will not guarantee your success but will surely bring you further into the spotlight. Product demonstrations are trickier than presentations because they require you to divide your focus into at least three areas:
the prospect
their perception of the demo
all the technical aspects of the call.

Even if you consider yourself a pro in the demo business, you should invest some time in practicing this kind of public speaking, especially before calls with enterprise clients with many stakeholders involved.
So, to prepare for a demo call that wins, spend 15-20 minutes rehearsing your call. And speak loudly during the rehearsal. It really helps. Check how it feels and what obstacles you have had to overcome. Make sure the meeting software is reliable and you know how to use it "in action," not just during testing. Draw conclusions and, if needed, adjust your plan accordingly.
7. Confirm the Demo Call
One or two days prior to the demo, send your prospect a link and clear instructions on how to join the online meeting. Make sure everyone who is going to attend the call receives your message.
One day before your scheduled date, do a pre-demo call. Confirm that the plans of your prospect have not changed and they remember about the demonstration and they know the exact time.
Use this quick conversation to get some more information. Ask who is going to attend this online meeting, what your potential clients expect from the call, whether they are a decision-maker, etc. If something new comes up, adjust your presentation and include it in your plan.
8. Before You Start…
Test everything beforehand. Again. And do the same a few minutes prior to the call.
Check the Internet connection.
Make sure your microphone works.
Prepare the meeting software.
Quickly go through your presentation and check its visibility.
Take a final look at your notes.
Open a notebook so you can write down anything and everything that comes up.

While using a browser, the best is to launch a new window with no toolbars, extensions, or extra links saved. Simply avoid visual clutter that may distract your prospect.
If you know you will need any applications or browser tabs during your demo, open them, load the content before the call, and then minimize all the windows. In the case of using the content from different websites, put them in logical order from the left-hand side to the right-hand side so it's more intuitive.
Close all instant messaging tools, or at least turn notifications off.
All these small improvements will create a better impression, subtly showing that you are well-organized and that you mind your prospect's time. It's always nice to save a few extra seconds in this busy world.
Keep your desktop neat
Not sure about you, but I guess for most people, this does not look good or professional.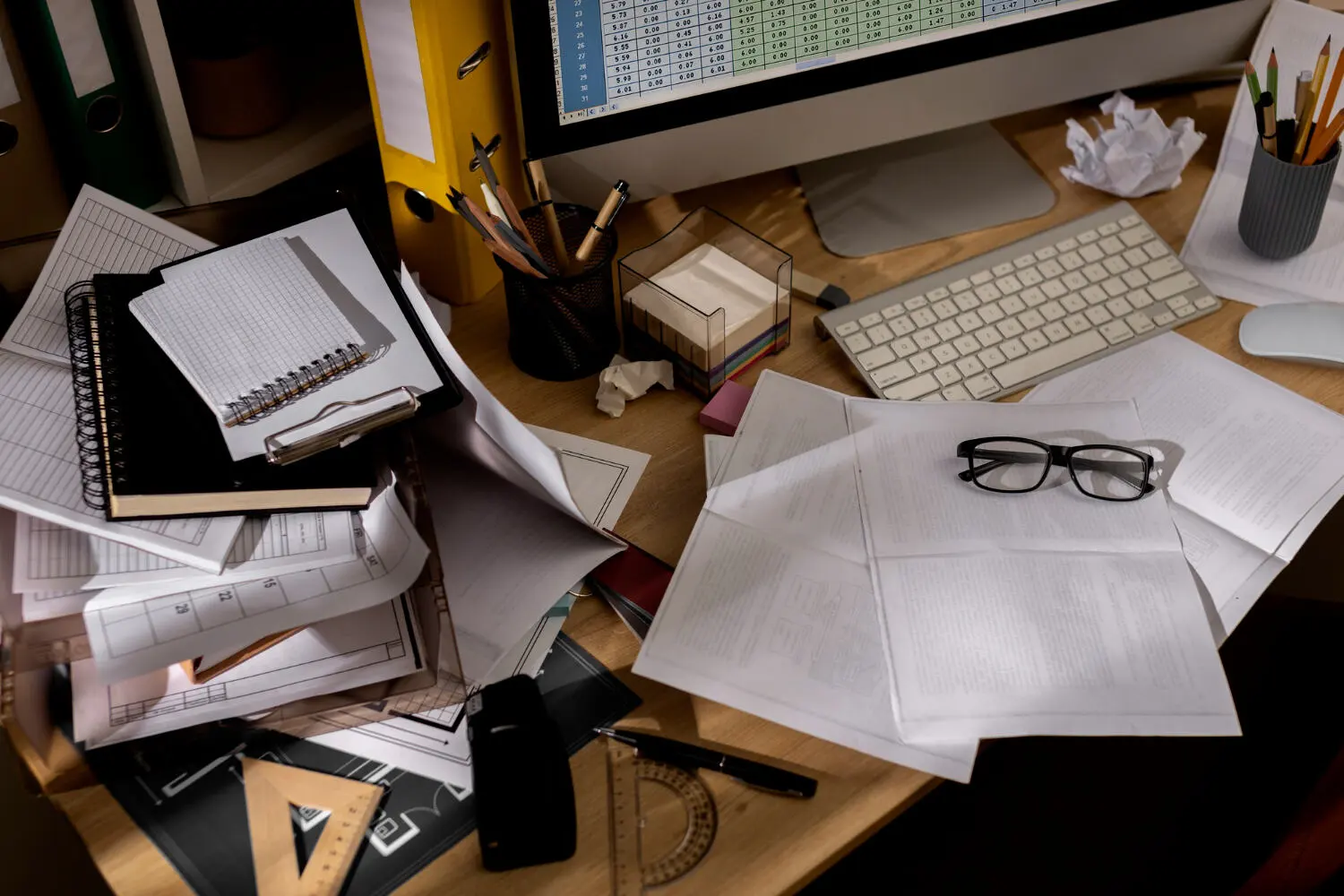 You get the point, right? If you know you'll need any files during the demo, you can either open them beforehand and minimize or keep them in one folder located on the desktop to get quick access to everything. But in any case, do not show this kind of "work organization" to your potential client.
9. Always Have a Plan B
Just a friendly reminder that sometimes things do not go as planned. Your connection may be bad, the meeting tool can spoil the quality of your presentation, your prospect may cancel the call at short notice, or many other issues can come up.
In the first two instances, you are able to find solutions, like shifting to other software or reconnecting with the potential customer. But in the case of your demo being canceled or rescheduled, always plan alternative activities or tasks you can focus on.
Practice Makes Perfect
If you are at the beginning of your career in sales, treat each call demo seriously and invest a lot of time in preparation. If you have done many product demonstrations, you do not need to plan each demo step by step and rehearse before every arranged call.
But at the same time – do not let the routine keep you from achieving your goals. Treat each and every demo individually and adjust the content to your prospect's needs.
With CallPage, you can start talking to more potential clients, improve the efficiency of your sales process, and make your salespeople more efficient. Get in touch with one of our experts or start a free trial.
Start generating leads today!
Start a 14-day free trial now,
set up the widget on your site, and see how many more leads you can capture with CallPage
No credit card required

10 minutes set up

14 days fully-features free trial
Try for free
Get a Demo