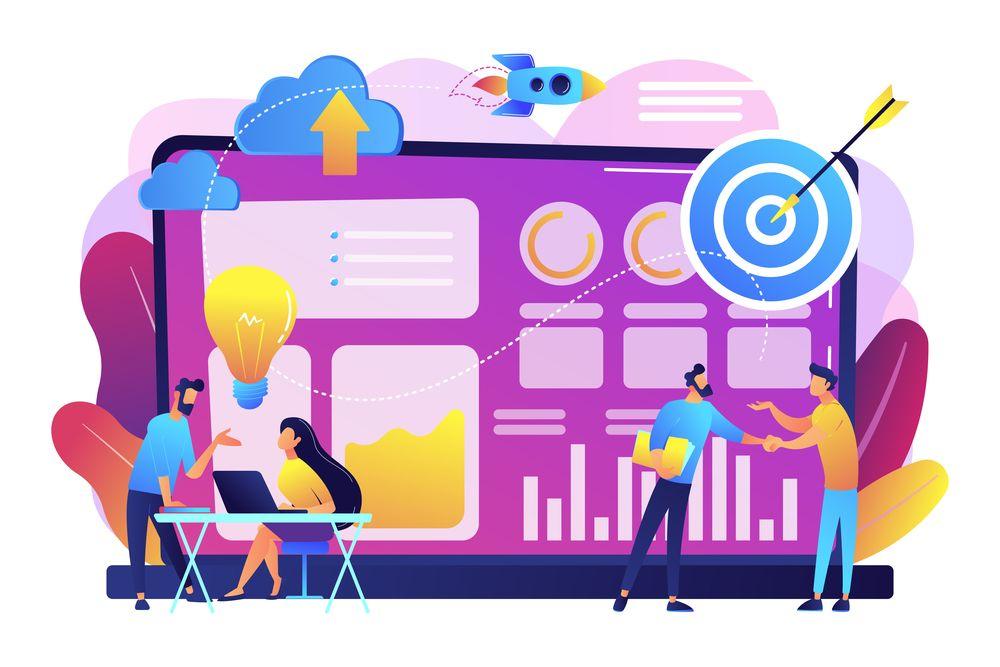 Google Analytics 4 vs. Google Analytics Universal: Main differences
No change is easy. Ever since Google introduced Google Analytics 4 (GA4) in October 2020, marketers worldwide have been suspiciously eyeing the new measurement property.
Even though the old Universal Analytics (UA) sunset date has been set for July 2023, not everyone rushed to make a switch.
Why?
Because GA4 is not a simple upgrade of its old version. In fact, it applies a very different structure and logic. You need to understand Google Analytics 4 better to get excited about the switch.
Read this article – we'll explain what GA 4 is and why you should use it.
Why was GA4 created?
Since its launch in 2012, Universal Analytics has accompanied every marketer and SEO specialist. However, a well-liked and trusted tool fell under privacy-related criticism, especially since the rollout of GDPR and other related laws. GA4's "privacy first" approach refers to the fact that the program no longer uses cookies or collects IP addresses. Moreover, it gives users advanced options concerning data retention and switching off location-specific information.
Because GA 4 uses AI and machine learning to gather and analyze data and applies new logic and structure, the solution is advantageous in many ways.

Benefits of using GA4
GA4's omnichannel approach and focus on the customer journey facilitate activity tracking on websites and apps. That means that instead of recording "sessions" defined by the device, the tool aggregates the user's entire journey across different platforms. So, for example, they can visit the site on the desktop, purchase an item via the phone, and engage with your brand through the app – all this information will be neatly stored and tracked in the reporting system.
Data streaming lets you get information from many different websites in one place. This gives you a full picture of how people interact with your brand. "Interaction" is a key term used in this process because the individual's engagement through different channels is monitored rather than the generalized data related to page views.
Let's dig deeper into the main differences between Universal Analytics and Google Analytics 4.
Google Analytics 4 vs. Google Universal
Different measurement model
We mentioned that "sessions" are tracked in the commonly used Google Analytics version, and you're probably more than familiar with the term. But how does it differ from "events" and "parameters" measured by GA4? Well, the sessions are groups of interactions (hits) performed on the website, recorded during a specific period of time. This means multiple page views, transactions, and social events may count as one record. In contrast, GA 4 captures every interaction as a single, separate event. This way of data gathering provides more detailed insights into the users' behavior at each stage of the customer journey.
More straightforward event tracking
In Universal Analytics (or GA3), there is a hit named "event" as well. Four parameters describe each event: Category, Action, Label, and Value. The names must be assigned to those parameters via the Google Tag Manager.

Tracking with Google Analytics 4 is much easier. Every single hit, now called an "event," only consists of the Name and a Parameter (set up automatically or, in some cases, customized) that provides details about the user's action. Here is an example:
Event: page_view
Parameters: Page_location, page_title.
A new reporting interface
The interface itself is not that different. But many reports have been replaced or renamed, requiring some investigation and getting used to. The main difference is that the logic of the interface structure follows the Customer Life Cycle, which means that the first reports you notice are Acquisition, Engagement, Monetization, and Retention. They help marketers analyze the customer journey in detail. You may have noticed that "retention" has been added recently, and commonly used "behaviors" have been replaced by statistics related to engagement. All these changes follow the traffic vs. user tracking logic.
Source: https://support.google.com/analytics/answer/9212670
Views to data streams
GA3 gave us access to different views containing raw data, the test view or the master one with all the goals and configurations set. GA4, on the other hand, changes the Account>Property>View structure to the Account>Property>Data stream one, thus focusing on the presentation of data flows from websites or iOS or Android apps.

Source: https://support.google.com/analytics/answer/9304153?hl=en
Free BigQuery exports
BigQuery is a serverless solution (often called the "data warehouse") that facilitates the processing and analyzing of vast data sets. It proves to be very useful when it comes to the analysis of the information gathered through GA. So far, it has been a feature available only to Google Analytics 360 paying customers, but GA4 gives users a free connection to the querying tool.
Prepare to switch to GA4
You may be reluctant, but the harsh reality is that Universal Analytics, which you probably befriended, will no longer process hits starting in July. There is little time left, so prepare your company for the switch. Remember that UA and GA4 are two very different frameworks, so the change will not be straightforward and will require an investment of time and effort.
Here are the steps to take:
It's a good practice to start GA4 and run it alongside the UA as soon as possible. Google Analytics 4 collects data from the day of its installation, so keep the historical data on GA3. Extract UA data into the database so that it is always accessible.

Audit and map the metrics you have used with Universal Analytics.

Begin learning all GA4 functions, follow

Google's instructions

to set it up, and create and customize dashboards.

Analyze how your current measures translate to the new tool. Run GA4 and UA simultaneously and compare the results. If you notice significant differences, adjust the settings.

Train your team on the use of Google Analytics 4.
The sooner you accept that we have entered the reality of GA4-supported marketing and start preparing, the better.
We took this approach at CallPage and have already made our widget Google Analytics 4-compliant. That means that once you purchase our product, you don't have to worry about integrating it with GA4 or choosing the proper event tracking settings. We've got you covered.

Learn more: How to set up CallPage integration with Google Analytics
Start generating leads today!
Start a 14-day free trial now,
set up the widget on your site, and see how many more leads you can capture with CallPage
No credit card required

10 minutes set up

14 days fully-features free trial
Try for free
Get a Demo