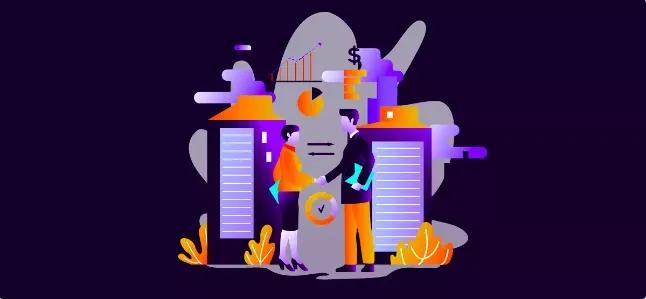 7 Ways To Use Social Proof And Drive More B2B Sales
Humans have a pack mentality. We're easily influenced by the thoughts and opinions of the people around us. This was confirmed by Friedrich Nietzsche, a German philosopher who coined the concept of "Herd Morality." It's the idea that humans set aside their own view in favor of the group's instincts.
Humans have a pack mentality. We're easily influenced by the thoughts and opinions of the people around us. This was confirmed by Friedrich Nietzsche, a German philosopher who coined the concept of "Herd Morality." It's the idea that humans set aside their own view in favor of the group's instincts.
In short, if the majority of people conform to a belief or action, then we believe that it must be right too.
The same is true in B2B sales.
Company decision-makers are easily influenced by social proof.
Studies show that 92% of B2B buyers are more likely to purchase after reading a trusted review. Reviews can also increase conversion rates by 270%.
These numbers show that social proof is a big deal. If you're not using it as a part of your sales strategy, then you're missing out on a lot.
How to Use Social Proof to Drive More B2B sales
How can social proof increase your conversion rates? Here's what you need to do:
Leverage Product Recommendations
Without prior experience of using the product, it's hard for customers to make a purchase. So they depend on social proof in the form of product reviews and testimonials from past customers.
Not surprisingly, 94 percent of all B2B buyers conduct online research at some point in the buying process, and this process occurs before they get in touch with sales reps. A similar study found that 85 percent of buyers read up to 10 reviews before feeling like they can trust a business.
How can you use product recommendations to drive more B2B sales?
You can collect reviews from sites like G2Crowd, Capterra, GetApp, SaaSGenius, etc to get your loyal customers to tout how awesome you are on the web.
For example, IBM's G2Crowd page has reviews and star ratings from verified users. To make the reviews more in-depth, they ask questions like "What do you like best?" or "Recommendations to others considering the product."
Statements from this website could be used as quotes or testimonials in marketing materials such as the website, testimonial page & more.
READ ALSO: Transforming Prospects into Customers: How to Create a Converting B2B Lead Generation Funnel
Leverage Celebrity or Expert Recommendations
Recommendations from celebrities and experts can make your social proof skyrocket through the roof.
An endorsement by Oprah Winfrey, queen of all talk shows, has turned many businesses into multi-million dollar companies. She's behind the fame and success of household names like psychologist Dr. Phil, health-expert Dr. Oz, and TV cook Rachael Ray.
But you don't need to get a mention from Oprah or a top celebrity to become successful. Simply get in touch with experts in your industry.
Neil Patel uses testimonials from Michael Arrington and Ben Huh to increase his credibility. He also added the pictures of their endorsements after recent studies found that it makes it significantly more effective.
Show Off Media Mentions
A media mention shows an article or video about your company or product by the press. They can be a sponsored post from a publication or an article voluntarily written by a journalist because it's interesting or relevant.
According to Nielsen, 66% of customers prefer earned press as compared to sponsored advertisements.
Jill Konrath shows that she's been mentioned in popular publications like Forbes, WSJ, New York Times, Inc. and Entrepreneur in her homepage. This makes her business more reputable in the eyes of customers.
Trust Seals
Adding trust seals like industry certifications or accreditations to your website or marketing materials can boost your sales.
In fact, Blue Fountain Media conducted a split-test and found that adding a Verisign trust seal increased their conversions by 42%.


When buying products online, trust seals from security sites can significantly impact conversion rates and purchases.
Another survey from the Baymard Institute revealed that a Norton and McAfee trust seal in the checkout page significantly improved their perception of trust.
Include numbers or statistics
There's a psychological power behind numbers.
We love businesses that have more subscribers, customers, and reviews. If it's tried and tested by a lot of people, then it's probably worth it.
To leverage the power of numbers uses statistics like:
Subscriber or User Count
The number of users you've acquired is also a credibility indicator for your brand.
Telerik by Progress mentions that 2.1 million developers love their UI Frameworks and app development tools.
You can use similar statistics to get your point across.
For example, Freshbooks says that 97% of their customers recommend their product. How can you not be convinced after that?
Test Scores
Test scores or accreditation from a relevant 3rd party source can make it easier for customers to trust you.
For example, Google's "Trusted Store" scores e-commerce businesses based on standard criteria like customer service, shipping, and returns.
Customer Base
Got any famous clients?
A customer base that includes successful companies shows that businesses recognize your product or service – so it must be good enough for them.
TechValidate shows off their big clients in their homepage, which includes Hewlett Packard, IBM, Fujitsu & more.
Another example is eWedding which has created 800,000 premium wedding websites. The statistic is enough to turn heads!
Ready to Use Social Proof to Drive Sales?
It's no secret that social proof can do a lot of your business.
Of course, celebrity recommendations and millions of customers can make people turn heads—but you need to understand how to use this to your advantage.
Leverage product recommendations and show off media mentions. Mention your customer base, test scores, trust seals and accreditations. If you have a lot of data on brand perceptions, then you can use it to advertise your business.
How will you use social proof to drive sales for your B2B products? Let us know in the comments below.
Start generating leads today!
Start a 14-day free trial now,
set up the widget on your site, and see how many more leads you can capture with CallPage
No credit card required

10 minutes set up

14 days fully-features free trial
Try for free
Get a Demo