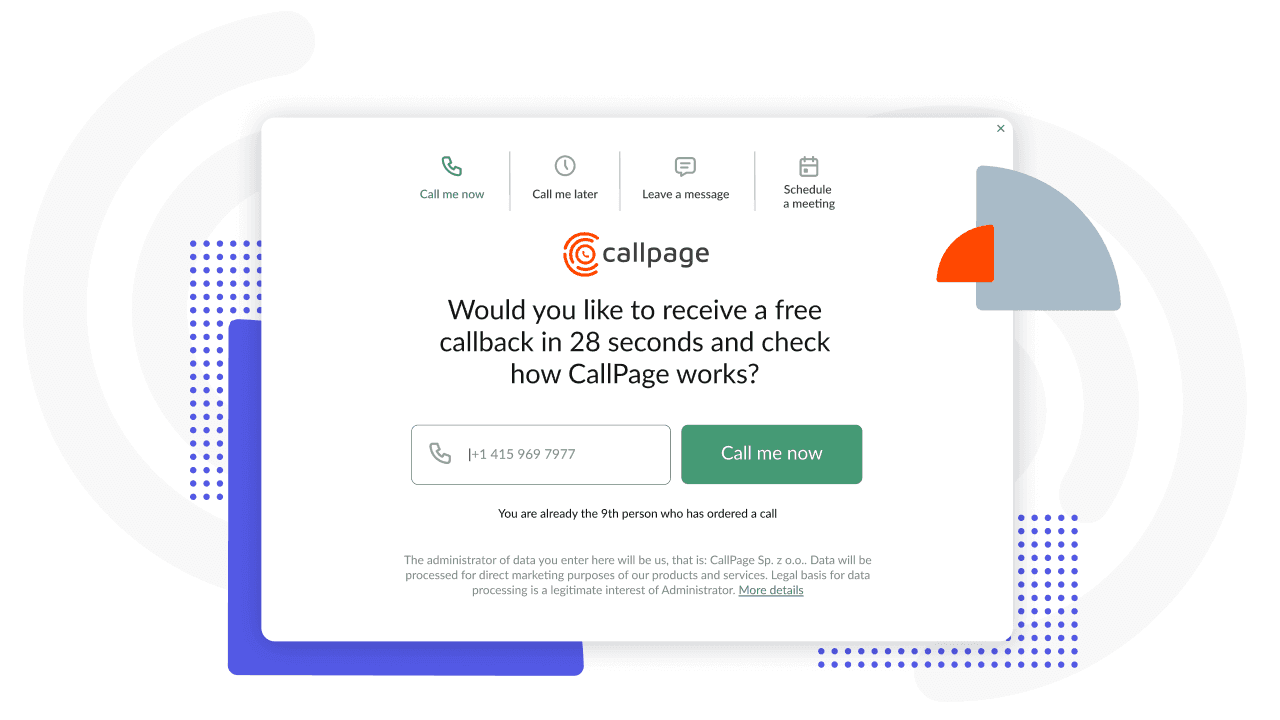 3-Step Guide for a Perfect CallPage Trial
Are you thinking about starting your CallPage trial? If so, here are three steps that'll help you get the most out of it.
Step 1: Select a team or consultant to answer CallPage calls
First, you need to decide what teams/users will be picking up your CallPage calls. Depending on your company size and needs, you can:
Direct all calls to one person (e.g., reception desk or yourself).
Direct calls to a few people from one team (e.g., to the sales team).
Add a few departments (teams) and direct the call depending on the caller's needs.

For the purpose of the trial, we recommend adding fewer consultants and adjusting the number of consultants after the trial period ends. However, to ensure high-quality customer service, please take into account your expected number of calls.
Step 2: Sign up for the CallPage trial and adjust widget settings
To create your free account, you just need to provide contact details, company details, and your company website address. You don't have to provide your credit card details at this stage.
Once you finish the registration, your 14-day free trial begins. For this reason, we recommend finalizing the setup and installation as soon as possible.
When you log in to the CallPage panel for the first time, a step-by-step guide will lead you through the most important tabs on the panel. The most important steps in widget configuration are:
Adding your consultants and teammates.
Setting up your company's working hours and time zone.
Personalizing the look of the widget.

Step 3: Install the widget on your website
The last step is adding the CallPage widget to your website. You can select one of the recommended installation methods:
Install the widget using plugins for popular CMS systems, such as WordPress.
Install the widget through Google Tag Manager.
Copy and paste the installation code directly into the website code.

Detailed instructions for installation can be found in CallPage's knowledge base.
That's all! So, are you ready to receive your first calls through CallPage?
Sign up for your free trial here.
Have more questions?
Order a demo presentation and gather all the information you need before launching your test.
Start generating leads today!
Start a 14-day free trial now,
set up the widget on your site, and see how many more leads you can capture with CallPage
No credit card required

10 minutes set up

14 days fully-features free trial
Try for free
Get a Demo