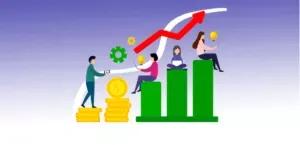 Top 8 CRM Processes to Improve the Efficiency of A Sales Team
Customer relationship management (CRM) is the process of managing the interactions between a brand and its present/potential customers. This involves developing a series of activities to engage customers that already do business with you, nurture new prospects, and pursue opportunities that can increase sales.
Customer relationship management (CRM) is the process of managing the interactions between a brand and its present/potential customers. This involves developing a series of activities to engage customers that already do business with you, nurture new prospects, and pursue opportunities that can increase sales.
What are the goals of a CRM process? To improve business relationships with customers, streamline/optimize your sales process, and increase profitability.

To get started with CRM, you would need to make use of a CRM solution (system or tool). This CRM solution would help you manage your sales process, store and manage contacts, improve communications with customers, increase productivity, and more.
The CRM process provides you with the tools you need to build a relationship with potential customers, move them through the sales cycle and then convert them into paying customers. When the first step of the sales cycle has been successfully executed, the CRM process helps you to further improve engagement and communication with these new customers. This enables you to strengthen your relationship with them and hence improve customer loyalty.
Why Your Sales Team Needs A CRM Process
A report from Gartner showed that by 2021, CRM would be the single largest revenue area of spending in enterprise software. For a business to be successful, you would need a system to help you evaluate your business objectives, your sales pipeline, and profitability. Without a reliable system, curating data that you can analyze to optimize your sales process would be complicated.
How do you properly translate all the data that is coming in from the sales department, marketing and social media campaigns into useful information you can work on? This is where CRM comes into play.
A CRM system allows you to see all these data in one simple, customizable dashboard. It gives the sales team a clear overview of the customer. You get to see the customer history, what stage they are in the sales cycle, outstanding customer complaints, and customer sentiments towards your product or service all in one place.
A CRM process gives a sales team a clear view of every prospect or lead from the first point of contact to sales.
MAY BE INTERESTING: Sales Leaders' Tips: How to Generate More B2B Sales Leads?
Another important point to note is that running a business without a CRM system in place would cost you more money.
The sales team of a business generates a ton of data when meeting prospects and handling sales deals. The majority of these information curated are most times saved on different laptops, note pads, or sometimes not written at all.
This haphazard method of gathering data makes it easy for important information to get lost, deadlines won't be met promptly, and prioritizing customers would become difficult. This even becomes worse if a key salesperson leaves the company – all the data with the individual gets missing if it hasn't been properly stored.

Even in the instance where you are successful in collecting all these data, it would be difficult to make sense of it without a CRM system. Reports would be hard to create and it would be difficult to extract any intelligence that would help you improve sales.
This is how a CRM system would help you:
Find the right customers: Reports from Pardot stated that without a CRM system, 79% of marketing leads are not converted to sales.
It is possible to generate a ton of leads and they end up not getting qualified by the sales team. To avoid wasting a ton of resources on generating unqualifiable leads, you need to make use of a CRM system. A CRM system gives the sales team a complete overview of the lead's profile so they can create a process that would help convert prospects into paying customers faster.
Build more sustainable relationships: A CRM system allows a sales team to create a complete overview of a prospect and their business. This knowledge would help in building a strong relationship with customers.
Improving up-sell and cross-sell opportunities: You get to see opportunities where add-ons can be added to deals that are already in progress.

Reduce time to close: When you have a clear overview of your customer, you would know the next steps to take that would help you close deals faster.
Top 8 CRM Processes
1. Define Your Target Customer
'As Pipedrive suggests, it's all about documenting how your customers "find you, interact with your brand and consume your content." By understanding your customer's goals, you can provide them with the stepping stones to reach them.'
That said, a significant part of the CRM sales process is defining your target customer and identifying their needs. To better serve the needs of the customer, you need to understand their pain points so that you can effectively address them.
To successfully close a sales deal, your product or service must first solve a particular customer pain point. This is why you need to define who your customers are. Without proper definition, you would not be able to create your value proposition. It is your value proposition that convinces the customer to choose your product or service instead of your competitors.
For example, if your customers are other businesses, there are certain factors you would use to define them. These factors would include:
Size of business
Location of the business
Industry
The type of business
How much revenue they generate, etc.
Having a clear overview of these criteria would help you decide the best way to approach the customer.
2. Lead Qualification
To ensure that the sales team does not waste time and effort in converting a prospect that is not likely to become a customer, there is a need to qualify the lead. When qualifying a lead, there are a ton of factors that must be taken into consideration. These factors include:
How well the customer matches your target buyer persona. For example, are you dealing with a B2C or B2B company? Is the lead a major decision-maker in their company? How useful is your product to these lead?
How soon are they ready to purchase. You need to differentiate the difference between intent and interest. Are they still thinking about the product or are they ready to start spending money on your service?
How engaged are they with your marketing channels like blogs, marketing emails, or informational resource pages. This would give you an idea of the customer's seriousness concerning your product.
With a CRM tool, you can double-check to make sure that nobody in your sales team is trying to convert another lead from the same company. If there is someone already trying to convert a lead from that business, you can move on to another prospect.
Taking these steps would help to optimize your sales process. It also improves your productivity and ensures that the sales team works in harmony.
3. Track Sales Opportunities
An important part of your CRM sales process involves tracking your sales opportunities. An efficient CRM process would monitor the stages of your sales cycle and the activities needed to move a prospect from one stage of the sales pipeline until the deal is closed. Your accounting data may help you qualify your leads more accurately.
The bigger your sales team, the more tricky it becomes to track sales. You would need to define the exact touchpoints in the sales pipeline where the lead becomes a sale. Clearly defining these stages makes it easier to close a deal.
There are two types of data you need to effectively track sales. When you use both sets of data in your CRM process, you get a more rounded view of your sales performance. The two types of data include:
Quantitative data: This is based on "raw data". It tracks " the numbers" clearly. Some of these numbers include:
Average amount of time spent on a lead
How many sales deals were closed last month by your sales team?
Where your leads coming from
(Example of quantitative data: Sales Status)
Qualitative data: The information from this data is "subjective". It helps you to better understand and provides context from the analysis of your raw data. It explains the " why" and "how" a certain piece of information occurred. Examples would include:
Why do people want to purchase your product or service?
What service are your prospects or client's objecting?
How well is your sales team performing?
Why are customers not buying from you?
Making use of the information from quantitative and qualitative data helps you to track sales more effectively.
4. Create And Organize Contact Records
While prospecting new leads, you can use your CRM tool to create and organize contact records so that you can store the information that you get about the leads.
This is important so that you can identify the stage of the sales pipeline you would place the lead in. Most leads would not be converted using the same sales process.
For example, if you have a company that offer home renovations (painting, plumbing, roofing) and a new prospect gets added as a lead after they subscribed for an ebook called " Difference between emulsion and oil paints". When adding this lead to your CRM contact records, you would store them as prospects in need of a new paint job instead of those looking for a plumbing job.
5. Issue And Track Proposals
A proposal software is essential in successfully closing a deal. The good news is that you can connect a proposal software to your CRM system. You can easily create proposals and share these documents directly from your CRM.
Using your CRM to share proposals allows you to know when a prospect has opened a proposal or taken a particular action. It allows you to link your contact records to the appropriate stages in the sales pipeline.
6. Log All Deals
After a customer has accepted your proposals and you have closed the deal, you would have to log the deal into your CRM database for accurate reporting.
Why do you need to log all deals?
Logging closed deals would help you when forecasting. With the logged data, you would be able to make more accurate sales predictions. You would be able to make informed decisions and predict short-term and long-term performance. This would enable you to efficiently allocate resources and predict your sales revenue.
Even in situations where a deal was lost, it is important that you log it in as well. Tracking lost deals would give you insight on what caused the deal not to move through and allows you to further optimize your sales process.
7. Document Drawbacks And Customer Objections
It is normal to receive objections from customers and face obstacles as you move through the sales cycle. It is important to document any complaints from customers or red flags you notice as you try to convert a lead.
Documenting these objections helps the sales team to update their strategies to combat these obstacles. Documenting customer complaints or objections becomes more essential when you have a huge sales team. If a lead is passed from one sales rep to another during the sales cycle, it is very helpful if the new sales rep knows the customer's objections before dealing with them. This would limit any rift that might occur between the customer and the new sales rep.
8. Coordinate And Evaluate Team Performance
There are several people involved in ensuring that a lead moves from a prospect to a paying customer. It is important that you have a system in place to coordinate, monitor, and evaluate the performance of the team. A project management tool may help you with that.
Coordinating and evaluating your team performance would ensure that there is no confusion between team members and that everyone knows the part they have to play in the sales process.
By evaluating your team performance, you would be able to identify the strengths and weaknesses of each team member and assign them roles that best suit their abilities. Doing this would help in increasing the productivity of your team. Also, always remember to be empathetic and support your employees in any challenges they may be facing, both professional and personal.
9. CRM Integrations
Integrations allows you to exchange information across different platforms without having to switch applications. It is important that you add integrations to your CRM system because it makes it smarter.
Some benefits that CRM integration offers a sales team include:
Improves organization: Integrations allows you to centralize communications and calendars to your CRM software.
Tracking: You can conduct all your sales activities and track them easily since all your work is done on one central platform.
Save time: You spend less time importing and exporting contacts and activities from one application to another.
These are the important categories of applications you must integrate into your CRM system: marketing automation, accounting, customer support, email and calendar sync, and document management.
CRM integrations allow you to automate as many processes as you can, saves time, and improves the productivity of the team.
With CallPage, you can start talking to more potential clients, improve the efficiency of your sales process and make your salespeople more efficient. Get in touch with one of our experts or Start a free trial.
Start generating leads today!
Start a 14-day free trial now,
set up the widget on your site, and see how many more leads you can capture with CallPage
No credit card required

10 minutes set up

14 days fully-features free trial
Try for free
Get a Demo