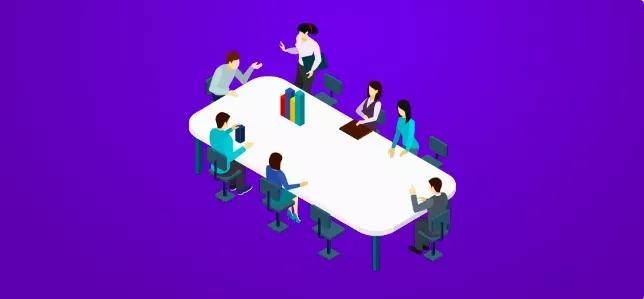 Our Sales Team Converts A Prospect's 'No' To 'Yes' With These 12 Techniques (And You Can Too)
A while ago, we published an article on How to Convince the Client to Buy using psychological tricks. The blog post turned out to be an instant hit and useful for many readers, so we decided to explore the topic further.
87% of car buyers and 90% of service clients use digital channels to choose a car dealership according to Digital Air Strike study 2017.
This time we will discuss one of the salespeople's biggest nightmares – client's objections.
Even budding, rookie reps that are at the very beginning of their sales career and haven't spent that much time dealing with prospects, know the bitter taste of defeat connected with objections.
The client's objections – are they only a bad thing?
However, there's nothing wrong with the fact that objections occur now and then.
You cannot succeed every time (it's statistically impossible).
So, instead of complaining about potential clients' questions and hesitation, treat them as a valuable source of information about your prospects. By presenting you their objections, buyers-to-be also share their needs, fears, and concerns, which, when addressed properly, can enrich your experience and positively influence your product and sales process.
To put it simply – your offer can become more attuned to the market and your audience's expectations.
Not to mention that, in many cases, objections mean that your prospect is engaged, listens to you, and analyzes your offer. So, it is easier for you to decide if the potential customer is qualified or not. If you play it right, the deal is yours.
If you want to read more about the positive sides of client's objections, read this article.
How to handle the client's objections to convince them to buy.
Okay, now you know that client's objections are not always a reason to complain and get mad at your prospects.
It does not mean that you ought to welcome them and do nothing about the fact that your prospect disses your pitch. On the contrary – you have to handle the client's objections and drive conclusions that will make your business grow.
So after this long but needed hors d' oeuvre, let's get to the point.
Below we present 12 proven techniques that will definitely help you convince the client to buy and approach those prospects full of objections that are a real challenge for any sales rep. Our salespeople use them in their everyday work and get awesome results.
We would never recommend you something we do not find useful.
1. Precisely target the objective.

The technique focuses on detecting those customers who need you and, therefore, their probability of saying "no" is lower. For this, you have to know the market well and the segment in which you work, in addition to knowing the product fit with the needs of the customers.
Make more thorough customer research, study their particular needs, and see how you can offer them the product they need or with which they can achieve significant cost savings.
It's better to be a sniper than to kill flies with cannon fire.
Be precise.
This path also leads to a large part of your efforts focusing on adapting your products to the practical needs of the market.
"As an experienced salesperson, I always try to find the right target." – says Pawel Krajewski, Sales Team Lead at Voluum. "For me, the most important thing is to find the proper customer who is interested in the product I am offering. A lot of companies require to have a big quantity of leads generated by sales teams instead of focusing on the quality, which is a common mistake on the market." – Krajewski explains.
"I truly believe that it is better to forge a good relationship with 5-10 bigger clients with the possibility of having a nice profit, rather than 20-30 small clients most likely to churn. I try to train salespeople to follow this path, and with my team, we always try to focus on the prospects that are relevant to our target group instead of shooting in the dark."
2. Develop a "testing environment."

If a client says "no" to your offer, but you have the certainty that your product gives them a competitive advantage, always ask them the reasons why they are not interested and provide them with counterpoints.
When the client still does not want to use your product or service, inform them that you understand their position, but if they give you the opportunity to try your product, they will see why other customers and competitors, with problems similar to theirs, are successfully using what you offer.
Prepare a dedicated test environment that is easy to implement and allows the client to evaluate your solution with or without a minimal cost for both sides.
Let them "try" you. Offer them free demos so they can see first hand that your services solve their problems and that it is effortless to use. The objective is to find customers who can say "yes" and deploy it quickly.
"It's really important to give the target audience the possibility to test the product easily and without hurdles, such as the need to enter the details of a credit card." – explains Christopher Diesing, COO & Founder of Stackfield. "Customers are also aware that they will enter into a long-term commitment if they choose a collaboration platform, therefore it's also needed to communicate your vision for the product clearly." – underlines Diesing.
Always keep in mind that this is the first touchpoint and that the objective is for the customer to start using your solution. Don't push the sale too roughly; don't be desperate to get that first payment as soon as possible. Once the testing opportunity is implemented, it is highly likely that the prospect will adopt your product and become a recurring customer.
3. How to explain a price increase in your product or service?

The safest way to explain price changes is to involve the other party in the reasons for the rise.
In a B2B setting, it will be challenging to do, but if you are talking to an individual, it will be easier to convince the client to buy, because, possibly, it happened to them in another negotiation.
While explaining it to someone in a B2C scenario, it will be easier for them to understand that you do it to maintain the service and/or quality; to implement improvements that you promised; to continue doing what you say and saying what you do … The important thing is that the client feels that they are helping you get through this "difficult" time. It is easy to reach solutions when there's a mutual understanding.
Convince them that you offer them something cheaper but better. "Before the product cost you X. Now it's X + 2, but you'll have more benefits."
Your argument must prove that you have made a titanic effort to set a lower price compared to what you had before and, also, offer more benefits. If you multiply the price by two, the perception of value should be increased by three. Otherwise, this technique won't work.
4. The power of coffee.

In many occasions, negotiations stall. The power of coffee is a technique that consists of the fact that, in order to undo that corseted language of a meeting table filled with objections, in which no part gives its arm to twist, it is necessary to look for another place where between the personal and we can know ourselves better: having a meal, a coffee… ".
This applies to the face to face meetings.
Selling or convincing someone is an exercise of trust. When someone stays in the "no" or has lots of objections, it means that they do not trust you. Taking those meetings out of their context of seriousness helps to get to know each other better and ease the tension.
After an unfruitful official meeting, it's a good idea to propose another, less formal rendezvous. That's the time to open more communication channels used in more personal situations.
If you have seen that in their office, your prospect has family photos or that they practice a particular sport or hobby, etc., start with a small talk relating to that.
The aim is to make the potential buyer feel that you empathize with him. They will get to see you as a person, not as a sales rep. It will help you handle their objections later.
As stated above, this technique refers to meetings in person. However, you can also use it while selling over the phone. How? When you notice that the process isn't going well and your potential buyer keeps bringing up objections, try to relate to all information about your prospect that you gathered during the in-depth research.
Relate to their hobbies, interests, how they maintain their work-life balance, what kind of courses they attend after hours. You can learn all that by merely looking up your prospect in social media before the call.
5. The "sandwich" effect.
When your potential client does not get off the "no" and presents yet another objection, another technique to use is the "sandwich" effect. This basically means to convince those around your prospect.
If someone that is in direct contact with you is not willing to cooperate and it's hard to overcome their objections, try to find an ally within the company, either above (bosses) or below (employees).
I know what you're thinking – bosses are the decision makers, so they need to approve any project before someone else starts working on it and gets in touch with a service/product providers.
However, in many cases, it works the other way around. How? A junior employee or someone from middle-management is responsible for dealing with salespeople to get to know the product. When they are convinced, and like the product, they present it to the decision-makers at the very end of the sales process.
So, if the prospect causes too much trouble and generates more and more objections, try to approach someone else from their work environment somehow – either from above or below.
But never, for heaven's sake, pitch them directly. It would mean that you're omitting the actual representative of a company. Just try to wrap around them, make them see information about your product in their social media feed, comment on their posts, etc.
If people around your prospect will like your product, the potential buyer themselves will be more convinced to buy.
6. The others have it, and you don't?

This technique will not work in all cases, obviously, but some clients will react positively to it.
With customers who say they are not interested in your product, use the argument of "Others have it and you should too."
Monika Krzyskow, Head of Sales at HRlink.pl, uses positive examples from other clients. "I perceive storytelling as a really powerful tool in sales. It makes it easier to gain trust and build relationships with clients." – states Krzyskow. "While handling client's objections, I always tell them the stories of customers I have helped, I can refer to real data and analyzes. It all helps with growing credibility and with that it's easier to close the deal."
Especially if you bring up big names and reputable companies that use your product and other social proof, it can convince your client to buy and prove to them that you are a trustworthy partner.
Also, when you reach an agreement with a large enterprise or a distributor, communicate it via your social media or mailing to the "lost deals" category in your CRM. Maybe this information will remind them about you, and their previous objection would fade away.
7. Offer alternatives.

In case your business portfolio consists of several products or services, you can offer alternatives while facing strong objections. Persuade your prospect that they do not need to limit their decision to a single offer that they must take or leave.
It is always better, if possible, to offer two options, with features and prices in both cases. The client can choose depending on what interests them most: "Do you have a budget adjusted for the project? Maybe you're looking for something less expensive?" "You need it faster?"
Try to create a dialogue and a more fruitful negotiation that culminates in the best possible balance between what the client needs and the service you offer. Make them feel that they have another option.
8. Appeal to the head, no to the heart.
Many objections arise from emotional reactions, even while negotiating company-related matters.
You cannot fall into that trap. It's always wiser to present numbers and scientifically-backed data instead of boasting about your product using too many adjectives.
Try to be impartial and sincerely inform your customers about the pros and cons of your product so they can choose accordingly without any biases.
Do not promise them unachievable results; do not address their dreams or imagination.
9. Sell the product + the vision.

This technique may seem to be in contradiction with the previous point, but it is not. While selling the vision, you have to present real-life examples and data-backed facts.
The trick is to handle the client's objections by adding extra something to your offer. Something that is not physical.
Especially if you offer something innovative, a new product on the market, never introduced before, it could work well to sell the medium term vision of the company, you do not sell a product but a sense of belonging to a great idea that, without your prospect's participation, is neither viable nor possible.
You sell the 'why' instead of the 'what,' everything flows better because our brain can map the future.
If you sell the 'what' and your product is not attractive enough, you will not convince anyone. In the business world, sometimes, the product, the equipment, the technology are not sold … what sells is the person. This ability to feel empathetic motivates specific clients to trust you, even if they know that the product is not good enough just yet.
10. "Who is wrong?" technique.
You have to know the enemy better than yourself. And the enemy is not the client, but it's the hated "no." When there is a "no" or a "yes" at stake between two people, try to be simplistic and define, after listening carefully to the client, who of the two is correct.
If the client is the one who is wrong (for a preconceived idea, for previous experience, because they have already decided on another product), your efforts should focus on discovering why they think your product or service does not satisfy their wishes.
Moreover, you will have to try to show them that, despite what they think, there may be a point in common. Try to adapt their idea to yours. If it turns out that the "wrong" is on your side, that you can't find any touchpoints, you will be the one who adapts to the client.
Try to understand how you made a mistake when developing the product or service. Maybe, in the form of payment, in the usability, in the design, in the after-sales service.
If it turns out that your client is "wrong" and all their objections are unjustified, you will get all the chances possible to convince them to buy.
11. Give them real solutions to their problems.
Your approach has to focus on knowing the real needs of the client and genuinely offer them something that solves these needs. It's more of a preparation for the sales call or a meeting.
This does not mean describing your product with words that match client's needs if any objection comes up but trying to understand what the client looks for and offering your product in the form of a solution they need.
"This approach can be the real game-changer if done correctly." – says Marek Beran, Head of Sales at CloudTalk.
"Being able to understand the real need of the client eliminates most of the objections. During my career, I tested a number of methodologies and I ended up with SPIN (Situation – Problem – Impact – Need pay off) methodology from Neil Reckham that brought me the best results (measured by ratio deal won/MQL)." – Beran emphasizes.
"Most of the sales reps usually stop with problem questions, however, if you dig deeper (e.g. what is the impact of this problem on the organization? How does it influence your cost structure, etc.) then you are able to prevent most of the objections."

The "trick" here is to know your product and know how to address the client's fears with dedicated features to combat objections. Without this proactive approach, you will not be able to face any objections.

"Everything starts with identifying the prospect's problems and needs. Without doing that you waste your and their time. I mean, does somebody still do that in the 21st century?" – says Vovik Tsybulskyi, Head of Inbound Sales at Woodpecker.co.
"I don't believe in persuading techniques and we do not practice them in Woodpecker. But giving people real solutions to their problems (though you need to identify them first) is the only thing that works for me!"
12. Ask what did you do wrong and be sincere.
The deal is made with trust, not with senses. And winning someone's faith is a long-term job.
If your prospect keeps raising objections and is hard to convince, do not try to devalue their "accusations" against your product.
Ask them, "What did I do wrong?" and be sincere. You want to get to know the truth genuinely.
"Feedback is a good thing, that's how we learn and grow". – Tsybulskyi states. "If you lose a good prospect that fits your Ideal Customer Profile, have the courage to ask why they refused, so you can improve in the future."
By being honest and caring about your prospect's opinion, you will show them that your company is trustworthy, that you want to know your customer's expectations and meet them.
Hence, even if it will not be enough to close the deal now, it will bring profit in the future. The client will see that your attitude is positive and that you want to build a relationship of trust.
Conclusion.
Objections are an integral part of salespeople's everyday work. The best way to survive is to accept them and use them as your advantage. Learn from every objection you hear and try to turn them into tips on how to implement valuable market adjustments to your product or service.
Never ignore objections, handle them using with your newly armed techniques, and convince the client to buy that brilliant product of yours!
If you are in the market looking for innovative ways to attract more clients and generate more quality conversations for your company, schedule a personalized demo today or test our tool for free for 14 days.
Start generating leads today!
Start a 14-day free trial now,
set up the widget on your site, and see how many more leads you can capture with CallPage
No credit card required

10 minutes set up

14 days fully-features free trial
Try for free
Get a Demo