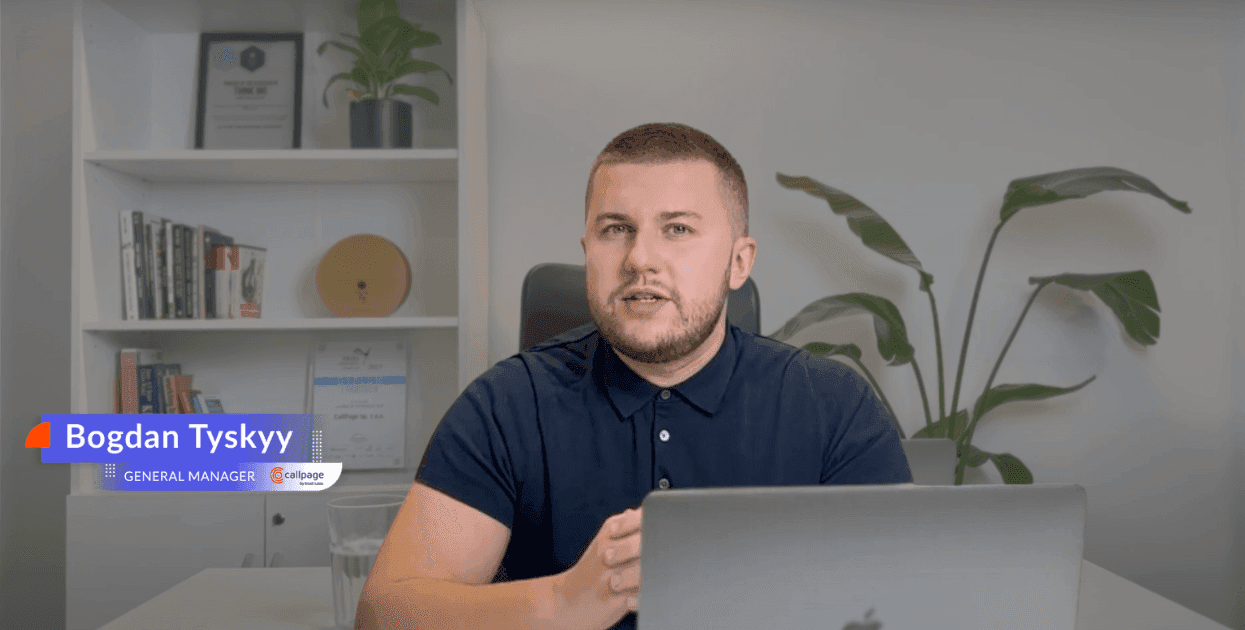 How Companies Are Losing 50% Of Leads — Insights From the General Manager of CallPage
Get ready for an eye-opening interview with Bogdan Tyskyy, General Manager at CallPage. CallPage is a well-known company that helps more than 1500 businesses in 45 countries capture leads and make the most out of them.
In this discussion, we will tackle a topic that might be the reason why many companies lose 50% of their potential buyers. Once you hear the statistics, you'll be surprised at how big of an impact this seemingly trivial factor has on lead generation and sales.
Next, you'll find out how CallPage uses it to its advantage and how your business can level up in this area too.


Bogdan, could you introduce yourself and provide some background on your experience at CallPage?
Absolutely! I've been with CallPage for over 6 years now and have held various roles within the company, including Head of Business Development and Chief Revenue Officer. As the General Manager, my main responsibility is to oversee the overall operations, strategy, and growth of CallPage.
I work closely with our talented team to ensure that our platform continues delivering exceptional value to more than 1,500 users worldwide. On a daily basis, I engage with different departments to foster collaboration, identify growth opportunities, and enhance our service to capture over 180 000 leads per month for our customers. Additionally, we consistently generate over 500 leads in our sales funnel each month.
You mentioned the 180 000 leads your company generates for your customers. Can you tell us more about this?
Sure, CallPage is a tech company specializing in customer engagement and lead-capturing solutions. CallPage empowers businesses to connect with prospects in real time, boosting conversions and enhancing overall customer experiences. Our software is available in 45 countries and, over the years, has been used by thousands of businesses to improve their lead generation.
The title of our interview suggests that many companies are neglecting a critical competitive advantage. What exactly is it?
The critical competitive advantage we're referring to is lead response time. According to research run by Google and the Corporate Executive Board, 35% to 50% of B2B sales go to the vendor that responds to customers first. This means that the speed at which a company responds to a lead inquiry can significantly impact its chances of converting that lead into a customer. Surprisingly, many businesses overlook this aspect of their sales process, missing out on valuable opportunities to win over potential customers.
In today's fast-pacing world, consumers expect rapid responses and personalized attention. Being the first to respond to a lead sets the tone for the customer journey and demonstrates a high level of professionalism and commitment to meeting the customer's needs.
Accordion to a paper by Harvard Business Review: "The Best Practices for Lead Response Management," it appears that the odds of qualifying a lead drop by 400% if a sales rep contacts an interested lead in 10 minutes after completing a web form rather than in 5 minutes. Fascinating, isn't it?
It sure is! But you mentioned only external data. Did you ever test how response time impacts the conversion rates at CallPage?
Okay, let's start with this interesting fact: It turns out that response time affects not only the conversion rate of leads to customers but also the visitors-to-leads conversion rate.
A few years ago, we conducted an internal study where we created several landing page versions, all with exactly the same content. The only difference between them was the promised response time, with options ranging from "in the near future" to "within 30 seconds."
We then directed traffic to these pages. The landing page that promised a response "in the near future" had a conversion rate of just 1.2%. However, the version with a response time of 30 seconds had a conversion rate of 2.28%, meaning it almost doubled!
We were even more surprised when we compared these results to the landing page that promised a 15-minute response time, which had a conversion rate of 1.8%. This was noticeably worse than the landing page that promised contact in just 30 seconds.
It seems that lead response time is a deal-breaker for many people. In your opinion, why do companies miss this element? Why do they undervalue lead response time?
Achieving a short lead response time can be challenging for many companies. When we talk with our customers, we notice they mention similar obstacles. If I had to name the most common challenges, it would be:
lack of automation

inefficient lead distribution

not prioritizing high-potential leads

not enough training and communication in sales teams

no standardized response templates

forgetting to check team performance and monitor response times
And how do you overcome these challenges? How does technology, particularly SaaS solutions, help?
At CallPage, we understand these challenges well. And our platform is designed to address them effectively. It automates the process of capturing and distributing leads, which means faster response times. And the automated lead distribution ensures that each lead is assigned to the most appropriate sales representative based on predefined criteria and availability.
With CallPage, your website visitor can pick the most appropriate contact form: message, phone, or a meeting, and our lead distribution will direct them to the most appropriate and available team member. Our solution allows businesses to connect with their leads in 28 seconds. I don't think anyone can beat that. :)
Judging from experience, what are the key benefits that companies can gain from prioritizing a short lead response time?
Loads of benefits come from having a short lead response time. We already mentioned a few of them.
The first one would be improved lead conversion rates. By responding quickly, you catch potential customers while they're still interested and engaged, increasing the likelihood of conversion. Studies have shown that businesses that respond to leads within the first hour are seven times more likely to qualify the lead than those who respond after an hour.
Then there's enhanced customer satisfaction. Quick responses show that you value your customers' time and needs. It sets a positive impression from the very beginning of the relationship, leading to higher satisfaction levels.
What's more, you build a positive brand reputation by providing prompt assistance. Happy customers are likelier to share their positive experiences, leading to word-of-mouth marketing and referrals.
Finally, the thing most businesses want the most: increased sales revenue. Faster lead response translates to more closed deals. When leads are nurtured promptly, they are more likely to move through the sales funnel and convert into paying customers.
So prioritizing lead response time is not just about catching leads early but also about establishing a positive customer experience that sets the foundation for long-term relationships.
If you had to leave one thought in the reader's mind, what would it be?
Something that might seem obvious now, after the interview: Don't underestimate the lead response time in your marketing strategy!
According to First Page Sage, in 2022, acquiring one lead can sometimes cost more than $1,000, with the average being $400-500. While companies are spending bigger and bigger budgets on lead generation, they often forget about what comes next.
So here's the deal: According to Forbes and Statista, the average response time for a lead is almost 47 hours. But the same research says that if you reply within five minutes, you're 100 times more successful than if you wait 30 minutes to call them back. So, if your competitors are more put-together and have a better tool, they'll seal the deal before your sales team will even make the first contact. That's how companies are wasting their marketing budget!
That's really something to wrap your mind around! Any final advice for our readers?
Yes! Improving lead response time is not a one-time effort but an ongoing commitment to providing excellent customer experiences. You have to monitor the results and act accordingly.
I'll finish by briefly reminding our readers about the seven important steps in handling your leads like a pro.
Create a team dedicated to lead management equipped with the necessary tools and resources to respond to inquiries quickly and effectively.
Give your team tools. Use lead capture and lead distribution software.
Define specific response time targets based on industry standards and customer expectations.
Implement lead scoring to identify high-potential leads and prioritize them for immediate attention.
Use automation wisely. It's valuable for quick responses but shouldn't replace human interaction entirely. Use automation for initial acknowledgments and follow up with personalized interactions.
Develop response templates that strike a balance between personalization and efficiency. Templates can save time while still allowing for customized responses.
Analyze lead response time data regularly to identify bottlenecks and areas for improvement. Use analytics to gain insights into customer behavior and adjust strategies accordingly.
By taking these steps, companies can turn lead response time into a competitive advantage that sets them apart from their competitors. It's a small but powerful change that can significantly impact a company's bottom line and long-term success.
Thank you, Bogdan, for sharing these valuable insights on the critical importance of lead response time. It was great speaking with you!
Thank you, it was a pleasure!

Want to test CallPage? Sign up for a free 7 days trial.
Start generating leads today!
Get a 14-day free trial now,
set up the widget on your site, and see how many more leads you can capture with CallPage
No credit card required

10 minutes set up

14 days fully-features free trial
Try for free
Get a Demo