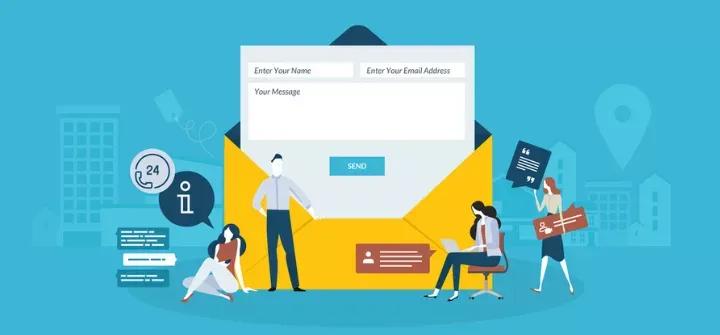 4 High Converting Email Marketing Templates Your Audience Will Love
Emails are considered one of the most direct and personal communication channels between brands and consumers.
The statistics clearly demonstrate their established position both in everyday life and business world:

(Source)
And while numbers confirm the need for including email marketing in your business strategy, there's a drawback. Your recipients are faced with stuffed inboxes and short attention spans. Therefore, all you get is a few seconds for your message to grab their attention and stand out in an inbox full of competitive campaigns.
To unlock the full potential of email marketing, you need email marketing templates designed to increase conversion rates and entice your target audience. This article will reveal the secrets of creating engaging emails and ways to incorporate them into your marketing campaigns.
How to Create High Converting Emails
Let us start by saying there's no magic formula here, but there are crucial aspects to remember when you go through your email creation. These are the factors that will determine if your emails get noticed and opened or ignored and deleted. Let's check them out.
Know your audience
No reason to even begin thinking about email design and copy before getting to know and understand your target audience. Without detailed customer profiles at your disposal, all your email marketing efforts could go down the drain. Create solid buyer personas based on your prospects' demographics and preferences. Then, tweak your email content to the profiles created, offering potential customers value and a long-term reason to interact with your brand.
Choose the right email marketing software
Every handyman needs the right tools to craft beautiful artifacts. So do you to create unforgettable email experiences for your recipients. To do so, choose between some of the best email newsletter software featuring easy-to-grasp email template builders. Through its usage, you can customize numerous email templates to fit each recipient's needs. You can also use your preferred platform to perform A/B testing, monitor key email marketing metrics, and personalize your email design according to findings.
Write captivating subject lines
First impressions matter, and that's exactly what your subject line is. It's what will get subscribers to open your email, so it has to capture their interest instantly. There are various methods to intrigue them such as creating a sense of urgency, displaying exclusive content, offering limited-time discounts, or leveraging personalization elements. Whatever you choose, ensure your subject line is precise and aligned with the email content so that recipients know what to expect.
(Source)
Create compelling copy and appealing layouts
From the email subject line to the email content, the message delivered is crucial to driving conversions. The days of bulk emails with weak copy that haven't been carefully thought out are gone. Plan your email content strategy beforehand to make sure your message is eye-catching and personalized, while also showing how your business proposition addresses your leads' problems.
Design is also key to your email hitting the target. Elements like email structure and layout, fonts, color contrast, or the use of visual elements shouldn't be taken lightly. Build your email structure so that key components stand out and guide the reader to notice them first. A great email design allows recipients to navigate, read, and click through your email without any points of friction.
Use actionable and clear CTAs
A captivating subject line and a compelling message are key to convincing your audience to open and read your email. However, your CTA is what urges them to take action. Whether you want recipients to create an account, download a piece of content, sign up for a free trial, or give you feedback, you need a CTA stating the action. It should be actionable, hard to miss, and straightforward as to how readers must proceed to seal the deal.
Email Marketing Templates That Drive Results
There are various types of email marketing templates that motivate recipients to interact with your emails. Keep reading to discover some of the most engaging and how they can result in higher conversion rates – but even more importantly, in building long-lasting relationships with your prospects.
Business Newsletter
Newsletters are used by businesses to inform email recipients about product or service updates and releases, company news, upcoming events, etc. They are a great opportunity to provide educational material like webinars, blog posts, or tutorials too.
Newsletters are usually sent at a certain frequency, depending on your industry, business type, and needs. They are created with interaction in mind so that subscribers feel connected with your brand and proceed with the action you need them to. Let's check this newsletter from Canva where a new series of Facebook Shops templates is announced:
(Source)
Canva's email highlights the arising need that led to their new business proposition and explains how the recently launched templates address that need. It takes advantage of bright colors, bold and actionable CTAs, and strong visuals. Not only does it display a selection of their appealing templates but it includes a video demonstration on how to use them, answering all potential questions beforehand.
Brand Story
Many marketers fall into the mistake of obsessing over promotional emails and neglect engaging prospects through their brand stories. Communicating your origin and history to your email recipients is a recipe for success in terms of spreading brand awareness. Storytelling is particularly effective for establishing an emotional connection between companies and leads and enhancing customer loyalty.
Brand stories may include information about how you got things started, your key milestones, founders' or employees' personal narratives, or behind-the-scenes footage. And you don't have to stop there. You can use storytelling in product releases or updates to trigger recipients' engagement, making them feel like they're getting news from a friend. This will make your message relatable and that's exactly how it will stand out from the crowd.
(Source)
Fi's email got us right from the start with Thor's cute picture. Right after that, the company's founder narrates a detailed story about discovering there was no effective way to keep his dog safe and sound. Seeing the market gap, he made sure to create a solution to the problem he was facing.
By turning that story into an email with genuine copy, he manages to sell the proposition without sounding 'pushy'. The email also contains a prospect's story about how Fi's product helped her find her dog and urges recipients to learn more about it by clicking on the CTA. This is a perfect example of how a satisfied customer story reinforces the brand's value, making the most out of this clients-converts-client tactic.
Quick Tips
Not all your emails have to be about promoting your products or services or announcing a new release. As already mentioned, your email content should be about your subscribers. By sending out short emails that include smart and quick-to-implement tips, you offer valuable information and showcase your expertise.
What's more, your prospects acknowledge that you care about their needs. Sharing tips that solve their everyday challenges is a great way for you to show your emails aren't just about selling. When writing such an email, be careful to avoid long and exhaustive lists and focus on a few tips to ensure recipients won't get tired out and will read your entire message.
(Source)
Like this email from Dossier that shares advice on how to maintain perfume quality. The tips are short and precise and the email layout is clear and simple, making it all that easy for the reader to stay focused. It ends with an actionable CTA that directs recipients to additional content providing information on how to enhance the perfume's longevity.
Support a Cause
Supporting charity events and causes is of utmost importance when you need to attract loyal customers. By such initiatives, your brand shows its human face while also establishing an active presence within the community. Use your brand's authority to help organize philanthropic events or special donations and spread the word about your work.
Make sure the corresponding CTAs within your email design are straightforward and visible so that readers know exactly what to do to join your event or make a donation effortlessly. Also, remember to be clear about the cause and the organizations involved, as well as all relevant details and goals achieved so far or in past donations.
(Source)
Tripadvisor Foundation is a part of the Tripadvisor Media group focusing on philanthropic causes. With this email, the organization shows its contribution in the form of millions of meals to relieve people suffering in Ukraine and surrounding countries. Furthermore, the recipients are thoroughly informed about the number of donations acquired, the final objective, and the company's overall contribution.
Final Words
All marketers and business owners fear that their emails are moved to the trash folder before even getting opened. To turn that around, you have to make them care about your business proposition. You can do so by getting to know them, creating compelling email content, showing the value of your offer, and being clear as to what you expect from them.
It's one thing to have an email recipient, but turning them into buyers is a whole different. This is where customizable email marketing templates come in to help you convert those recipients into customers, enhance their engagement with your brand, and eventually make them your most loyal fans.
Author
Maria Fintanidou works as a Copywriter for email marketing automation software Moosend, having created the Help Articles (FAQs) and overseen the platform's translations in Greek and Spanish. She loves exploring new cultures and ways of thinking through traveling, reading, and language learning.
Start generating leads today!
Start a 14-day free trial now,
set up the widget on your site, and see how many more leads you can capture with CallPage
No credit card required

10 minutes set up

14 days fully-features free trial
Try for free
Get a Demo