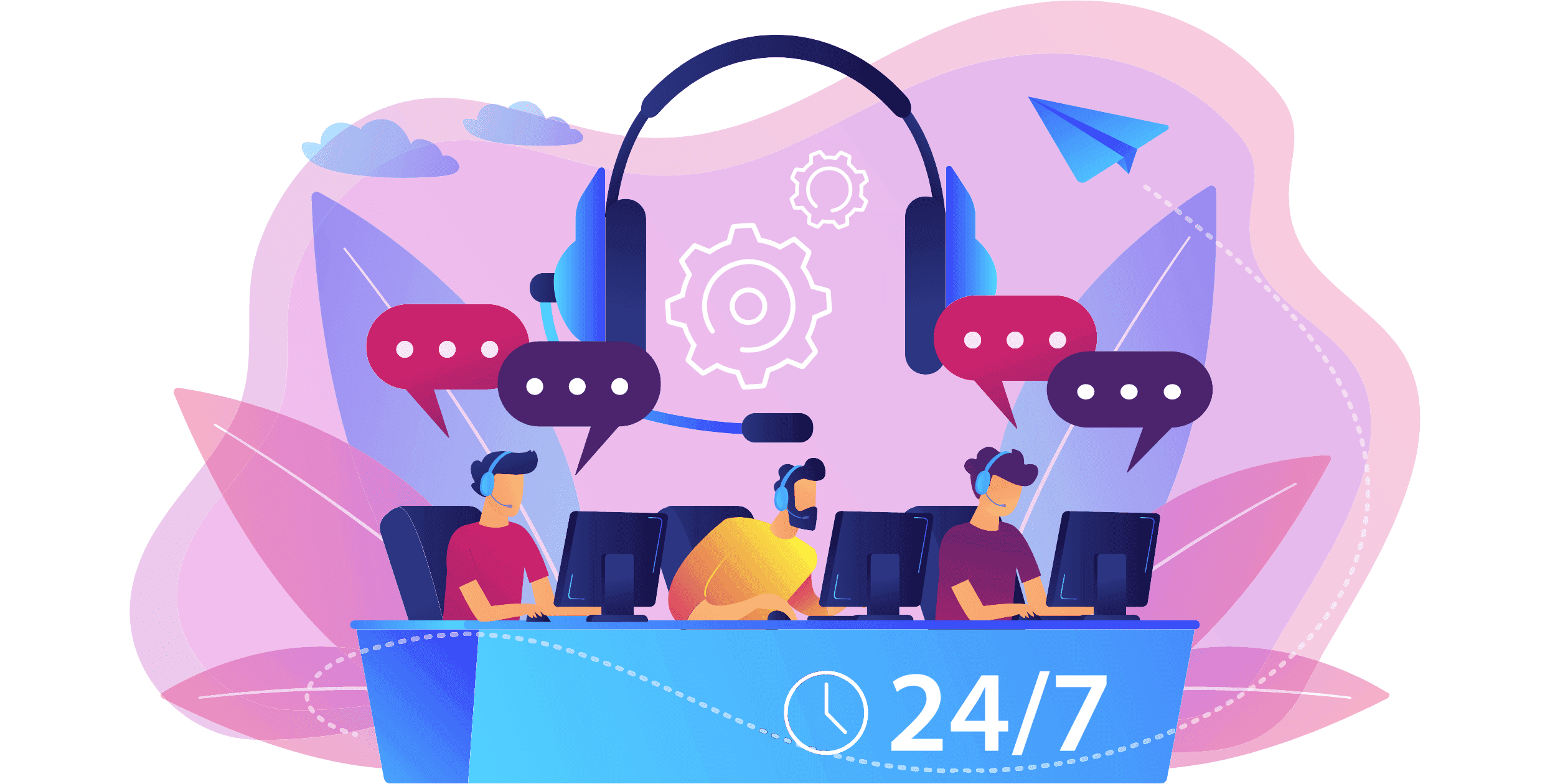 What Is a Call Center Knowledge Base and Why Use One For Your Business
Despite the rise of social media and other digital communication channels, call centers are still relevant in today's B2B business landscape. Having been around for decades now, they remain an integral part of customer support wings in most companies. A 2019 CCW Market Study report shows that 64% of companies believe customers should be able to reach a live agent easily.
Available data shows that 40% of customers prefer talking to a real person on the phone when they need help with complex issues. This data shows that by and large, B2B businesses still rely on call centers to address customer concerns and improve customer satisfaction. For them, call centers serve as a strong foundation to create customer-centric strategies.
By and large, B2B businesses still rely on call centers to address customer queries and improve satisfaction. For them, call centers serve as a strong foundation to create customer-centric strategies.
What Is a Call Center Knowledge Base?
Call centers help businesses offer efficient and effective support to their customers. As such, call center operators to need to have easy access to updated information to resolve customer queries quickly. An effective way to make this happen is by setting up a dedicated knowledge base.
A call center knowledge base is a centralized, cloud-based platform where knowledge in the form of guides and documents, is stored and can be accessed anytime and from any device. Customer support agents can leverage this information to provide relevant responses to customers and serve them better and faster. You might need digital asset management software to plan and store all the content needed to create call center knowledge.
With mounting expectations for excellent experiences, businesses need to create a knowledge base for call centers to:
streamline the online knowledge management
provide customer agents with the right help to address customer concerns effectively.
Why do businesses need a Call Center Knowledge Base?
Here are five major reasons why call centers require a knowledge base. From making it easier to search and share information to helping in ticket resolution, a knowledge base has many benefits.
1. Finding information becomes a breeze
For customer support teams, the more quickly they can find info, the better, as customers want their issues resolved as fast as possible. This is where a call center knowledge base comes to the picture. It offers these teams the data they need to assist customers with ease. The knowledge base comes with a search function feature that makes it easy for reps to fetch information. They need to type keywords, and relevant articles will be on display.
Besides, call center knowledge base software has features that are useful in identifying terms that are frequently searched by customers. This information enables B2B companies to spot emerging issues and add new keywords to the content to make information-gathering a seamless affair for customers.
ALSO READ: How to Decrease Lead Response Time and Boost Sales in 5 Actionable Steps.
2. Fosters a knowledge-sharing environment
A knowledge base tool serves the critical role of enhancing knowledge sharing within an organization. As a cloud-based platform, it serves as an information bank that can be used by employees to find as well as share their knowledge and experiences. The knowledge contained in it can be accessed by support agents or other authorized persons when the need arises.
This knowledge sharing aspect ensures that information is not restricted to one or just a few employees in the company. It develops an open culture within an organization, where everyone is allowed to contribute to the knowledge center and make it more productive.
This is immensely helpful for customer reps as they can use this knowledge to resolve serious customer queries in a jiffy.
Besides this, even support staff can work closely with the marketing team to provide them real-time insights into:
the challenges they face while dealing with customers
the frequent queries they get
businesses that have the highest number of queries and more.
This information can be of great help for marketing folks, as they will be able to align existing content to customer needs in a better way.
Yoast is a great example of a company that provides both customer support teams and customers access to information that helps them resolve queries in a flash with IT services.
3. Expedites Ticket Resolution
Calls from frustrated customers can push support staff to the edge. Putting such customers on hold to search for information or confirm simple requests only adds to their frustration.
When customers fail to get the kind of help they need through other communication channels (like website, social media, email or self-service portals), they resort to raising tickets mainly by calling the support staff.
Available data shows that 40% of customers use call centers as communication channels for the second contact. With many calls coming from people who need help, customer support staff can experience challenges in retaining everything customers say. This is especially when a company has multiple products or services in the market.
READ MORE: The Business Checklist to Improve Help Desks' Productivity
A call center knowledge base can be of significant help in such situations. It provides customer support staff with the tools and information they need to resolve customer issues quickly. B2B companies that invest in such systems provide support staff with a database of helpful documentation to enable them to guide customers through the problem-solving process in an efficient manner.
Since they have a full-fledged knowledge base, reps don't have to consult their supervisors to get procedural information. Instead, they can access the answers they need instantly by searching the knowledge base.
4. Improves employee training
Call center software offers businesses the accessibility and structure they need to manage knowledge. B2B companies that build a culture of knowledge sharing find knowledge base content extremely valuable to employees. The content plays an important role in training employees, providing them with the knowledge they need to get their work done.
For instance, a B2B company can use its call center knowledge base to onboard new call center staff including getting them acquainted with the customer support process, questions that customers ask frequently and how to respond to them, system guides, its product or service range and their descriptions, and much more.
A good example of a company that provides product descriptions on its knowledge base is the US Bank. The bank has organized its customer service for business banking, making it easy for customers to access content relating to each product.
source
In the same way, a knowledge base can help improve employee training across departments. For example, when a professional from the product development department shares insights about a new product, the article becomes a valuable source of information for the customer support team.
The information is also helpful to the team in the product development section because they can evaluate the product, identify common issues that customers raise and use them to improve the product. This ability to empower employees makes a call center knowledge base a self-sustained tool that can help everybody in the company do their work well.
5. Knowledge can be constantly updated
Besides giving support teams information that enables them to respond to customer queries, B2B companies can use call center knowledge bases as tools for capturing customer feedback. Support teams can use it to take notes of questions that customers ask when they call the company.
These notes and feedback can be used to draft content by the team and then forwarded to the marketing team for development into a full new article designed to address emerging customer needs. Where necessary, notes taken by customer support staff may be used to update existing articles with new information.
This practice ensures that the information contained in the knowledge base remains current and customer support teams can access the platform to find accurate responses to customer's emerging questions.
MAY BE INTERESTING: Here's What 6 Salespeople Say about Their Work for Leading Tech Giants
Managing a Call Center Knowledge Base
The efficiency of a call center knowledge base is, to a large extent, determined by how well it is managed. To deliver value to customers, a knowledge base needs to be managed properly. Some call center knowledge management best practices are as follows:
Clarify the objective of the call center
Standardize the content – including content layout, design, and organization
Make the knowledge base easily accessible by call center agents
Emphasize more on knowledge sharing, rather than management
Mirror customer terminology in the knowledge you generate
Assess the utilization of content you have in the knowledge base
Avoid overloading the knowledge system
Ensure regular updating of the knowledge base
A powerful platform for better productivity
A call center knowledge base is a powerful platform that plays a key role in reducing customer support tickets and the workload for B2B customer support operators. When used correctly, a knowledge base can make support staff super-efficient and productive.
By providing operators with the right content problems are resolved with speed. Eventually, a knowledge base improves the overall productivity access to accurate and relevant information, it ensures that customers are not put on hold for long and t and profitability of a B2B business.
Are you looking for a solution that will improve your consultants productivity? Our tool eliminates boring and routine work so your employees can focus on what they do best – providing your customers with outstanding service! Schedule a personalized demo today or test our tool for free for 14 days.
Start generating leads today!
Get a 14-day free trial now,
set up the widget on your site, and see how many more leads you can capture with CallPage
No credit card required

10 minutes set up

14 days fully-features free trial
Try for free
Get a Demo