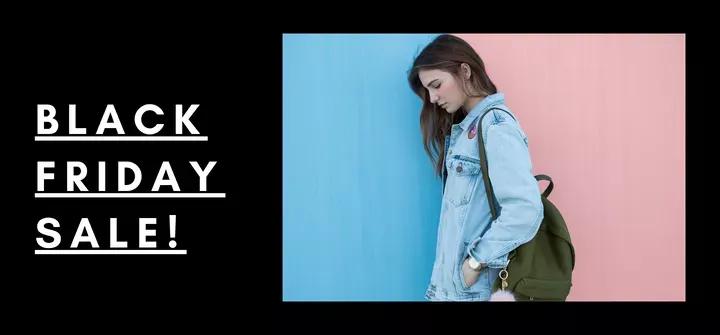 Black Friday for Latecomers: Tips for Last-Minute Preparation
Black Friday is mainly associated with large price reductions in stores and crowds in shopping malls. However, in recent years, the idea of the "super bargain" has also been picked up by companies in other sectors. Currently, Black Friday super deals are used mostly by online stores or software providers, but you can also find deals for B2B, education, automotive, healthcare, beauty, and many other companies. If you haven't yet prepared your business's offer for Black Friday, we have you covered with this short guide on how to set up your Black Friday campaign at the last minute!
Why is Black Friday So Popular?
Black Friday was born in the 1950s in the United States and is traditionally held on the first Friday after Thanksgiving. In the past, Black Friday has been the most popular in its country of origin, but in recent years, other countries, primarily in Europe, have adopted the trend. The idea is simple—you can get products (or services) at extremely low prices as long as you buy them on this one particular day.
Although customers are used to seeing occasional offers for low prices and discounts, Black Friday is extremely popular because discounts are much higher on this day than during other promotional events. The exclusivity of the offers adds to their appeal—you can only get them one day a year. Black Friday also owes its popularity to the media (and marketing campaigns) and the pull of social pressure ("Everyone buys today, so I should too").
Regardless of whether or not we like the whole Black Friday idea, it's always a good idea to test how our potential buyers are feeling about it. If you haven't run a Black Friday campaign before and don't know how to start, you can get going with our simple guide. This year, Black Friday falls on November 25, so you don't have much time left to get ready!
Types of Black Friday Deals
The first thing you have to do is decide what kind of deal you can offer. Below, we present some of the typical Black Friday deals.
Percentages and discount codes
Best for e-commerce and retail, software providers, and home decor.
Probably the most popular type of Black Friday deal. The main advantage of discounts and discount codes is that they are catchy and easy to remember, and the buyers know exactly how much they will save. In addition, the discount can be applied to a variety of products (which is important in the e-commerce industry, for example).
Buy now, use later
Best for travel, healthcare, beauty, or education.
For some industries, the buy-now option might not work. For example, in travel or education, people aren't always able to buy your products and use them immediately. That's why companies often offer promotions: buy now, use later. In this case, you will usually pay a fixed, lower price; for example, $500 for a cooking course instead of the standard price of $750. Make sure to show the standard price alongside the discounted one so that your users know how much they will save by purchasing on Black Friday. An important element of this type of promotion is to emphasize that the user buys the product now (at a promotional price) but will be able to use it at another date. Remember to specify the timeframe (e.g., until the end of 2023) and inform buyers about possible exclusions (e.g., no bookings during Christmas holidays). If you decide to make this kind of offer, make sure to decide what items you want to offer a discount on, whether those are training courses, travel destinations, or beauty treatments.
Buy now and get a free extra
Best for business services, automotive, beauty, and e-commerce.
Another popular type of promotion is the freebie! This kind of deal works when your user purchases a certain product and pays the standard price, but gets something extra completely free. This is a standard method used by e-commerce stores. During Black Friday, these extra bonuses tend to be of greater value than during regular promotions. This type of promotion requires a little more creativity on our part, but the upside is that we can attract people to take advantage of our offers and try new services. Depending on your industry, you can offer freebies such as:
Fuel filter replacement service during car repairs
Graphic production for advertising campaigns
Full car insurance on car rentals
Complementary add-on treatments at a hair salon
In the case of freebies (especially services), it is worth establishing the exact rules on when customers are entitled to get the free service. For example, how much they must spend on the full-priced service, what exactly is included in the free service, and when they can claim the free service(s).
Build Your Offer
So far, we have described the most common types of Black Friday deals, but there are more creative options to select from, and you can also mix different types of promos. Think about your products and services, and consider what might convince your customers to buy now. Keep in mind the following:
Will the offer apply to all products or only to selected ones?
How big should the discount be? What should you set for a fixed price?
The timeframe of the offer (Black Friday only? Or the whole week?)
How customers will claim their offer (e.g., how will they get the discount code?)
Outline detailed terms and conditions to avoid misunderstandings
Get the best deal for marketing tools: Top Black Friday SaaS Deals for 2023
How to Prepare Black Friday Campaigns in Just a Few Days!
Once you have decided on a "deal", it's time to inform your customers about it. Here, we assume that you don't have a marketing agency to do the work for you and that you don't have a lot of time to set this up (again, Black Friday is just around the corner). So, we have a few tips on preparing and promoting your Black Friday deal (all by yourself) in just a few days.
Prepare some nice graphics
You have to prepare the graphics that you will use in marketing and sales channels. The best tool will probably be Canva, where you will find a library of Black Friday templates. In the Canva creator, you can easily add your logo and change the copy to explain your offer. You can also create as many different formats as you need.
Post information on social channels
The simplest way to get attention is to post your Black Friday offer on your social media channels. You already have customers and potential buyers there; these are the people likeliest to use your offer. Don't forget to use attractive, appealing graphics and explain how your followers can use the offer and where they can get more information.
Send mailings to your prospect and customers
If you have a database of old or existing customers, and prospects from the past, you can use these contacts to spread the word about your Black Friday deal. Again, people who are already familiar with your services are likelier to use promos for your products and buy instantly. If you don't have a mailing tool, there are plenty of free ones, including Sender, Mailchimp, or Sendinblue. Just be careful with the addresses in your database, and make sure that you are sending emails only to people who have given you permission to contact them via email in accordance with the GDPR.
Power up your sales team
If you have a sales team, Black Friday deals are great selling tools! If your sales team already has some prospects who haven't yet bought products or services at your standard prices, they can use Black Friday to finally close the deal. Use Canva to prepare a one-page brochure with all the necessary information about Black Friday and let your sales team do what they do best!
Inform your website visitors
Black Friday is a great opportunity to improve your website results and turn more website visitors into leads. Sometimes, as your users scroll through your website, they might think that they will get back to your store or website in the future and buy your products "next time." With Black Friday, you can convert them to buyers immediately because the "next time" will be too late to use the Black Friday offer! If your website engine and website design do not allow you to add information about Black Friday directly to your page, you can use free tools, such as Sumo or PopUp Maker, to create popups with this information.
You can also use communication tools, such as chat tools or CallPage, and invite your visitors to contact you for more details.
Use SMS campaigns
In some sectors, SMS might make more sense than email, especially since people are getting a lot of "Black Friday" offers cluttering up their inboxes. For the beauty, automotive, and healthcare sectors, you can use paid tools, such as SMS API, to send out a campaign inviting your customers to visit your premises on selected days to get their freebie or to buy services at a 20% discount. Again, be careful to follow the GDPR and only send messages to people who have given you permission to contact them with offers.
The Bottom Line
Black Friday is not only a chance to sell more but also a great opportunity to reach out to old customers or convert your website visitors and social media followers into leads. We hope we have encouraged you to launch your very own Black Friday campaign! You have just a few days left, so you had better start getting the word out now 🙂
PS… Black Friday is also a great time to get deals for on useful tools, products, and services for yourself! Check out our recent post about this year's top Software-as-a-Service deals!
Start generating leads today!
Start a 14-day free trial now,
set up the widget on your site, and see how many more leads you can capture with CallPage
No credit card required

10 minutes set up

14 days fully-features free trial
Try for free
Get a Demo