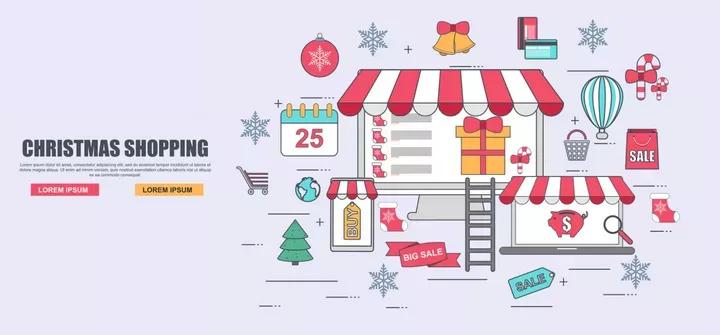 8 ideas for your Christmas campaign
Christmas is a harvest season for e-commerce stores. Online sales during the Christmas promotion period are noticeably higher year after year in stores. Holiday shopping can account for up to 30% of all retail sales.
Set Goals
When preparing any campaign, it is mandatory to develop campaign goals in advance. You can set different goals depending on the needs of your store.
Specify what numerical goals—for example, growth percentage or number of sales—you want to achieve with your campaign. This will make it easier for you to evaluate the results of your campaign.
Here are some typical holiday campaign goals:
Increase sales during the period before Christmas (December 1–December 24) compared to the previous year
Increase sales for specific store products
Increase traffic on the store's website
Reactivate customers from your databases
Acquire new customers.
Review Your Previous Holiday Campaign
If you ran a Christmas campaign last year, write down all your strengths and weaknesses and draw conclusions from it. For example, if the traffic on your website in the previous campaign was significant and customers did not complete the purchase, it may be worth improving the UX of your shopping path first or adding incentives during the purchase process (e.g., free delivery).
Remember that the business environment and macroeconomic situation can change a lot from year to year. Consider the lessons learned from previous campaigns while focusing on your company's current situation and the business environment.
Understand Customer Behavior
When creating a campaign, it is essential to consider customers' buying patterns. If your company has not yet developed a customer behavior model, you can begin considering it during the Christmas campaign and refine it after the campaign is over. Due to time limitations in understanding consumer behavior, you can utilize a data-driven approach.
Check gathered information about your target audience and their preferences (using surveys, focus groups, and other methods of gathering data)
Analyze customers' behavior on your website or social media channels (including the types of content they engage with or the products they are most interested in).
Understanding customer behavior before launching a marketing campaign can help you create more targeted and effective xmas marketing ideas, which can ultimately lead to better results for your Christmas sales.
Segment Your Audience
When defining a customer segment to adjust the sales offer during the Christmas campaign, it is worth considering factors other than the standard ones. Before Christmas, in search of the perfect gifts, people often decide to make a purchase from an unknown company. It is worth considering whether your offer is aimed at existing customers or whether you want to attract new ones. Also, note that your campaign is geared toward seasonal shopping. At the same time, your target audience should be bargain hunters or last-minute shoppers.
Finalize Your Christmas Offer
Once you know your smart goal and understand what target audience you want to reach, you can start preparing your Christmas offer. Below are some ideas that are sure to add variety and positively impact your Christmas sales revenue. Some elements of the offer may not be feasible due to the limited time available to implement your campaign.
Check also: How to Increase Your Conversion Rate? 7 Tips to Make Your Conversions Skyrocket!
Below are some statistics worth reading that can be useful in coming up withChristmas marketing ideas:
Source: https://financesonline.com/christmas-shopping-statistics/
8 Ideas For Your 2023 Christmas Campaign
1. Create a festive atmosphere on your website
Prepare your holiday advertising: add graphic elements and create a coherent visual image for the duration of the Christmas campaign. This will help arouse the emotions associated with the Christmas season.
Use colors associated with Christmas: red, green, and white
Create logos and profile pictures with festive elements
Create personalized holiday-themed messaging (via direct messaging, pop-ups, and social media channels).
2. A seasonal gift to your loyal customers
Christmas is the time of gifts. Honor your loyal customers. You can prepare a special offer with an additional discount, free shopping, or a discount coupon.
3. Bundle items for Christmas presents
Match the products from your offer, and create ready-made sets. A set of products is a great rescue for a last-minute gift. Depending on your assortment, you can prepare dedicated sets (e.g., for women or for men) or personalize them even more by creating, for example, sets for teenagers, grandpas, etc.

You should also pay attention to the display of the prepared sets on your store's website.
Examples of Christmas sets:
Source: https://mygiftmaker.com/collections/bundle-gift-sets/products/copy-of-premiere-luxe-personal-desk-set-in-nude-gold
4. Work with a charity
There are several ways you can incorporate charity work into your Christmas marketing campaign. One option is to donate a portion of your profits from sales during the holiday season to a charitable organization. This can be a great way to give back and show your support for a cause that is important to you and your customers.
Additionally, you could encourage customers to make donations to a specific charity as part of their holiday shopping, or offer special deals or discounts to customers who make charitable donations.
Integrating charitable activities with a holiday marketing campaignwill reveal your brand's commitment to social causes. Actions in the name of helping will help improve your brand image and build a positive reputation, which can ultimately lead to better results for your company.
5. Prepare free shipping and return options
Necessary Christmas marketing ideas are free shipping and return options. Customers are willing to spend more if they know they won't have to pay for shipping.
Many e-commerce companies offer free shipping, so failing to include this in your Christmas campaign may cause a potential customer to do their Christmas shopping somewhere else.
Offering free returns will also positively affect the customer experience and the final purchase decision. Many customers hesitate before making a purchase, so reassuring them of the convenience of a possible return will give them more confidence in their purchase decisions.
6. Create an email campaign
Use emails for your digital Christmas marketing ideas. If you have an email database of your customers and marketing contacts, use it to send out information about your Christmas offers and promotions.
You can divide the mailing into three periods:
Pre-Christmas time
Prepare a gift box from your assortment, and send out suggestions for Christmas gifts. If you manage to personalize the letters you send in terms of gender and age criteria, you will surely surprise your recipients in a positive way.
Christmas time
During the holiday season, you can convince your recipients to buy by offering them special dedicated discounts.
Post-Christmas time
Just because the holidays are over doesn't mean your campaign should be, too. If you attract new customers during the Christmas campaign, don't let them become seasonal customers. You can keep them by offering them a discount code or free shipping on their next order.
When running an email campaign, you can optimize the whole process by using marketing and email automation tools.
7. Use seasonal products to boost sales
Among other effective Christmas marketing ideas is to diversify your assortment during the holiday season with a series of products already prepared for gifting. This does not mean that it has to be a completely new product. All you need to do is add Christmas packaging or change the layout to a Christmas theme. In addition, you can introduce products during the holiday season that may be popular for gifts. If you run an online bookstore, for example, you could include mugs or mascots in your sales.
Don't forget to highlight Christmas products on your online store's website.
8. Send Christmas cards to your customers
The last Christmas marketing idea is to send wishes. It would be a nice gesture to gift your customers a warm word. Prepare a Christmas card that you can send out to your customers via email and include it in the orders you ship. For easy preparation of Christmas cards, you can use Canva, where you will find plenty of templates to choose from.
In addition to greeting cards, you can include a small gift from the company with each order.
Conclusion
People are more likely to shop during the Christmas season, so take advantage of this. Christmas campaigns can be an effective way to increase engagement and offer unique Christmas promotions and deals to attract new customers. Some well-thought-out Christmas marketing ideas tailored to your target audience, along with the use of the above solutions, will make your Christmas campaign stand out.
Start generating leads today!
Start a 14-day free trial now,
set up the widget on your site, and see how many more leads you can capture with CallPage
No credit card required

10 minutes set up

14 days fully-features free trial
Try for free
Get a Demo