A Guide to Driving More Sales with Scarcity Marketing
We always want what we can't have. Or, at least, what we're afraid we might not be able to have. That's the whole concept behind scarcity marketing: using the idea of shortage as a tactic to drive sales.
But you probably knew that, given how many times you see phrases like 'Last chance' or 'Nearly gone' on a daily basis. Scarcity is so often used that you might even expect to be immune to it by now.
After all, how many times can a person really be exposed to scarcity tactics and still feel that fear and excitement that drives them to buy a product?
It turns out, if they're done well, a lot. If you go about it the right way, scarcity can still be an extremely powerful tool in your marketing strategy.
So, here are 7 smart and effective ways that you can make use of scarcity marketing strategies to drive sales and increase your conversion rates in your e-commerce business.
The Science Behind Scarcity Marketing
You may think that it's the discount you're offering that is urging shoppers to make a purchase, but that's not the truly motivating factor.
There are actually a whole host of psychological factors at work when we see the words "Last chance" or "Limited time only!".
One great demonstration of the scarcity principle in action is a popular classic study that offered participants cookies from one of two jars: a jar containing two cookies or a jar with ten.
They found that people were more likely to choose a cookie from the emptier jar, and stated that they would actually be willing to pay more for them.
These findings may be surprising at first, but, as explained by Jack Brehm, there is method behind the madness.
When a product is scarce, our freedom of choice to buy whatever we want, when we want it (within reason, of course), is threatened.
What if we don't make the purchase, and then regret it later?
In our efforts to try and restore that freedom, the product becomes more desirable and we're more likely to buy it. Now we own something that we might not have otherwise been able to, and that feels like a win.
So how can you evoke this feeling in your customers?
1. Mention the Scarcity of Stock
Sometimes creating a feeling of scarcity in your customers is as simple as letting them know that a product is low-in-stock.
If they know there's a limited chance to buy an item, that fear of losing the freedom of choice kicks in, and they're much more likely to make the purchase.
Check out how Vinomofo does it:
This email lets readers know that this particular variety of wine is almost sold out, and encourages them to get to their website ASAP to buy some before they're all gone.
To add to that, they really ramp up the FOMO (Fear of Missing Out) by mentioning that, once they sell out, these wines could be gone forever. That kind of finality is a scary prospect to a wine-lover, making them even more likely to go ahead and buy.
One thing to keep in mind when using this tactic, however, is to make it believable. In a world where we're constantly bombarded by messages of scarcity, it's easy to become skeptical.
Luckily, Vinomofo is good at keeping it real, too. By providing the simple detail that they're at the end of the run of that variety of wine, they back up their scarcity claim with a real reason and seem much more credible in the process.
2. Create Limited Product Runs
Another way to create stock scarcity is to produce a limited run of a product.
Think about those limited-edition covers of your favorite books, or the limited-edition seasonal drinks at your nearest coffee shop.
All of these kinds of items get a shopper's heart racing. Who doesn't want to own something so exclusive, especially if you're already a fan of the brand or product.
The cosmetics brand Function of Beauty knows this, and uses it to their advantage in this email:
That big sticker in the bottom-right is the key. They're not just announcing a limited-edition merch collection (though that's exciting enough in itself), they're giving you the specific number that they created.
Imagine instead if they had written "Only a limited number available." Sure, it gets the point across, but doesn't "Only 500 available" create so much more urgency?
If you want to release a limited-edition product, however, you should be mindful of frustrating or disappointing your regular customers.
It can be annoying as a frequent customer to find out about an exclusive, limited-time product, only to go to the website and see that it's sold out. Or, worse, putting a product in your cart and finding it out-of-stock when you try to check out.
You can easily reduce these kinds of problems by making sure you make the product run large enough to satisfy regular customers, and adding the ability to reserve items once they are in the cart.
To make your offers more attractive and engage customers, use interactive content.
MAY BE INTERESTING FOR YOU: Boost Sales in 5 Actionable Steps By Decreasing Lead Response Time
3. Offer Early-Bird Prices
When we buy or order an item before its release, we often expect some kind of perk to go along with it.
Offering consumers the opportunity to get a pre-launch discount can really build up the exclusivity of your product, and something that's exclusive is probably pretty scarce too.
You might have found that discounts can lower people's perceived quality of a product, so this can be a great tactic to preserve it.
By introducing a new product with limited pricing, you keep all of the attraction of a discount without necessarily decreasing your revenue.
Take this email from Beardbrand as an example: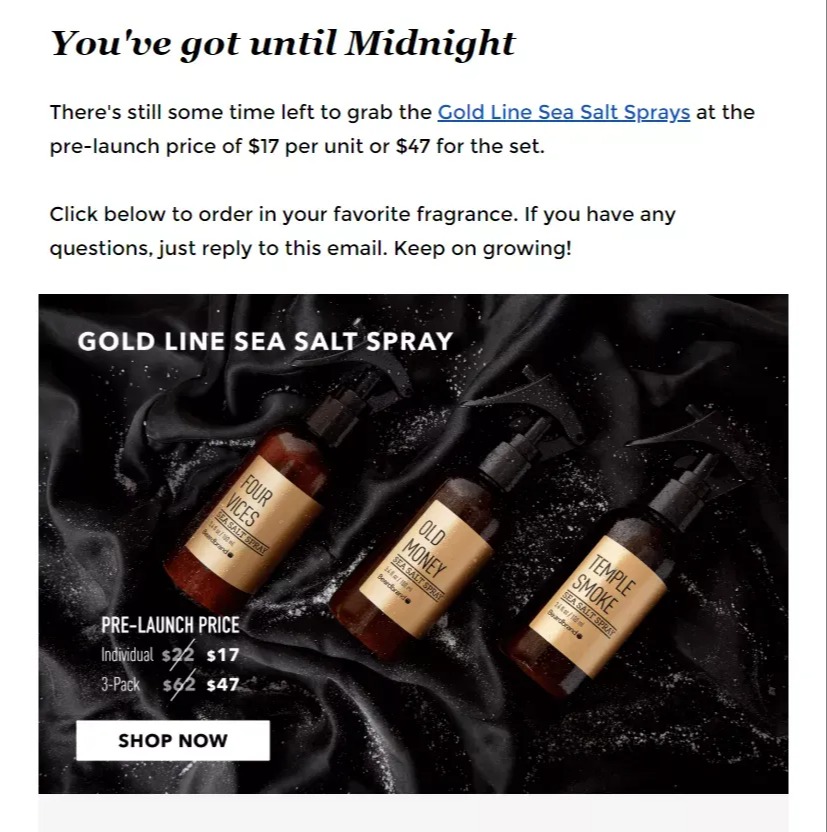 The product itself exudes exclusivity—look at that gold and velvet! A product photo like this is a sure way to maintain its perceived value (or maybe even increase it), and works well with this kind of offer.
The definite deadline they give you also ramps up the sense of urgency in the email. It's an exclusive offer, and you better get in quick.
4. Add a Countdown Timer
Speaking of urgency, there are few ways to show it more explicitly than with a countdown timer.
In fact, countdown timers have been found to increase conversion rates by nearly three times.

You can add one to an email, a product page, or popup like this one from Bluchic: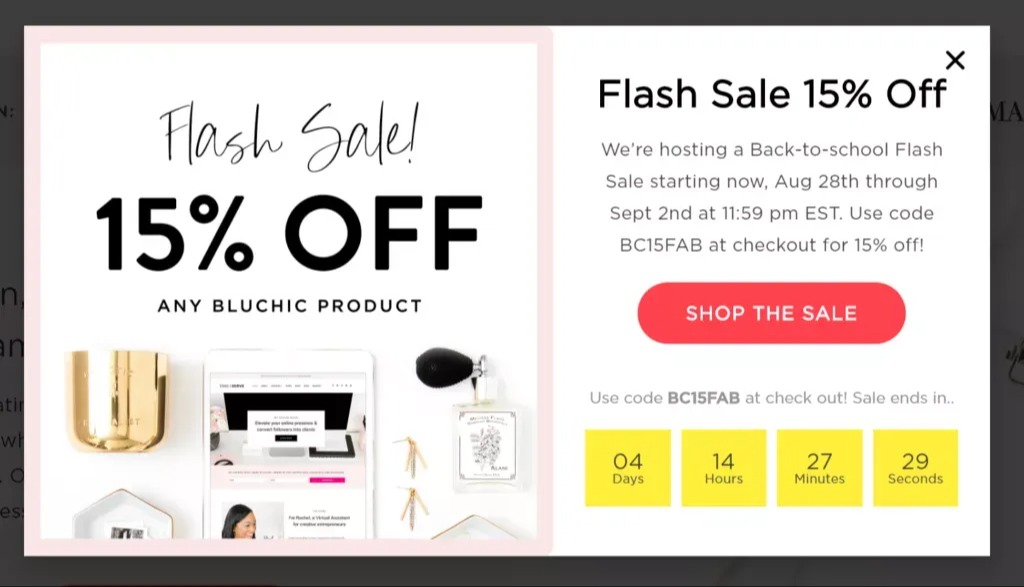 Suddenly, this popup has a real feeling of immediacy! It's definitely a step up from simply writing the time and date of the end of the sale.
A countdown timer shows shoppers that time is ticking, literally. Once they see that, their instinct to act and make the purchase kicks in.
Placing the timer close to your call-to-action (CTA) can help with this, providing a clear roadmap on how to ease their FOMO.
Just make sure that something happens once the timer reaches zero. If your 'deadline' is reached but customers can still access the offer, you could turn off a lot of people by seeming artificial and dishonest.
5. Offer a Time-Sensitive Bonus
A lot of e-tailers tend to think that giving customers a limited-time bonus always means a discount, but that's not necessarily the case.
There are actually all kinds of bonuses and freebies that you can offer if you think a little creatively.
These bonuses are often triggered by purchasing a particular item, buying a certain number of products, or reaching a certain price threshold.
As long as you make the offer run for a limited time, you'll tap into that scarcity fear.
Anthropologie's method is to offer free shipping for a limited time:

ALSO READ: 12 Ways To Increase The Number of Calls from Potential Customers
This is a simple but effective headline—those three punchy phrases provide the urgency, the incentive, and the guarantee of a deal. Combined with the call-to-action (CTA) underneath, this is a perfect recipe for driving consumers to place an order.
Free shipping has the great advantages of reducing cart abandonment and increasing your average order value, so it's well worth considering.
Another route you can take is to offer a free gift with an order, like Brooklinen does in this email:
Free gifts can be an attractive incentive to buy, but sometimes they can have the unfortunate potential to lower the perceived value of your product.
That's why Brooklinen tries to offset this possibility by offering a candle, something that's not included in their main line of products. They also show you the original value of the gift.
These small touches counteract any diminishing effect the offer might have on their products' perceived value. Instead, shoppers feel like they're getting a complimentary luxury gift alongside their order.
If, however, that's not quite your style, there are many kinds of time-limited bonuses you could consider. You could, for example, offer a free guide on how to get the most out of your product, or a service like free installation for a high-end or complex product.
6. Show Live Stock Numbers
There are also a few changes you can make to your site to drive sales with scarcity.
An alternative and perhaps clearer way to communicate the scarcity of your stock than simply writing it in copy is to add a readout of live stock numbers on your product pages.
Amazon is a prime example of this: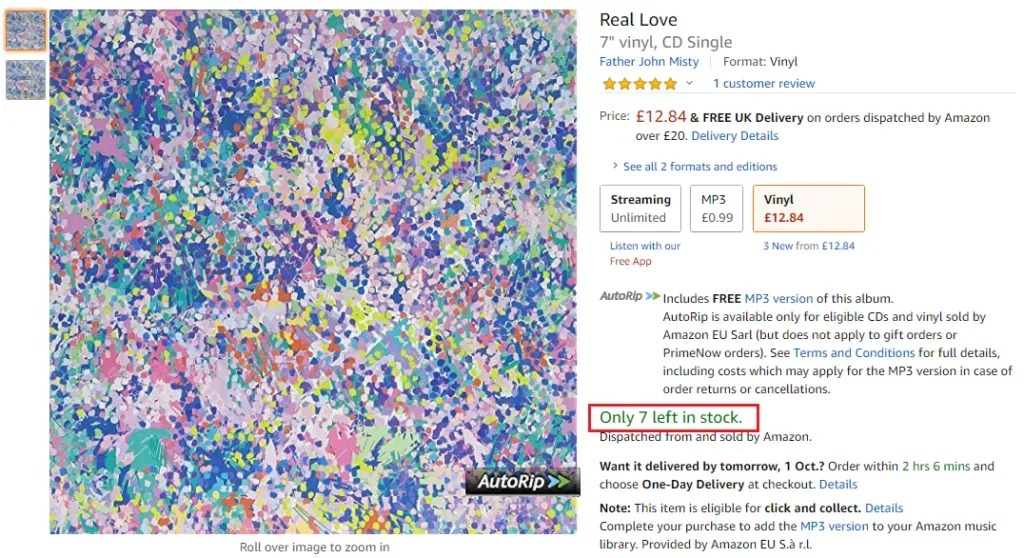 I was searching for an album on Amazon when I saw that there were "only 7 left in stock"—terrifying!
It was even more powerful than a message saying "low stock" or "almost gone," because it's a real-life number, coming directly from the warehouse.
Amazon are also honest about the scarcity of their stock.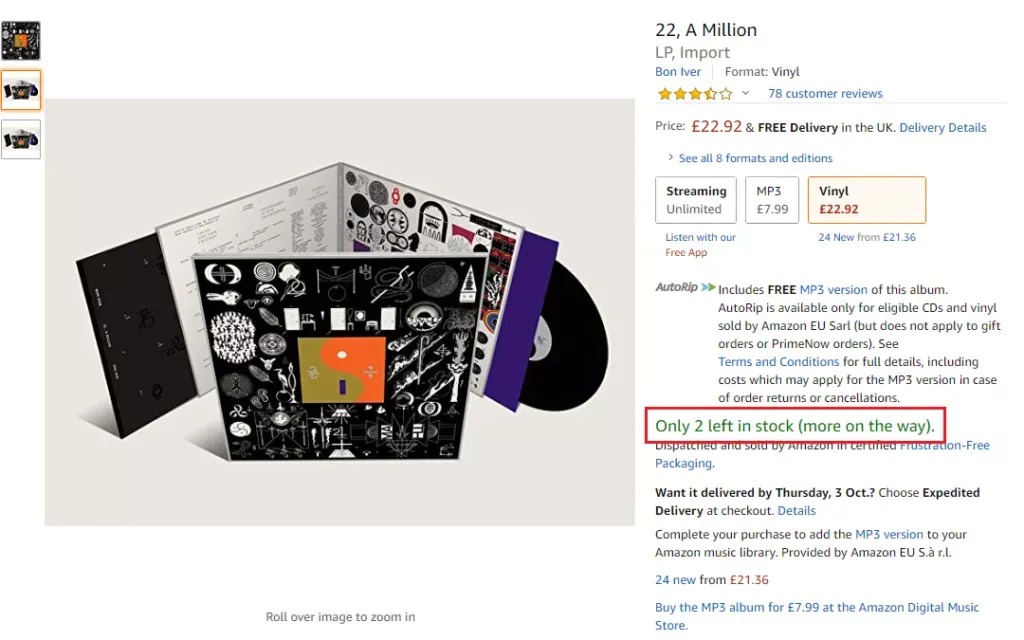 Photo byLive-stock-numbers-example-scarcity-marketing-2-1024x640-1.webp
This album is also low in stock, but I'm assured that there will be more available if I wait a little while.
You could combine this kind of message with an optin form to receive a notification when the item is restocked, and suddenly you have a much higher chance of a conversion.
7. Leverage Social Proof
Sometimes, even after your best efforts, people need an extra little nudge to really get sucked in by scarcity marketing.
You can provide this nudge by showing them the popularity of your products with other shoppers.
This is social proof—if other people's opinions of a product are favorable, we're more likely to trust them and think of it positively too.
A lot of the time, e-tailers create social proof through customer testimonials or user-generated social media content, but those aren't the only possibilities.
Try it by displaying just how many people are viewing or buying your products at the present time, like PrettyLittleThing does: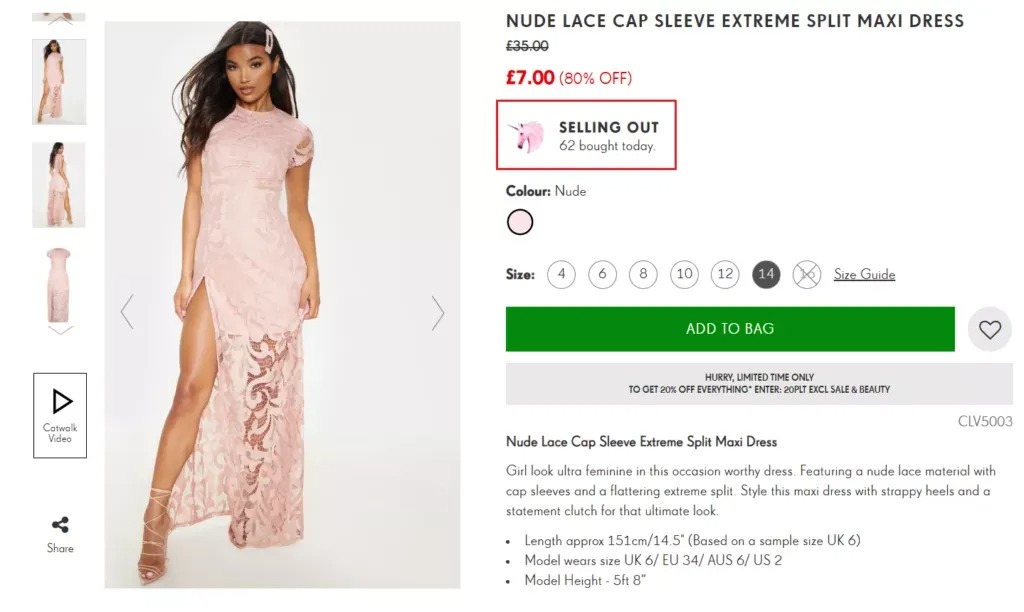 Photo bySocial-proof-scarcity-marketing-example-1024x612-1.webp
They add these kinds of messages to many of the product pages of their most popular items, telling customers exactly how many have been sold that day.
Not only are statistics like this a surefire way to induce some FOMO in your customers, they also provide real proof of the appeal and/or quality of the product.
After all, 62 people on one day can't all be wrong, right?
If you're selling more unique or bespoke items, you could try displaying how many people are currently viewing that particular product page.
However you decide to go about it, the effect is the same.
Conclusion
With limited-time sales and offers being so popular these days, I hope these tips will give you a way to stand out from the scarcity marketing crowd.
One crucial thing to remember: honesty is the best policy.
Constant scarcity of your products can be frustrating for visitors to your store. Frustration is your enemy—it leads to abandoned carts and broken hearts, so be honest wherever you can.
That way, when you do create a killer scarcity marketing campaign, it's much more likely to have a real effect on your customers, and your sales.
If you are in the market looking for innovative ways to attract more clients and generate more quality conversations for your company, schedule a personalized demo today or test our tool for free for 14 days.
Start generating leads today!
Start a 14-day free trial now,
set up the widget on your site, and see how many more leads you can capture with CallPage
No credit card required

10 minutes set up

14 days fully-features free trial
Try for free
Get a Demo